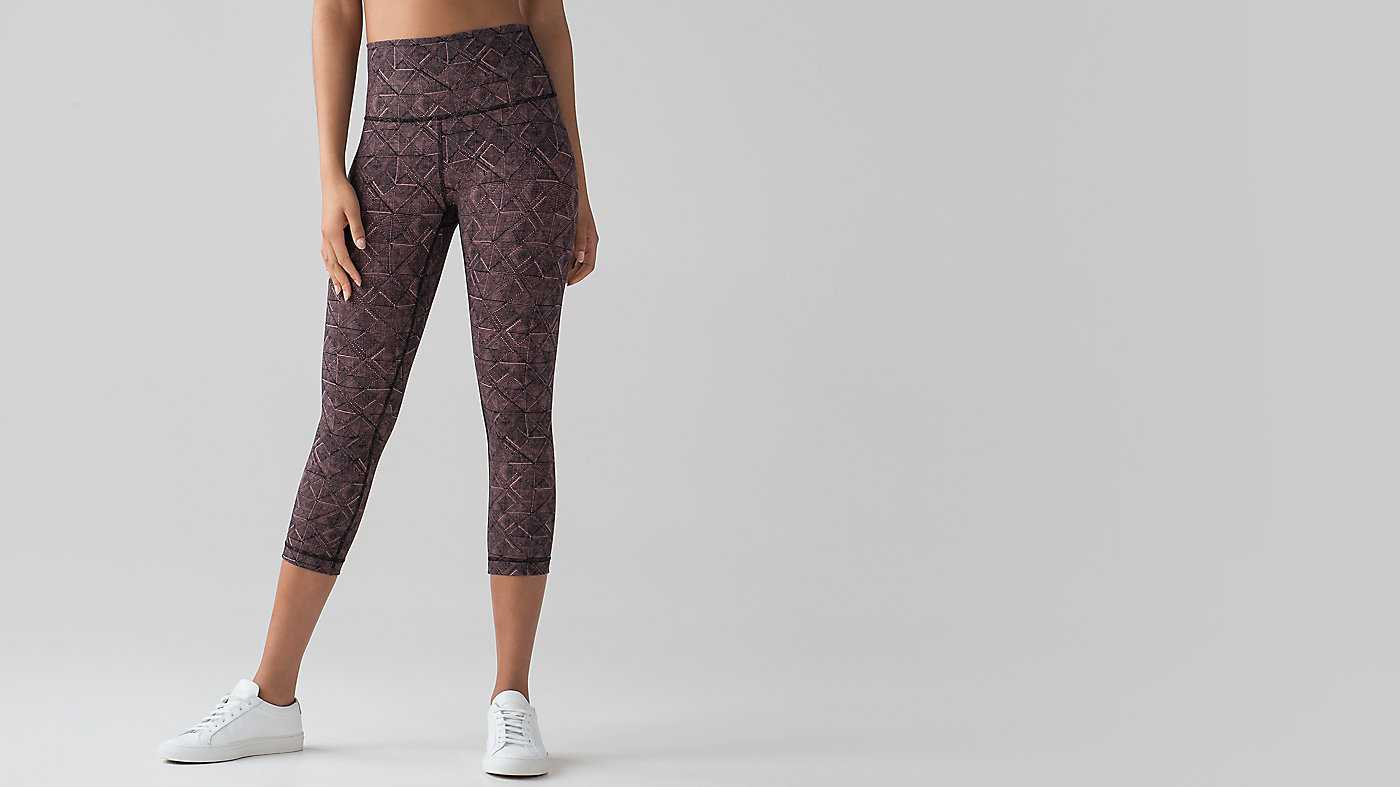 Article conçu pour
Le yoga, l'entraînement
---
lycra®
Le tissu extensible conserve sa forme grâce à l'ajout de fibres Lycra®
---
ceinture confortable
La ceinture plate ne s'incrustera pas dans la peau
---
poche à la ceinture
Rangez vos clés ou votre carte dans la poche à la ceinture
---
sensation caressée
Conçu pour vous procurer une étreinte près du corps; il reste près de vous et bouge avec vous
---
taille haute
Aide à vous couvrir en toute sécurité
---

Wunder Under Crop (Hi-Rise) *Full-On Luxtreme
is rated out of
5
by
35
.
Rated

3

out of

5
by
KNidoff
from
Love Hate Relationship..
Let me start by saying these are my favourite lulus that I own. They are so soft and comfortable. My definite go to. They fit so well. Unfortunately, I bought these April. 31st, 2017 and from that time to now (June.19th,2017.) I have noticed pilling starting to form in the thigh area. Kind of disappointed as they aren't even 2 month old. Also to note, they have been properly washed.
Date published: 2017-06-20
Rated

2

out of

5
by
goodlife4ever
from
Disappointed
I was so excited to wear these once I got them! Ordered these in black currant (love the colour) in my usual size (6). Once I started wearing them to yoga class/other fitness classes, they immediately started to unravel at the seams. So so disappointed because I paid so much for these only to have poor quality crops... I absolutely love all my other lulu items so I'm really sad & confused by this purchase.
Date published: 2017-05-31
Rated

2

out of

5
by
Kels13
from
One-Day Wear
Got these crops yesterday in store and have been wearing them for half the day, when I took them off to change for the gym I noticed that half of the waistband had unravelled. I am extremely disappointed as I just got them yesterday as a replacement for older wunder unders and the seam did not even last a day. May I add that most of my time was spent sedentary and was not doing any out of the ordinary daily behaviours. For the price the quality is definitely lacking if unable to withstand normal everyday (single day) wear.
Date published: 2017-05-30
Rated

3

out of

5
by
NSFR
from
Ne tient pas en place!
Premier essaie j'ai vraiment aimé ce pantalon. Il tenait en place et me fessait comme un gant! Après un lavage, le leggings n'arrête pas de descendre et je doit constamment le relever. Je ne comprends pas pourquoi ca fait toujours cela! Maintenant, je ne suis plus confortable, même dans la maison c'est très dérangeant. Vraiment dommage car le tissu est super doux et très épais. Je ne crois pas que je vais vouloir le reporter... Dommage de payer autant et d'être aussi déçue.
Date published: 2017-05-20
Rated

2

out of

5
by
AnythingActive17
from
Catchy crop - in all sense of the word
After talking, in store, with my local Lulu sales rep about the durability of Luon vs. Luxtreme, I've been opting for the Luxtreme material for all my pant-needs. So I expected when I bought these Wunder Unders in a black and cerulean blue jacquard dash pattern, that I was buying a pretty sturdy crop. Unfortunately, due to the jacquard manufacturing process (I'm assuming), these pants catch on everything! I've worn them twice (and haven't even washed them yet) and they've caught both times!! Even something as simple as my ring touching them will cause the material catch and unravel. Despite the catchy look of the jacquard patterns, stay away from anything made this way.
Date published: 2017-04-29
Rated

1

out of

5
by
sryoon
from
Love the fit but poor quality
I bought black Wunder Under Crop pants from local store and experiencing excessive pilling after one wash with cold water delicate cycle. I am petite, crop fits like 7/8 and loved the fit. BUT Very disappointing with the quality of the pants!
Date published: 2017-04-28
Rated

1

out of

5
by
DanielleW
from
Lulu just isn't the same
I use to love buying Lulu, but nowadays it hardly seems worth it. Spending $100 on pants that only last a few months just isn't worth it anymore. I've ordered numerous pairs of this exact pant because the quality use to be amazing. But within the past year, every pair I've purchased just doesn't last. Within the first couple of days I had already noticed threads coming out of the seams and now a few months later they need to be thrown out.
Date published: 2017-04-24
Rated

1

out of

5
by
Chrissys78
from
Disappointing
I'm a huge Lulu fan until lately. Purchased these and within a month they already look years old. I do not put them in the dryer either. For the price of the pants this is a big disappointment.
Date published: 2017-04-17
Rated

2

out of

5
by
cjd123
from
Disappointed
I wore these once and the threads down the legs and around the waistband are already starting to unravel. Extremely disappointed especially for the price.
Date published: 2017-04-02
Rated

1

out of

5
by
BCdancer86
from
Completely see through!
In all the LuLu items I have purchased, I have never had encountered the sheerness issue I had heard about...UNTIL NOW! I purchased these and tried them all before heading to the gym, and to my disappointment they are completely sheer! I'm finding it harder and harder to keep ordering LuLu as the quality continues to decline and the prices continue to increase. Although I don't always love the feel/fit of other products, they are typically slightly less expensive and you can ACTUALLY WEAR THEM!
Date published: 2017-04-01