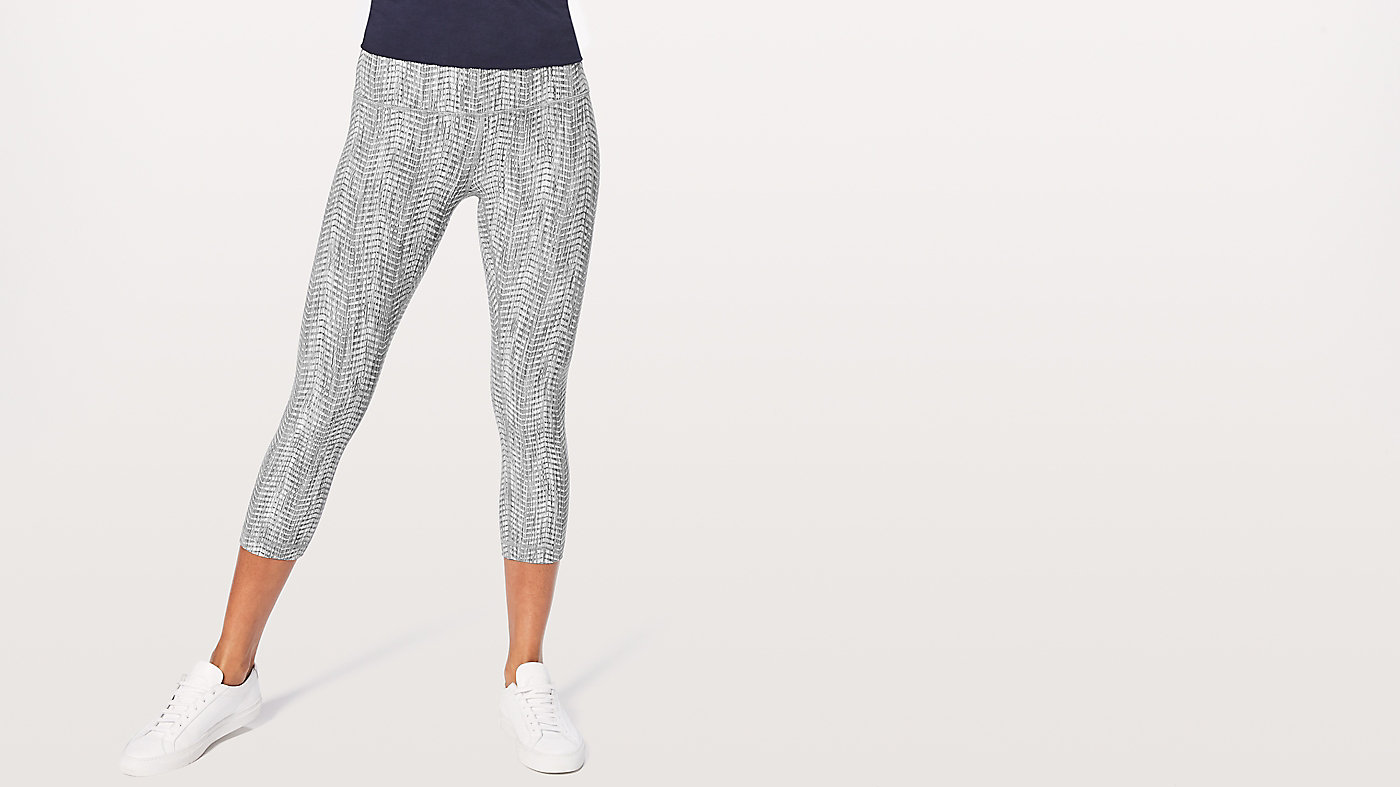 Article conçu pour
Le yoga, l'entraînement
---
lycra®
Le tissu extensible conserve sa forme grâce à l'ajout de fibres Lycra®
---
ceinture confortable
La ceinture plate ne s'incrustera pas dans la peau
---
poche à la ceinture
Rangez vos clés ou votre carte dans la poche à la ceinture
---
sensation caressée
Conçu pour vous procurer une étreinte près du corps; il reste près de vous et bouge avec vous
---

Wunder Under Crop (Hi-Rise) *Full-On Luon
is rated out of
5
by
301
.
Rated

1

out of

5
by
Kmp067
from
***STILL SEE-THROUGH AS OF 5/29/17*****
Let me preface I am a huge Lulu fan and have been for years. I own atleast 12 pairs of Lulu pants/crops including past versions of Wunder Unders which have been my staple. I am a size 6 in pants/crops and always have been. So needless to say, when I went to the store (La Jolla, CA) today to update my wardrobe with a new pair of black high rise luon wunder unders, I was dumbfounded when my patterned Lulu underwear was VERY visible through the entire back of the pants!!! I showed the educator and she barely even batted an eye, but admitted that she could see the entire tag through the crops. UMMMM HELLO? How is this still an issue??? And how could you possibly put them back on the shelf like she did? Warning ladies, try these on from now on before you buy. It is not the same Lululemon brand we used to be able to trust. Time to find a new favorite elsewhere.
Date published: 2017-05-30
Rated

4

out of

5
by
teachermom
from
Great design, love the high waist
I have a few pairs of high rise wunder unders and love them. I love this design but the fabric feels a bit thinner than my other pairs. There's lot of complaints of pilling which I'll be on the lookout for. Love the high waist.
Date published: 2017-05-25
Rated

4

out of

5
by
crossfitsyd
from
Yes, they pill, but they are so comfortable
I had the same problems that with pilling that everyone else did... and it's pretty bad. It's strange, rather than the fabric pilling (admittedly like a lot of my other items), on these pants the stitching is what pilled. And they pilled within hours of wearing them the first time, just around town (not even working out). It's definitely a disappointment, but... OMG, they are so comfortable. They are like butter to wear. They feel amazing on, and it almost makes up for the pilling. I've never had more comfortable leggings from anywhere!
Date published: 2017-05-24
Rated

2

out of

5
by
smurph812
from
worst pilling pair of crops
These were a gift and they were my favorite pair, the softness of the material was beyond compare but these crops started pilling after the second wear and at this point there is noticeable restriction from the friction when I walk. I bought other pairs around the same time and they are in much better condition so I'm not sure what happened with this particular run. I'm a weightlifter so my pairs go through much less friction since I never run to condition. They are all treated to gentle cold wash and hung to dry. Super sad that these are performing so poorly since these were my favorite pair.
Date published: 2017-05-21
Rated

1

out of

5
by
emmers333
from
wanted to love but not worth the money
i wanted to love these and they were an amazing fit but i've only wore them a handful of times and they are pilling so badly. they definitely were not worth $88 and are worse quality than $20 workout pants.
Date published: 2017-05-17
Rated

4

out of

5
by
Sadielib
from
I love these pants!
I bought these pants in the heathered grey color. And i LOVE them! super comfy and soft material, i wear these to yoga, crossfit, or just out and about. I have not seen any pilling (which i am surprised compared to all the other lululemon pants I've boughten recently). I was also worried about the grey color showing sweat marks (hot yoga) but they came through! no sweat marks, no pilling = happy customer! ( and trust me i sweat!) they have started to stretch out at the top, but that i expected to happen. I just thought id write a good review! as I haven't been the most impressed with the quality of other purchases in the last little while. Love these pants!
Date published: 2017-05-17
Rated

5

out of

5
by
LAGirl2200
from
Great print and fit!
I love these! Have worn them several times already to my cardio dance and hot yoga. Great material and very flattering style!!
Date published: 2017-05-13
Rated

2

out of

5
by
samantha22
from
Material Stretched Out and Pilled
I have had this pants for a few months now, and initially I loved them! But after about 3 or 4 times wearing them, they were so stretched out and kept falling down and I literally can not go a minute without pulling them up. At first they looked so good on, but they wore out so quickly, and started to pill a ton in between the legs. I continued to wear them just around the house or doing groceries because they look and feel pretty sloppy now, but now I don't wear them for even that! I have had lululemons that pilled before, but normally after wearing them weekly for around 2 years, not 2 months!
Date published: 2017-05-09
Rated

3

out of

5
by
smiley23
from
Great Crops, but disappointed
I have been looking for a new pair of crops for every day wear and to work out in. I went to two Lulu stores and talked to various employees about what to get. I love these crops, but all the reviews are true. I wore the crops 3-4 times after they started to stretch out around the ankles, even after one wash they are still loose around my calves. I still bought them after reading these reviews because I hoped they weren't true! They are still great pair of crops to wear, just disappointed by their stretch quality.
Date published: 2017-05-04
Rated

3

out of

5
by
tinyrussian
from
good looks but uncomfortable
I wish I loved these because they look SO GOOD but the material isn't as comfortable as I thought they'd be. They kinda feel like spandex, so lots of camel toe, and the fabric itself is really elastic to the touch. In the gym they do their job and pass the squat test, but they get so hot and sticky inside of them once you start sweating. They aren't the kind of leggings you can wear to the gym and out later that day, unless you let them dry. I'm really sad I don't like them, this was my first lulu purchase.
Date published: 2017-05-03