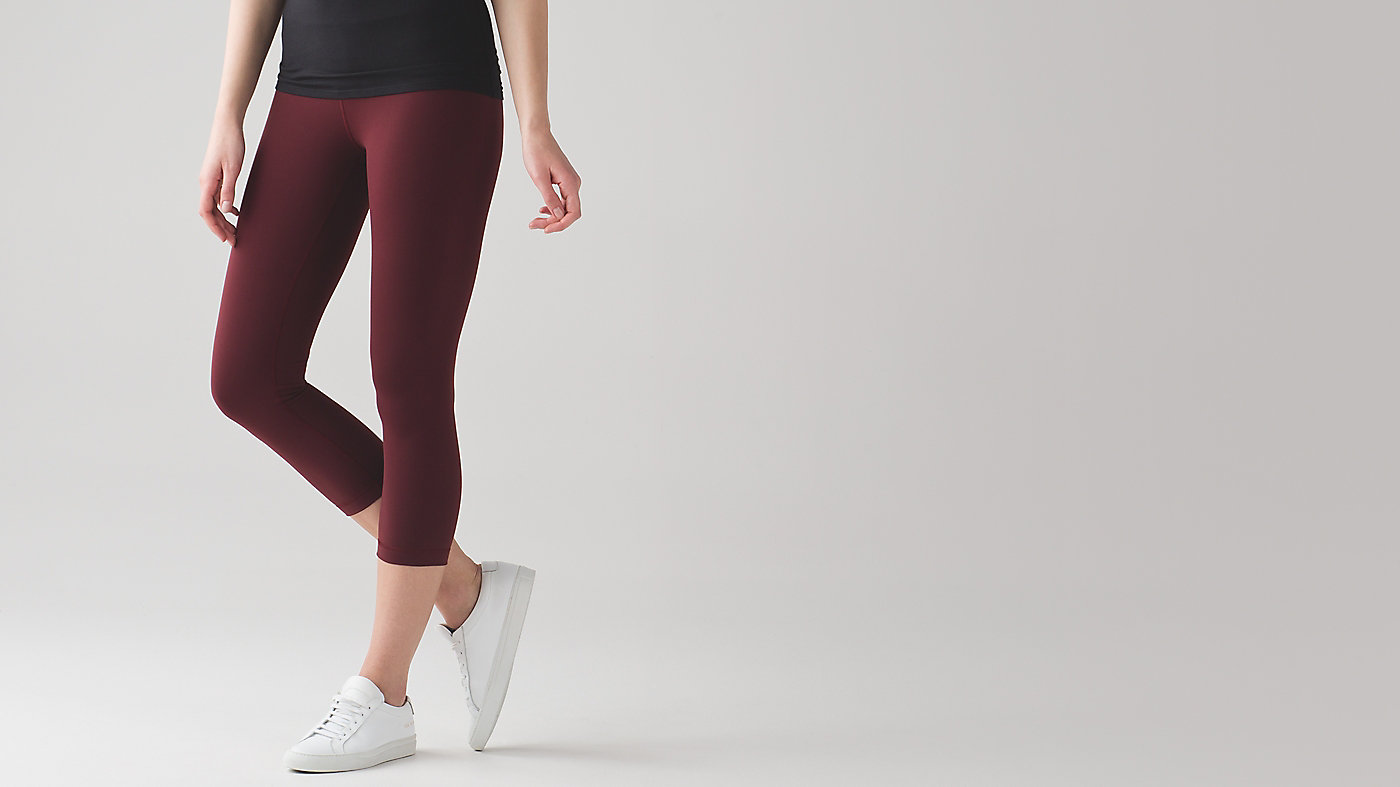 Article conçu pour
Le yoga
---
lycra®
Le tissu extensible conserve sa forme grâce à l'ajout de fibres Lycra®
---
poche à la ceinture
Rangez vos clés ou votre carte dans la poche à la ceinture
---
taille moyenne
La taille plus haute procure plus de couverture et de confort
---
---
sensation caressée
Conçu pour vous procurer une étreinte près du corps; il reste près de vous et bouge avec vous

Wunder Under Crop III *Full-On Luon
is rated out of
5
by
70
.
Rated

2

out of

5
by
saar
from
Pilling
disappointed, I love lululemon, I basically live in them! After a couple times of wearing the seems began pilling like crazy!
Date published: 2017-06-19
Rated

1

out of

5
by
Andee1013
from
disappointed
Loved these and the colour. I purchased in the Bordeaux Drama and black. I originally just wanted to replace my black pair I had previously purchased a few years back, but because I loved them, I decided to purchase the Bordeaux Drama. After the first wear they both balled so badly that I just stopped wearing them and reverted back to wearing my old ones. Whatever changed in the fabric in that time.... please go back to your old ways. I miss when my lululemons never had issues. Now I feel that every pair I purchase, I just have to expect them to ball and to what extent I have to deal with it and keep wearing it or throw them in the closet. I still have a pair from 8 plus years ago that are in AMAZING condition compared to ones I've worn for one month. I am a dedicated Lulu girl, so I keep hanging on!! <3
Date published: 2017-06-02
Rated

2

out of

5
by
Sadielib
from
Unfortunately they are pilling badly!
I bought these pants about a year ago! and there pilling bad! i thought they would have lasted longer then a year for 100$. I take very good care of my lulu items. I guess these are being demoted to pyjama pants :(
Date published: 2017-06-01
Rated

1

out of

5
by
Neecie
from
Pilling of material
I bought these a few years ago and really love them but they pill like crazy. I tried to exchange them at the store and the girl who helped me told me it was my fault and not the fault of the material. She wasn't helpful at all and was actually quite rude. I thought of buying a new pair of pants since I have a few Lulus but I doubt I'll ever buy from Lululemon again after this experience. Especially since 2 of my 5 pairs of Lulus are pilling and I'm stuck with them apparently.
Date published: 2017-05-28
Rated

3

out of

5
by
Lululuver80
from
Seam is coming out
Love these crops, as i own about 8 pairs of the wonder under crop but i'm sad to say that i have about 3 pairs that the seam is starting to fray. really worried that i paid so much money for all these pants to have them start to fall apart. :(
Date published: 2017-05-24
Rated

1

out of

5
by
Gymlover101010
from
Stretched out waist band
I was very disappointed as I enjoy going to the gym and own a lot of Lululemon products, yet this one is an incredibly large hassle to wear!! The waist band stretched out so much that I constantly have to pull them up and I don't even wear them because of this. I would not recommend this product for this soul reason as working out in them is not enjoyable what so ever. I have enjoyed my other Lululemon products but this is one NOT worth buying because you will spend more time pulling them up than you will doing any activity in them.
Date published: 2017-05-07
Rated

2

out of

5
by
em2058
from
Pilling and loses fit!!
I bought two pairs of these, one black and one burgundy, unfortunately I can no longer wear either :( They were great when I bought them, super comfy. After a few months the black pair started to pill super bad! The burgundy ones started to stretch in the waist as well, I'm the only person that ever wears my leggings and I haven't lost any weight so there is no explanation for this. I wash on delicate with cold water and hang to dry. I can't wear the black ones anymore because the pilling looks so bad and I can't walk around for even a couple minutes without having to pull up the burgundy ones. Super disappointed as they were such good crops when I first got them.
Date published: 2017-04-21
Rated

2

out of

5
by
mountainloves
from
Piling and loose seams
I wanted to love these. They are super comfortable, soft, feel amazing in yoga classes and intense spin sessions, but sadly the seems started coming loose at the bottom pretty much immediately after I bought them. That wasn't a big deal for me, it's an easy enough fix. Unfortunately, after wearing them for a few months I noticed pilling between the legs and it just kept getting worse. Not excited about this because they could have been such amazing pants!
Date published: 2017-02-28
Rated

2

out of

5
by
fittieyyc
from
Wanted to love them...
These pants are a nice fit and they're really comfortable but they started pilling almost immediately after I bought them! For the price I expected them to hold up better. I have plenty of other lulu pants and this was the first time I've experienced that. Too bad since they're really nice crops otherwise. :(
Date published: 2017-02-09
Rated

2

out of

5
by
Sagie
from
disappointed in a favourite
such a staple in my workout collection however after just a few washes and wears my new pair are already loose and pilling :( So disappointed as I loved these pants so much!!
Date published: 2017-02-02