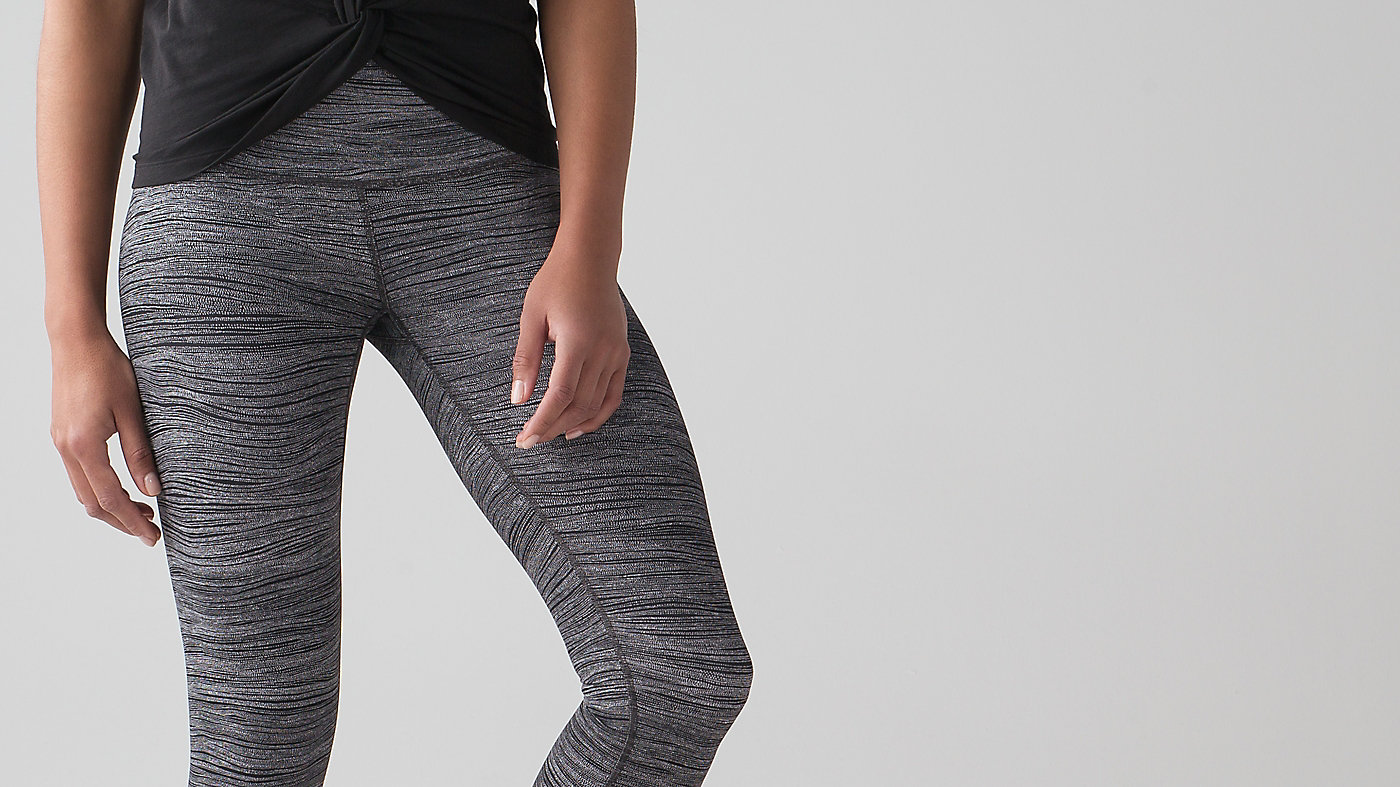 Article conçu pour
Le yoga
---
lycra®
Le tissu extensible conserve sa forme grâce à l'ajout de fibres Lycra®
---
poche à la ceinture
Rangez vos clés ou votre carte dans la poche à la ceinture
---
taille moyenne
La taille plus haute procure plus de couverture et de confort
---
sensation caressée
Conçu pour vous procurer une étreinte près du corps; il reste près de vous et bouge avec vous
---

Wunder Under Crop III *Full-On Luxtreme
is rated out of
5
by
18
.
Rated

1

out of

5
by
crossfitter17
from
Extremely disappointing
I bought a pair of these pants and the seams will always unravel. I have had to get the seams repaired twice now. I do not recommend these to anyone.
Date published: 2017-05-12
Rated

1

out of

5
by
swimmerswammer
from
Terrible Wunder Unders
These crops were sognificantly tighter than my usual wunder unders and comletely see-through, I am so disappointed with this product as I payed 100$ for pants I cannot wear... I wanted normal, nonsheer pants and these are stragly shiny and sheer..
Date published: 2017-04-22
Rated

2

out of

5
by
ging1414
from
fabric is poor
I ordered the LUON RIPPLE JACQUARD BLACK WHITE pair that i believe are Luon about a month ago and have only worn them a couple of times. Because of the fabric they are made from they are already falling apart.. Threads are coming out of random places; I love all my other lulu pants that are made from the normal material but I don't recommend these ones considering I still wear the first pair of pants that I ever bought about 6 years ago.
Date published: 2017-03-01
Rated

4

out of

5
by
Digger
from
Don't get the bad reviews!
I ordered these online in the shatter weave dust coral plum colour. LOVE the print, and not sheer! I read the reviews about how small these fit, so I decided to order my bigger of two sizes. I have never owned luxtreme wunder unders before, so I wasn't sure. BIG mistake! I put them on, and they were too big! I only had them on for ten minutes, and I was tugging them up the entire time. Definitely wouldn't be able to work out in them like this! So off I go to return them, and reorder in my TTS size! My advice, do not size up! Get your regular size!
Date published: 2017-02-01
Rated

5

out of

5
by
RUNNER4EVER
from
Not sure why these are getting bad reviews???
Purchased these the other day with intent of wearing them to the gym, and I absolutely love them. They stay in place while running and I don't have to yank them up 100x - which is always a plus. I bought them in black, and they aren't see-through whatsoever. However, I've read some reviews that some people are finding that other patterns are more see-through. Cant go wrong with a pair of basic black leggings, right? The Luxtreme fabric is also fabulous for high intensity workouts as it doesn't pill. For reference, I wear a size 8, 145lbs.
Date published: 2017-01-28
Rated

5

out of

5
by
Ehlalala
from
Love these Pants!!
I almost never take these off, I have now bought multiple pairs! they wash great, they wear great and look great! I find the Luxtreme actually washes better then the Luon and doesnt pill, as long as you follow the instructions. I may buy like 10 more pairs!
Date published: 2017-01-12
Rated

1

out of

5
by
KJI1
from
Disappointed
I bought two of these within the past few months and I am very disappointed. I still have and wear my original LuLu's from years ago, and the quality is so much better. These ones stretch out so much and have a very worn look to them, even when you follow the washing instructions to a tee. Not impressed with the newer ones at all.
Date published: 2017-01-06
Rated

1

out of

5
by
VanCair
from
Not impressed
I had read the reviews before buying and saw that most of them were bad but decided to take a chance anyways. I sized up do the popular comment that they are see through. Fit is fine and I don't think they are see through. However I've only worn them twice and the hemming at the waist band is already coming undone (significantly). I'm extremely unimpressed and will be listening to product reviews next time.
Date published: 2016-12-01
Rated

1

out of

5
by
co88
from
Beware - saggy bum!
I replaced my favourite pair of lululemon crop yoga pants with the Wunder Under Crops after I lost my old pair at the gym and was so disappointed with the quality of my new pair. After about 4 wears the butt started sagging and has gotten to the point that I can't even wear them in a yoga class anymore because I risk a wardrobe malfunction every time I bend over. My old pair of cropped pants from Lulu were so great and I'm seriously bummed that the quality has dropped so much. Save yourself $88 and a bad case of diaper butt and don't bother with these pants. RIP Lululemon products of yesteryear.
Date published: 2016-11-14
Rated

2

out of

5
by
NDaley
from
Disappointed
I bought these because I love the Midnight Bloom pattern but realized I liked the high rise better so exchanged them for the full Wunder Under Pants in hi-rise (my fav style of lulu pants). I sized up because the fabric is white underneath and looked visibly stretched on my thighs. Last night my family informed me that the pants are see through when I bend over. I'm so sad and not impressed!
Date published: 2016-11-10