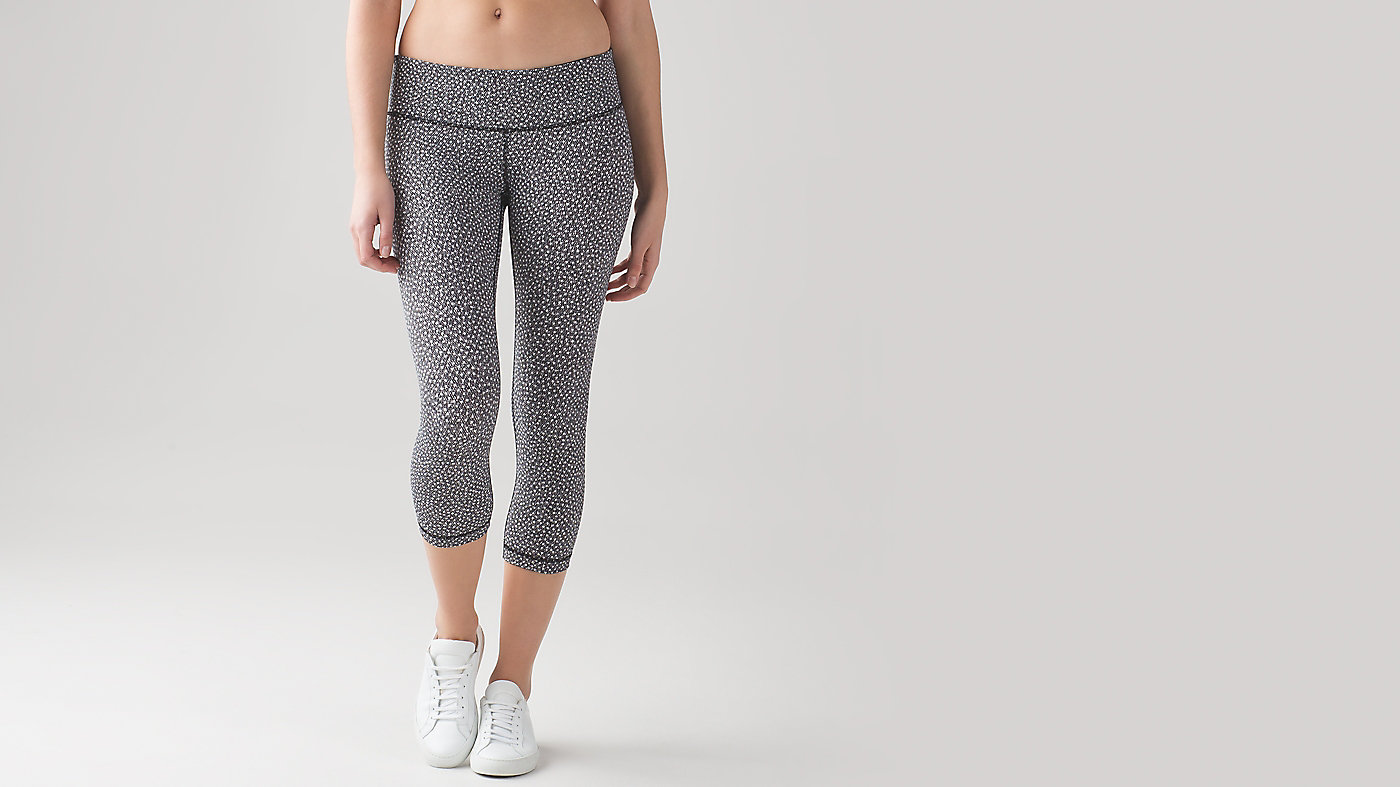 Article conçu pour
Le yoga
---
poche dissimulée
Rangez vos essentiels dans la poche dissimulée à la ceinture
---
taille moyenne
Pour une couverture et un confort tout en fraîcheur
---
---
sensation caressée
Conçu pour vous procurer une étreinte près du corps; il reste près de vous et bouge avec vous

Wunder Under Crop III *Luxtreme
is rated out of
5
by
16
.
Rated

1

out of

5
by
Lifter1234
from
NOT impressed
Super not impressed with this purchase.. my SECOND time wearing these pants the entire threading on the front of the waist came out .... at the start of my day i noticed the bottom part of the threading around the waist was coming loose and starting to come out.. by the end of my day the entire left side of threading was gone. the stitching is terrible there is threads sticking out at the bottom of both legs and on both sides of the waist. no wonder they came free and unravelled like wild fire.
Date published: 2017-04-26
Rated

1

out of

5
by
902YogaLover
from
Worst Lulu purchase to date.
I've been a loyal lulu customer for over 6 years now, and make several purchases a year. but i have to say these pants were the worst purchase i've made yet! i received these in the mail last week, wore them to the gym once over the weekend and within 20 mins into my warm up the seams starting coming undone!! first it started around the waist seam, then when i got home i noticed the crotch seam came undone .. very disappointed in these pants because overall they are super cute, but very poor quality for the amount of money spent. I do not recommend buying these if you do any type of cardio or yoga. very hesitant on making future purchases now.
Date published: 2017-04-25
Rated

5

out of

5
by
Banana8686
from
Shattered Weave Adorable - Size Down
I love the Shattered Weave pattern. Very cute. I'm between sizes, but should have went with my smaller size especially as these are not high rise. They feel like they fall down a bit. As a general rule, I believe crops should be a little tighter because people normally wear them for cardio type activities and you want them to be able to stay up. They are still wearable though.
Date published: 2017-04-06
Rated

1

out of

5
by
BCdancer86
from
SEE THROUGH!
I ordered the shattered weave dust coral plum colour and was so excited as I loved the colour. I put them on and when I bend over they are completely SEE THROUGH! I had previously ordered another pattern and they were a little bit see through but totally wearable so long as I wasn't doing squats. I am so sad as I bought these on WMTM so I can't return them. However I also purchased a pair in black and again see through, so those ones will be going back. I have heard about and see many reviews about sheerness, but in all the LULU items I have purchased I had never encountered it until now. I read the other reviews and it doesn't appear any of the other reviewers are having this issue, and some are even suggesting to size down, when I ordered by regular size.
Date published: 2017-04-01
Rated

4

out of

5
by
Muscles
from
Love!
Love these.....but size down! I ordered my true fit size 6 and they fit great the first wear. After one wash, they stretched....I returned and re-ordered in size 4......fits perfect, no issues...love them!
Date published: 2017-03-29
Rated

4

out of

5
by
Sunshinestateofmind
from
Seams unravelling
I buy a lot of clothing from Lululemon and I love these crops but the seams should never have passed any sort of quality control. They arrived with loose threads in the legs. During yoga I noticed a long thread hanging from the crotch which I carefully knotted and cut off the excess thread when I got home. Today the same happened again. This is very frustrating. If you can hem pants for free you should be able to fix the seams for free.
Date published: 2015-12-07
Rated

4

out of

5
by
Morgan5
from
Pin-Hole Put-Down
I bought my very first pair of Wunder Under Crop III *Luxtreme that are printed not plain and have to say I absolutely LOVE them, I do a lot of weight training and I have trouble finding a pair of leggings that will stay up when squatting or deadlifting, so I give them 5 stars for that and of course the crazy fun print. But my very first time wearing them I noticed a little Pin-hole in the inner thigh (No where near the seam might I add) which is funny to me because how would this even happen? I've been scared everytime I wear them that this hole is going to get bigger as there's no way to repair this pin-hole.. A little upsetting.. But of course I've already have worn them to the gym and taken the tags off so cannot return them for a new pair without the pin-hole.
Date published: 2015-11-20
Rated

5

out of

5
by
nadybug
from
love
These pants are awesome
Date published: 2015-11-17
Rated

5

out of

5
by
Erinnaa
from
Love the pink
Got the pink one, TTS, and I just love it, mainly because it is very unique, in a good way, like why we pay extra$ for Lululemon's special design or color way. I get a little bored after many black, grey, inkwell... yes they are staple colours! This one is not necessarily flattering on, so don't buy if you are look for that purpose, it is just so cute! My second pink crop after pink Camo, and I'd say I personally like this one better. The cheerful color would be even better for warmer days.
Date published: 2015-11-06
Rated

4

out of

5
by
Fangosteen
from
Sweet ness to the max
My second pcs of LLL pant and I have no regret. I have gotten a size 4.. It's abit tighter then the usual pants but I think it's still manageable. i love the colors. Hope it can last as it's quite a costly pant.
Date published: 2015-11-03