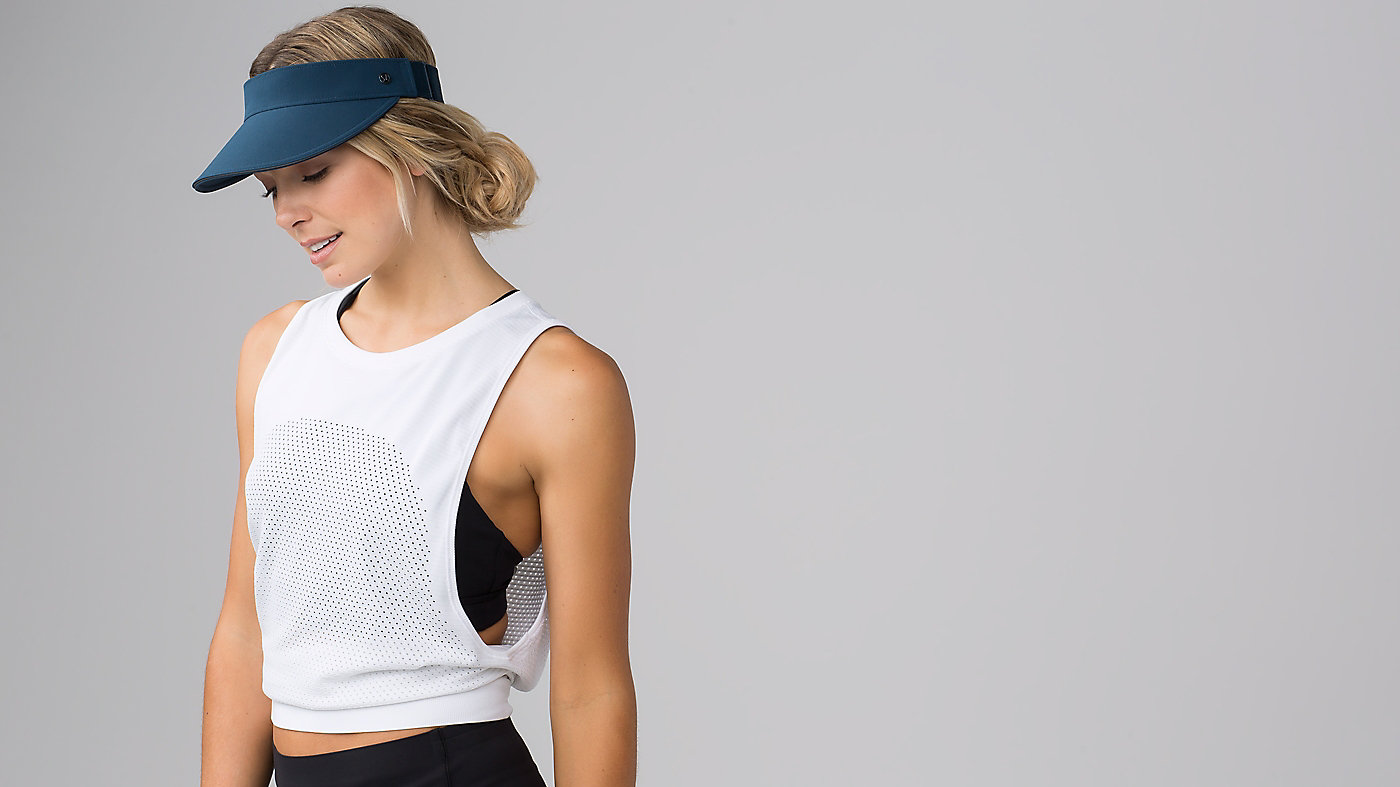 Article conçu pour
L'aller-retour
---
Ultrabrillants
Les détails réfléchissants vous aident à rester visible lorsqu'il fait sombre
---
fermeture ajustable
Personnalisez la taille grâce à la fermeture arrière ajustable
---
DOUBLURE QUI ÉVACUE LA SUEUR
Doublure légère qui évacue la sueur

Fast Paced Run Visor
is rated out of
5
by
25
.
Rated

4

out of

5
by
SMMM
from
good sun protection and comfortable
Love the width of the brim because it provides good sun protection. The piece around the front of the hat is just the right size ( usually this runs annoyingly large and stick out). The best part is the thick adjustable band in the back keeps this baby secure. Now if this band had a hook for easy on and off this hat would be GOLD!
Date published: 2017-04-25
Rated

5

out of

5
by
kyrocks
from
Perfect Run Visor
I've had a few different visors for running and this one is certainly the best! Most seem to have some snap hook thing happening in the back - which are either hard to tighten or come unsnapped. This visor is easy to size, doesn't get caught in my hair, stays in place, and there's no risk of it coming undone. It also dries quickly and after several runs and still doesn't stink.
Date published: 2017-04-19
Rated

5

out of

5
by
Sies
from
Great quality and fit
I wore this for a race lasting 6 hours and it did not move at all! The strap is extremely comfortable and durable!
Date published: 2017-03-15
Rated

5

out of

5
by
jmpsocal
from
Comfortable
I bought one in white, and loved it so much I purchased one in black. They are replacing old visors. I love the comfortable band around my head, as my last two were Velcro closures that can be irritating.
Date published: 2017-02-21
Rated

2

out of

5
by
WonderWomanLives
from
Poor Quality Fabric in Solild Black and White
I purchased this visor in black, white, and two prints last season. I love the size of wide brim and the elastic band on the back is very comfortable. However, neither the black nor the white visor met my expectations in terms of quality and durability. The black visor was severely faded after less than a month of outdoor wear and the fabric on the white visor was almost transparent it was so thin. They both looked so bad that I stopped wearing them. The prints were of much better quality.
Date published: 2017-01-13
Rated

3

out of

5
by
Teddi
from
Nice Fit
I purchased the white visor and it also came with a silver coloured logo as someone else had mentioned. The smooth material is fine and the white is a lovely brilliant white, however, several spots on it have what I originally thought were lipstick or makeup spots but upon looking at it further to write this review, I think it must have been placed with other garments and the colour transferred to the white as the entire visor has another colour on it.
Date published: 2017-01-06
Rated

2

out of

5
by
Chisspy
from
White color is NOT as pictured!
I was so excited to get the pretty white and gold version of this visor. I had tried on the black one in store and knew I liked the fit, but since my store didn't carry the white version, I ordered it online. What I received was a white visor with a silver logo and silver reflective piping around the brim. The fabric on the one I received is also different from what's shown online. Online it looks more textured and the fabric on the one I received was smooth and thinner looking. After doing the online chat with customer service, their only idea was to return it. So, I guess that's what I'll do. Did anyone else have this issue or did I just get a stray old visor they found in the warehouse from five years ago?? I'm annoyed that they can advertise a product with photos and then send you something completely different. Doesn't seem like something a reputable company would do.
Date published: 2017-01-04
Rated

2

out of

5
by
LosAngelesNewRunner
from
Not comfortable visor for running
This visor looks super cute online but it's not a comfy visor for me. I've purchases a lot of Lulu visors and hats. It's cute in white, but not great for running long distance. Might be better to play tennis or golf in or just to go to and from. The band is thick and doesn't comfortably on my head. Gave me a headache.
Date published: 2016-11-13
Rated

3

out of

5
by
Frosty410
from
LOVE the style, BUT black color faded!
I play a lot of tennis... This black visor did not hold up well at all in the sun! It has faded to the point, where I no longer care to wear it, as it's no longer "black"! I LOVE my white one though! (I would give the white FOUR stars +!) These visors DO wash well, on "hand wash" or "delicate" cycle, except the forehead band does wrinkle a bit (but I can live with that!). A better interfacing may have prevented this? This style IS by far the most comfortable visor I have ever worn, with the soft, wide adjustable strap! For $28 though, the black should have lasted longer. So disappointed, because I do have a good bit of black in my tennis wardrobe. I now need to invest in a new black visor! Ugh! Please note: My photos show the top-side in one and under-side in other to show fading.
Date published: 2016-10-19
Rated

5

out of

5
by
irunforpotatoes
from
My new favorite visor!
I've just recently started training regularly for a couple of longer distance runs, and this hat has been my lifesaver! Normally when I run at the gym or outside, I sweat like I just came out of a swimming pool -- No joke, I can normally ring out a sweat puddle from my shirt after a long run. Not only does this hat keep the sun out of my face (like a visor is supposed to, right?) and it keeps the sweat from dripping into my face, eyes, and all down my chest! I haven't had any issues with the band not fitting to my head or sliding off, and it stayed completely put during my first half marathon. Now it's a necessity for me to run with, and I couldn't be happier! Thanks Lulu!
Date published: 2016-09-25