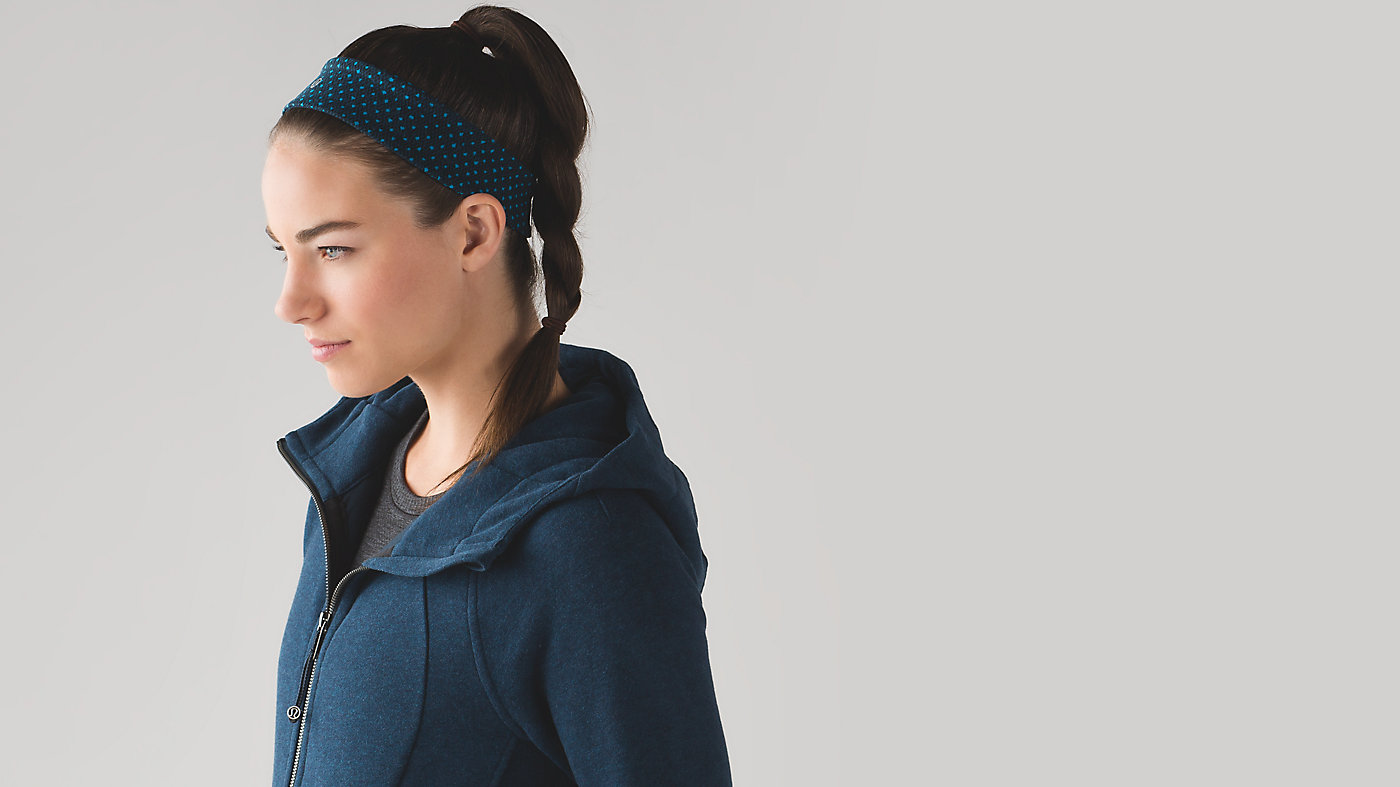 Article conçu pour
Le yoga, la course, l'aller-retour
---
garnitures collées en velours
Aident à maintenir le bandeau en place sans tirer les cheveux

Fly Away Tamer Headband II
is rated out of
5
by
33
.
Rated

3

out of

5
by
Ontario50
from
Received Dirty Headband
I purchased 2 Fly Away Tamer Headbands - one for myself, one for a gift. I just opened the package to find one headband is dirty! This isn't a big deal in the grand scheme of things I realize but still, when you order anything you don't expect to receive a dirty item. Kind of disappointed that quality control missed this. I'm hoping the dirt will come off when washed - as I'm sure it will.
Date published: 2017-06-12
Rated

5

out of

5
by
Caitlin34
from
Love these!
I love these- I have them in almost every color and wear them every time I workout. I have long hair with bangs, and most headbands slip and are useless to me, but I have never had a problem with these slipping. I have some of the older versions with the silicone, but I much prefer the current incarnation with the velvet as I feel the silicone pulled my hair and was damaging. I do not understand the bad reviews as these are great- highly recommend!
Date published: 2016-08-01
Rated

1

out of

5
by
plow4lyfe
from
Doesn't stay in place
I was really excited about this headband because it looks cute on (I bought the tender violet color), but when I wore it for the first time, it completely fell off halfway through my yoga class. I bought the headband to keep my bangs in place, but it ended up ruining my power flow because I was continually adjusting the headband and pushing my bangs out of my face. What makes the situation even more frustrating is that, before purchasing this, I asked the store associate which headband was the best at staying in place and she recommended this one. If this is the best headband that lululemon makes, I won't be buying any more in the future.
Date published: 2016-05-31
Rated

1

out of

5
by
Gymaholic1
from
One chance too many- Worse than a regular headband
I got this in black in May, and I have worn it 5-7 times. The first time it was perfect--It didn't budge at all. The second and third time I felt is sliding up on my head. I didn't think it was a huge deal to re-adjust it a bit. But I noticed that it wasn't really covering and hiding my frizz (I have long slightly wavy hair, but frizz around the crown of my head) maybe I need a thicker headband to cover all my frizz). That's when I noticed every time I had to re-adjust it, it kinda messed up my hair a bit. Okay, fine it's not performing up to par and isn't magical and beautiful like I had hoped. But today, it straight up slipped up off my head after a long work out session. I was about to put it back on when I noticed it has stretched out and wont be the same. Very disappointing. I don't recommend this one. . Maybe the thicker Fringe fighter headband is a better choice? I don't know.
Date published: 2016-05-29
Rated

2

out of

5
by
long30
from
So so headband
I was excited to by this headband because when i tried it on it actually looked and feel good. I wore it for the first time to the gym today and it was loose and I had to readjust it twice. I don't think the velvet holds very well even though it's a nice that it doesn't pull my hair. Not too happy with this headband....
Date published: 2016-05-27
Rated

5

out of

5
by
vballplayer1
from
amazing
I have used Under Armour, Nike, Adidas, Gap, and generic brand headbands and these are the best so far. They're super thick and don't really slip off. I had long curly/wavy, silky hair and these stayed on. When I cut my hair, I still used them. Now I have longer hair and these are the best. I use them for Crossfit, boxing, and volleyball. They're thick and absorb sweat really well. I have 6 and I love them all. They're so much better than the skinny ones.
Date published: 2016-05-26
Rated

1

out of

5
by
thatoneblonde
from
Very Disapointed
I absolutely loved the skinny fly away tamer. I decided to give this one a chance because i can no longer find the skinny one in colors besides black. I can't use the Cardio cross trainer headband because it does not stay, the velvet is the only thing that keeps headbands on my head. After about two uses this one completely stretched out. I am very disapointed because i wear these headbands everyday. I am not a fan of the thickness of these either. Overall, I really loved the skinny version, please bring it back.
Date published: 2016-05-15
Rated

2

out of

5
by
ktychynska
from
Bring back silicone inside
Looks cute, doesn't hold up. The velvet does not keep it in place on my hair and stretches out. I tried washing it to get it tighter but it didn't budge. Wish they still made the ones with the silicone backing because those actually stayed put.
Date published: 2016-05-05
Rated

1

out of

5
by
adiesel
from
Bring back the silicon headbands!!!
I stocked up on the old silicon headbands when I heard they were being discontinued - I wear them every day for any type of workout! Because they get so much use, I decided to give the new headbands a try with the velvet strip. I was SO disappointed - they don't stay on my head, the fabric seemed to stretch quickly, and everything overall feels less secure. It took me years to find a headband I love, and now it's gone! Please bring the old silicon dots back!
Date published: 2016-04-29
Rated

5

out of

5
by
SportySweatyShopper
from
OBSESSED
I probably own about 20 Lulu headbands and this style is by far my favorite! It is tighter/smaller than some of the previous versions and I love that it tapers in at the back. I take a lot of high intensity workout classes and I never need to adjust the headband, it is awesome! I currently own 3 different colors in this and can't wait to buy more!
Date published: 2016-04-27