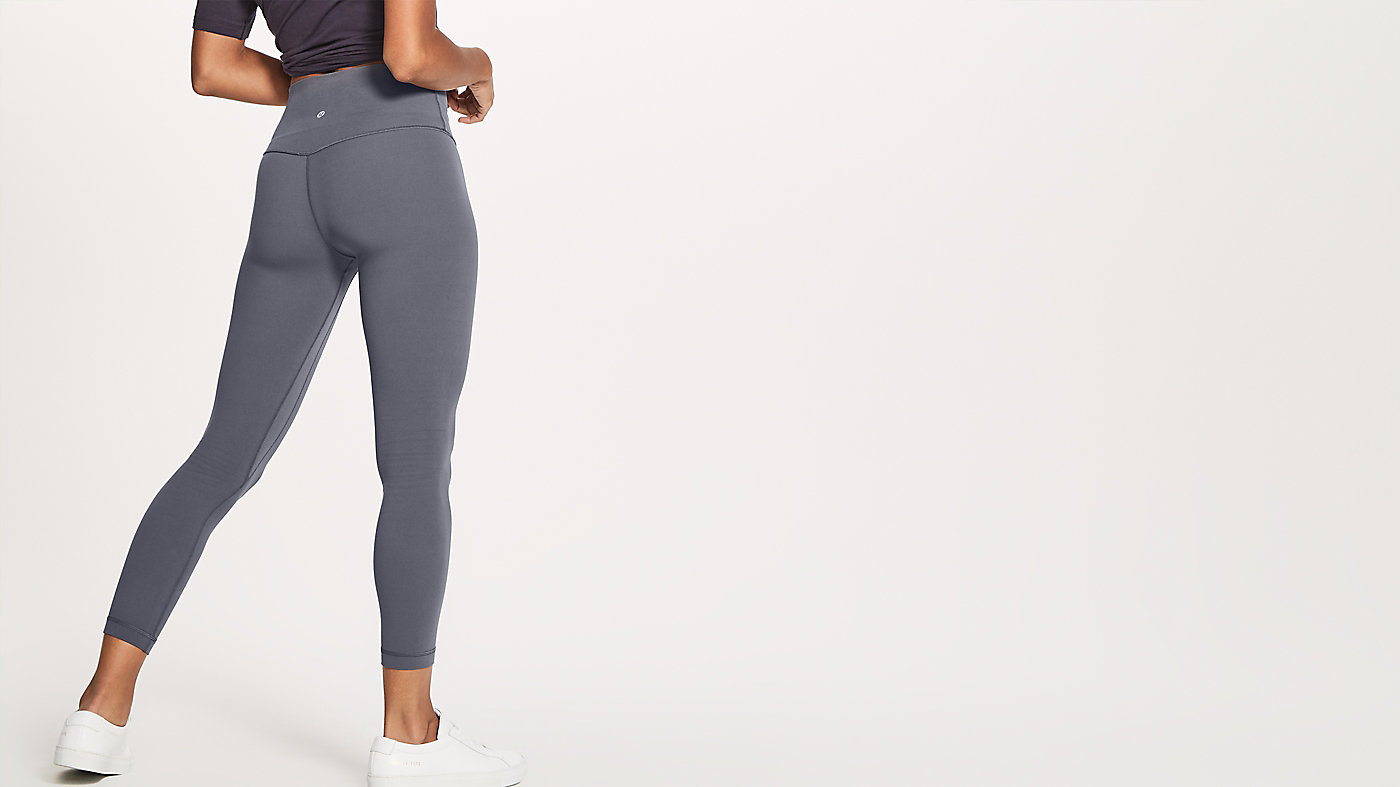 Article conçu pour
Le yoga
---
ceinture confortable
La ceinture plate ne s'incrustera pas dans la peau
---
taille haute
Aide à vous couvrir en toute sécurité
---
longueur cheville
La longueur 7/8 ne vous gênera pas
---
sensation nue
Comme une seconde peau, il deviendra votre petit préféré – tout léger, vous oublierez que vous le portez
---
POCHE CACHÉE POUR CARTE
Poche cachée à la ceinture pour votre clé ou une carte
---
Align Pant II
is rated out of
5
by
735
.
Rated

1

out of

5
by
ViolaM
from
Wonderfully Comfortable But Disappointing :(
These pants are ridiculously soft and they make you feel like you're wearing nothing. I bought a black pair a couple of months ago and I wear them for yoga a few times every week and take great care of them, I wash them by hand and lay them out to dry yet the left thigh is pilling like crazy, and the rest are also beginning to pill. Since the material is quite thin they also stretch out really easily, especially around my ankles. I'm sad because these pants are so comfortable.
Date published: 2017-06-23
Rated

5

out of

5
by
Lidster
from
My Favourite Lululemon Pants
I have 3 pairs of the align pants and love them! I have also recommended them to many friends. I have read the pilling comments and I agree... my first pair, approx. 2 years old has some pilling on the right knee and the butt but that didn't stop me, I purchased 2 more! They are great, easy to workout in - and feel 'naked' as stated but not to an uncomfortable level. I only wish they had more styles like this to choose from. Hopefully the sort out the pilling - as it seems a lot or mentioning it.
Date published: 2017-06-23
Rated

3

out of

5
by
lexlex
from
Love Them but Disappointed
I bought these pants about 6 months ago and they are the proper size for me, however they started to come apart at both inseams. I love the pants and would wear them for yoga, running, or every day, but the quality has gone down. Lululemon used to have such great quality that I could justify the price, but now this has happened to a couple pairs of my lulus and its very discouraging especially for a repeated customer. I had to sew them up myself just so I could get my moneys worth for them. Love the look, but I am disappointed with the quality lately.
Date published: 2017-06-23
Rated

4

out of

5
by
Corona
from
Can't Stop the Pilling
Love the Align Pants. They are so soft and comfortable. By far my favorite Lulu pant thus far. However... they seem to pill like crazy no matter how you treat them. Unfortunately their life span won't end up being very long.
Date published: 2017-06-22
Rated

3

out of

5
by
Sarah1991
from
Almost life changing - but disappointing
I bought these originally in a size 6, then needed to size down. I went through so much hassle because the store didn't have a size 4, but they were great and ordered from another store since they were sold out online too. I was stoked when I finally got them because they are the comfiest pants EVER! Imagine my surprise when I've been literally wearing them for one full day and the seams around the ankles are already coming undone... and haven't even washed them yet :( They look like they've been worn for a year, not one day. Super unfortunate considering the price and the struggle I went through to get them.. I thought a pant that was sold out everywhere would hold up better than this!
Date published: 2017-06-21
Rated

2

out of

5
by
Teags
from
Amazing pants but the pilling is unavoidable
I have two pairs. The first pair I didn't give the best care to. They pilled horribly. The second pair I treated like a new born baby and did everything the educator told me to to. They still pilled terribly. Super bummed because these are some of the best pants I've tried on.
Date published: 2017-06-21
Rated

3

out of

5
by
hhfz
from
Super soft, but they pill horribly :(
I absolutely loved these pants. Loved the feel and the length. HOWEVER, they pill horribly between the legs, to the point where they clearly show, and it makes the pants look really bad. Within a week, they were pilling, and they are good quality pants and not cheap, so I was quite surprised.
Date published: 2017-06-20
Rated

1

out of

5
by
Emski
from
Product doesn't last!
I was so happy when I bought these leggings! At first, they were soft and super comfy. A few washes later, the material easily deteriorate and piles. Even when you follow the wash instructions, this product doesn't seem to last. I am super disappointed with product, especially with the amount I have paid!
Date published: 2017-06-20
Rated

2

out of

5
by
canadianmommabear
from
Great Fit, Low quality
I love the way these pants look! They are super flattering! If only they could hold up to anything. These pants pill so fast and so easy. Mine had major pilling after just one barre class. I am scared to even sit down in them for fear of them pilling or snagging. I would love this same seams lines and fit in a sturdier fabric.
Date published: 2017-06-20
Rated

1

out of

5
by
lh1014
from
Not Worth Your Money
I absolutely loved the feeling of these pants as soon as I tried them on, but I was hesitant to buy them based on the reviews. I ended up buying them - since I couldn't stop thinking about them and wore them to ONE yoga class (a yin class) and the next day went to put them on again to wear to yoga and noticed that there were pills all over the thigh!! I honestly thought the reviews were being a little dramatic about how badly these pill but I was really shocked that after one class and wearing them for about 2 hours (if that) that they already had pills. Am so so disappointed as these feel amazing on. Unfortunately, would never recommend these to anyone at this price and feel like I just wasted over 100$ on something that was not worth it at all.
Date published: 2017-06-19