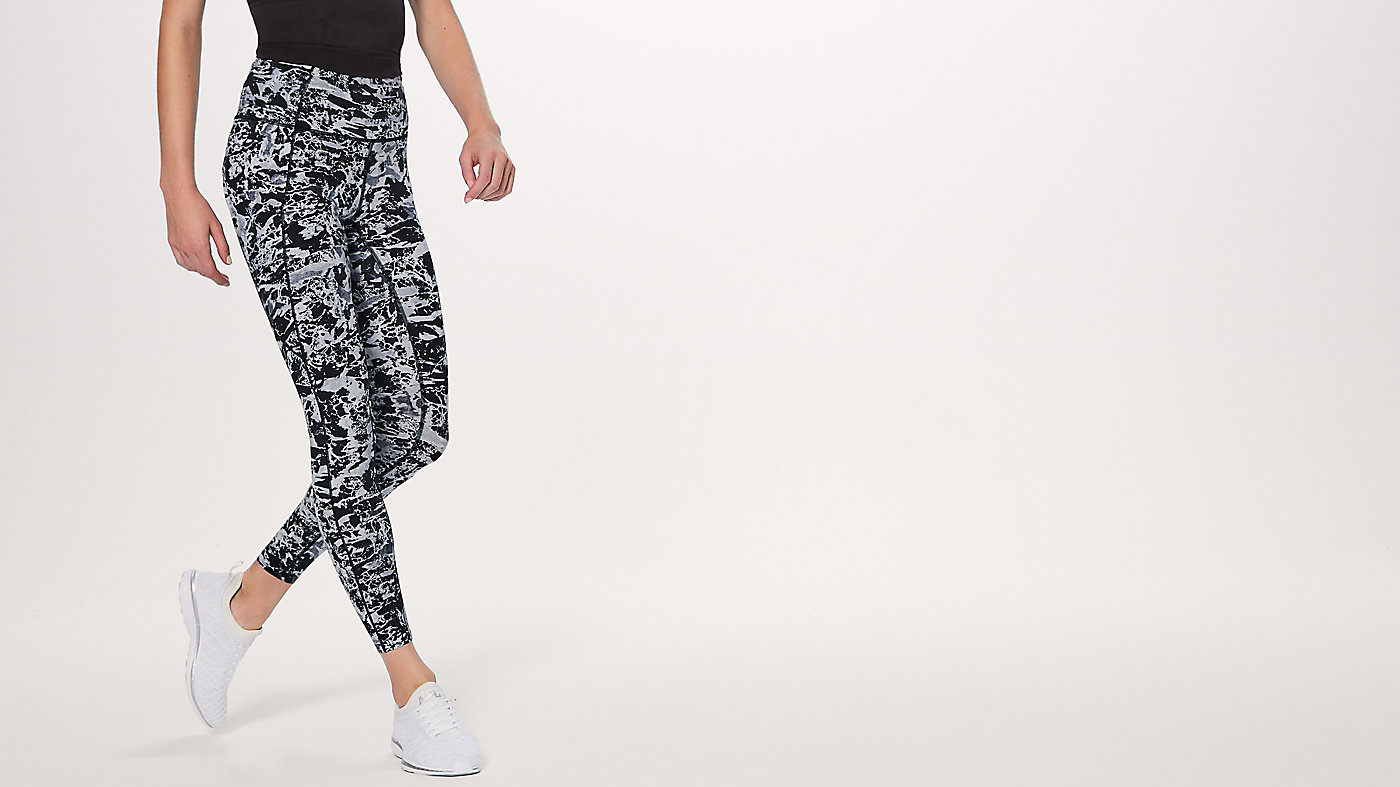 Article conçu pour
La course
---
poche à la ceinture
Vous aide à garder vos essentiels à portée de main
---
POCHES SANS RABAT
La poche serrée sans rabat maintient votre téléphone en place
---
CORDON INFINI
Il ne sera pas coincé à l'intérieur ou perdu dans le lavage
---
Taille et entrejambe
Taille haute, entrejambe de 71 cm

Fast and Free High-Rise Tight 28" *Non-Reflective Brushed Nulux
is rated out of
5
by
11
.
Rated

4

out of

5
by
Mommaoftwobabes
from
Love these
Love these leggings. Wish I just stuck to these ones. One downfall is that they're pretty thin. Other than that they are super comfy.
Date published: 2020-02-22
Rated

3

out of

5
by
AlixC
from
Gets baggy real quick
I was so excited to purchase these as they felt AMAZING in store. It was a holiday splurge for sure as I'd previously never spent over $100 on leggings. Wore them for the first time during a pilates class and they were great but after one wash, they got so loose that I have to keep pulling them up when I walk. Never risked using them for cardio, just for pilates and yoga but it's only been a couple of months of sporadic use and they don't stay up and are baggy at the knees. Maybe sizing down 2 sizes would help? IDK, all I know is that I went from pumped about these to super disappointed real fast.
Date published: 2020-02-19
Rated

1

out of

5
by
Anonymous
from
Love the style, hate the quality
Lululemon has gone downhill. I loved their quality previously but they won't even guarantee it anymore. I have had these pants for 3 months and I wear them solely on weekends to relax in. Guess what? The thin material makes for that naked sensation, but the trade off is, your pants will easily develop holes because of it. I also had many days I covered the bum with long shirts as I could see the colour of my underwear through these. I wouldn't look at these if you are planning to do anything more than lounge in them. I have worn these maybe 10 times total and I already have small holes in the inner thigh from LOUNGING. Highly disappointed, and lulu won't back the quality of these. Won't be wasting my $130 on a pair of leggings from them again.
Date published: 2020-01-18
Rated

4

out of

5
by
KaraEvs
from
Fit amazing
I'm obsessed with my F&F crops so I was really looking forward to a longer, brushed version for cooler runs. The 28" length fits just as well and I love them, but I don't find them to be any warmer than the regular tights. They are still great for running and will be my go-to's!
Date published: 2020-01-11
Rated

2

out of

5
by
Natashaa
from
Lova Hate Relationship
I finally bought my first pair of Lulus three months ago and I was delighted when I got it in the mail. I loved the second skin texture and how comfortable they felt. After the second wash however, they started sagging. I tried to brush it aside telling myself that the feel of the material was worth the imperfect fit. But now, three months in, the material started pilling on the inner thigh portion which I cannot condone especially for leggings that are purposely made for running. Not only does the material now feel weaker in that area but the pilling irritates my skin making it uncomfortable to wear for extended periods of time. Given the price, I had hoped this pair would've lasted longer than three months.
Date published: 2019-12-28
Rated

5

out of

5
by
Whistlerrunner
from
Obsessed. They're worth it.
I originally shyed away from these becuase of the price tag, but I really wanted the camo print, so bit the bullet. The truly are an amazing fit and feel, and I am obsesses with the cut. I can't see myselt wearing anything else to run in, every again. I now own two pairs and will continue to add to my collection. Lulu continues to deliver... ;)
Date published: 2019-11-28
Rated

4

out of

5
by
Kabones
from
Great Leggings - not great for cold weather
They would be 5/5 except that I find my legs freeze in these compared to other leggings I own during cold outdoor runs. Even in 0 degree Celsius, I found my legs getting too cold. Other than that, they are perfect and very great running leggings., just save them for 5 degree Celsius and up.
Date published: 2019-11-19
Rated

4

out of

5
by
Granolabars
from
Life changing item
Date published: 2019-11-12
Rated

5

out of

5
by
Court2
from
Great Winter Leggings
Used these for hiking and running and love them! I use them as my only layer since they are fleece lined and they keep my legs warm the whole time. Went down one size (usually wear size 4 but bought a size 2) since they aren't compression tights and they fit great.
Date published: 2019-11-12
Rated

5

out of

5
by
FlorenceP
from
Lovely, but make more colors !
Love them, but I would absolutely love to see them in the beautiful Night Diver (dark teal) or even more in Regal Plum (old color) or Marvel which looks kind of like R.P. too (I loved that color so bad, still have all my clothes from 2017 in Regal Plum). Make more colors! The length is great, they are comfy, lovely, beautiful, hugging, they don't fall down, no pilling so far, no seam problem either. Just needs more colors! Take your normal size :-)
Date published: 2019-11-12