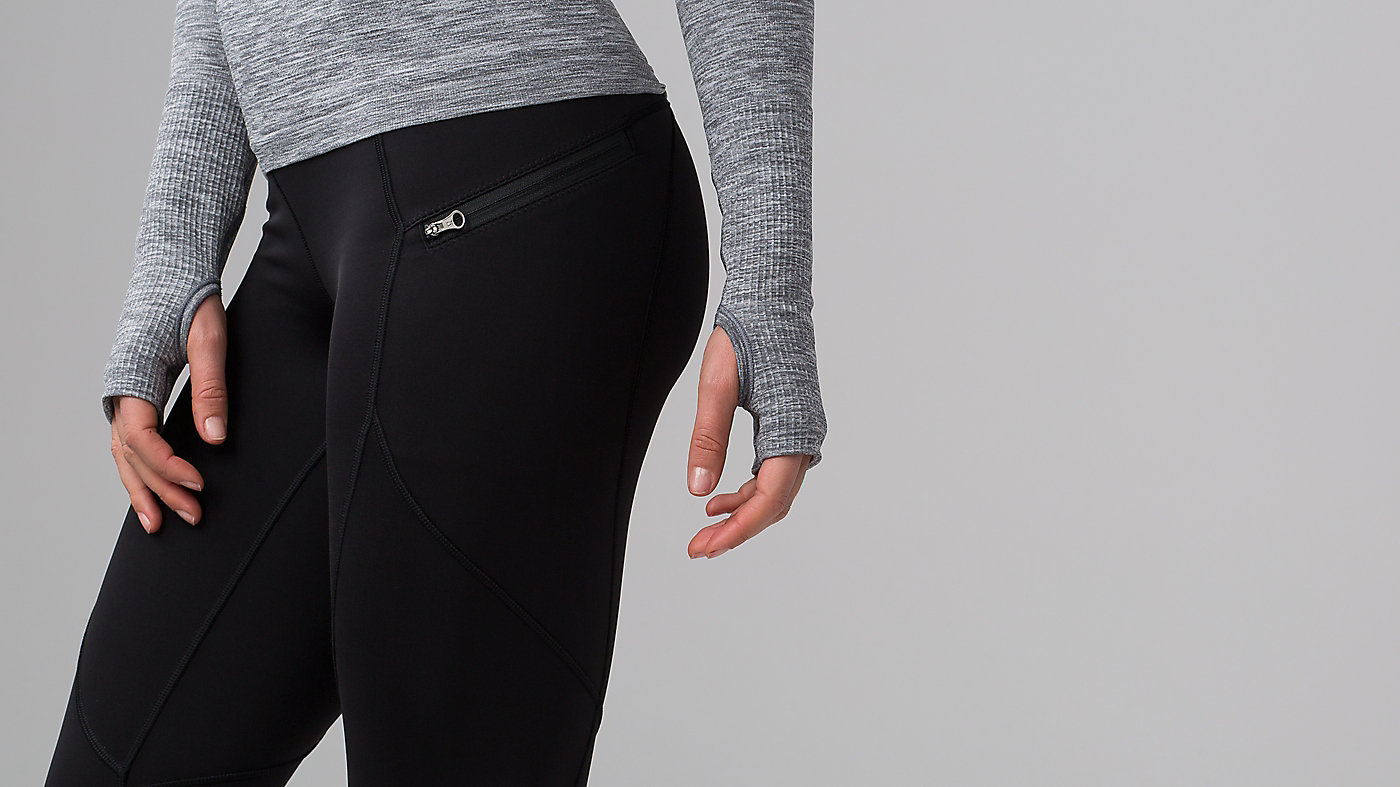 Article conçu pour
La course
---
poche à la ceinture
Vous aide à garder vos essentiels à portée de main
---
poche à fermeture éclair
Gardez vos trucs en sécurité dans la poche à fermeture éclair
---
Ceinture confortable
La ceinture lisse repose à plat sur votre peau sans s'y incruster
---
détails réfléchissants
Disposés pour plus de visibilité dans la pénombre
---
sensation caressée
Conçu pour vous procurer une étreinte près du corps; il reste près de vous et bouge avec vous
---

First Mile Tech Tight
is rated out of
5
by
51
.
Rated

4

out of

5
by
atcandidate
from
Love the pockets
Purchased these to replace my beloved toasty tech tights. Still have the fantastic angled pockets. Like the style of this waistband pocket. The fabric has kept its shape and shows little wear. The waistband does move around a bit though.
Date published: 2017-04-16
Rated

4

out of

5
by
runnergirl70
from
very comfortable and cute
they were very comfy to wear around my house at first but when i went out for a run i feel in love. they moved with my legs as i ran and they didn't fall down causing me to pull them up. they surprisingly did not have very many things cling to them making them look brand new all the time.
Date published: 2017-02-21
Rated

2

out of

5
by
munch
from
So stretched out
Very disappointed once again. I have only worn these tights a handful of times and they are already baggy around my knees. I expected much more for the price. They are also starting to pill. This is my second negative experience with their tights, so I am wary of purchasing a different pair.
Date published: 2017-02-12
Rated

5

out of

5
by
ToniS
from
Great tights
I have these in two colors and love them. Super control, fabric is comfy, and the detailing is really cool-not just an average tight. After a couple of wearings, they can get a little baggy in the knees and glutes area. I spoke with an associate at the store and she said they can go in the dryer, so every few washings I toss in and it reshapes them. Good advice! All in all, I love these tights for teaching yoga, core strength, even weight training. I wear them paired with the turtleneck and a vinyasa scarf for around town! My body type is meso/ecto, short waist.
Date published: 2017-02-09
Rated

1

out of

5
by
AdamK
from
Dissappointment
Bought these leggings for my girlfriend, the pants started pilling after the second time she wore them. It was already a hassle because she had to go a size larger than all of her other pants because the protect does not breath or stretch at all. The stitching is lose and fraying around one of the ankles. She is not happy with the product and I am disappointed in paying so much for terrible quality.
Date published: 2017-01-24
Rated

2

out of

5
by
lululemonlover1236
from
Bad For High Price Point
I needed a good pair of leggings that would be useful for running in cold weather, so I thought these would be good for that. I bought these on WMTM thinking they'd be a great deal; however, I was wrong. There is a ridiculous amount of fraying on the seams, and the pilling drives me crazy. These pants also keep falling down, so I have to constantly keep pulling up, which is irritating on runs. However, I loved the snug and lightweight feeling of these leggings and thought they really did a good job of providing warmth without being too stuffy. These leggings are really good for just day-to-day activities, but not for running. However, it is 100% not justified for such a high price point, even when I got them on discount.
Date published: 2017-01-22
Rated

1

out of

5
by
StephAL
from
wish i loved them
I bought these pants and after the first wear they were pilling. Mid way down the legs and also in the crotch area. Looks like there are wrinkles all over them. They are very soft and I do like the material, but the pilling is driving me crazy (looks like a cat scratched it almost) Too bad, because they are warm!!!
Date published: 2017-01-20
Rated

1

out of

5
by
NorthernRunner93
from
Too Small
I love lululemon products and am a size 4 across the board with over 10 pairs of tights. These were too small, I could barely get them on and they're not very flattering as the zippers dig in on the sides. I would advise to size up in these. The military green is a great colour though.
Date published: 2017-01-13
Rated

1

out of

5
by
Megbed
from
Terrible Lululemon Pants
These pants are the first pants that I am completely disappointed in. I have a large collection of lululemon pants and I wear a size 6 in all of them. These pants are so extremely tight its not even funny. I could not even get them over my knees. In order for these pants to possible fit Id have to order at least at size 10. I dont understand how I can fit in a size 6 pant for everything else and not even be able to attempt to get these pants on. Its absurd and hugely disappointing. I took the tags off of these seeing as all my other pants fit in this size and now im stuck with pants that I cant even put on. Lululemon quality pants seem to be a thing of the past now. As a loyal customer I am very disappointed with the quality of pants now.
Date published: 2017-01-13
Rated

1

out of

5
by
iRun4Donuts
from
Pills very easily
I got these as a gift for Christmas and after only a few wears the fronts of the legs have all pilled and look awful Very disappointed as these are warm to wear on my outdoor runs, but fabric was such a let down. :(
Date published: 2017-01-09