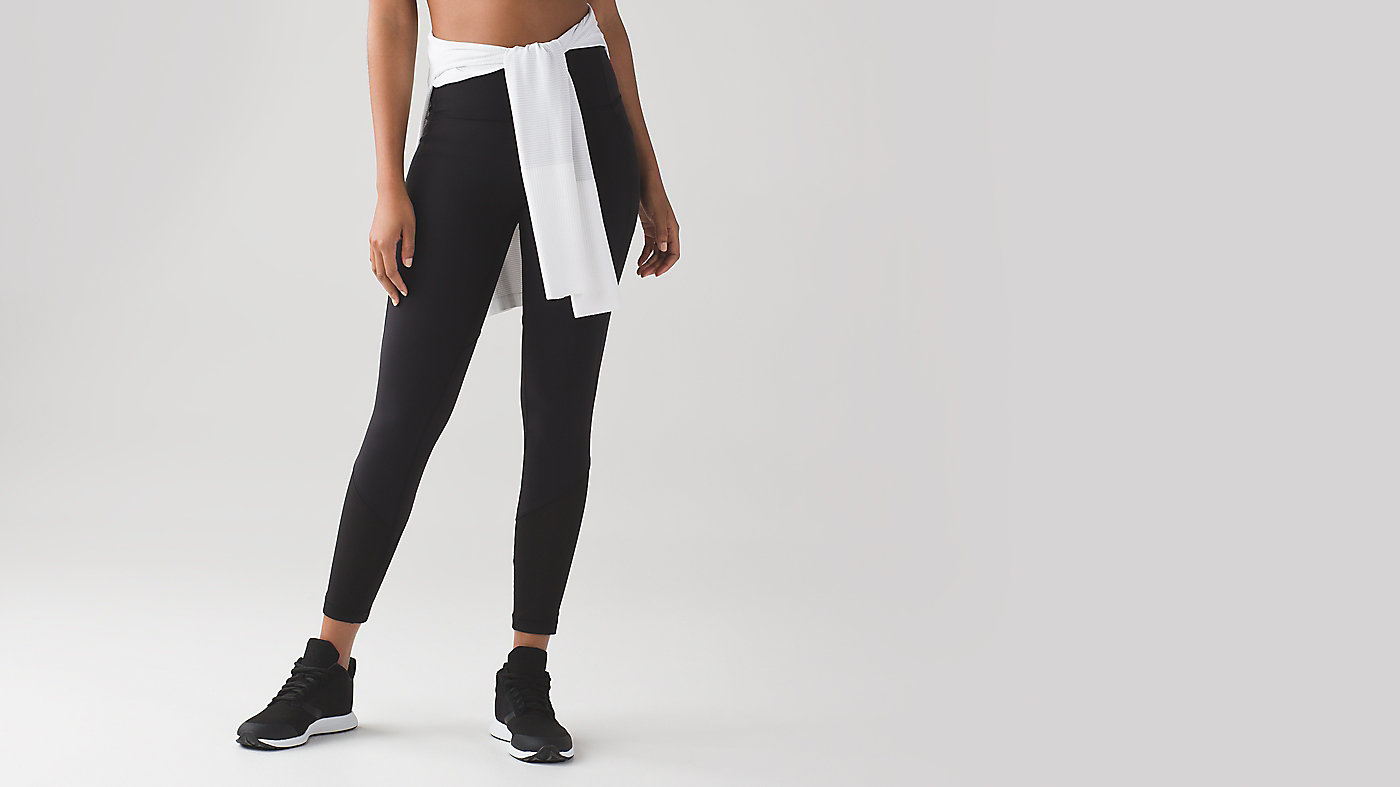 Article conçu pour
Le yoga, l'entraînement
---
lycra®
Le tissu extensible conserve sa forme grâce à l'ajout de fibres Lycra®
---
ceinture confortable
La ceinture plate ne s'incrustera pas dans la peau

Fit Physique Tight
is rated out of
5
by
110
.
Rated

1

out of

5
by
Bucko
from
Disappointed!
This is only my 2nd purchase from Lululemon and so far I'm not impressed. I purchased these leggings from "we made too much". I like them, however after wearing and washing them only 3 times, the stitching is coming a part. I'm highly disappointed because even though they were discounted, they should not be coming a part so quickly. I so want to be a fan, but I can't!
Date published: 2017-05-15
Rated

2

out of

5
by
Physio
from
Falling down and itchy
These were amazing at first, high waisted heaven, comfortable and looked great. I just now got around to wearing them on a hike and was pulling them up the entire time. The mesh also became irritating and itchy. Stick with the wunder unders.
Date published: 2017-04-20
Rated

1

out of

5
by
Jerseyrunner55
from
Disappointing
I was so excited to receive these and that's where my excitement ended. I've been a long time Lululemon supporter, however the last two items that I have purchased have been a disappointment. The fit is great for these, but the fabric is terrible. It feels like an polyester, upholstery fabric, which makes them very uncomfortable. I doubt I will ever wear them again. Unfortunately, I bought them on the 'We made too much' page so I couldn't return them.
Date published: 2017-04-17
Rated

1

out of

5
by
Potatohead
from
I wanted to like these
I was excited to get these tights on sale with We Made Too Much. I should have read the reviews before getting this as it is final sale. Immediately upon wearing them for the first time, I noticed that the seam at the back of the thigh is very irritating (worse with movement) and I did not get used to it. I also find the mesh very itchy. As well after only wearing them a few times, I have also noticed that the fit was getting looser. I wanted to like these tights but unfortunately I cannot wear them at all.
Date published: 2017-04-14
Rated

2

out of

5
by
0ceangirl
from
Awesome until they unraveled
I was so excited when I saw these because I loved the design. The fit is amazing and true to size, though I was a bit in between sizes and I opted for a slightly more hugging than comfortable / lounge fit. I love the mesh thigh pockets. I have small ankles, so the fabric was a little lose around there, which is not a big deal to me. I also did not mind that they were a little long. I have only worn them a few times since I got them in January (now it is the beginning of April) and the seams at the waist started to unravel from the back going clockwise around to the front. The unraveled threads look really unsightly and cheapens the look of what seemed to be very sleek tights. Also, when I pull the pant legs on, I hear this small cracking, ripping sound like some of the little seams in the legs or fibers in the mesh are also ripping. I am just waiting for the same thing to happen to each pant leg as the waist band. I am super disappointed when I saw the seams coming undone around the waistband. I really loved them and want to continue loving them, but am ultimately disappointed by the quality of the make.
Date published: 2017-04-08
Rated

4

out of

5
by
TOgirl
from
Love them!
Absolutely love these! I got them in black, they are a great fit, really high waist, worn them at the gym and spinning, great for both. A seam along the waist band did start to unravel after my first wear, it must not have been stitched properly, but I brought them into the store to get fixed, I need to get them hemmed anyway so it worked out well. Only takes 2 days and I got them back fixed and hemmed. They are TTS, I'm 5'5", really short legs, 125 lbs, I wear a 6 in bottoms, they were really long on me so I need them hemmed. Would recommend for a nice pair of black tights that are on sale!
Date published: 2017-03-30
Rated

3

out of

5
by
Ale428
from
Very long
I am 5'3 119lb - I order my usual size 4. These are very supportive and the waist band stays up pretty well. I haven't had an issue with piling yet as some other reviews states. My only real issue with these are that they are made for someone much taller than me so I have a lot of extra layers of material around my ankles.
Date published: 2017-03-21
Rated

4

out of

5
by
h2opolo
from
Love these but back stitching is coming undone!
I purchased these leggings on January 26 which was just a few months ago and the stitching above the right pocket has already come undone and is fraying. They are very comfortable but I was very disappointed when I discovered that.
Date published: 2017-03-15
Rated

1

out of

5
by
17ashbig
from
Super Loose and Low Quality
I purchased these leggings in January, which was only a few months ago and these leggings are already in worse condition than the pair I have owned for over a year. I have not even worn these leggings more than 5 times and they are already extremely loose. I wear a size 4 in all of my lululemon apparel and for some reason these leggings feel like they are 2 sizes bigger than that. I have not had a problem before with the sizing so I am very disappointed. Upon the first time wearing them they stretched out and became loose within an hour. I have only worn these leggings a few times and I am now unable to wear them due to how loose they have become. I love lululemon because it has been known for its tight lasting fit; however, this product fails to live up to that expectation. Very disappointed with these leggings and would not recommended them.
Date published: 2017-03-14
Rated

1

out of

5
by
lissatt
from
Really disappointed about quality and fit
I bought these pants so i can wear them as a regular leggins and of course I am aware of how to wash lululemon pants. I am a size 4 in all my lululemon pants and those pants get looser and looser after every wash. Don´t have that problem with all my other pants. The material is actually the worst. It looks like if someome went over with sandpaper on some spots. Not sure what wrong with those pants but these are defiantly not lululemon material I am used to. Really sad that I had to spend so much money on some pants I can barely wear now.
Date published: 2017-03-12