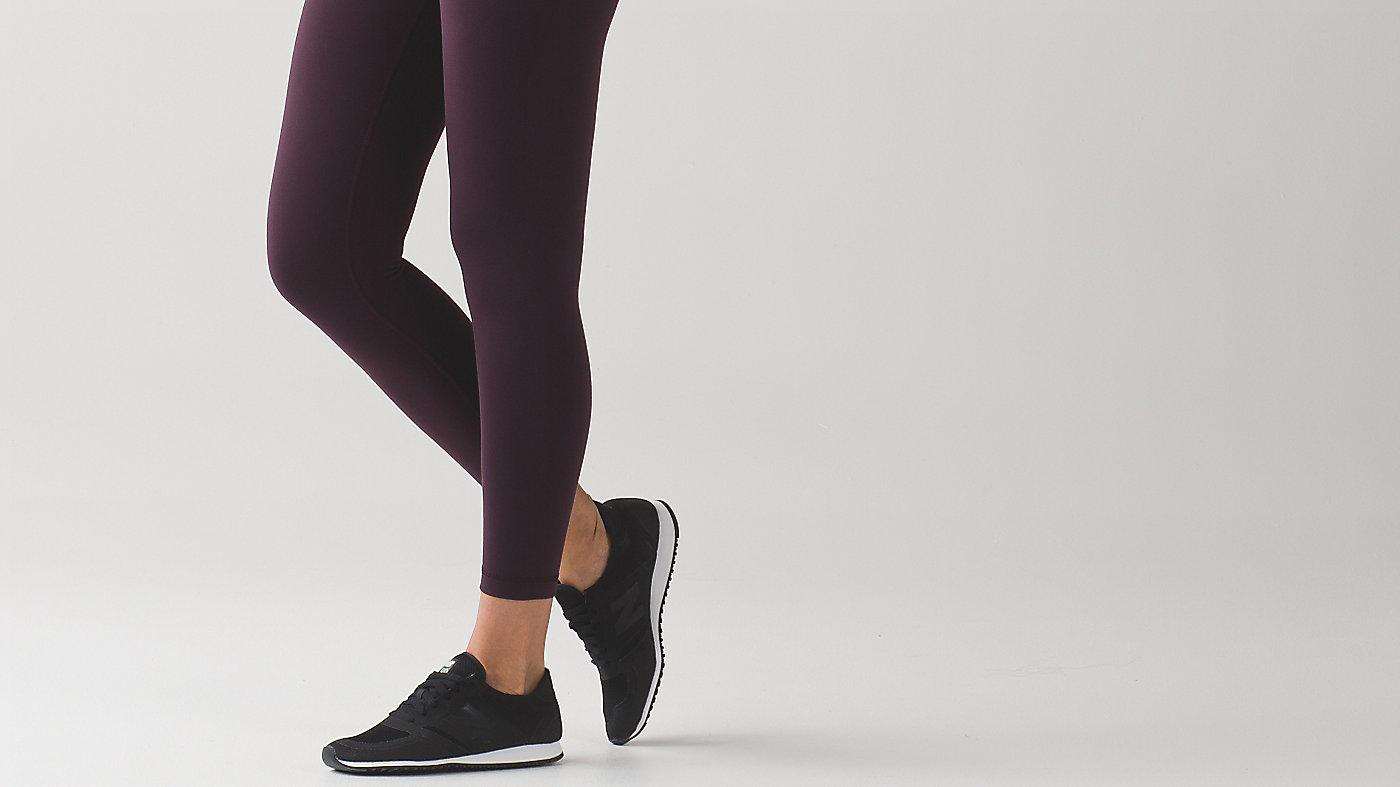 Article conçu pour
Le yoga
---
lycra®
Le tissu extensible conserve sa forme grâce à l'ajout de fibres Lycra®
---
Ceinture confortable
La ceinture lisse repose à plat sur votre peau sans s'y incruster
---
poche à la ceinture
Rangez vos clés ou votre carte dans la poche à la ceinture
---
sensation caressée
Conçu pour vous procurer une étreinte près du corps; il reste près de vous et bouge avec vous
---

High Times Pant *Full-On Luon
is rated out of
5
by
859
.
Rated

3

out of

5
by
ccalma
from
Essential leggings
Perfect black leggings. I am 5 feet, 2 inches tall, and the 7/8 length is perfect for my body. The leggings are good quality, from running to yoga and general wear, but I did notice that they are see through while bending, which is my only complaint. I own four pairs, overall they are good.
Date published: 2017-06-12
Rated

1

out of

5
by
Suxian
from
Disappointed after 2 pairs
My first pair of pants were the original "High Times Pant" where the lady in the store told me piling would not be a problem but that turned out to be horribly wrong! The seams started to become undone and there was a lot of piling all over. To try and see if I could avoid the piling, I decided to get the "High Times Pant Fullux" since the material was smoother, light and soft. I have not noticed much piling with these HOWEVER that is also due to the fact that I am unable to make the most use out of them!! I got these in the same size as the pair before and they DO NOT STAY UP. After a few seconds of walking they are start to slide down in the waist and I am unable to wear them to workout because I dont not want to deal with the constant tugging/having to pull up my pants while exercising!! I am glad to see I am not the only one with this problem but also very disappointed that I spent $100 for pants that dont stay up.
Date published: 2017-06-09
Rated

1

out of

5
by
shop123
from
Don't stay up!
I am so disappointed that they changed these pants. I owned several pairs of the High Times pants that were made a while ago (black Lulu label on the back), and I loved them! I have purchased several new pairs of the High Times pants (I even tried sizing up and down to see if it helped), and the waist of these pants just doesn't stay up! I am tugging at them all day long. I wish that they would make them the way that they used to!
Date published: 2017-06-07
Rated

4

out of

5
by
Roni23
from
Good Quality
These pants are so comfy and they're my go to leggings. I've had mine for just over a year now and have experienced very little pilling. I've worn mine to the gym and just for casual activities and i can say that i love the fabric. The luon fabric is probably my fave but it does pill more than the luxtreme. That being said, its still a very small amount of pilling, nothing crazy. Would repurchase for sure!
Date published: 2017-06-05
Rated

2

out of

5
by
workoutxoxoxo
from
Loved it but was disappointed with pilling...
I love the way the pants fit and the way they move but it pilled so easily!! For the price I paid this shouldn't be happening especially since I am taking good care of them while washing. Very disappointed.
Date published: 2017-06-03
Rated

1

out of

5
by
Romina
from
Full On Luon pilling like crazy
I have the High Times Pant , the Wunder Under III and the Wunder Under Hi Rise all Full-On Luon and they started pilling just to look at them. I wash my Lulu Lemons and I follow the care they require but it just happens with this kind of fabric. Even when wearing them I have to always remove pills with my fingers so they look better, but everything sticks to the Full On Luon. I think I'm more happy with the Nulux now, I have 2 pairs and thinking of getting a crop, but they are so expensive but at least is worthy, Full On Luon is expensive and a bad fabric. I wish I could turn back time and never got the Full On Luon Lulus, they look good the first time you wear it and then you are disappointed.
Date published: 2017-05-28
Rated

3

out of

5
by
AnnaNikitin89
from
So comfy but...
By far the most comfortable pair of leggings out there! The waistband is really high and feels so smooth against your skin. They also look great with a cropped top, as the high waistband still leaves you covered. However, I noticed that they are already coming apart at the seams. Very disappointing, considering I bought them about a month ago and the price wasn't that cheap. I hope Lulu get on the quality control of the product because as a fairly new customer, I am a little discouraged to come back for more.
Date published: 2017-05-15
Rated

4

out of

5
by
SunAndWonder
from
Soft and Comfy
I ordered these in a 12, and truth be told I probably could have ordered a 10, but my hips were in the 12 area and I wanted to be safe. They are super comfy, and I've done a few jumping jacks and haven't needed to pull them up. Because I"m only 5"1, they sit right at the bony part of my ankle. The material around my ankles sits a bit loose, but I'm always more concerned with having wiggle room in my leggings than being compressed like a sausage. All of the seams look fine and well tailored. I ordered mine in a black and blue pattern, and I definitely don't think they will be showing sweat stains. I could see how this material might start to pill, I've definitely had leggings in similar material catch. I think I will be washing these alone on the delicate cycle to prevent pilling and catches. Those are the care instructions after all.
Date published: 2017-05-11
Rated

3

out of

5
by
Renlulu
from
Disappointing :(
I have three high times pants and they have all started piling recently. I absolutely love these pants and my workouts are always the best when I am wearing them! However, once they started piling, I became very disappointed I spent for much for three.
Date published: 2017-05-08
Rated

5

out of

5
by
jslaught
from
best pants lulu offers
i havent washed these yet so my opinion may change but they are seriously SOOOOO much better than wunder unders. I love high waisted pants but they NEED to have a higher inseam to match that which the high rise wunder unders just dont offer. I think its crazy to see people say that they fall down because these are my only lulus that dont fall off my hips and i think its the luon fabric, all of the luxtreme pants i have slip down 24/7. Wish i could exchange all my old pants for these ones and wish there was more colours geez, how is this only in black and yet the high rise wunder unders have every colour in the rainbow?
Date published: 2017-05-08