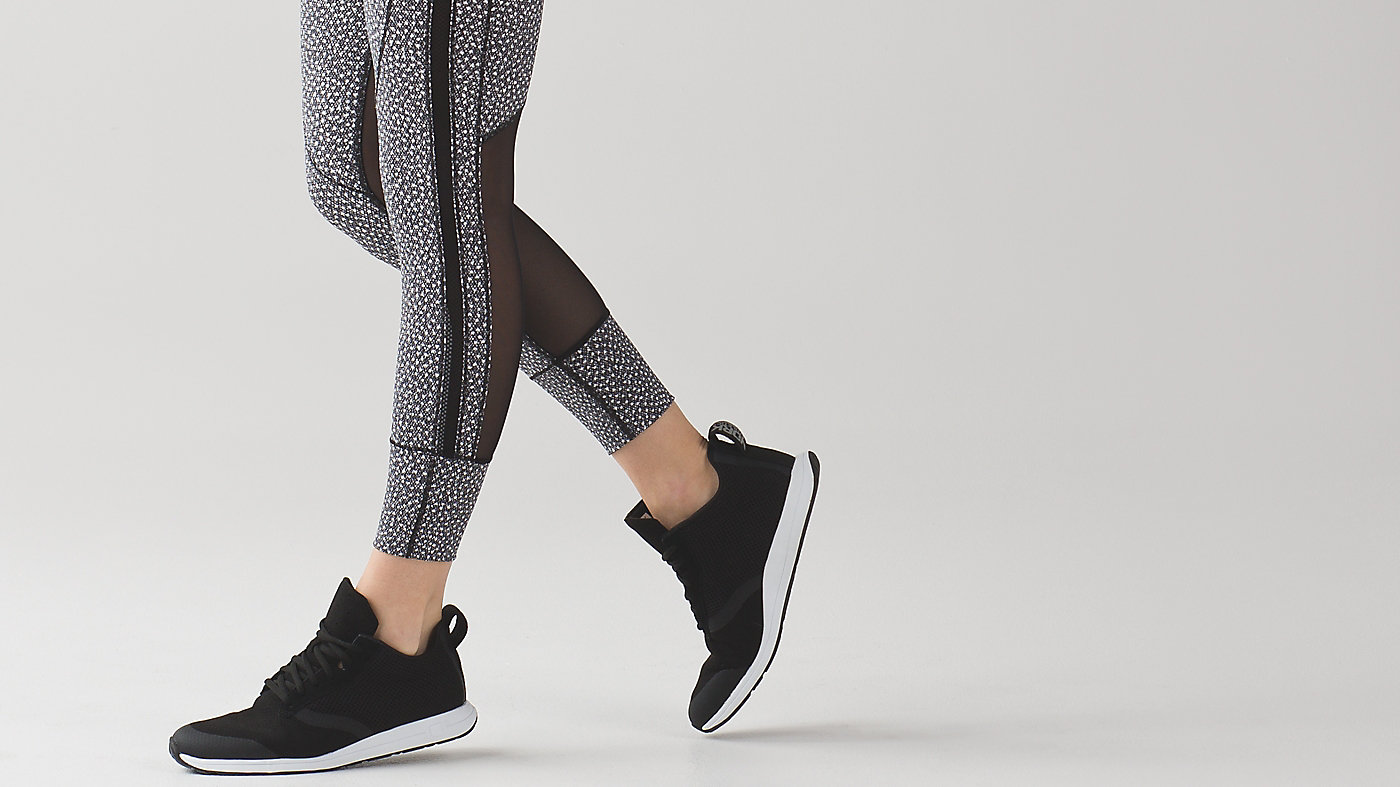 Article conçu pour
La course
---
lycra®
Le tissu extensible conserve sa forme grâce à l'ajout de fibres Lycra®
---
maille et circulation de l'air
Favorise la circulation de l'air pour vous garder au frais
---
Pack-it Pocket™
Poche à double accès pour tous vos essentiels de course
---
détails réfléchissants
Disposés pour plus de visibilité dans la pénombre
---
TAILLE HAUTE
La taille très haute vous couvre bien quand vous vous étirez à fond
---
sensation caressée
Conçu pour vous procurer une étreinte près du corps; il reste près de vous et bouge avec vous
---

Hit It 7/8 Tight
is rated out of
5
by
10
.
Rated

3

out of

5
by
SweatLikeAGirl
from
Great until you sweat
I bought these leggings on final sale in the blue color and when they arrived they were absolutely adorable and I fell in love immediately with the mesh and the fit. When I started working out in them, they didn't quite live up to how nice they look. I can tell the fabric will pill and when I started to sweat, the leggings had a large and prominent sweat stripe down the middle of my bum which is not something I like to wear around people. The tie waist band is a nice concept. Since the pants do slide during movement, the tie helps keep them up, but it can leave a bulky bump on your belly which isn't attractive. All in all, these leggings are NOT good for long and vigorous workouts like I originally thought. I am disappointed because most of my lulu pants don't show any sweat and have little to no pilling after years of use. These pants are best to be worn around, not worked out in. Not entirely worth what I spent on them.
Date published: 2017-07-20
Rated

5

out of

5
by
nellyvile
from
best leggings that I've bought from lulu
I own probably 5+ pairs of lulu leggings and this is by far the best. I was a little hesitant to buy this from the WMTM sale even though my size in lulu has been pretty consistent. I'm 5'6 120lbs and usually wear 6 top and bottom. This fits perfectly and I love luxtreme. Luxtreme is probably my favorite lulu fabric and I absolutely stay away from luon because they pile up too quickly. Back to this legging, it is 7/8 length which fits me perfectly as a full-length legging. I love the mesh and stitchings which makes me look better somehow. Also pockets are bigger on this compared to other leggings. Also like the reflective strip in the calf. Overall, I'm really happy with this purchase and glad that I took a chance on the WMTM
Date published: 2017-07-20
Rated

5

out of

5
by
LJOTX
from
What a steal!
$118 tights for $59?! I am IN! I am an avid LLL customer, but I still get a bit hesitant when it comes to WMTM section. I started off as a size 12 a few years ago and I have slowly been sizing down. It goes to say, LLL sizing is sometimes off, so it explains customers hesitation when buying from WMTM. I have felt my size 10's feeling looser, but I wasn't sure if it was because my tights are just getting older or indeed I was ready for a size 8. A while back I purchased size 8 tights from WMTM as my "goal tights" and now that they fit comfortably, I knew I was ready to start buying size 8's. I love LLL and to be honest, I have tried other comparable high-end yoga brands and they are almost as expensive and the quality just isn't the same. So although an expense, I am confident in making LLL purchases. There is nothing better than being in the hot room wearing LUXTREME tights. Everything is sucked in, sweat is kept in check and I love the feel of them. The quality of luxtreme tights is amazing. I sometimes try to convince myself to get luon, but I just can't change. Old habits are hard to change, right? I love these tights. I do yoga everyday and I go through a lot of LLL clothing during the week. I only wear items once before every wash, which makes sense since I practice hot yoga. All of my LLL items have made it through weekly washes, delicate cycle, no fabric softener, line dry. You know the routine. Over time tights do get piling in crotch area, but that is to be expected, considering friction caused while working out. I hope these tights live up to LLL expectations! So get you some LLL! xoxo
Date published: 2017-07-19
Rated

5

out of

5
by
nicolexanne
from
First successful Lulu pair
I've been trying Lululemon leggings for about 3 years now and always leave the store disappointed that nothing fit me correctly because of my height and shape. I'm 5'2" with more athletic legs and usually Lululemon leggings look awkward on my legs regardless of the option for hemming. Needless to say when I bought these online (final sale) without a fitting room to try them I was a little nervous. Although these do fit more like a full legging for me and not a cropped style like the photo. Love how comfortable and breathable these are as well- will definitely buy again and so happy to finally have a pair!
Date published: 2017-07-19
Rated

3

out of

5
by
AlexandraM
from
Hugs in all the right places
I absolutely love the style of these pants and the fit. They hug me in all the right places and are super comfy. I don't have any issues of these rolling or sliding down when I workout. However, I have only had these for a few months now and they are piling in the inside leg seams quite significantly. If it weren't for them basically deteriorating in such a short amount of time they would be the best pants I own.
Date published: 2017-07-13
Rated

3

out of

5
by
UVicLuluEnvy
from
Good for the price
Got these pants the week before the warehouse sale hit, so I ended up spending an extra $20 on them which is annoying. They aren't bad for the $89 price I paid, but would be way worth the $69. Disappointing I wasn't warned about the price change or I would have waited to purchase them. Overall good pants for a good price. I usually buy between a size 6-8 and sized up to the 8 for a good fit that wouldn't go sheer.
Date published: 2017-07-13
Rated

2

out of

5
by
pbond
from
Subpar Quality
I purchased these leggings last week in store, and once I got home and wore them once, I immediately found multiple stings that were hanging off the leggings. They were falling apart before I could even wash them. I also purchased them for a higher price than they currently are now. And I bought them less than a week ago!!!! UGH I hate when lulu does this!!! Overall not the best quality leggings, and I am not sure I would purchase them again.
Date published: 2017-07-13
Rated

1

out of

5
by
ColMtnGrl
from
Bulky - tight
I purchased my first pair of leggings from Lululemon a month ago and fell in love. But I wanted a pair for working out/hiking. I just received them in the mail, but do not like them at all. The leggings fit tighter than the last pair i bought. These feel bulky and thick. I think I would be too warm wearing these while hiking or working out. Also, too long for me!
Date published: 2017-07-12
Rated

5

out of

5
by
Lulustar1
from
HELLO SEXY LEGS
WOW WHAT COOL PANTS , IM 5'9 176 POUNDS AND GOT MY REGULAR SIZE 10, THESE PANTS ARE ABSOLUTELY AMAZING, JUST ENOUGH MESH TO SHOW OFF A LITLLE LEG;) LOVE THE LOOK OF THESE , GET EM BEFORE THERE SOLD OUT!
Date published: 2017-07-11
Rated

1

out of

5
by
Talieeeee52801
from
Ripped seams
I'm very upset. I was so excited for these to come in and when I opened the package and tried them on I noticed the seams were already coming apart.. not the quality I rely on lulu to uphold.
Date published: 2017-07-08