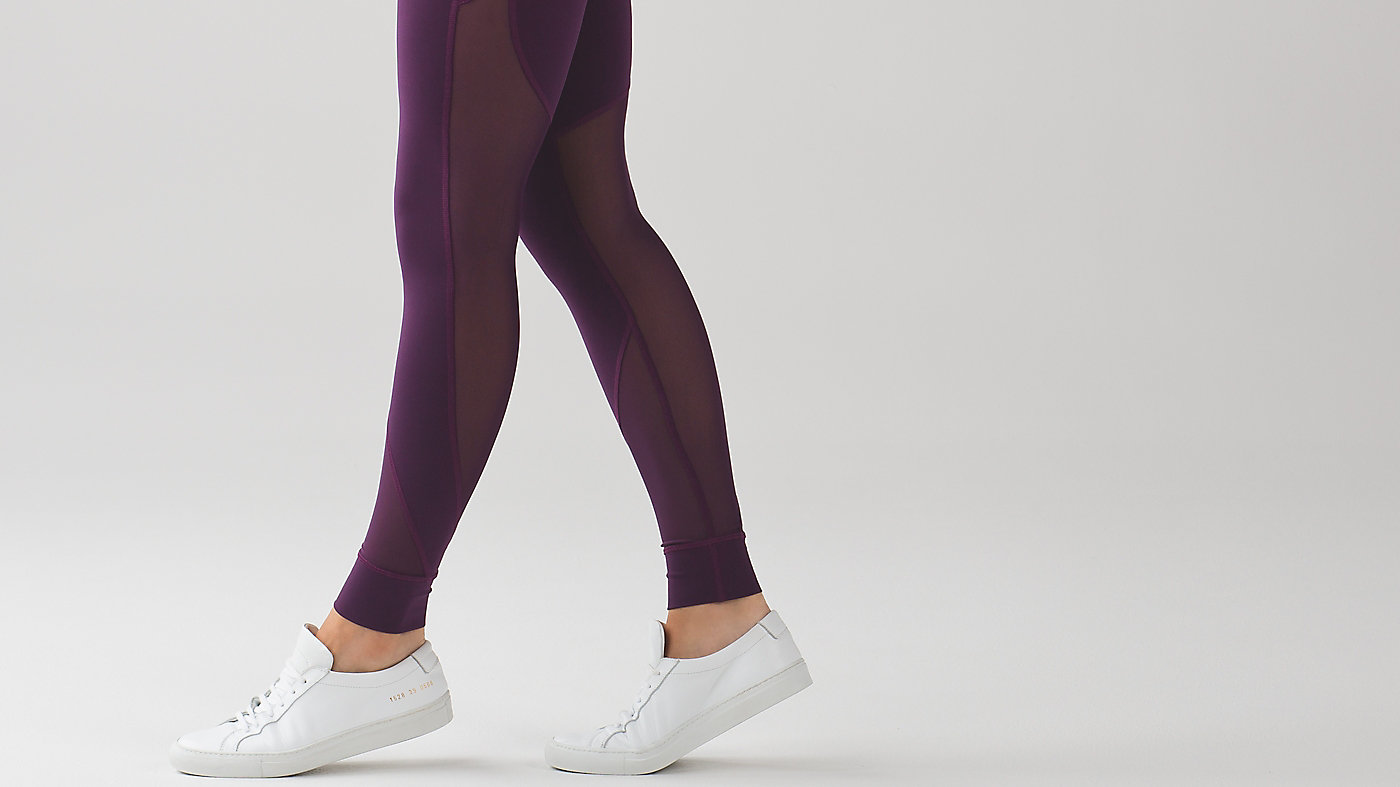 Article conçu pour
Le yoga
---
lycra®
Le tissu extensible conserve sa forme grâce à l'ajout de fibres Lycra®
---
poche dissimulée
Rangez vos essentiels dans la poche dissimulée à la ceinture
---
taille haute
Aide à vous couvrir en toute sécurité
---
sensation caressée
Conçu pour vous procurer une étreinte près du corps; il reste près de vous et bouge avec vous
---

Hot Like Agni Pant
is rated out of
5
by
32
.
Rated

1

out of

5
by
sawyer18
from
Disappointed to say the least.
I was extremely excited about these pants and bought them along with the new Align pants (love these) but was extremely disappointed in the quality. Bought them less than a month ago, have worn them once and the seems are already falling apart on both legs. Being in LOVE with the style, I tried to contact online support in which they were sold out everywhere besides two stores (in different provinces). I was advised by a worker that the only thing I could do is send my pants back online, wait for a gift card then order the pair directly through that store. Seems unlikely when there was only one of the size left. Would hate to be stuck with a gift card (this is the third pair of new lulu's I've bought in the last month) only to be unable to get the pants again. Decided to just keep my pants and take them to a tailor and paid to have the seams redone. Disappointed in the service and quality.
Date published: 2017-06-24
Rated

2

out of

5
by
Lifestylenthusiast
from
Hot like Angi
Was so excited to receive my first two pairs of Lulu's! Avoided them due to cost but I decided it was time to try them. Have purchased their scubas and bags but that was it. I have to say I am super disappointed- one hand wash- One yoga class and the seems have come apart at the inseem and they've stretched out! Careful when purchasing this product! Size down and for the money and no return policy- I'm super dissapointed and I'm stuck with pants I can't wear. I just placed another order of tanks and more pants so I'm really hoping the quality is better than these or else it's 500 bucks gone. Love the scubas and the tanks but here's to hoping.
Date published: 2017-06-18
Rated

2

out of

5
by
Alii
from
Not worth the $$
Being totally honest, I love these pants. I like the material, I love how light they feel, you don't over heat. They're great to wear to the gym and I LOVE the high waist. However, they aren't worth the $80. No pant that has been worn MAYBE 5-6 times and washed once should be ripping at the seams. My best guess is that the mesh and the spandex of the pant don't have the same level of stretch, so as you work out, relax or generally live your live the stress winds up on these sewn joints. I'm super disappointed that I paid $80 for a pair of pants that hasn't even seen the wash twice. If this issue were resolved, these would totally be 5 star pants. Long lasting product used to be something Lulu was known for, now I'm worried it's heading in the opposite direction.
Date published: 2017-06-16
Rated

5

out of

5
by
JumpOn2
from
Great pants
After reading a number of mediocre reviews, I tried the pants on in store and found them to be really comfortable. I'm 5'2", 115 lbs, and consider my shape to be athletic/curvy (I have a badonkadonk!) and I bought a size 4. It was really like squeezing myself into a sausage casing at first, but they have compression so I'm glad I listened to the sales person and stayed with the 4. The high waist is fantastic and the compression keeps you nice and hugged. The pants are a touch long on me so taller women would likely still be able to wear them. After wearing and washing my first pair, I purchased the other 2 colours. I have worn and washed them multiple times and I haven't had any issues with either the mesh tearing or them stretching out. If I remember, I put them in a lingerie bag, but I often forget. Obviously if you wash them with velcro or your bras with hooks are loose in the wash then you could damage the mesh, as well as if you're doing something rougher in them (I wouldn't wear them hiking through the bush). I've worn them for running, yoga, HIIT and weight lifting and have loved them for everything.
Date published: 2017-06-15
Rated

1

out of

5
by
Tanbra
from
Hot Like Agni Pants
The fit and look is great. I cannot complaint about the main material either. But the mesh seems to be the problem. I got them last week and wore them twice. First time all good, love them. Today after the yoga class I realized small holes in the mesh. Unfortunately I am not postive that they will stay as small as they are right now. Although on sales, still expensive for wearing them just twice. Sad because I really love the style.
Date published: 2017-06-02
Rated

5

out of

5
by
shakencake
from
I love these!
I'm so glad I ignored the bad reviews of these pants! I love them, very comfy. No issues with piling or ripping with the mesh (you need to be careful with mesh always anyway). They ARE super highwaisted, which I dont mind because I like to wear crop tops with them. Good product.
Date published: 2017-06-01
Rated

2

out of

5
by
Chels4545
from
ITCHY MESH!
I love the fit and rise of these pants and they suck everything in, but I can't stay in them for more than an hour before my legs are so itchy. The mesh is unbearable.. I broke out in a rash the first time I wore them. However, they are lulu's so I've tried to give them a chance and have wore them a few times and now the stitching is starting to come undone. These are the only Lulu's I haven't absolutely loved.
Date published: 2017-05-31
Rated

4

out of

5
by
cchan
from
Surprised me!
I definitely did like the pants! I got my regular size, size 4, and at first it fit a bit sung but with the more wears it stretched a bit. With the reviews, I thought I'd be disappointed but it was worth the buy! Absolutely love the mesh. Overall good purchase!
Date published: 2017-05-22
Rated

1

out of

5
by
MegyM
from
Why Lulu?
First of all- I have worn Lulu for YEARS. All of their fabrics have been quality and held up very well. I have some Wunder Under Crops that I have been wearing for 4 years! I have always stood behind their quality and fit. In the last couple years, I have purchased 3 pairs of crops/leggings of various fabrics in the high rise fit and have loved them all. So, even though there were some negative reviews on these I took a chance because they are so darn cute and they were on sale ( woo hoo!) Anyways, I'm 5'5 and 102/105 lbs. I am ALWAYS a 2 in crops/leggings. Here's my cons: 1.) The fabric feels SO cheap; super thin and nothing like I have ever worn from Lulu; I can see the seams being a major issue if you accidentally dried these or something 2.) The waist is legit SUPER tight ( like I don't think I am getting a blood supply) and the mesh is baggy?? I haven't even worn these to stretch them out; this is just straight out of the box! I don't understand how this is even possible; no joke the waist looks like its made for a 3 year old. In total, I spent around $350 on Sale items from Lulu on this last purchase; here's what I have learned ( FINAL SALE NOT WORTH IT). The other leggings I purchased ( which are sold out already) were the same way ***Sigh*** I'm so disheartened and I can't even return!
Date published: 2017-05-21
Rated

5

out of

5
by
LionCoop
from
Great score
Love these pants. I bought the blue/purple colour on sale then snagged the black on sale online. The high waist is very flattering both as athleisure wear when I'm out and about and also to workout in. The luxtreme is my fave Lululemon material. I haven't had any issues with snags or stitching as these are relatively new, but Lulu is so awesome about standing by their products that I'm not worried. For reference - 5'9", 155 lbs and a size 6. Fit like a glove!
Date published: 2017-05-19