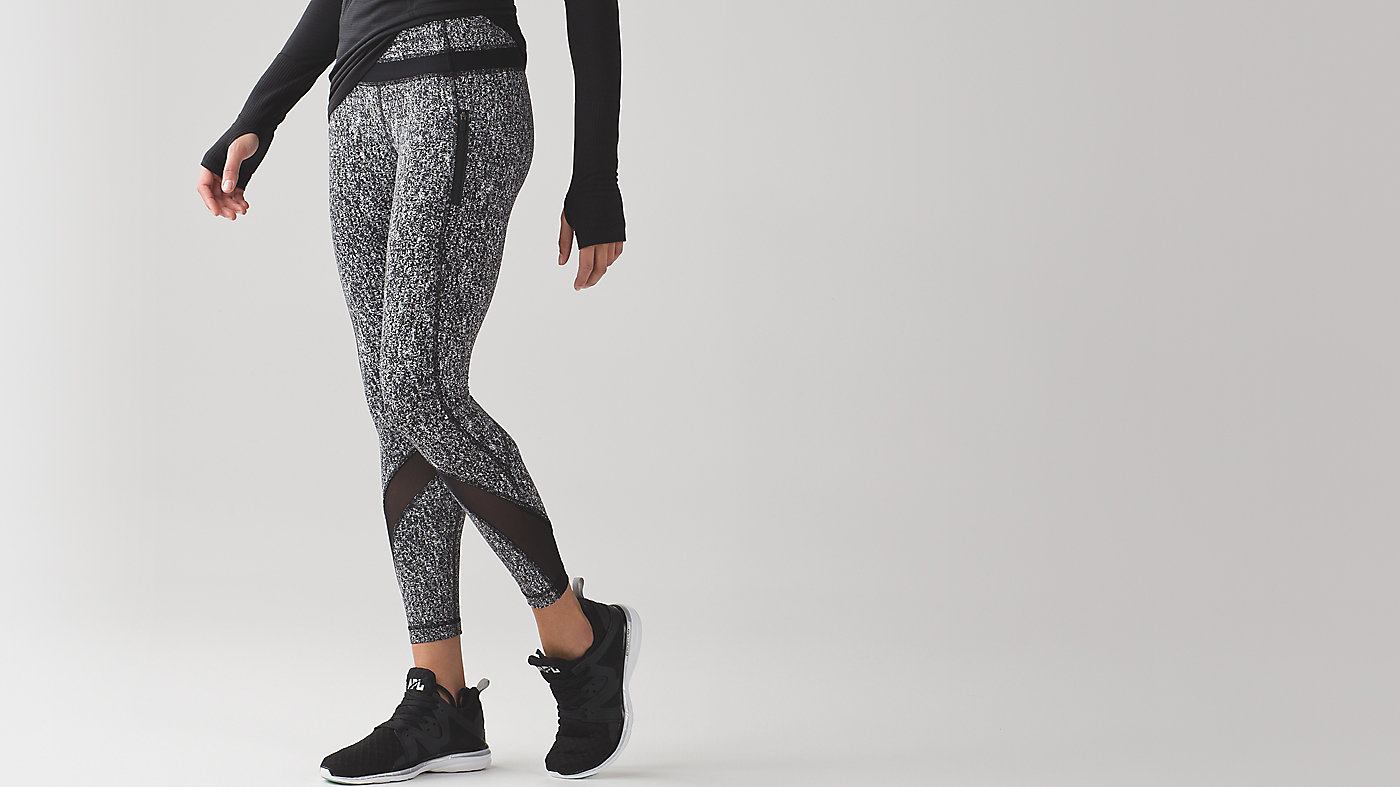 Article conçu pour
La course
---
lycra®
Le tissu extensible conserve sa forme grâce à l'ajout de fibres Lycra®
---
aération maillée
Favorise la circulation de l'air pour vous garder au frais
---
Détail réfléchissant
Placé de manière intentionnelle pour aider à vous rendre visible lorsqu'il fait sombre
---
sensation caressée
Conçu pour vous procurer une étreinte près du corps; il reste près de vous et bouge avec vous

Inspire Tight II
is rated out of
5
by
298
.
Rated

2

out of

5
by
yogi472
from
Unraveling Seams
After a week of purchasing, the seams began to unravel!! I've had these pants a few months now and the seams have unraveled all over. The pockets do not hold anything and I am constantly having to pull these pants up even though they are the right size! The fabric on the leggings is also much thinner than the leggings I've had in the past. If I bend my knee, you can see my skin! I'm disappointed in the quality of these pants. I wish I had chose a different style.
Date published: 2017-07-14
Rated

1

out of

5
by
Workerbee
from
Seams
I had these leggings for a couple of months and Loved them. I noticed that the seams had started to come undone even though I air dry them and don't use any fabric softener when washing them (which were the recommendations I got from the store on how to care for them). I went back to the store and got them to get the seams fixed which I was happy about but after about three weeks the seams started to come out even worse than before. This is very disappointing since I do love the look and feel of the leggings but I don't want to have to keep getting them fixed since they were so expensive to get in the first place.
Date published: 2017-07-08
Rated

2

out of

5
by
Yogatime
from
Great pants but....
I really loved these pants. Used them mainly for running and yoga and they worked great. until about 9 months in....all of the pants seams are coming unraveled!! Very frustrating for how much money these pants cost!!
Date published: 2017-06-27
Rated

1

out of

5
by
lindsay88
from
Stylish comfortable legging, unfortunate poor durability
I had these leggings for a few months before the thread started to unravel and create a hole along the seam near my upper thigh. Although I absolutely adored the leggings themselves, I am disappointed to say that when I went into the store, the ladies working here were immediately accusing and told me it was my fault as I had not washed the leggings the correct way. I am always very careful with my clothing especially when it costs near 100 dollars, and I am appalled in the poor quality of the product as well as the even worse customer service.
Date published: 2017-06-11
Rated

2

out of

5
by
MV310
from
Awesome and then....
Scored these pants to match a sports bra and I WAS IN LOVE. I loved running in them at the gym and especially outdoors because of all the pockets to hold the essentials... After 7 months of fair wear the bottom has started to unravel and the knee area has lost it's shape so the pants don't hug/stay up very well. I wish I could have these forever but the saggy knee area is just too annoying.
Date published: 2017-06-11
Rated

2

out of

5
by
sportyyogi
from
wanted to love
so these leggings are awesome at first. Great compression, awesome fit, don't budge during workouts, not see through! However, almost immediately every seam starts unraveling even if you only handwash inside out and never put in the dryer. Im torn because I love the fit, but now after about 6 months they have lost most of their compression and have become stretched out and in some parts thinned out. I wanted to love but the quality is just not there...
Date published: 2017-06-10
Rated

3

out of

5
by
obegos
from
Love and Hate
I love love LOVE the way these tights fit and the way the move with my body but almost every single seam has pulled and begun to come undone. I wore these leisurely once (in a the size that I get EVERY pair of lulu leggings in) and immediately the bottom seam started coming undone as well as the inside seams. I know that this is not a size issue and am super disappointed because I love everything else about them .
Date published: 2017-06-05
Rated

5

out of

5
by
FanFave1992
from
Favorite Pants!
Favorite Pants!
Date published: 2017-06-01
Rated

3

out of

5
by
perla
from
Great fit but did not last!
These fit like a glove/hugs perfectly. However, I was only able to enjoy them for a couple weeks before they tore just from a kneeling pose. Hope the next version is more durable.
Date published: 2017-05-30
Rated

5

out of

5
by
LittleOrange
from
Perfect full length for petites under 5ft
Flattering fit and perfect length for my short legs. The mesh is not overwhelming and flattering at the same time, makes my legs look slimmer. Washed multiple times, no issues here.
Date published: 2017-05-26