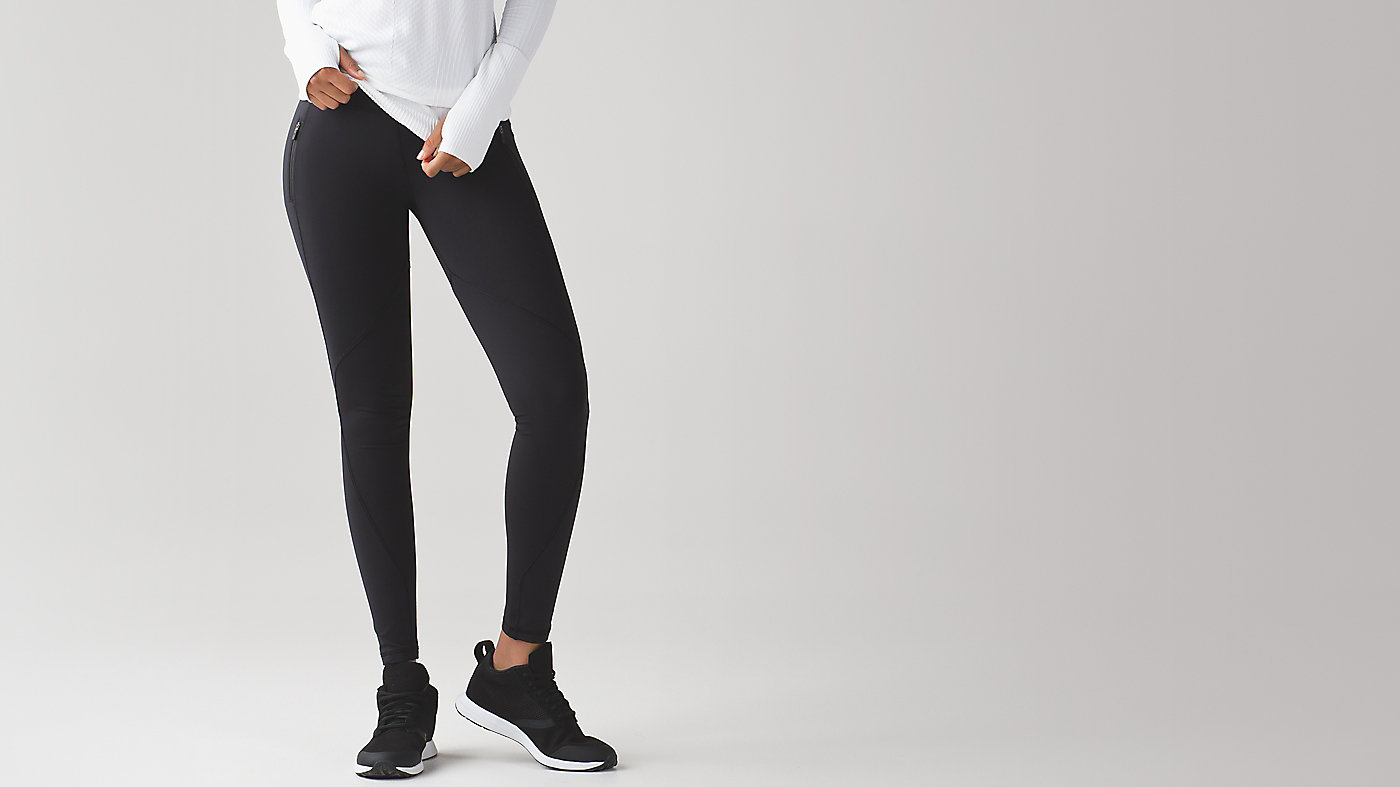 lycra®
Le tissu extensible conserve sa forme grâce à l'ajout de fibres Lycra®
---
Pack-it Pocket™
Poche à double accès pour tous vos essentiels de course
---
cordon à la ceinture
Le cordon interne vous permet de personnaliser la coupe
---
ourlet réfléchissant
Les détails réfléchissants dissimulés à l'ourlet vous aident à rester visible
---
taille haute
Aide à vous couvrir en toute sécurité
---
sensation caressée
Conçu pour vous procurer une étreinte près du corps; il reste près de vous et bouge avec vous

Run It Out Tight
is rated out of
5
by
25
.
Rated

1

out of

5
by
ravenrose
from
See through
I was so excited to find these pants in the we made too much section. I'd had my eye on them for a while so I was very disappointed when I put them on to wear this morning and discovered that they were completely see through. I bought them in the size that every other pair of Lulu pants I own are and they fit my legs and waist perfectly, but when I bend over you can see right through them. I can't wear these pants as you can see everything and I can't return them because they were final sale. Now I'm out $90 and have a pair of pants that are completely unwearable. These are not worth it, even on mark down.
Date published: 2017-05-25
Rated

1

out of

5
by
KCM22
from
Completely see through!
I love all lulu lemon products, but unfortunately this pair of running tights is my first disappointment. They are completely see through!
Date published: 2017-04-14
Rated

3

out of

5
by
Gnams
from
Well designed, but poorly made
I bought these in a beautiful midnight tulle multi color about a month ago, but have had to bring them back to be fixed not once, but TWICE, since the seams keep unraveling. In fact, I just picked them up today from repair to find loops in the butt coming out again (I haven't even worn them yet!). Theoretically though, this is a really good design for runners. Lulu, please make more of these in cool colors/patterns so that I can finally exchange it for something comparable. Just pay more attention to construction... isn't that supposed to be your selling point?? Nobody has this kind of time to keep visiting your tailor. For the price, this is really disappointing.
Date published: 2017-04-14
Rated

5

out of

5
by
genebelle
from
Yayyyyyy pockets!
I'm in love with these tights. I've had them about a month now, and I'm getting a second pair because I don't want to run in my old tights anymore after running in these. I always run with my phone, and I don't really like using a big bulky armband or belt, but the pockets on most running shorts/tights are never big enough for it. These tights have hip pockets (as well as the little key pocket) that are big enough for a bulky smartphone, but are also so low-profile that they don't add any bulk if the pockets are empty. The reflective strip inside the ankles is a cute touch; I flip it up if I'm running in the evening.
Date published: 2017-04-12
Rated

5

out of

5
by
RunRavenRun
from
My new favourite running tights
I purchased the Run It Out Tight in 'score jacquard black indian ocean' pattern and I am very happy with this purchase. I'm seriously loving the high-rise, it is so comfortable and I feel confident when I am running! Also, the Pack-it Pocket is genius - perfect for carrying my phone, it sits on my back and doesn't move so I can listen to my tunes while I'm running and I don't need to use a running belt. I have not had any quality issues that some other reviewers have complained about - these are NOT see through at all. I would say that they are definitely thinner material than Full-on Luxtreme so you don't get much compression (if that's something you are looking for). I feel these are TTS, high-rise feels nice and snug at the waist.
Date published: 2017-04-11
Rated

1

out of

5
by
chaseme
from
I spent $98 on these :(
I absolutely loved these pants when I first tried them on. But today was only my second time wearing them and my first time wearing them to run. When I was running this morning, I noticed the seam on the right leg was unravelling. It came undone even more by the end of my run. I'm extremely disappointed as I'm a college student and spent $98 on these pants. I take extremely good care of all my lulu products when I wash them and have never had this problem before
Date published: 2017-04-03
Rated

2

out of

5
by
flev
from
faulty drawcord
Ok, I don't think these are too sheer-maybe it's the pattern that I have. I actually think they're more on the thicker side but I like them. I bought these a little while ago and the first pair I brought home I noticed right away that the drawcord was twisted. I tried straightening it out and when I couldn't get it right I brought it back to the store. They checked it out and it seemed like it was sewn in wrong so I exchanged it for one with a flat drawcord. It was fine for a while but now that I washed it a few times it's suddenly twisted. I spent at least 30 minutes this morning trying to fix it but it just won't flatten. I have other lululemon bottoms with the same drawcord system and never had this issue with them.
Date published: 2017-03-29
Rated

2

out of

5
by
DFC71
from
too sheer
Bought these on WMTM. I buy A LOT of Lulu on line. Thought I would love these pants but as other reviewers have clearly stated they are too sheer and see through. I will not wear them. An expensive lesson to learn. Very disappointed.
Date published: 2017-03-21
Rated

2

out of

5
by
Ariani
from
completely sheer - see through pants : (
I was really excited because I see how nice lululemon pants look on girls at my gym, this was my first pair I purchased, and for the price I paid completely not worth it, they are completely see through, someone came up to me at the gym to tell me they can see through my yoga pants, I was so embarrassed. Sad because the design and pants are so pretty. I thought for paying more money I would be getting better quality than sheer pants. I work out a lot and own all brands of gym clothes way less expensive and much better quality.
Date published: 2017-03-14
Rated

1

out of

5
by
Thira
from
Disappointed
I was not at all happy with these pants. The quality was not Good at all. I was running inside for my track team and I trip over someone and fell, not very hard either, on a smooth tile surface. After I get up, I find a large hole in the knee. This should not have happened if they are barely a week old. I would not recommend getting these pants.
Date published: 2017-03-13