Legging Speed Up 71 cm
Full-On Luxtreme
118,00 $ CAN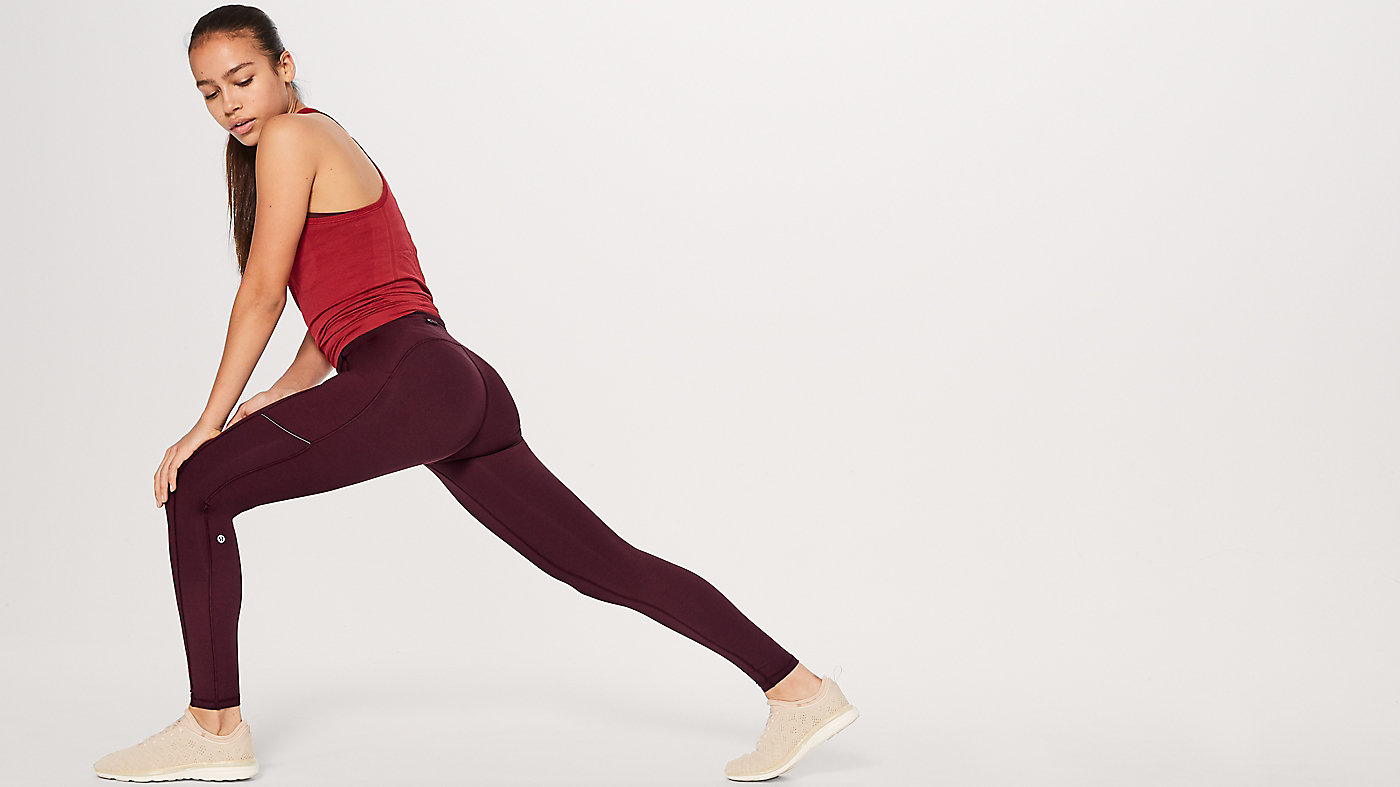 Article conçu pour
La course
---
LYCRA®
Conserve sa forme grâce à l'ajout de fibres Lycra®
---
POCHES
Nombreuses poches pour ranger vos essentiels
---
cordon intérieur
Serrez le cordon à la ceinture pour ajuster à votre goût
---
taille moyenne
La taille plus haute procure plus de couverture et de confort
---
---
sensation caressée
Conçu pour vous procurer une étreinte près du corps; il reste près de vous et bouge avec vous

Speed Up Tight 28" *Full-On Luxtreme
is rated out of
5
by
182
.
Rated

2

out of

5
by
track02
from
peels
ive had many Lululemon products over the years but these ones seem to peel in the thighs even tho I hand wash these and hang to dry so I'm not sure what is going on especially for the price
Date published: 2020-02-23
Rated

3

out of

5
by
Emma94
from
pretty good leggings
I love how they make my legs look but they do tend to fall a little to my hips when im exercising. They dont pill at all and ive had them about half a year now and worn/washed them a lot. They also run a bit small im usually a size 4 but for these i got a size 6 and they fit better. The pockets sag so i try not to use them, thats a little disappointing. Not sure if they were worth the 118$ i payed for them
Date published: 2020-02-19
Rated

1

out of

5
by
Sugarmama
from
Cute design, poor execution
They didn't stay up had to pull the draw string as tight as it would go and still was pulling them up all day. This is made worse when ANYTHING is in the pocket. They did not hold their shape and started to pill immediately. Loved the idea of the pockets but these pants were a waste of money.
Date published: 2020-02-10
Rated

3

out of

5
by
bri77
from
Weird sizing
I have a pair of the old "Speed" tights that I absolutely love and have worn consistently for about 6 years. They are finally starting to get a bit worn out so I decided to get these as a replacement. I bought the normal size I am in all lulu pants (I confirmed with the sales person that they should be tts compared with other lulu tights) and they were wayyy too tight, but I remember feeling like my speeds were super tight when I first got them so I decided to try wearing them and washing them a few times. They haven't stretched out at all, and they are literally painful to wear. I got them almost a year ago now, and aside from trying to stretch them out every few months (and then promptly taking them off because the pain just isn't worth it) I've been unable to wear them. I clearly should've gone in and traded them for a size up, I just really couldn't believe the sizing would be so different and believed they just needed to be worn a bit. Sigh. A lot of money down the drain and a big bummer as a huge lulu fan. The design was super cute and I loved the inner ridge on the pocket that really secured my phone, but aside from that I can't comment on quality or how well they last. I couldn't get them to stretch so maybe that's a good sign if you had them fit properly to begin with?
Date published: 2020-02-09
Rated

2

out of

5
by
SCMac
from
Cute but AWFUL quality
I bought these in black, they looked great on, loved the details. Only used for yoga and fashion. Within a month they started to pill and one area beside knee even became thinned out despite lack of activity in them and hand wash only! Returned them for a new pair. Have had them for under four months and the knee has ripped! It's not that I had the wrong size either, just weak fabric it seems, which is very disappointing since they're supposed to be a running tight. I would say they're NOT worth it for the price.
Date published: 2020-01-24
Rated

1

out of

5
by
scarlet12
from
Very Disappointed!!
I got these pants as a Christmas present and it hasn't even been a month yet and the seams are starting to pill and so are the pants. They do not hold up. I was very excited for these pants but they do not live up to my expectations. I am very disappointed especially for the price!
Date published: 2020-01-21
Rated

1

out of

5
by
karly55
from
thin fabric
I bought these last spring and within the first month they had worn out and pulled on the knee despite only being worn a few times. Now I have only been wearing them every once in a while and they now have a second pull.
Date published: 2020-01-11
Rated

2

out of

5
by
Tina11
from
Poorly made
I had recently received a pair of these approx 3 weeks ago as a Christmas gift & they have already been ripped on the knee as they caught on a corner when walking by. Am extremely disappointed as my last pair also ripped on the knee. Personally believe these pants are too expensive if they tear this easily.
Date published: 2020-01-11
Rated

1

out of

5
by
Shelby1996
from
Not Worth It
Got these as a gift in the same size I usually wear, Even after losing weight and going down a size in most clothes these tights were still much too small, the Fabric didn't feel right and they were see through even just stretching them without putting them on. Super disappointing since I love pants with pockets and am so used to the quality Lulu usually has!
Date published: 2020-01-09
Rated

2

out of

5
by
MADRUNNER138
from
Do Not Wear Well
The first pair of speed up tights I bought was a purple one in size 8 which I found to fit tight and really hug me in at first. After a few months of wearing them the seams along the crotch have come undone and have left little holes so I cannot wear them which is really disappointing considering how well I was taking care of them as well as how much they cost. When I first bought them I really did enjoy them so I decided to buy the same pair but in black. The black ones, although the same size, feel thinner and less compressive than my colour ones. As well they lose shape after an hour of wearing, feeling really sagging on you. On top of that I am also experiencing the seams along the crotch coming undone. Overall I am disappointed in these leggings and don't know what to do about them.
Date published: 2020-01-06