Rupture des stocks
108,0 $ CAN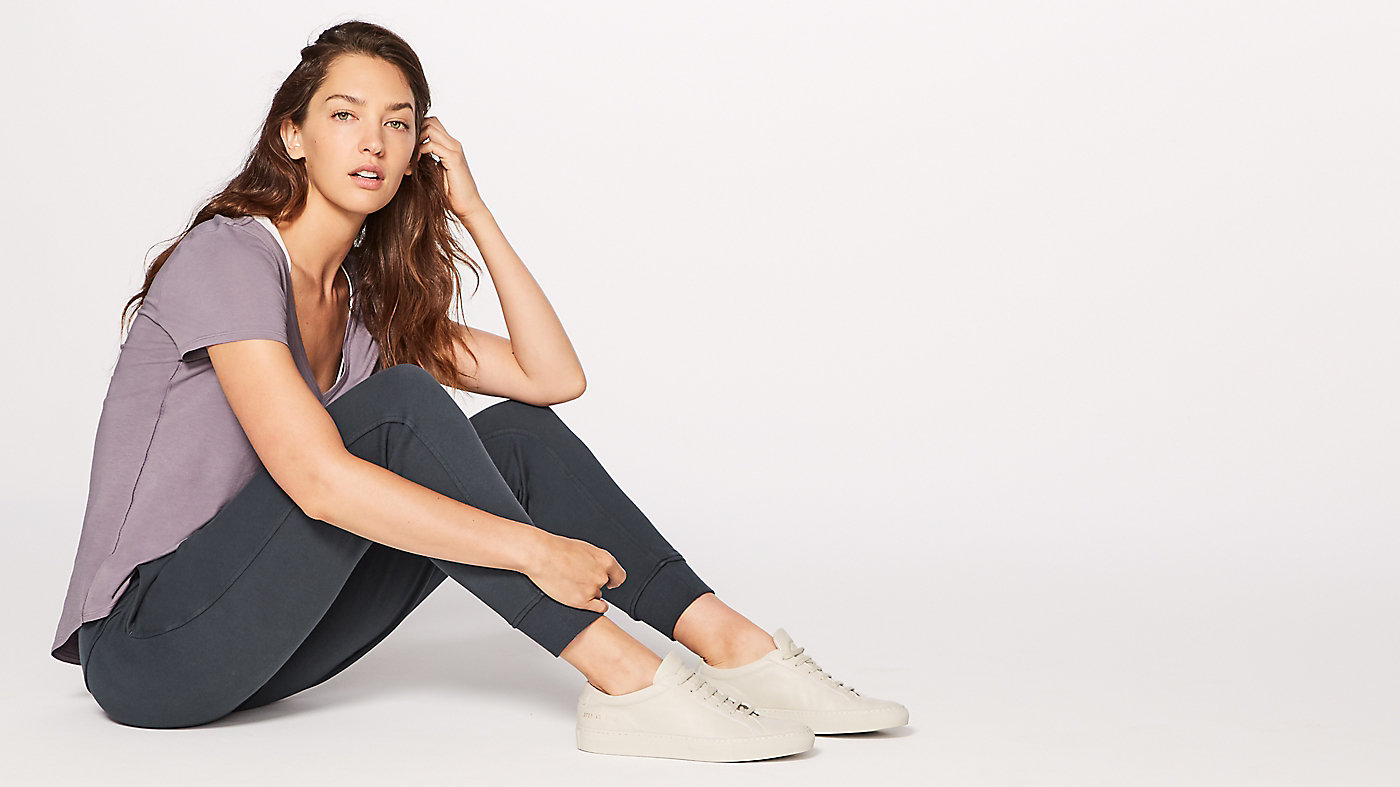 Warm Down Jogger *28"
is rated out of
5
by
151
.
Rated

1

out of

5
by
yogayvr
from
Fraying Fabric
Initially I loved these pants. They are flattering, fit true to size and sit at a nice spot on my waist with a comfortable taper at the ankle. The fabric is the problem. I liked the texture, but I soon realized it's created by two separate layers. The top layer is starting to become thin and totally wear off in little spots at the knees. It started as a couple and now it's like 12 little holes on each knee. I wore these on a few flights and around the house for cleaning, etc. so I did bend my knees often enough, but I've only had them for a few months and I expected more from lulu. For size, I am 5'6, 125-135lbs depending on the season and I got a size 4.
Date published: 2020-02-01
Rated

5

out of

5
by
AthleisureQ
from
Hands down the best
The softest, most comfortable and flattering sweats. Don't get the complaints as they wear amazingly, do not stretch ( I travel in them all the time and still look put together), no sagging knees or waist happened to me and I own 4! pairs - 2 in each color- they are THAT good. Don't really want to post the review, as I'd rather never see them get sold out but it's better than discontinued. More colors please! Heather grey, lavender - will get them all!
Date published: 2019-06-18
Rated

5

out of

5
by
bsb001
from
Love these!
These joggers really are like a cozy sweatshirt for your legs. They do stretch out significantly, so I'd recommend sizing down!
Date published: 2019-06-14
Rated

4

out of

5
by
SCsandi
from
Cozy pants
I like these pants. They are warm and cozy. Like a sweatshirt for your legs. They are a bit bulkier than I anticipated, but I should have known from the description. I expected a slightly looser fit. And they don't come quite to my ankles so they aren't baggy. But they are soft, warm and cozy. More like leggings on the bottom half. Perfect for lounging.
Date published: 2018-11-15
Rated

5

out of

5
by
Sarahbthl
from
best joggers! perfect for the cold winter
perfect for around the house and perfectly warm I bought a sweater with a deep v in the back in lavender they are my go to when I return home at the end of the day spa outfit need I say more ladies ;)
Date published: 2018-11-15
Rated

2

out of

5
by
allabouthatluluuuuuuu
from
Ehhhh...
The first time that I put on these pants, I LOVED them!!!! I thought that they were so cute and comfy. I then purchased them and was so excited! Yet as I began to wear them, the knees started to stretch out and looks like cones on my knees. I thought hm not that big of a deal, but then I caught myself in a fully length mirror. My waist down to my knees looked so LARGE, baggy, and unattractive. I was shocked because I figured that my lulu joggers wouldn't do this because of the high quality. I now only really wear them around the house or for errands because of how unattractive that I feel like I look. Sad about these :(
Date published: 2018-10-28
Rated

5

out of

5
by
KrissyL
from
Warm and comfortable!
Date published: 2018-10-21
Rated

2

out of

5
by
madfink
from
Super comfy but not cute after like two wears
They were great when I bought and after like two wears they are now so baggy in the knees. It is super unforcant because I spent $100 on them. I dont wear them outside my house becuse they do not look good on me because they are so baggy. I just wish they were not like that.
Date published: 2018-10-19
Rated

2

out of

5
by
RMM1228
from
Great at first, but then so baggy
I wish I could say I love these, but they get so baggy after just a little bit of wear. I I don't even want to wear them out of the house because instead of being cute and comfy I just look sloppy and baggy. I usually always read reviews and I wish I had for these.
Date published: 2018-10-17
Rated

1

out of

5
by
ke239111
from
More like Leggings
These pants are not made for anyone with muscular legs and a booty.
Date published: 2018-10-15