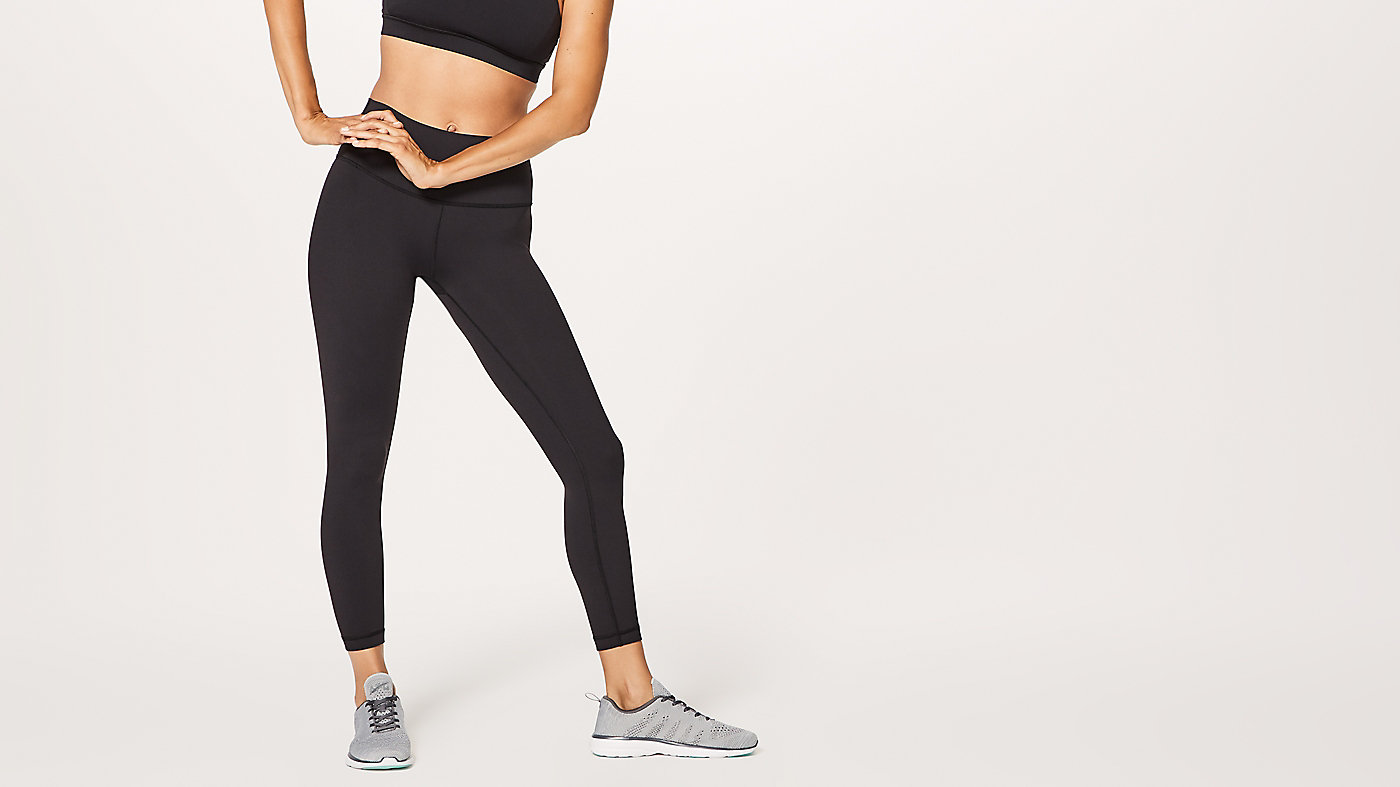 ---
LYCRA®
Conserve sa forme grâce à l'ajout de fibres Lycra®
---
Ceinture confortable
La ceinture lisse repose à plat sur votre peau sans s'y incruster
---
poche à la ceinture
Rangez vos clés ou votre carte dans la poche à la ceinture
---
taille haute
Offre couverture et soutien
---
---
sensation caressée
Conçu pour vous procurer une étreinte près du corps; il reste près de vous et bouge avec vous

Wunder Under High-Rise Tight 25" *Full-On Luon
is rated out of
5
by
159
.
Rated

1

out of

5
by
Frogss
from
Did not meet expectations, very disappointed
The fit is awful and uncomfortable; they are compressive, which is fine, yet constantly slide down. I have worn them several times to work and exercise in, and find myself pulling them up countless times throughout the day. I find it very odd that a pair of leggings that offer so much compression slide down all day. I have the wunder unders in the luon heathered fabric and find them much more enjoyable to wear. I even bought a second pair hoping it was just a fluke and have encountered the same problems with the new pair. I've only had the new ones for a couple of months, barely wear them and there is slight pilling on them as well. Overall, do not recommend these.
Date published: 2020-02-22
Rated

3

out of

5
by
Jesslynn08
from
Wrong size
I purchased these after purchasing many pairs of the Align Leggings in the past, thinking they might be a bit more durable. after having them for a couple months, I have only worn them 2 times as I find that they don't stay up and I'm thinking it is the difference in how they fit vs. the Align leggings. I paid a lot for these unfortunately I can't wear them.
Date published: 2020-02-20
Rated

1

out of

5
by
Vivian12345
from
currently trying to return
I was so excited to receive these as a gift for Christmas! After wearing them twice I was SO SO disappointed they started to pill, kept falling down and were awkward. Would SO not recommend these pants lulu has so many better ones out there.
Date published: 2020-02-19
Rated

2

out of

5
by
Hayleyk
from
Stretch out in 2 months
These are my favourite Lululemons, but I had purchased a pair in mid December in store and they are already staring to sag on me. The material stretches out like crazy. It's the softest legging and feels so nice on and I love the 25" inseam, but I'm constantly spending $90 every 3-5 months. I wish the material was either made a little thicker or stretch so that they are not falling down or the material stretching out. I follow the wash instructions and still nothing has changed. You would think when spending so much money on one legging they would at least last a year. Still on the hunt to find the best leggings.
Date published: 2020-02-17
Rated

2

out of

5
by
mkh90
from
Pilling
I was certain these Wunder Under's would not disappoint as I have never had this issue in the past...however within just a week of wearing these pants there was so much pilling, along the band in particular. I have followed perfect washing/drying recommendations and still they continue to pill. So upsetting!
Date published: 2020-02-14
Rated

1

out of

5
by
GuessImBasic
from
Fail. Much prefer the Aligns
I'm a big fan of the Aligns, but they're a bit too lightweight for wearing outside of the gym when it's fall/winter, or for activities like hiking where u need something sturdier. The sales associate recommended the wunder under in full on luon. I had a pair from a few years back and they had this issue where they kept slipping down around the waist. She told me that was a rise problem they fixed and it shouldn't happen anymore, also I probably should have gotten a size smaller. So I got a smaller size (8 instead of 10 (8 in the Aligns FYI)). It fits, Full on Luon seems sturdy enough BUT still slipping down throughout my day and was too warm for workout. So now Im stuck with a pair of tights I can neither wear in or out of the gym. Very disappointed. Should have spent the $$$ on a pair of Aligns instead.
Date published: 2020-02-14
Rated

4

out of

5
by
gmarielle
from
Fave over Align!
Favourite lulu leggings! Years and years ago bought my first pair of wunder unders but the high rise + 25" length was the perfect update for me! Overall prefer these over the aligns: more compression fit, thick & opaque, more durable, and personally I find the straight seam on the back more flattering than the v-shape of the aligns. I have a pair for regular 'athleisure' wear and one for working out. Will continue to repurchase throughout the years!
Date published: 2020-02-13
Rated

2

out of

5
by
VanessaL123
from
wonder unders
I was super excited to get another pair of wonder unders, they were my go to. Got my size and after a few wears the waist band wont stay up and the piling is quite bad for only a few wears. I've always taken care of my lulus the proper way. Just upset they are already not working out for me.
Date published: 2020-02-10
Rated

4

out of

5
by
wildeone
from
is what it is
luxtreme will always be a staple for me. quality has gone down over the years. they last longer than luon forsure. seams come loose on some pairs but you just take them back and trade them out for a new pair. they do stretch out a bit eventually. you just have to size down realistically im an 8 in the non-stretchy stuff instead I get a 6 that way they stay up better.
Date published: 2020-02-06
Rated

1

out of

5
by
jntchin
from
Whatever you do, don't size up
I normally take an 8 in Lululemon leggings (Fast and Free, In Movement), but when I tried on the 8 in these in the store, the sales associate recommended I size up. Big mistake. I got the 10, wore them once, and now I can't take ten steps without having to hike them back up. They're literally falling off my butt, and I can barely wear them to the grocery store, let alone for anything remotely athletic. Super disappointed as I've only worn them once and should've just taken my normal size.
Date published: 2020-02-04