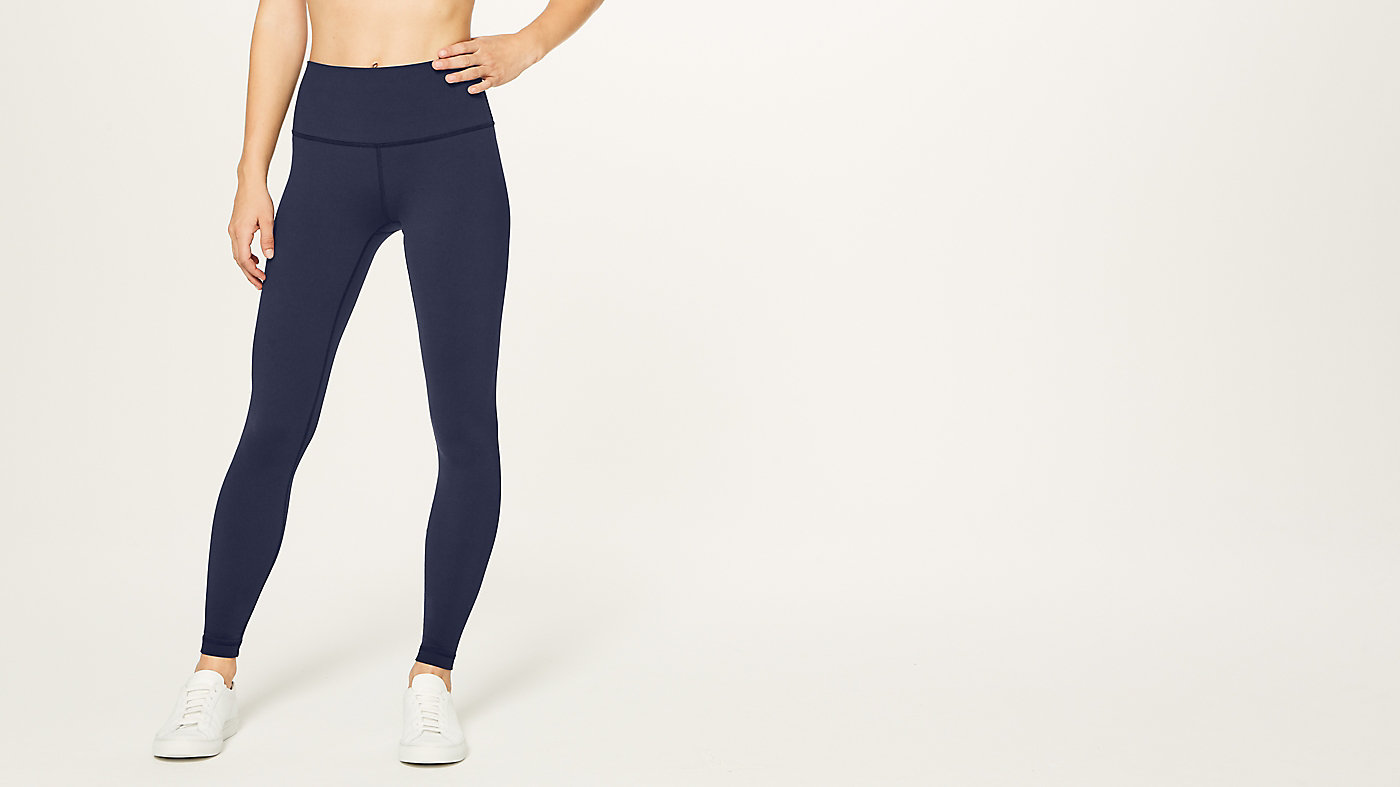 ---
LYCRA®
Conserve sa forme grâce à l'ajout de fibres Lycra®
---
ceinture confortable
La ceinture plate ne s'incrustera pas dans la peau
---
poche à la ceinture
Rangez vos clés ou votre carte dans la poche à la ceinture
---
taille haute
Offre couverture et soutien
---
Taille, entrejambe
Taille moyenne, entrejambe de 71 cm

Wunder Under High-Rise Tight 28" *Full-On Luon
is rated out of
5
by
464
.
Rated

4

out of

5
by
BoomboxGuz
from
Always on my list
I love my wunder unders and I can't have enough!
Date published: 2020-02-24
Rated

1

out of

5
by
diso123
from
Let down again
I had previously bought a size 10 in these after following the advice of a sales associate in store to size up. They quickly became too big and always had to pull them up... zero compression which is what i want. Maybe wore them between 1-10 times in the last year. They collect dust. Thought I would give this brand another try thinking i bought the wrong size so sized down. Just got my pants last week and i am already pulling them up. Waist band has no compression at all and they are SO see through its insane. The piling has already started and i only wore them 2 times.. so upset and will never buy another product here again. I took the tags off but still have the receipt and tags just not attached.. might go to the store and see if i can get a refund. So disappointed, aren't these supposed to be the best of the best? the reviews are all true, save your money.
Date published: 2020-02-20
Rated

2

out of

5
by
saunc
from
Not What I Expected
I bought these leggings as I had always heard very good things about Lululemon - not pilling anymore and not being see-through. I bought my first pair and unfortunately they did not hold up very well. They stretched out in the waist so much I was getting extremely annoyed with having to pull them up all the time. They also began pilling so I stopped wearing them. I normally do not tend to splurge on leggings and was really hoping that these would be great quality for how expensive they are.
Date published: 2020-02-19
Rated

1

out of

5
by
devla
from
See through and fall down
I bought these pants about 6 months ago and ive barely worn them. They fall down every move i make and I am constantly hiking them up. Not to mention the most embarrasing moment when i was at yoga and the girl behind me after class told me that they were completely see through when i was bent over. I only wear them now when i am around the house.
Date published: 2020-02-14
Rated

1

out of

5
by
CKaine
from
Disappointed
Got these as a Christmas gift. At first I really liked them. I noticed some minor pilling in between the thighs but wasn't concerned, until I noticed two tiny holes on the right thigh. I haven't even had these for two months. Such poor quality for the price. I've had $20 dollar leggings last me way longer.
Date published: 2020-02-12
Rated

1

out of

5
by
RebaDeg
from
Quality decreased drastically
These use to be my Go-To, however the quality has decreased drastically over the years. I have these and they are less then a year old and the stitching has come out of the legs, which sucks for a garment that is at a higher price range. The stitching first came out on the top and they did refund them but this was within the first month of owning them , this is the second pair within a year and the stitching has fallen apart AGAIN. I still have a pair from 5 years ago in great condition and the seems are strong and are in better shape then a pair I bought less then a year ago. I'm also very diligent about washing these by hand in cold water and hanging to dry , but doesn't help with quality they make these now :( . Too bad they really did have great products though.
Date published: 2020-02-10
Rated

1

out of

5
by
Buuttcheek
from
Not what I expected
Very uncomfortable, very thick weird material. The material is different than how it looks in the picture. Not good material for exercise. Also would need to size up if i kept these ones.
Date published: 2020-02-06
Rated

1

out of

5
by
Hayl24
from
Poor Quality
Let me start off by saying how much i love this brand. From shirts to sweaters to leggings i have it all. I have been purchasing items from lululemon since i was young, starting with Iviva athletica, and then moving up to lululemon in my teen years. I have loved every item i have purchased, very rarely have ever had an issue with an item. I was super excited to purchase these pants, the colour was very nice, and knowing the brand i knew i could trust that they would be excellent. Well, received them in the mail today and they are far from my hoped for excellent. Before putting the pants on i found the material to be very odd. Seemed to be very heavy, and looked as if they had already been warn and brushed up against a piece of wood (comparing it to this as when pants this material come into contact with wood the spot will look almost fuzzy). I tried the pants on, felt a little odd and heavy but i proceeded to wear them out for the day. After some walking around, the pants have already pilled quite a bit. I understand pilling when pants have been warn multiple times and for many years, but not after a total of 2 hours of walking. Wanted to love these pants, but super disappointed that this well known and trusted brand would sell me this item.
Date published: 2020-02-05
Rated

5

out of

5
by
StylishMama
from
Best leggings ever
I absolutely love the full on luon. These have the right amount of compression and the waist doesn't dig in. The fit is perfection! I can live in these legging.
Date published: 2020-02-02
Rated

5

out of

5
by
MissFit1
from
Go to legging
Got these for my daughter. ( she is a trim 12 year old and got her a size 0). I'm constantly washing them because she wears them all the time! They are her fave leggings for school . They look so good on her and she says they are so comfortable - she has so many leggings in so many brands and these were worth every penny b/c she LOVES them and they have held up and happen to look so awesome on her.
Date published: 2020-02-02