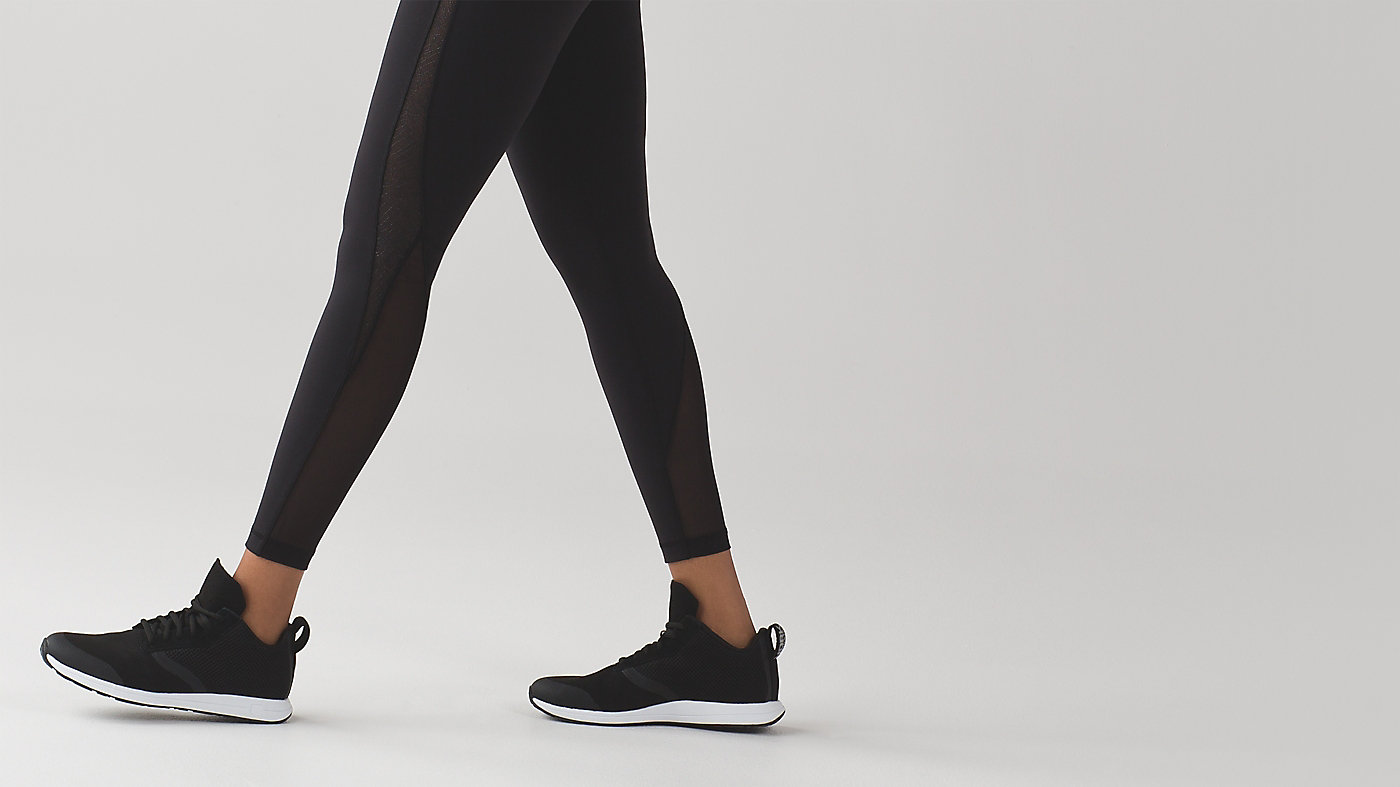 Article conçu pour
Le yoga
---
lycra®
Le tissu extensible conserve sa forme grâce à l'ajout de fibres Lycra®
---
taille haute
Aide à vous couvrir en toute sécurité
---
sensation caressée
Conçu pour vous procurer une étreinte près du corps; il reste près de vous et bouge avec vous
---
poche dissimulée
Rangez vos essentiels dans la poche dissimulée
---

Wunder Under Pant (Hi-Rise) Se Infinite
is rated out of
5
by
6
.
Rated

2

out of

5
by
Musclechica
from
What a let down!
I bought these tights at my local Lulu store and they were final sale for $89 bucks. I loved the mesh details but the pants were a little long so I had them hemmed about an inch. The mesh behind my left calf looked loose around my ankle. Now I know why it was marked down. The mesh is not form fitting around the ankles giving it a bumpy look. Now I'm stuck with these pants unless I grow cankles. I'm so frustrated that I spent money on these tights.
Date published: 2017-04-04
Rated

2

out of

5
by
Kate1208
from
Cute but...
I purchased a similar pair just a few weeks back, Wunder Under Hi Rise SE Laser, but they don't even seem to be on the website anymore. Anyway, I loved the way the pants look and I figured if all the rage about lululemon is true, the price of $118 would be justified. But after only a couple of wears and washes, they became very loose around the waistband and are not form fitting at all anymore. My exercises were not strenuous at all (yoga), but they are definitely sagging now. The color is also fading and after two washes I can already notice pilling. I am very disappointed as I love the rest of my lulu stuff (Align II's are amazing), but this was a little disheartening for me.
Date published: 2017-03-28
Rated

2

out of

5
by
moho
from
Not worth it
I purchased a pair of wunder under pant (hi-rise) a few months ago. I fell in love with the way they fitted me and the breathability the mesh of the pants provided. Unfortunately, after a few standard washes a noticeable amount of pilling occurred. As I wore them more, the seams even began to pill and thread started to come out of the hem. I'm dissatisfied with the quality of the leggings, when I paid a generous amount to purchase them. I will not be purchasing any more wunder under pants until they get their pilling problems under control.
Date published: 2017-02-22
Rated

3

out of

5
by
minipowerlifter
from
Gorgeous pants but...
When I saw these pants I had to have them, the mesh detailing is awesome and adds a little sexiness which means they can be worn to the gym or even dressed up with some boots or heels. I've worn them once to the gym and once on a casual occasion and on both times I washed them on delicate and hung them to dry but sadly they are already starting to pill on the waste band. For the price of these pants I should not be having this issue so soon. I don't know what the issue is with lululemon fabric but for the price they really need to address this problem which seems to be happening with a lot of their pants. I have had VS sport pants for years and their quality has been exceptional which I would expect from a pricier company like lululemon. This is really disappointing and I don't know if I would repurchase more pants from this company
Date published: 2017-01-24
Rated

2

out of

5
by
ClemsonBrittany
from
Almost Great
The Good: I wanted to love these so bad. The mesh is amazing. The details on the top part of the mesh rock, I mean super gorgeous and great feel. The way the mesh is laid out on these would be so perfect. The Bad: These are definitely a size down pant. They are so baggy from the knee down. I literally have never had this issue with WUP or any other Lulu pant. The rest felt like it was normal for my tts fit. But somehow these are not like the rest I own and aren't even close to being just a little loose. They are straight up baggy. The Ugly: SHEER. I thought we got away from this again, but these failed the bend test big time. I didn't even bend all the way over, didn't need to. Disappointing to say the least. So, if you needed to size down to make them fit like they should, then they'd REALLY be sheer. Sigh, I'll be returning these.
Date published: 2016-12-19
Rated

2

out of

5
by
Katie16
from
Wanted to love them..
I bought these pants in hopes of adding them to my lulu legging collection. After only about 5 or 6 time wearing them., I noticed extreme pilling on the inner thigh. They also started to even tear a little on the inner thigh as well. I was disappointed because I was looking forward to trying out a different pair of leggings, since I do enjoy my other lululemon leggings. Now, I am unable to wear these due to the tear and pilling. These leggings did live up to the price of them at all.
Date published: 2016-12-18