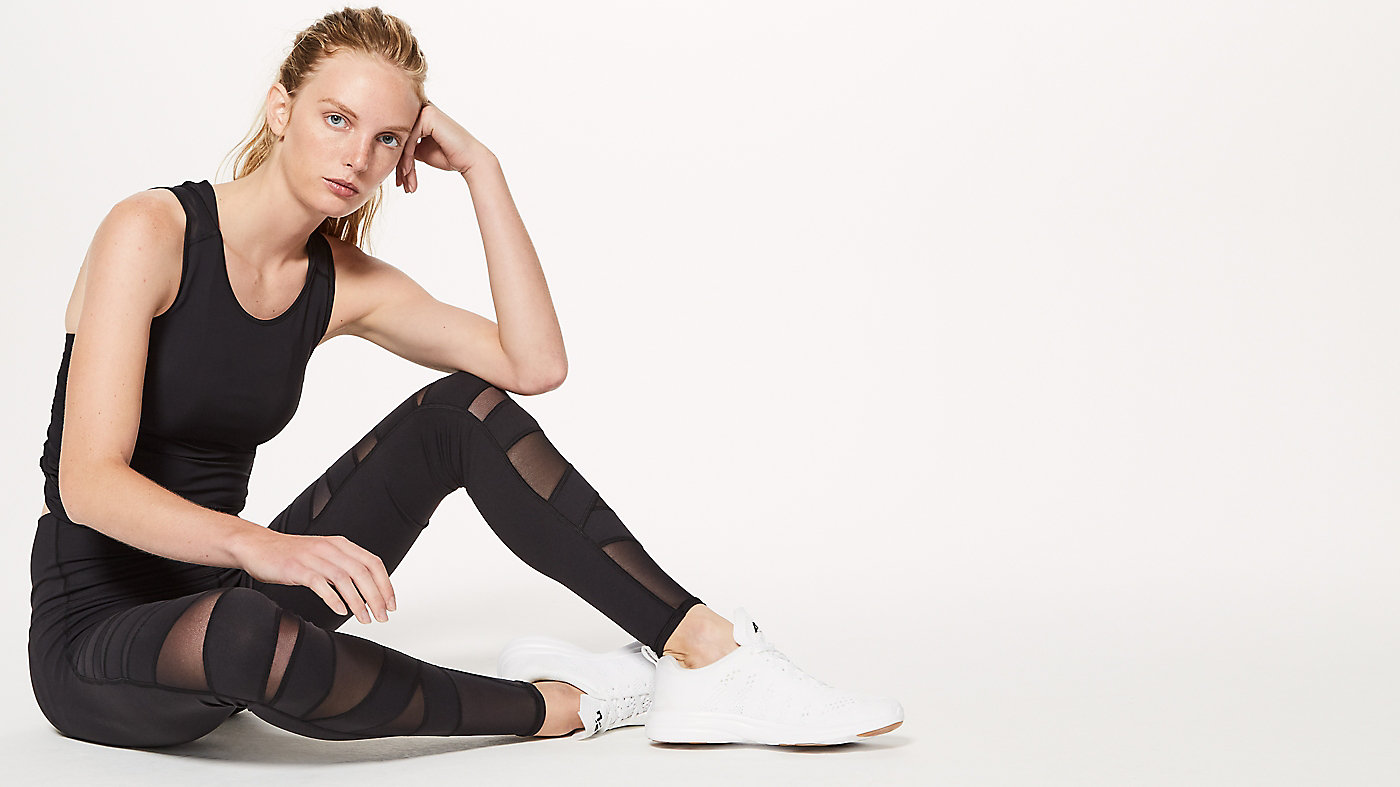 Article conçu pour
Le yoga
---
lycra®
Le tissu extensible conserve sa forme grâce à l'ajout de fibres Lycra®
---
taille haute
Aide à vous couvrir en toute sécurité
---
sensation caressée
Conçu pour vous procurer une étreinte près du corps; il reste près de vous et bouge avec vous
---
poche dissimulée
Rangez vos essentiels dans la poche dissimulée

Wunder Under Pant (Hi-Rise) Se Mesh
is rated out of
5
by
57
.
Rated

3

out of

5
by
runnerfanatic
from
Ripped :(
Obsessed with these leggings, unfortunately after only a few washes (always hung to dry) there is a rip right in the crotch. Disappointed with the quality for the price that I paid.
Date published: 2017-07-12
Rated

5

out of

5
by
MammaSquat
from
Worth the hype
Can you say Sexy?! Yes, these are very attractive. I feel amazing in these tights. Great for the workouts, but better for my self esteem. It's hard not to want to "save" wearing these for when you know you're going to be seen in them. Such a great design. I find there is a little room in the waist when I get my size to accommodate the "boom in the back" if you know what I mean, but it's not bothersome. I'm complimented on them each time I were them. I follow the care instructions and they are holding up very well. Love these pants!
Date published: 2017-06-30
Rated

5

out of

5
by
Calgary05
from
New favorites
I have been trying to get my hands on these for so long, and I finally snagged a pair. I am 5'6", 135 pounds and size 6 (my normal) is perfect. These are NOT at all uncomfortable I don't know why there are so many reviews saying they are. they fit so great.
Date published: 2017-06-28
Rated

1

out of

5
by
beaz3kb
from
So disappointing!
I wanted to love these leggings but unfortunately I have only worn them once and they have already started to tear away from the seams - starting holes in both legs! I love the print but the quality of the mesh is extremely poor.
Date published: 2017-05-29
Rated

3

out of

5
by
WhenLifeGivesYouLulus
from
Love Hate Relationship
Got these for my birthday this year and could not wait for them to come in, they are one of the cutest designs i've seen and look super good on. Unfortunately however that's about all they are good for it seems. They are not very comfortable as when you sit the mesh is painful on your legs, and the waistband rolls. In the past i've had a few pairs start to go so I was very careful with these as I wanted these to last but alas a few months in I was getting dressed and the mesh just ripped off the seam and there is now a huge hole. Overall, if these were remade I would definitely re buy but they need some design work because of how easily they are damaged.
Date published: 2017-05-17
Rated

1

out of

5
by
ErinX0X
from
So disapponiting
As a lot of other reviews have mentioned on the first wear there were multiple holes in the mesh. Really disappointing as the cut of these pants are so flattering! Definitely not worth the money.
Date published: 2017-04-22
Rated

1

out of

5
by
Mitt
from
:Painful
I was very excited about these paints, but once you wear them for a few hours you realize how painful they are. The fabric (mesh) in the back of the knees are very uncomfortable and even painful. I find myself no even able to sit long because bending the knees in these paints are what causes the pain. They fit great, but as I can see from many other comments below other people have had the same painful experience as I have. Very unhappy.
Date published: 2017-04-15
Rated

1

out of

5
by
Amydaawn
from
Uncomfortable and bad quality
Like most people, wore once and there is holes along the mesh down both legs. Not to mention sitting in this is terribly uncomfortable. Disappointing.
Date published: 2017-04-14
Rated

3

out of

5
by
HD1987
from
Love turned to hate
I bought these pants a few months ago and I love the look of them. After a few times wearing them I noticed that the mesh was poorly stitched and there are now holes down the back mesh area and the seam in the thigh area started to unravel. I initially thought they would be my favourite pants, but with these faults it's not the look I'm wanting..
Date published: 2017-04-03
Rated

2

out of

5
by
tame
from
Very uncomofortable
I bought these since I heard all the hype about lululemon. Well I was disappointed. The lady at the store told me that they need to fit very fit since I was worrying about the $100 leggings stretching, so I bought what seemed like the normal size. Well I wore them for one day and the band was squezzing so hard, it was so uncomfortable, I go to college the whole day so there was no way for me to change my clothes, but I will never be wearing them again. Even though the hype is big the quality is not.
Date published: 2017-03-29