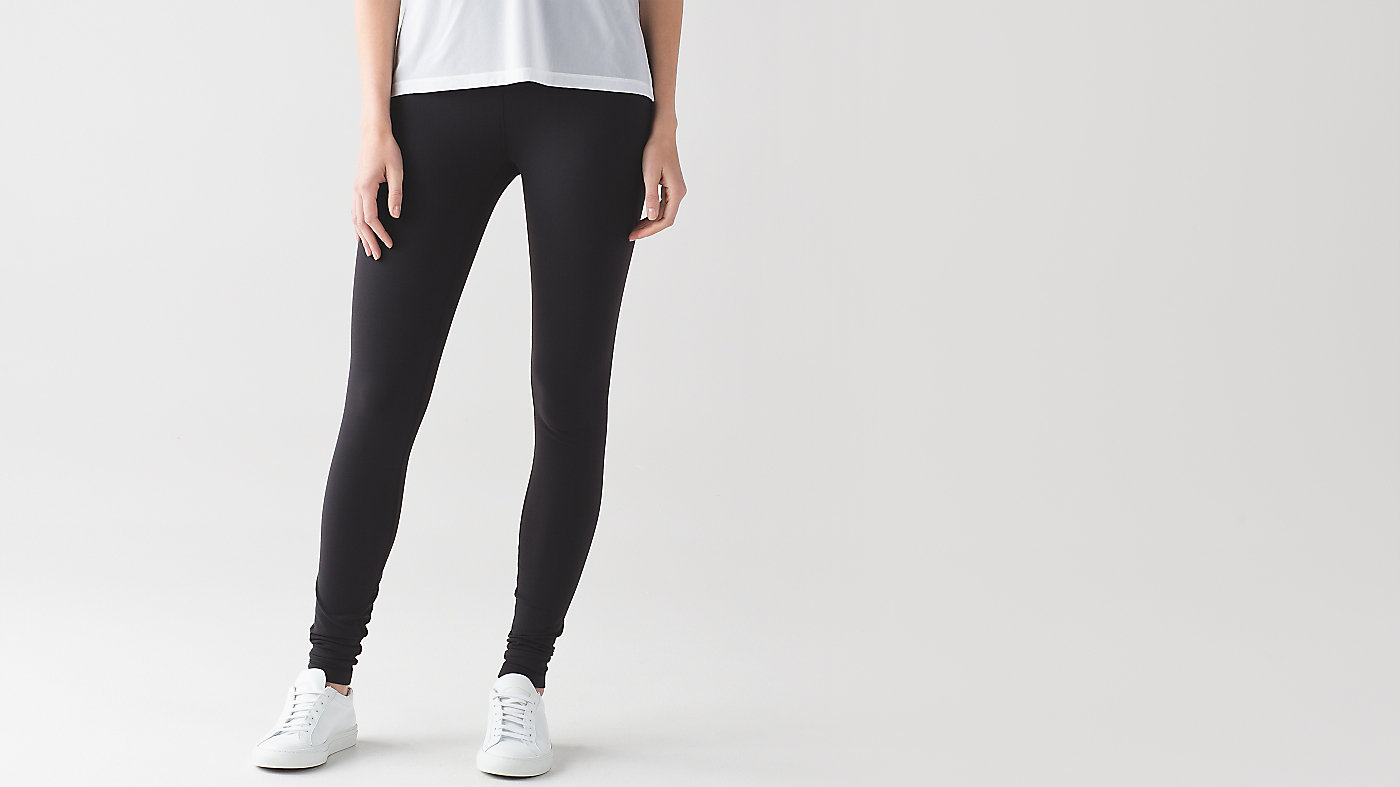 lycra®
Le tissu extensible conserve sa forme grâce à l'ajout de fibres Lycra®
---
ceinture confortable
La ceinture plate ne s'incrustera pas dans la peau
---
sensation caressée
Conçu pour vous procurer une étreinte près du corps; il reste près de vous et bouge avec vous
---

Wunder Under Pant (Hi-Rise)*Brushed
is rated out of
5
by
37
.
Rated

1

out of

5
by
ElisabethP
from
Stretched out, lots of piling
I wanted to love these so bad, as they are so so soft on the inside and very comfy. Unfortunately mine piled horribly on the thighs and around the ankles. They've also stretched out quite a bit so I'm constantly pulling them up. Honestly, not worth the price, don't buy.
Date published: 2017-06-16
Rated

2

out of

5
by
Shem
from
Pilling! :(
I love the feel of these pants but they are sooooo pilled, full of fuzz balls already. I purchased them only 6 months ago. I've contacted Lululemon and so far have had a good experience but will see what the outcome is soon. Definitely think that the material needs to be revisited. These pants will ball up unless you are always standing and never wash them.
Date published: 2017-05-28
Rated

2

out of

5
by
Sadielib
from
so much pilling, and so stretched out
when i first got these pants, i loved the fit and the high rise part. and how soft the material is, but after only a couple wears the inner thigh area was pilling like crazy! I spend tons of money on lulu every year, but haven't had a pant pill so bad before. also the waist band became super stretched out, so now they don't stay up properly! super disappointed because i really loved the fit when i first bought them! :(
Date published: 2017-05-12
Rated

1

out of

5
by
EAMM
from
Lots of Stretching
I loved these pants when I first brought them home. After a few wears, they began stretching like crazy, especially around the waist and butt area. I wondered if maybe they needed a wash so I followed instructions and let them hang dry, only to put them on and the waist is still so stretched out and the pants never stay up. It's like they lost all their fit once I wore them once or twice. Very disappointed and am now nervous to shop there again. Why would I pay over $100 when I can get the same quality elsewhere for $25?
Date published: 2017-05-11
Rated

2

out of

5
by
Chaz
from
Balling like crazy
Unlike previous leggings I've owned, this pair has lots of balling happening. It seems the more I wash them, the more they ball up between the legs and around the waistband.
Date published: 2017-05-08
Rated

3

out of

5
by
MRAmy
from
Super Comfy
I really enjoy these pants, I just bought my second pair and am not disappointed. The high rise style is perfect for working out or just wearing out.
Date published: 2017-04-20
Rated

1

out of

5
by
livealittle14
from
100% see through
I have a pair of these from years ago that are still in great shape, but really wanted the high-rise ones because they are so comfortable. Unfortunately, I've tried them on in multiple stores and they aren't just a bit see through. You can literally see everything, so sorry no I won't pay $100 for see through leggings that I can get for $10 at wal-mart. It's super disappointing that lulu's quality has gotten so bad. I have other high rise wunder unders that are luxtreme and aren't see through, but I find them too compression like for everyday wear and wanted another pair of luon ones, but guess it's not going to happen.
Date published: 2017-04-19
Rated

3

out of

5
by
tric
from
LOVED these for the first day...
Bought these yesterday after a pair of my non lulu leggings ripped, So i decided to spend the extra and buy a fresh pair of wunder unders. They are SO comfy. Warm but still breathable, will be so nice on a spring/summer night. BUTTTT they are piling in the thighs already! I haven't purchased anything from lululemon for a few years after being disappointed in quality of another legging, an issue still to be unresolved. I'm pretty disappointed but can wear long hoodie to cover up, i guess.
Date published: 2017-04-18
Rated

1

out of

5
by
Singram
from
comfy but SO much pilling
I got these pants a little over a week ago and have worn them maybe twice and there is sooo much pilling already.. I haven't washed them yet so its not due to me washing them incorrectly.. Very disappointed as i paid over 100$ for them :(
Date published: 2017-04-10
Rated

1

out of

5
by
GymJenn
from
So much pilling!!!!
Bought these pants about a month ago, and thought the brushed would be a good change as oppose to the regular wunder-unders. little did i know they would pill like crazy!! super disappointed that I spent the money on these and now I have to throw them out! DO NOT BUY!
Date published: 2017-04-06