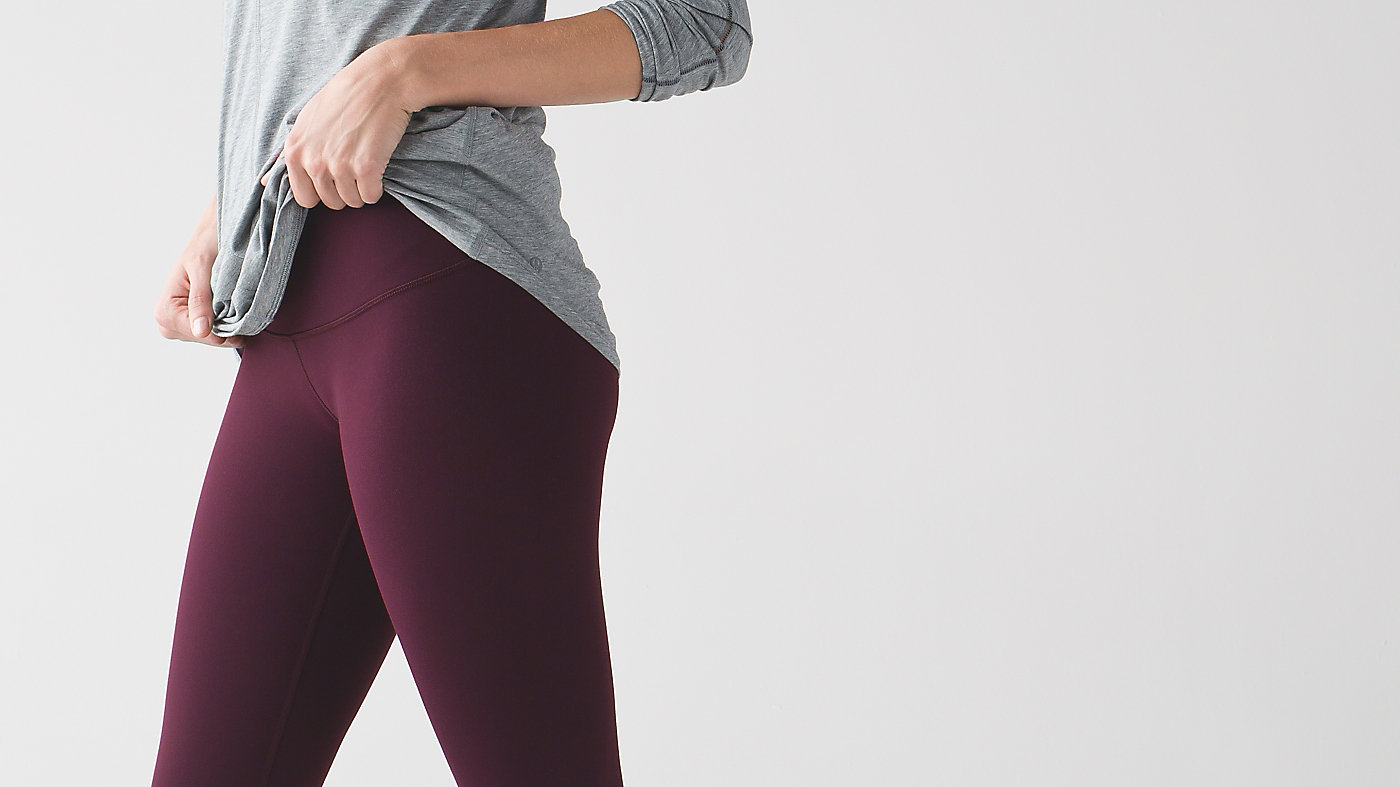 Article conçu pour
Le yoga
---
lycra®
Le tissu extensible conserve sa forme grâce à l'ajout de fibres Lycra®
---
Ceinture confortable
La ceinture lisse repose à plat sur votre peau sans s'y incruster
---
poche à la ceinture
Rangez vos clés ou votre carte dans la poche à la ceinture
---
sensation caressée
Conçu pour vous procurer une étreinte près du corps; il reste près de vous et bouge avec vous
---

Wunder Under Pant (Hi-Rise) *Full-On Luon
is rated out of
5
by
279
.
Rated

1

out of

5
by
NeverAgain24
from
Worst Experience
Well I had a pair of these pants for about 4-5 months before the waistband seam began to come out. So I sent them back and replaced them with a new pair. Proud to wear my new pants, I wore them to work, only to be mortified to find out everyone could see my underwear as soon as i bent down. Even worse, your quality lead me to this experience and I can't even get a proper refund. How would I have known these were see-through without wearing them first. Absolutely mortifying and even more upset about the help i've received.
Date published: 2017-06-10
Rated

2

out of

5
by
LuluLauren22
from
Weak Seams!!!!
I have owned the wunder unders before and usually love them. I was heartbroken when my new pair had began pilling on the seams and started to rip! I made sure to follow the washing instructions and was able to get a months wear out of them before they started pilling and ripped. :(
Date published: 2017-06-06
Rated

1

out of

5
by
unimpressedfromOttawa
from
Terrible quality, not worth the money!!
I purchased these pants with high hopes due to the quality I had heard this company had. I unfortunately ended up VERY disappointed. These pants are not worth the money. The pants I purchased have numerous holes, and find this very frustrating since I wore them minimal times and follow all the washing instructions as outlined. This experience has enforced me to NEVER purchase anything from this company again nor give it good recommendation to anyone that asks.
Date published: 2017-06-05
Rated

1

out of

5
by
Chopperman
from
Sad that it pills like crazy :(
I have always wanted the classic wunder under leggings from lulu. When I finally received them I was so excited and they look SO good...but only for a few wears. After a month or so it started pilling like crazy on the outer thigh. It's weird because it only pills on the right outer thigh...my sister also has a pair and she's had it for longer than me but hers are completely fine so I'm guessing that I received a defective pair or the quality decreased since she bought hers. Very sad that I will have to get new ones. Lulu please have better quality control!
Date published: 2017-06-02
Rated

2

out of

5
by
piqueandpoint
from
not their best
i usually love love love lululemon items, and i knew these were a hit from all the girls i know. I decided to jump on the bandwagon and give them a try and honestly i am dissapointed. They started to pill just after a few wears and they seem to sag on the back area more than my other lulus. Witht he sagging, they seem to be large? I've been having to pull them up quite a bit which is not ideal when your dancing or doing yoga or just walking in general. Overall i love the style and the idea just not the actual pant unfortunately.
Date published: 2017-05-31
Rated

1

out of

5
by
CanadianMilitaryWoman
from
Huge expectation.... highly disappointed
Lorsque la vendeuse du magasin Lululemon m'a fortement recommander d'acheter ces pantalons je l'ai ai tout de suite essayer et j'ai tomber en amour avec ces pantalons super confortable. Je l'ai ai acheter immédiatement. Après seulement quelque semaine mes pantalons on commencer à peler entre les cuisse et cela cause des gros morceaux de tissus qui dépasse de mes pantalons. Je dois dire que je suis une grande fan de Lululemon et j'ai acheter plusieurs pairs de pantalons auparavant que j'adore, cependant la qualité de ce produit me déçois énormément car je n'ai eu ce genre de problème avec des leggings Lululemon auparavant (et même avec des marques de vêtements bas de gamme). En plus de peler, le tissus de mes pantalons pers sont élasticité après 30 minute, je passe donc mon temps à les relevés ce qui est très agaçant. J'en ai toujours pris soins et ils n'ont jamais été à la sécheuse. C'est leggings me déçoive énormément, j'ai gaspiller 100$ dans un produit que je croyais à la hauteur des autres produits Lululemon. When the girls from the store highly recommended this pants to me I tried it on and they were fitting perfectly. After a couple weeks they started to peel in between the legs (it never happened to me before with Lululemon and even cheaper brand). I washed them properly and it never goes into the dryer but they start to loose their stretch after 30 mins and this is very annoying. I thought they would stay nice like my other pairs of Lululemon but I just wasted 100$
Date published: 2017-05-19
Rated

2

out of

5
by
Kels1991
from
Ripped
I used to love these pants, I have multiple pairs of these and the cropped Wunder Unders but unfortunately, these ones have developed a lot of pilling, as well as a rip in the knee. I don't know how it started but it is ripping more and more to the point where I can't wear them anymore. Before I would have definitely recommended them, but this quality/pair that I own has changed my mind which is unfortunate because they have been my favourite leggings forever.
Date published: 2017-05-11
Rated

5

out of

5
by
azumbagrl
from
love!
These leggings are amazingly soft and so light it's like you're wearing nothing at all! the high rise is great - no pulling up your pants constantly in these! Have washed and worn them over a dozen times so far and they are holding up well. Now if only they came in funky colours.....
Date published: 2017-05-10
Rated

2

out of

5
by
leangeneralist
from
Not like expected
My friend recommended these leggings to me. I thought they were going to be awesome but I was sorely disappointed. 10 minutes after I put them on they stretched out and became baggy at the knee. There is also a bit of piling and I have to use a lint roller every 5 minutes because they collect so much lint. I did not expect such poor quality from $100 leggings. I have $20 leggings that are much better than these.
Date published: 2017-05-06
Rated

1

out of

5
by
Squatsfordays
from
Seams coming apart/ Stretched out
Very disappointed. I usually love Wunder Unders but both pairs of these pants I ordered are coming apart along the seams. I've only had them for about three months and the seams around the waist and along the bum are completely separating. They are also completely stretched out in the bum so I am constantly having to readjust during my workouts. I always follow the care instructions to try and keep my pants lasting as long as possible so I am extremely disappointed I didn't get the quality I payed for.
Date published: 2017-05-02