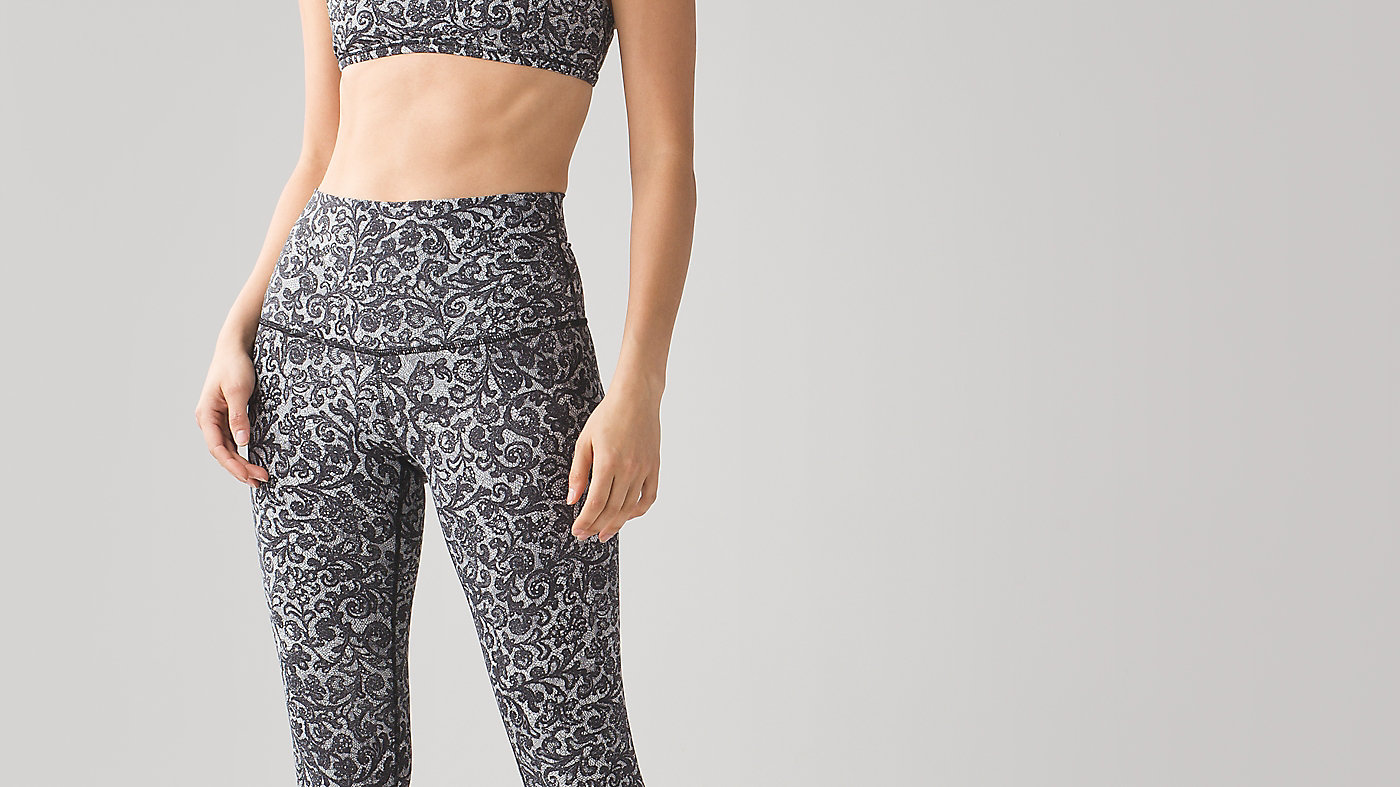 Article conçu pour
Le yoga
---
lycra®
Le tissu extensible conserve sa forme grâce à l'ajout de fibres Lycra®
---
Ceinture confortable
La ceinture lisse repose à plat sur votre peau sans s'y incruster
---
poche à la ceinture
Rangez vos clés ou votre carte dans la poche à la ceinture
---
sensation caressée
Conçu pour vous procurer une étreinte près du corps; il reste près de vous et bouge avec vous
---

Wunder Under Pant (Hi-Rise) *Full-On Luxtreme
is rated out of
5
by
85
.
Rated

1

out of

5
by
11LuluLuv11
from
Thought these were perfect, but was disappointed
I've only worn my pants a handful of times and there is bad pilling only on one leg. I have a large lulu wardrobe and have never had this issue with any of my other clothes. They are super comfortable and soft, but its quite noticeable so I can't wear them. Very disappointing.
Date published: 2017-06-15
Rated

5

out of

5
by
ChristineLouise8
from
go to legging
I love my Wunder Under Pant High Rise Fullux. I love the high waist and the "huggieness". These are extremely comfortable and the fabric does not catch on my skin as the lulon sometimes does. My new favourites.
Date published: 2017-06-02
Rated

1

out of

5
by
Fitlife123
from
My leggings ripped within the first few weeks of wearing them lightly.
I am a frequent customer and I love Lululemon clothing, however these leggings that I purchased within the first couple weeks I spotted a rip (hole) right in my thigh of the pants... I am very disappointed on the cheap material, and how easily they ripped just from putting them on. We pay a decent amount of money for these clothes and they should not do that..
Date published: 2017-06-02
Rated

4

out of

5
by
teachermom
from
Love pattern
I have several pairs of high rise wunder unders and love them! This pattern is so nice also, however the material seems a bit thin almost like a bathing suit as I'm used to the brushed fabric. They fit amazing and hope it doesn't disappoint.
Date published: 2017-05-26
Rated

1

out of

5
by
Zuni0704
from
Not nice anymore - returning :(
Very disappointing. I have 3 pairs of luxtreme wunder unders, they are my favorite thing but this is now my 2nd pair being returned. They are different, I dont know what was changed but the fit is weird the fabric isnt soft. Sad. These were my 'tried & true' favorites, and I will be returning for align pants, that just arent as nice as my original wunder unders. Stop trying to fix what isnt broken lulu, I have returned more things in the last couple months than I had in a decade previously.
Date published: 2017-05-14
Rated

5

out of

5
by
BellaRS
from
Does it all
Can do everything from heavy lifting to yoga in these. Loving the feel of luxtreme and does not pill! Patiently waiting for the black to be restocked in the full length since I have them both in the 7/8 pant. Would buy in every colour, especially dark olive, white and light grey!!!
Date published: 2017-05-12
Rated

2

out of

5
by
LuLuLover5565
from
Not so great leggings
Ive owned a ton of lululemon leggings, these are not so great! They do not hold there shape, I'm constantly pulling them up while running and they loosen up after a few hours of wear. The stitching started to come undone at the ankles and inside the leg. Im consistently a size 4 and never had the problem of other leggings falling down from lululemon, maybe I got a bad pair.. These were definitely not worth purchasing.
Date published: 2017-04-25
Rated

2

out of

5
by
FloridaGal27
from
I really did love them...
My husband bought me these pants roughly a year ago, and these are the 2nd pair I owned (at the time!). My first pair was also a "WunderUnder" and have survived, that I assumed these would too. Unfortunately, as much I would've preferred these over all of the others, they have pilled unbelievably. I have followed the instructions to wash them accordingly, and I've just stopped wearing them. I completely forgot about them until the other day, when my husband suggested I buy another pair of black Lulu's to replace these since I really wanted a black pair to wear daily-ish. I really did love them when I first got them, unfortunately they barely survived a few months. :(
Date published: 2017-04-17
Rated

2

out of

5
by
LeafFan1
from
Thought It Was Just Me, Then I Read The Reviews
I really loved these pants. I bought them on a whim one day after a sales person recommended them. I thought the high waist would be great for yoga and they were oh so soft so I took the plunge! They were amazing in yoga---literally the only pants that didn't roll down during class for me. But very quickly I ran into the pilling issues everyone else has had. I thought maybe I was doing something wrong, but as an avid Lulu lover I know how to wash my Lulu pieces! Overall really disappointed that there is so much pilling after lots of care and minimal use. My search will continue for some awesome yoga pants that don't roll down!
Date published: 2017-04-12
Rated

2

out of

5
by
Mikk
from
unhappy
After only one wear, the seams were pilling a lot. The waist band also rolls down every time I move or sit down.
Date published: 2017-04-05