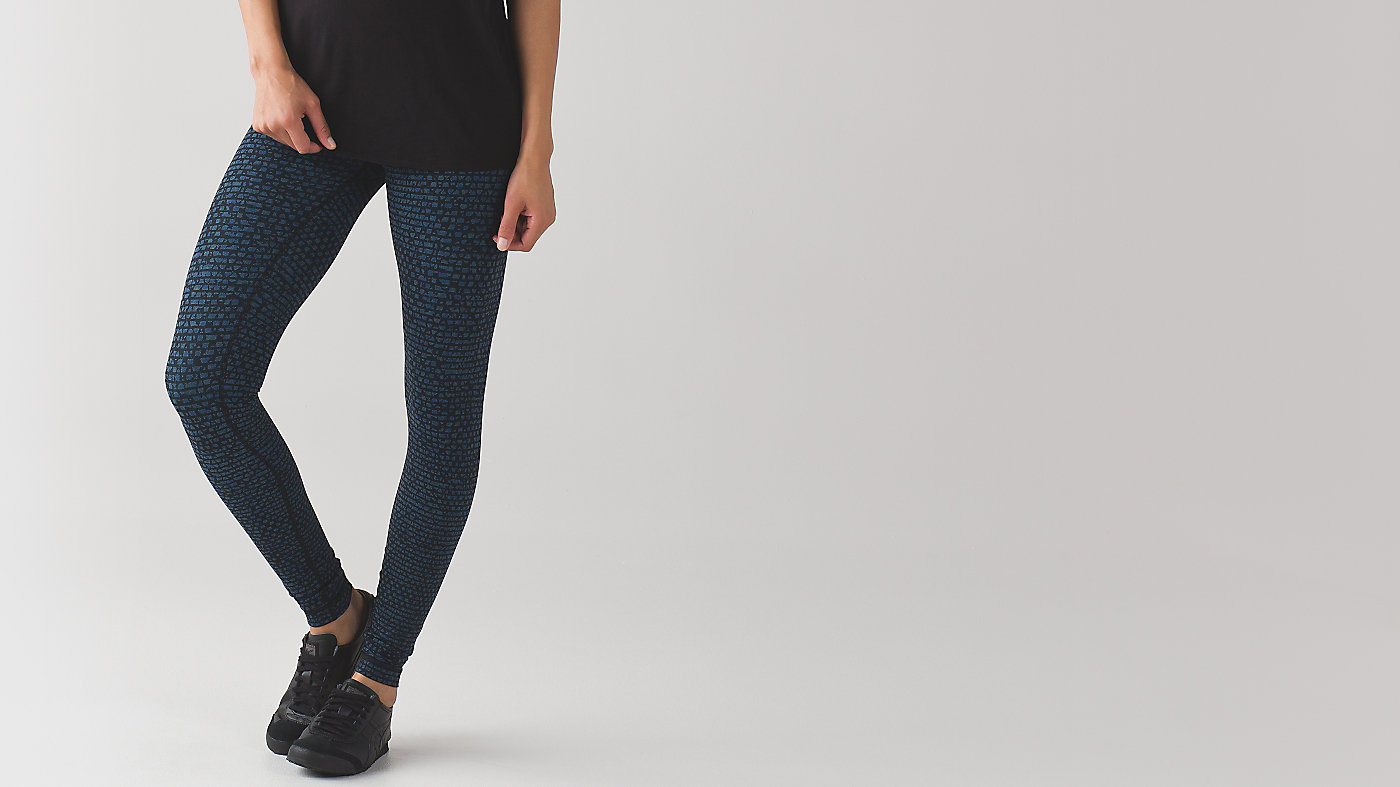 Article conçu pour
Le yoga
---
taille moyenne
La taille plus haute procure plus de couverture et de confort
---
sensation caressée
Conçu pour vous procurer une étreinte près du corps; il reste près de vous et bouge avec vous
---

Wunder Under Pant III *Full-On Luxtreme
is rated out of
5
by
64
.
Rated

2

out of

5
by
crypticsymbols
from
Weird fit, stretches out :( Would not buy again
I LOVED these pants when I put them on, they were nice and tight in all the right places, and the fabric feels awesome. I got a size 6 and the size 4 would have definitely been too tight in the calves, but a couple hours into the day wearing them, the waist and thighs get super stretched out and I have to spend the whole afternoon pulling up my pants and the thighs start looking baggy... the ankles are very tight, but the upper part of the pants stretches out like crazy. I love the feel of the luxtreme fabric, and huge bonus that dog hair doesn't stick to them, but would not buy these pants again, total waste of money, I've never had this issue with any of my other lulus!!
Date published: 2017-05-17
Rated

5

out of

5
by
Shalana
from
Awesome!
Date published: 2017-05-15
Rated

1

out of

5
by
EliseNM
from
Disappointing
I bought these thinking they would be the same quality as my other lululemon pants (I usually buy the original wunder under). These were really disappointing. I took my regular size 4 and these have absolutely no stretch to them. They don't "bend with you". The fabric feels extremely cheap compared to what I expect from Lululemon. What's worse, every time I wear them they feel see-through, to the point that I'm not wearing them anymore because I'm too nervous someone will point it out. These were not worth the money. I guess I'll stick to the regular wunder under, but I'm disappointed in the quality of these pants for the price I paid.
Date published: 2017-03-30
Rated

1

out of

5
by
sam226
from
do not buy
I have bought these pants twice now within the past month because they're my all time favourite pant but sadly the last few times ordering have been a nightmare! The first time I ordered these pants, I received them with the stitching on the top slightly unraveled. I emailed lululemon twice and had received no response, which usually they're wonderful for taking products back your'e unhappy with. Since I loved these pants so much, I gave it another shot and ordered a new pair which I received yesterday. I couldn't believe it when I tried them on and there was a small hole in the back on them. I've never been so unhappy with these pants, and sadly I do not recommend to buy!
Date published: 2017-03-12
Rated

1

out of

5
by
kay864
from
PILLING AND LOOSE AFTER BENDING
after wash it fits tight, but once you move they get loose and falls off constantly, super baggy around the butt. not worth all the money at all. even got a hole on the knee from normal mat movements never again such a disappointment
Date published: 2017-02-24
Rated

1

out of

5
by
JennyKatie
from
Holes in the fabric
I have owned these pants for less than a year, and worn them for leisure only to this point. I don't wear them daily, and have not done any strenuous activity in them. I haven't sat on anything rough or that would pull at the fabric. There are holes along the entire gusset seam (the holes are in the actual fabric, not a splitting seam), and there's holes and runs in the fabric at the bum (and I don't have a large bum - I wish I did!). I went to the store to return them and they offered to try and fix them...however there's 5 holes and a run in the fabric, so the only way this would be possible would be to take out a large portion of the fabric or put a whole lot of stitches in there. Not a satisfactory solution. I won't be purchasing these pants again, nor would I purchase any product from Lululemon again. Lululemon apparel is not cheap, so I paid a lot of money for something I won't be wearing.
Date published: 2017-02-14
Rated

2

out of

5
by
coffeefueled
from
Disappointing
I have two pairs and they're so inconsistent. Both are the same size and the same colour bought within a couple months of each other. One of my pairs has held up well and not stretched out at all, which is awesome! The other pair have started to pill and stretch and I've had them for less than a year. I only ever wear them for yoga and occasionally just around the house. So sad because I love my other pair and they've held up so well ): I would recommend buying the high rise wunder unders instead! I have had way more luck with those!
Date published: 2017-01-30
Rated

1

out of

5
by
Sus24
from
Baggy around the waist and knee
The prints on these pants are really cute and the luxtreme fabric doesnt pill. Well done there. But overall these are a let down. These pants got really loose on me after wearing them a few times, especially around the waist. I was constantly pulling them up during the day and having to adjust them. No fun at all.
Date published: 2016-12-09
Rated

2

out of

5
by
lulusoccerlover
from
Sad...
I love Lulu! I bought two pairs of these pants a couple months ago and I loved them! Now not so much. They are both starting to rip at the seams in the crotch, and string are hanging out all over the seams. They are very expensive pants so I'd hoped to get them to last..
Date published: 2016-12-04
Rated

5

out of

5
by
nick5078
from
Absolute favorite pants!
I bought these pants at the end of this summer and I absolutely love them! They fit great and are super comfy! I don't know why they have such bad reviews because mine are in great condition and I wear them all the time! LOVE them!
Date published: 2016-12-01