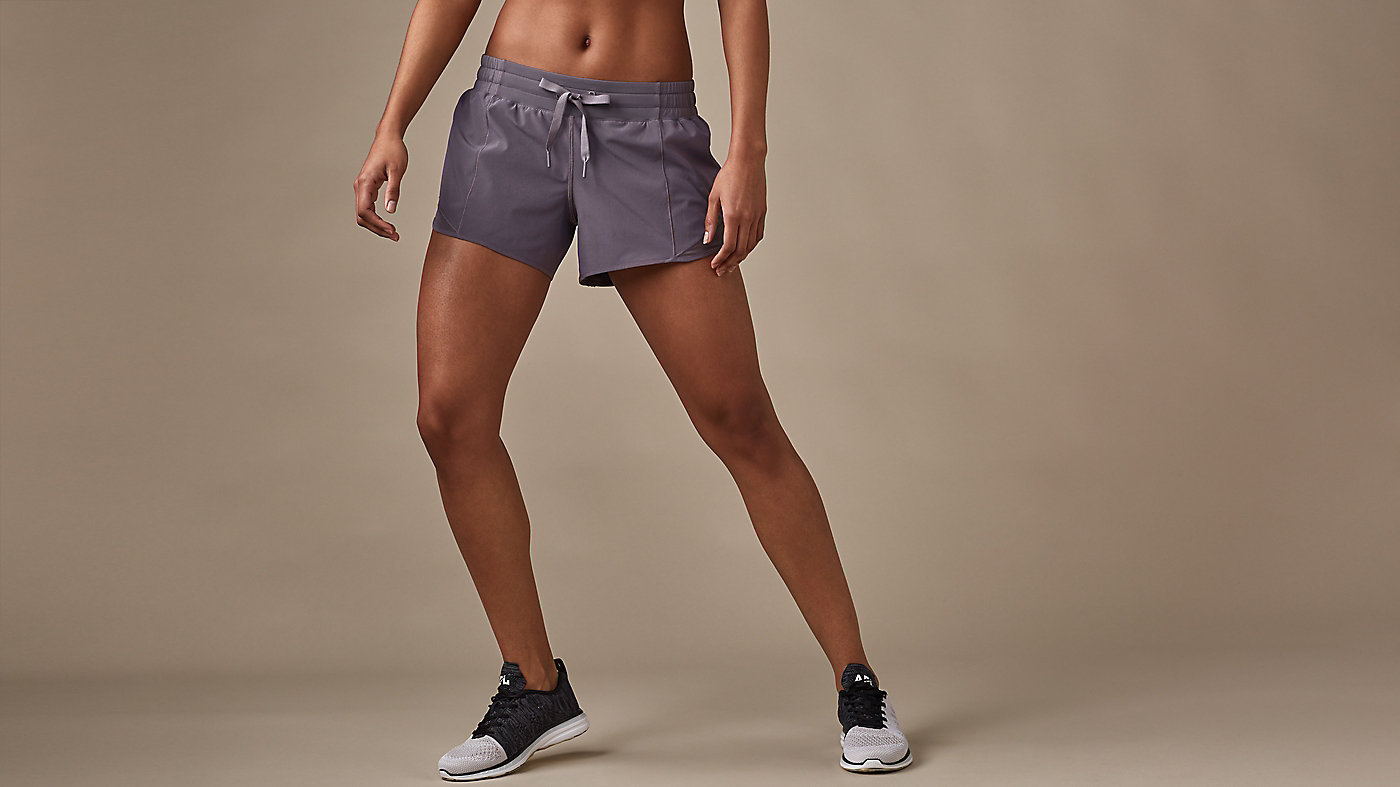 Article conçu pour
La course
---
poche secrète
Poche secrète à l'intérieur de la doublure
---
détails réfléchissants
Disposés pour plus de visibilité dans la pénombre
---
Ceinture confortable
La ceinture lisse repose à plat sur votre peau sans s'y incruster
---
lycra®
Le tissu extensible conserve sa forme grâce à l'ajout de fibres Lycra®
---
taille basse
Vous garde au frais tout en vous couvrant bien
---
---
sensation détendue
Vous donne la sensation géniale de n'avoir aucune embûche; il repose loin du corps pour vous permettre de bouger comme bon vous semble

Hotty Hot Short (Long)
is rated out of
5
by
83
.
Rated

5

out of

5
by
Cas3luvslulu
from
The best shorts!
I have more muscular legs, so it can be hard for me to find shorts that fit comfortably and look flattering. These shorts are the best! They give me plenty of room to move around, but they're not too lose. They're also a great length. Highly recommend these shorts! Please make more colors!
Date published: 2017-05-29
Rated

3

out of

5
by
Lauren112
from
Cute but uncomfortable
I love these shorts and they fit super cute. I started wearing them often as they became my favorite shorts, but as I started to wear them more they became more and more uncomfortable as somewhere in the waistband started to scratch me. I wore them for so long one day that it actually made a scratch in my waist and made me bleed. I can no longer wear these shorts as they are not comfortable at all in that area. Super disappointed because they are SO cute!!
Date published: 2017-05-20
Rated

3

out of

5
by
DBS1025
from
Cute Shorts with Poor Quality - Disappointed!
I ordered these shorts and was so excited to receive them in the mail. They were very comfortable and fit perfectly (I am 5'8" and ordered a size 6). I thought I found my dream shorts, that was until I washed them. I wish I read some of the reviews and experienced the same problem with the waistband and the elastic poking my skin. It was painful and irritated my skin to the point where I stopped wearing the shorts. I loved the way they fit and the color choices but am very disappointed with how they fell apart after only wearing them once! This should not happen for the price we pay for these shorts.
Date published: 2017-05-19
Rated

3

out of

5
by
lululover00001
from
amazing EXCEPT elastic poking out
I just bought these shorts a few days ago and have worn them twice without washing yet. The first time I wore them, I absolutely loved them and felt very comfortable. They are the perfect length and the waistband is just the right fit. However, the second time I wore them I started to feel some small pieces of the elastic (I presume) poking out the top of the waistband and into my skin. There is no way to prevent this from happening unless you tuck your shirt in. I was extremely disappointed and am hoping this can be fixed in a new version of the short. I love the way these fit and am so bummed this is happening to so many people.
Date published: 2017-05-13
Rated

3

out of

5
by
cleigh14
from
Great shorts - but waistband scratches
I love these shorts, but immediately after purchasing them, I noticed that something in the waistband was poking me - I can't find where it's coming from so it's nothing I can snip off, but if I don't tuck my top into the shorts in that spot, they end up rubbing and it leaves my skin red and irritated. I end up just always tucking my shirt in because I love the way these shorts fit, and I always thought that I just got a defective pair of shorts, but it sounds like this is a common issue.
Date published: 2017-05-10
Rated

3

out of

5
by
JT23
from
amazing, but...
These shorts were my first Lulu purchase, and when I got them, I was so pumped to wear them because of their level of comfiness and all of the positive reviews on it. However, after the first few wears, I noticed some scarring on my hip and realized it was due to the elastic poking out of the waistband. Every time I wear the shorts the elastic rubs against my hip and causes the skin to break. I read some other reviews on these shorts and saw that some other people have this problem as well. I'm so so sad about this because I love these shorts so much, but they are just too uncomfortable to wear...help!!
Date published: 2017-04-30
Rated

2

out of

5
by
Goldendoodle
from
Serious Quality Control and Customer Service Issues
I was very excited to see this short in full stock again with multiple colors. I ordered 4 pair in White, Black, Purple, and Navy. I just received my order and to my complete surprise it was if I ordered 4 totally different pairs of shorts. Each color fit differently from the other. In particular, the White pair was very visibly smaller and shorter than the other three pair. I'm guessing this pair was mis-labeled as Long when it is clearly regular. The most disappointing aspect of this is LuLu's response to the issue. The basic approach is to "acknowledge" the quality defect and that's the end of it. They will not exchange the white pair for me nor do they offer any discount for the defective product. So now I need to decided if it's worth the risk to purchase another pair while returning this pair. I'm very disappointed at the quality issue as well as the nonchalant response from LuLu. This has not been my previous experience with LuLu.
Date published: 2017-04-14
Rated

1

out of

5
by
paddles
from
Love, love the shorts BUT......
I love the length on these shorts, perfect for my cardio kickboxing workout!!! I thought these were going to be my new fav, was gonna get another one in a different color. BUT, after having washed and worn twice: something in the seam is poking me and uncomfortable on my skin on the waist band. It's weird coz there's nothing there that's poking out....nothing that I can see. It feels better if I tuck in my shirt......but it shouldn't have to be that way. I'm dissappointed! I read that someone had this experience as well, so I'm thinking this is not an isolated problem.....help!
Date published: 2017-04-12
Rated

5

out of

5
by
Missmoo2
from
SO in love!!
These have now become my all-time fav lulu item! I've always been a size 8 for everything, but recently I've found that some bra bands and leggings require me to buy a 10. After reading reviews, I bought a size 8 pair off WMTM and they are PERFECT! The legs are roomy and long enough for my thunder & lightning thighs, which means they actually don't bunch way up when I run. I adore the little zippered pocket and the mesh on the sides. My only complaint is that they are quite low rise. So, if you're between sizes or unsure, I recommend going with the smaller. I will definitely be buying more!
Date published: 2017-04-08
Rated

3

out of

5
by
hbm2
from
love the color.......
I am an avid runner....and I love all my lulu shorts. I just purchased my first hotty hot shorts (long) this season. As a runner, you don't want to anything to rub anywhere. And I hate it, but these rubbed in the wrong area. I love the color and the style, just not great for running......which is a bummer, b/c they are super cute. I'll just have to run in my other lulu shorts:)
Date published: 2017-04-07