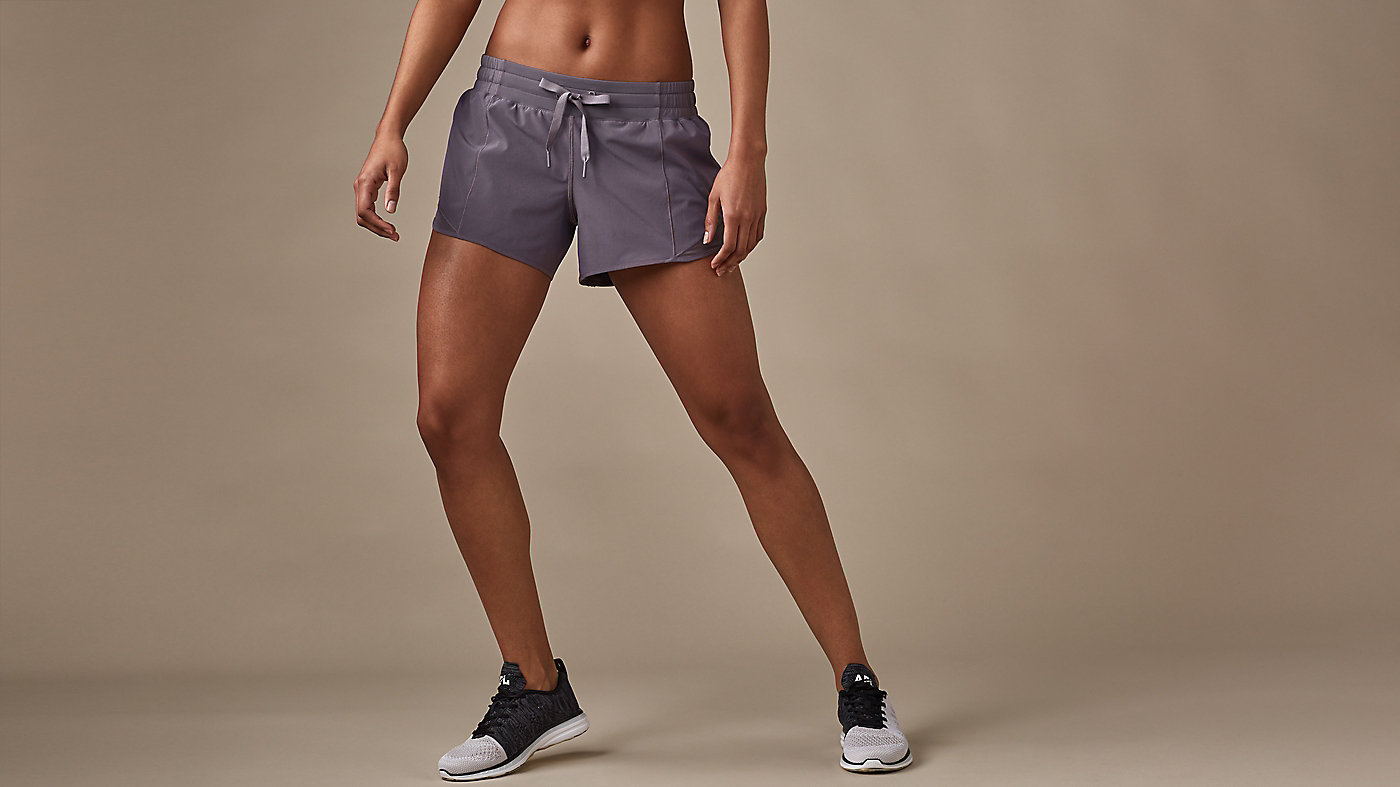 Article conçu pour
La course
---
rangement
Poche secrète à fermeture éclair
---
poche secrète
Poche secrète à l'intérieur de la doublure
---
CORDON INFINI
Il ne sera pas coincé à l'intérieur ou perdu dans le lavage
---
À vous de briller
Les détails réfléchissants vous aident à rester visible lorsqu'il fait sombre
---
Bandes en maille
Aident à vous garder au frais
---
Taille, entrejambe
Taille basse, entrejambe de 10 cm
---
Polyester recyclé
100 % du polyester de ce produit est recyclé
Hotty Hot Short (Long) *4"
is rated out of
5
by
130
.
Rated

5

out of

5
by
kbcross
from
Best Shorts For Working Out
The drawstring waistband makes the shorts so fun! The drawstring makes these shorts really versatile. Their lightweight, easy to wear, and the perfect fit! LOVE THEM! I wish there are more colors because it's my go-to short. Also having a pocket is the best thing ever when working out!
Date published: 2019-08-16
Rated

5

out of

5
by
LunaDog25
from
Great shorts!
I wanted the get another pair in black as i love the pink ones I bought 4 years ago- perfect match all around! They have the same quality and a great waist band size. Other designs had a much wider waist, which I didn't want. Nicely done!
Date published: 2019-05-29
Rated

1

out of

5
by
bbruner
from
item did not come as pictured
i have wanted these shorts forever because my friend has them and has loved them so when i noticed that you finally had my siz i ordered them. when they came i was so exited but then i realized that they were exactly like the other hotty hot shorts and not like the ones in the picture!
Date published: 2019-05-09
Rated

2

out of

5
by
Runner162019
from
Item was Not as Pictured
The shorts I received are different than the ones pictured online. I own multiple pairs of the Hotty Hot Short (long) and love them, but the ones I received were too tight, the draw string was on the inside, and it had no outer back pocket. I really hope they bring back the former version of this short.
Date published: 2019-05-06
Rated

2

out of

5
by
lulu242
from
Not received how they were pictured
I ordered these and was prompted to write a review on them but the ones sent to me were different. They say hotty hot shorts but do not include the draw string like the ones pictured here and the ones I ordered. these also seemed to have a back pocket and the ones i received didn't include that as well. Didn't have time to send them back in the mail but wish i got the ones i had ordered. my Lululemon products are always great quality I'm just upset about the mix up because I was very excited about these shorts
Date published: 2019-04-25
Rated

2

out of

5
by
Runnergirl1998
from
Too Tight
I bought these shorts in my normal size and they are way too tight! Also the mesh on the sides is already ripping. I bought these for use at the gym and cant even squat in them!
Date published: 2018-10-01
Rated

2

out of

5
by
Kay2018
from
Mesh too tight
I would have loved these short if they did not have the mesh lining in the shorts. The mesh is too tight on the thighs/butt causing my legs to look bigger then they are making the shorts very unflattering. I looked when buying and didn't read anything about the mesh lining, however I could have missed that. I own many lululemon products and love them all expect these shorts, the mesh is just too tight under the shorts squeezing the wrong places.
Date published: 2018-08-07
Rated

2

out of

5
by
SLH5441
from
Disappointed
Bought these shorts and was expecting great things. However, after only a few uses and washes, the same thing that other reviewers have been saying has happened to me, even though I made sure to following washing instructions exactly. The waistband has these little things that come out and stab you in the side; it is extremely uncomfortable and makes them unwearable. So disappointed because they're so cute!
Date published: 2018-06-03
Rated

4

out of

5
by
Hallestorm
from
finally found shorts that work!
I have owned many shorts over the years from lulu. The only ones I have liked are from ages ago that were styles that got discontinued. The hotty hot short are the first ones that I have loved in more recent years. The fabric is so light and comfortable, and the longer length (which isn't long by the way, its just not a "short short") make it more appropriate for me wearing them casually when travelling and are a much better length option for those with more of a curvy/thick build with booty and thighs. Hoping that they hold up over time!
Date published: 2018-03-27
Rated

5

out of

5
by
pila35
from
Very happy with Hotty Hot 4"
I have always been a fan of the Run Times 4". I recently tried these on because I liked the color. To my surprise, I loved them! Bought 2 pairs in my normal, size 8, 4" inseam. They have a more "flowy" fit than run times. They sit low and comfortable on the waist and the liner is so comfortable that you forget it's there. (For ref, 5"10, 145, straight cut, no curvy waist). I have only worn them for errands and exercise walking, not distance running, but I am a fan so far!
Date published: 2018-03-25