Short Speed Up
6,5 cm
58,00 $ CAN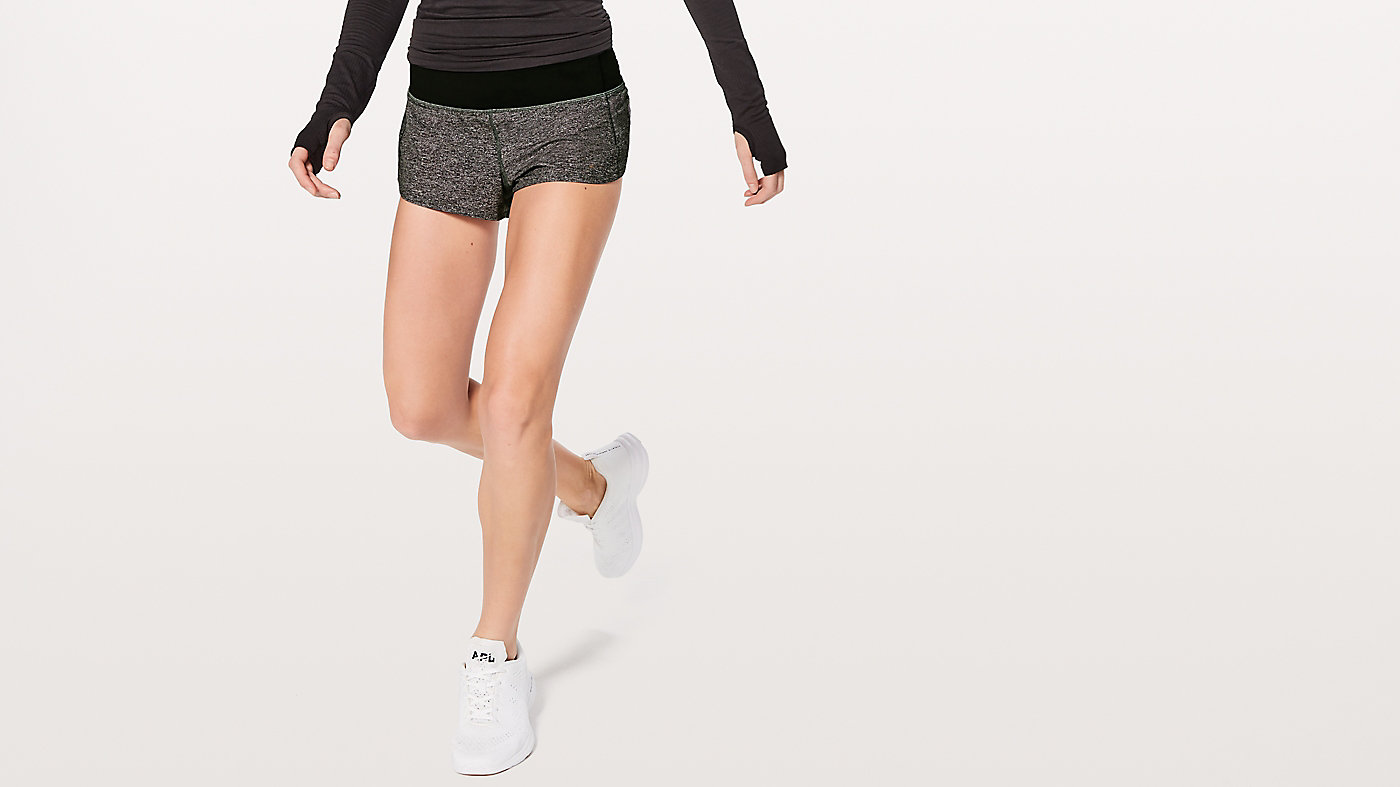 Article conçu pour
La course
---
lycra®
Le tissu extensible retrouve sa forme grâce à l'ajout de fibres Lycra®
---
taille basse
Vous garde au frais tout en vous couvrant bien
---
---
POCHES
Nombreuses poches pour ranger vos essentiels
---
doublure intégrée
La doublure intégrée offre une meilleure couverture
---
ceinture confortable
La ceinture plate ne s'incrustera pas dans la peau
---
RANGEMENT
Poche arrière à fermeture éclair pour ranger vos essentiels
---
CORDON INFINI
Il ne sera pas coincé à l'intérieur ou perdu dans le lavage
Speed Up Short *2.5"
is rated out of
5
by
1035
.
Rated

4

out of

5
by
LBogo
from
Go To Shorts
I have about 8 pairs of speed shorts (more of the original version) and they are the absolute best runnings shorts. I have never had running shorts with the built-in lining lay so nicely and make you feel secure. Most running shorts have just way too loose of an inner lining that rides up or is uncomfortable but Speed Shorts are the best! Unfortunately, they do all have the same issue of sizing inconsistency. I always order a 2 but some colors are so much tighter in the thighs than others yet perfect in the waist. I ordered the white in a 4 this time to try it out and the waist was just so large (gap in the back) and the legs were long, baggy, and kinda poofed out because of how big they were. I returned for a 2- the waist is perfect but they are again a little bit more fitted in the leg area which isn't my favorite.. I don't have a store super close to me or I would try all the colors on before buying. I needed white for an upcoming half marathon costume (runDisney) so I stayed with the 2. Just wish there wasn't so much of a variation from sizes and colors. I am 5'1" 100lbs with stronger legs/butt for reference.
Date published: 2020-02-19
Rated

5

out of

5
by
KimmeJa
from
Always love the speed ups
They are so comfy and sexy. I run in size 8s and I party and Crossfit in size 6s. The back zip fits my car keys and I use the front gel pockets for almost anything else. I have a small waist and massive hips so the adjustable waist band is really a must for me. Just remember to release the knot on the adjustable band before you wash them. Really helps with the life of the adjustable elastic band. Can't wait for these to come out in a sunshine yellow and a neon green or bright emerald green.
Date published: 2020-02-16
Rated

5

out of

5
by
RAWCRAWC
from
I LOVE, LOVE, LOVE the Speed Short 2.5"!!!
The Speed Up Short 2.5" are my favorite workout/athletic shorts!!! Being 5'2" & 105lbs the size 6 is a perfect fit. When my weight was around 112lbs the 6 was still my size. The sales associates have encouraged me to go with the size 4 which is more clingy, I stick with the size 6. Athletic shorts can be a challenge for someone my height, many other shorts look too long. The length is perfect. The wider waistband is very flattering, I believe helps the core appear flatter & booty appear smaller & more muscular (higher). Over time I have collected approx 13 pair. THANKS LULU for continuing to make the Speed Up Short 2.5" ! :D The solids are great, so now we really NEED you to PLEASE make them, like you used to do w/ the Run Times Short & some of the other short collection, with fun patterns, incorporating rainbow colors, bright thin stripes, tiny polka dots, sunshines, hearts, etc to mix & match w/our awesome LULU's solid tops & LULU's solid & pattern bras.
Date published: 2020-02-16
Rated

5

out of

5
by
Baearearep
from
My absolute favorite shorts in existence
These shorts are unmatched. Running more than a mile in pants sucks- no matter how much they're designed for running, you get hot (at least in California, even at 50*). I've used these shorts for pretty much every race and every run over 4-5 miles and they are insanely comfortable and flattering. I have 6 pairs that I've been rotating over the last 3-4 years and 2 pairs of shorts similar to this but they're swim bottoms. Not a single pair has started to deteriorate or show obvious signs of wear and tear, after being washed at least a few times a month for 4 years. A couple pairs have very minor discoloration but not so much that they look old or defective. I hope they make these shorts forever, I've tried the copycat styles from some other manufacturers and they just aren't the same.
Date published: 2020-02-15
Rated

5

out of

5
by
Tauntaunsquats
from
My favorite shorts
Best shorts ever! These shorts are my go to for working out, waking the dog or going to the beach. I especially love this print.
Date published: 2020-02-13
Rated

5

out of

5
by
mokin
from
Everyday Running Shorts
I own at least 15 pairs of running shorts but these are by far my favorite. The loose fit around the legs makes them comfy for any activity and the waist band is comfortable and flattering for those days when you'd like to work on your tan while getting your run in.
Date published: 2020-02-11
Rated

5

out of

5
by
Ryry52
from
Amazing as always
These shorts are the reason i keep coming back! Please add more colors lululemon!!! And maybe lower the price hahaha!! Love these shorts and they are worth every dime!
Date published: 2020-02-10
Rated

5

out of

5
by
swimmerandrunner
from
Love it!
The length is perfect but the shorts would be even better if they were a tiny bit longer. They don't go anywhere when I'm running! I never have to pull or tug on them because they never slide up. I also love the design on the back of these shorts. I got mine black in size 4 and I'm 5'5 and 120 lb.
Date published: 2020-02-09
Rated

5

out of

5
by
lauren1642
from
unbeatable running shorts
I wear speed up shorts on most if not all summer runs.
Date published: 2020-02-04
Rated

4

out of

5
by
NancyAdorelulu
from
A suggérer
Confortable et belle coupe
Date published: 2020-01-30