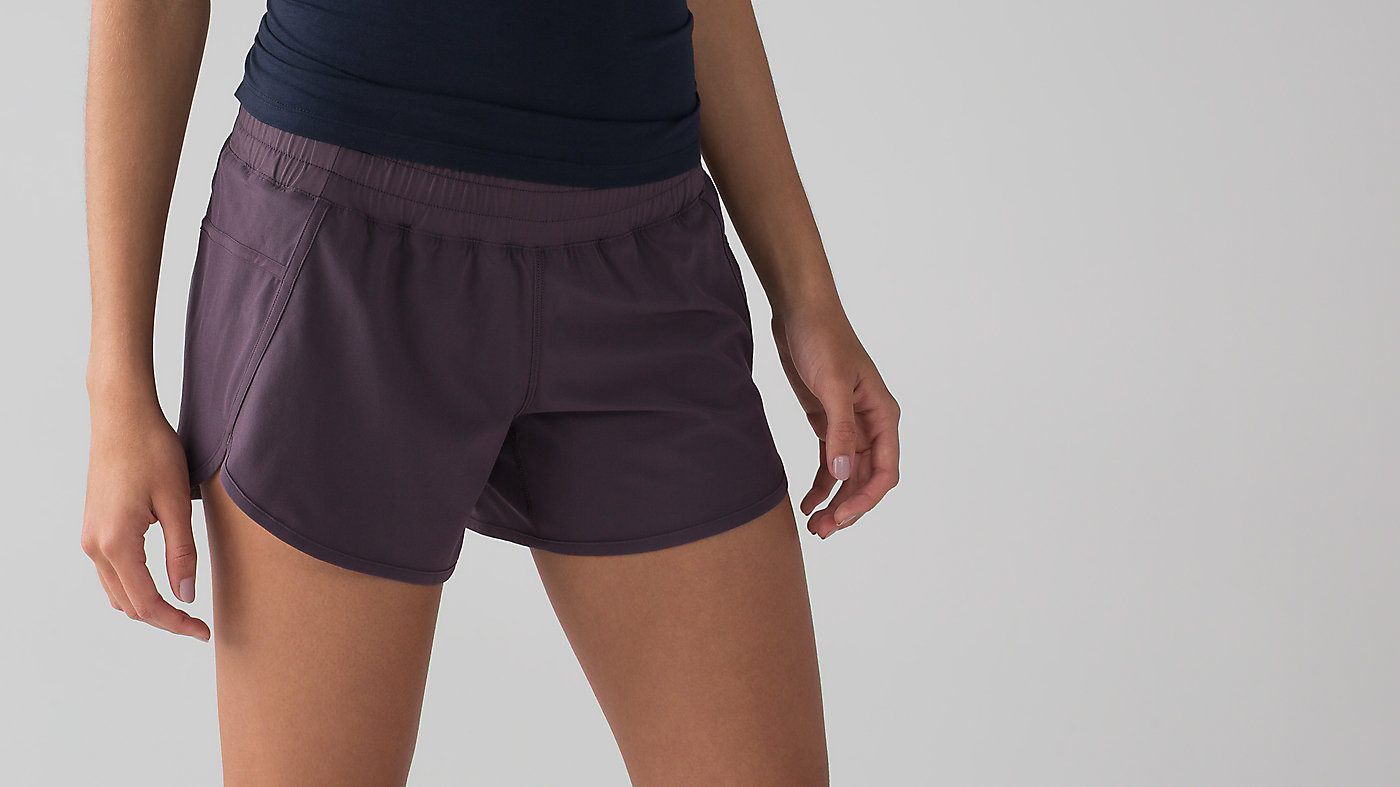 Article conçu pour
La course
---
Ceinture confortable
La ceinture lisse repose à plat sur votre peau sans s'y incruster
---
lycra®
Le tissu extensible conserve sa forme grâce à l'ajout de fibres Lycra®
---
sensation détendue
Vous donne la sensation géniale de n'avoir aucune embûche; il repose loin du corps pour vous permettre de bouger comme bon vous semble
---
DOUBLURE LÉGÈRE
Aide à garder votre short en place pendant que vous courez
---
poches latérales
Poches sur le côté pour supprimer les fermetures éclair à l'arrière
---
---
CORDON INFINI
Il ne sera pas coincé à l'intérieur ou perdu dans le lavage

Tracker Short IV *4-Way Stretch
is rated out of
5
by
168
.
Rated

5

out of

5
by
sincerelym
from
Life-Changing + Perfect Shorts
I now have many pairs of these wonderful shorts, and they have saved me and my ability to exercise in the midst of a health condition I am trying to manage. My condition dictates that I cannot wear anything that will augment pressure on the esophageal valve (which sits directly above one's stomach).. Previous to purchasing these Tracker IV shorts, I had worn Nike running shorts (Tempo style) for years. What I love about the Tracker IV shorts is the wider, softer waistband. I use these shorts for yoga and running, as well as travel and everyday wear. These shorts function beautifully, run true-to-size, and they look amazing. The length is flattering without being too short/showing too much or being too long/looking frumpy. I wash these shorts using Dreft in warm water for the 28 minute cycle. Then I air-dry them on a clothing rack overnight. They look new after washing, and I am up to 30+ washes on these babies now.. Unlike other reviewers, I have not had the problem of the itchy or poking waistband. (I have five pairs of these, and I diligently remove the tags carefully and take out the little plastic piece attached to the waistband.) The comfortable waistband is actually my favorite feature of these shorts -- and that's exactly what has saved me with my health issue. If you are on the fence about these shorts, definitely give them a try! You just might find your perfect shorts like I did.
Date published: 2017-06-23
Rated

3

out of

5
by
MC1414
from
Love the fit of these shorts BUT...
I bought these shorts wore them a couple times and ran back to Lululemon to grab two more pairs because I loved them so much! They are great for a more muscular/athletic build, which I think is hard to find. I wear them on my trail runs, in the gym, at yoga or to just goto the beach... literally such a utility short, BUT then the dreaded waistband fold in. I was disappointed to see the poor quality of the waistband ( all 3 of my Tracker shorts have the same exact problem). I have since started trying similar length shorts (4") like the Run Times Shorts. I love the waistband of those, but the fit of the tracker is better. Hopefully they can update the waistband of the Tracker shorts!
Date published: 2017-06-23
Rated

2

out of

5
by
dsss
from
Wanted to love
I really wanted to love these shorts and I did in the dressing room. They are cut perfectly, not too short and flattering on thicker thighs. However about an hour into wearing them for the first time I am experiencing the dreaded waistband problem. I wish I had read the reviews on here before purchasing them. The waistband is extremely itchy and there are little pieces of plastic poking out from it. At first I thought that I forgot to completely remove the tag but unfortunately that was not the case :( I don't know if I can wear these again, they are painful especially when walking around and doing basically anything that involves the waistband moving around.
Date published: 2017-06-21
Rated

2

out of

5
by
AlMarie
from
Disappointing Waistband
I LOVED my original Tracker shorts until I lost them, so I bought these in black to replace them. After one wear I noticed the elastic in the waistband was beginning to poke out slightly, but enough to cause irritation and make me almost unable to wear the shorts unless I have my shirt tucked in. Pretty disappointed after loving the first pair!
Date published: 2017-06-20
Rated

4

out of

5
by
TaylorH
from
Love the look but not the feel
A friend suggested I use my birthday money to get a pair of shorts from Lululemon. I finally had the time to go try on a pair and was so excited to purchase the Tracker Short IV 4-way stretch in black. I love look of the shorts but I don't wear them very much because there is a small piece of what looks like fishing line sticking out of the waist band on the left side that is extremely uncomfortable and irritates my skin. This is very disappointing because I spent a lot of money on them, hoping that they could be an everyday kind of short but unfortunately it hasn't worked out that way.
Date published: 2017-06-16
Rated

1

out of

5
by
Manders1124
from
Total Let Down
I bought these shorts after my crossfit friends swore they would be the perfect fit for my muscular thighs. They exceeded my expectations with the fit and their performance during my first work out. However, after that first wear the waistband began to curl in. Not on the sides or the back, but right in the front to a point where it was uncomfortable. I've followed all care instructions (who wouldn't for $60 shorts). They now have a cheap look to them, when they were far from cheap! I hope this issue has been rectified with the Tracker V, but after only having the IV for 2 months before being disappointed, I don't know if I even care to see.
Date published: 2017-06-09
Rated

5

out of

5
by
girlmom
from
More colors please!
I love these shorts. My only negative, seriously, is the lack of colors. I did gymnastics for many years so I've always had muscular thighs. I love the fact that these shorts aren't skin tight, but not excessively loose either. Perfect for working out or running errands. Added bonus is the longer inseam so my bottom isn't hanging out. Super soft and have held up to the numerous washes they've had so far. If you're wanting a more roomy, casual short, these are it!
Date published: 2017-06-07
Rated

2

out of

5
by
sara7411
from
good fit...but scratchy
I really like how these shorts fit...but I also have the scratchy fabric sticking out from the bottom of the waist band. I actually stopped wearing them because of this and I don't want to buy another pair of the Tracker until this issue has been addressed.
Date published: 2017-06-06
Rated

1

out of

5
by
shaylafit
from
weird uncomfortable material
I am reviewing only this product I have recently purchased. I have purchased other Tracker Shorts with no problems. My most recent purchase about 2 weeks ago, I got the olive green color and white. The olive green pair I noticed an uncomfortable rubbing on my hip by the waste band. At first I thought I left the plastic tag on it, but I couldn't find it. After examining closer, I noticed this weird material poking out of the waistband that looks like fishing line. It is really comfortable and left my side feeling raw and uncomfortable. I wasn't even working out when it left my hip red and irritated. I couldn't imagine what my skin would look like if I was actually running or working out. Really disappointed. I took a picture of the material and my red irritated skin but I don't see a place to add a picture anymore.
Date published: 2017-06-05
Rated

4

out of

5
by
QuadGoals
from
LOVE these shorts
Lulu isn't lying when they say this short was designed for athletic quads. This is now my go-to short for running and training. The wide leg is so comfortable when I'm moving around the gym or jogging. The wide waistband is SO comfortable. I barely notice these shorts in the gym, until I see how cute the olive color is in the mirror! The only thing I don't like is that the seams make a wavy shape in the short...that's a little strange but I think it's a consequence of a lulu short that has a relaxed fit. Bottom line: I love the way these shorts perform. It's a necessity in my closet.
Date published: 2017-06-02