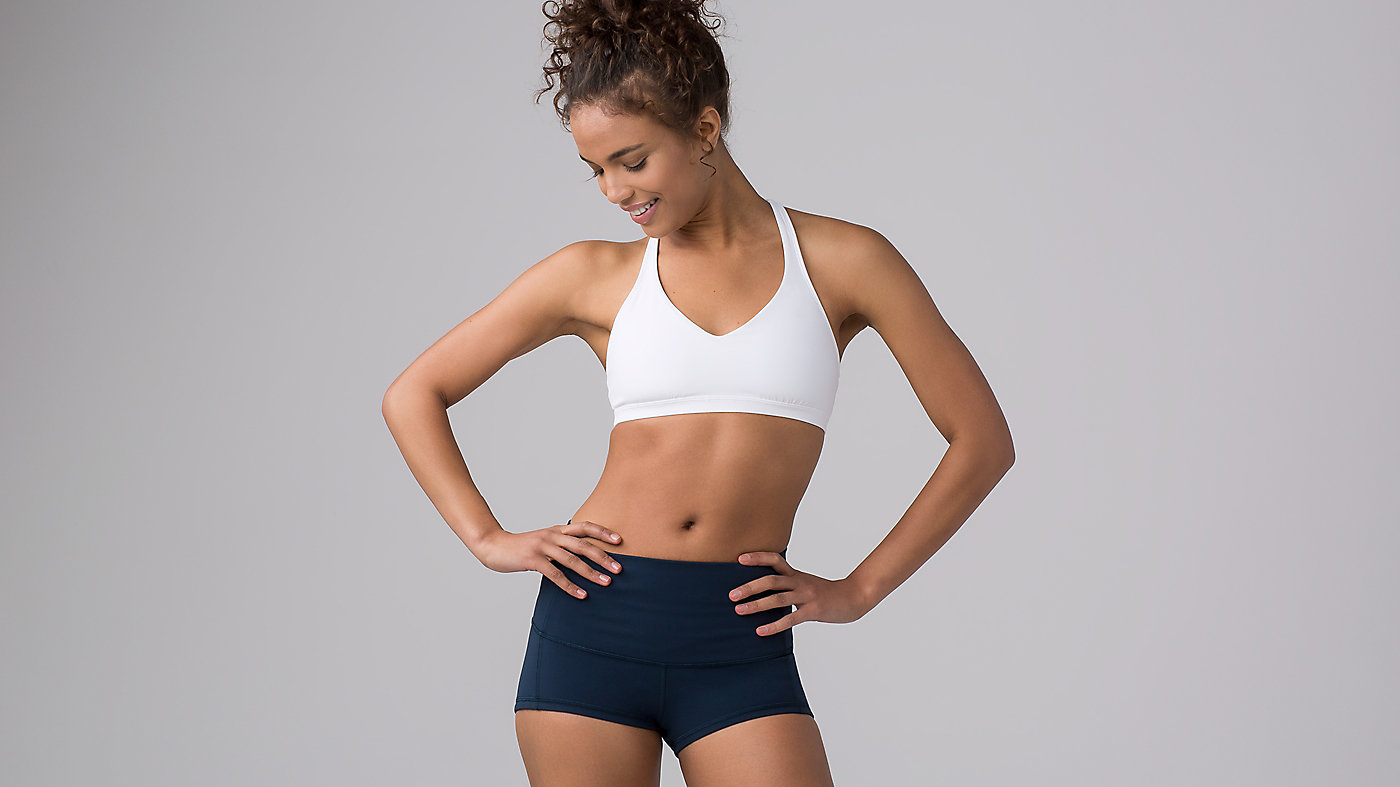 Article conçu pour
Le yoga
---
lycra®
Le tissu extensible conserve sa forme grâce à l'ajout de fibres Lycra®
---
ceinture confortable
La ceinture plate ne s'incrustera pas dans la peau
---
poche à la ceinture
Rangez vos clés ou votre carte dans la poche à la ceinture
---
sensation caressée
Conçu pour vous procurer une étreinte près du corps; il reste près de vous et bouge avec vous
---

Wunder Short 2" *Full-On Luon
is rated out of
5
by
24
.
Rated

5

out of

5
by
Gymgirl75
from
Just what to wanted shorts!
These shorts are great! Sure comfy and lightweight. Aim only 5'1" and very short waisted, they sit perfectly where they need to to make me look a ltlle longer in the waist,
Date published: 2017-06-22
Rated

1

out of

5
by
Kryng
from
Disappointed
I love my lulus, and I am usually on my wunder under pants, as I've collected different lengths. I bought this wunder shorts thinking they'd be the same quality and fit as my pants. It fits perfecty when I tried it on in the fitting room. But when I used it at the gym, the band kept rolling down on me, and it is frustrating that I had to reposition them multiple times while at the gym. This happened the first 2 times I used it (no 3rd time... learned my lesson). of course i can't return it because they were on sale :-(
Date published: 2017-06-18
Rated

2

out of

5
by
Venessavh
from
Really snug
I bought a pair of these shorts AGES ago probably like almost ten years and thought it was time to replace them. So I bought a new pair in my regular size 8 (which always fit perfectly) thinking it would be no problem. I was wrong! They were so snug it was uncomfortable to wear them. I wore them a few times thinking maybe they would stretch out but unfortunately they didn't. So sort of a lost cause because I have a pair of $55 shorts I can't return because I took the tags off that I also can't wear. :( I would definitely size up next time! But the overall quality of the shorts are still good however.
Date published: 2017-05-07
Rated

5

out of

5
by
Kiki79
from
Un incontournable!
J'ai commandé ce maillot puisque je voulais être confortable pour bouger à la plage (volley ball, jouer avec les enfants, etc) Il cache mes petits souvenirs de grossesses au niveau du ventre et il s'ajuste parfaitement à ma silhouette! Je mesure 5p6 et pèse 120 lbs. Pour celles qui aiment le confort et la couvrance... Le maillot monte très haut et ne laisse pas de "bourrelets de fesses". Je l'adore!
Date published: 2017-02-04
Rated

1

out of

5
by
MorningRiser
from
Should LOVE
These shorts have so many great qualities - the wide waistband, comfortable and chic. But I have found that with my most recent pair of these shorts - the seams are pulling apart. I hope the fabric Lululemon is using isn't of lesser quality than previous years - I've come to depend on their quality projects!
Date published: 2016-11-30
Rated

2

out of

5
by
Chester30
from
I wanted to love them - should have read the reviews
I purchased these shorts to use in my hot yoga class. They had 2 things that I love high waist and short length. I purposely went to the store to try them on as I usually just buy things online. I wore them and they were great. Just finished my second class today and they were all stretched out. I wore them once washed them flat to dry. I always take care of my lulu. Didn't matter. The bottoms were rolling up the waist was rolling and falling down. Totally distracting. Terrible waste of money.
Date published: 2016-11-24
Rated

1

out of

5
by
bkyogi
from
Bring Back the Boogie short!!!
I have short, muscular legs and the boogie shorts were the only ones I've ever found that were comfortable and flattering. The high rise on these is so bad for my shape and very uncomfortable for forward bends in yoga. I'm desperately in need of some new shorts for practice and I beg of you to bring back the old cut.
Date published: 2016-10-23
Rated

1

out of

5
by
PRAKAISANG
from
Disappointed
I love the fabric, but the bottoms are coming apart at the seems and Ive only worn them once. Is there anyway I can send these back to get them repaired or can I ask for a new one? I have used this product for many years and am not sure what to do.
Date published: 2016-10-20
Rated

5

out of

5
by
Tar123123
from
AMAZING! What's with all the bad reviews?
I do pole dancing, and I bought these specifically for the medium/high rise! I have big hips and all the pole apparel companies seem to only make low rise, which gives me muffin top. They stay put through my workouts and show just the right amount of skin. Had to pull them down occasionally because of the Camel Toe, but for as much twisting and turning as I do, that's a best case scenario. Very sexy and flattering for my big hips and thighs.
Date published: 2016-10-16
Rated

1

out of

5
by
CFAchic
from
Disappointed
I Bought these shorts for a Crossfit competition because there are no other fitted shorts left from Lulu. The material is nice but I do not like the high rise- I have a short torso and these are not flattering on me at all. The longer length in the back is nice but they ride up and bunch in the front which does not look great. I wish the original boogie shorts were still around. Those fit me the best. I know Hi- waisted is trendy and in, but the shorts need to be functional as well and these we not functional for me at all. I am hoping I can return these because I will not wear them again.
Date published: 2016-08-26