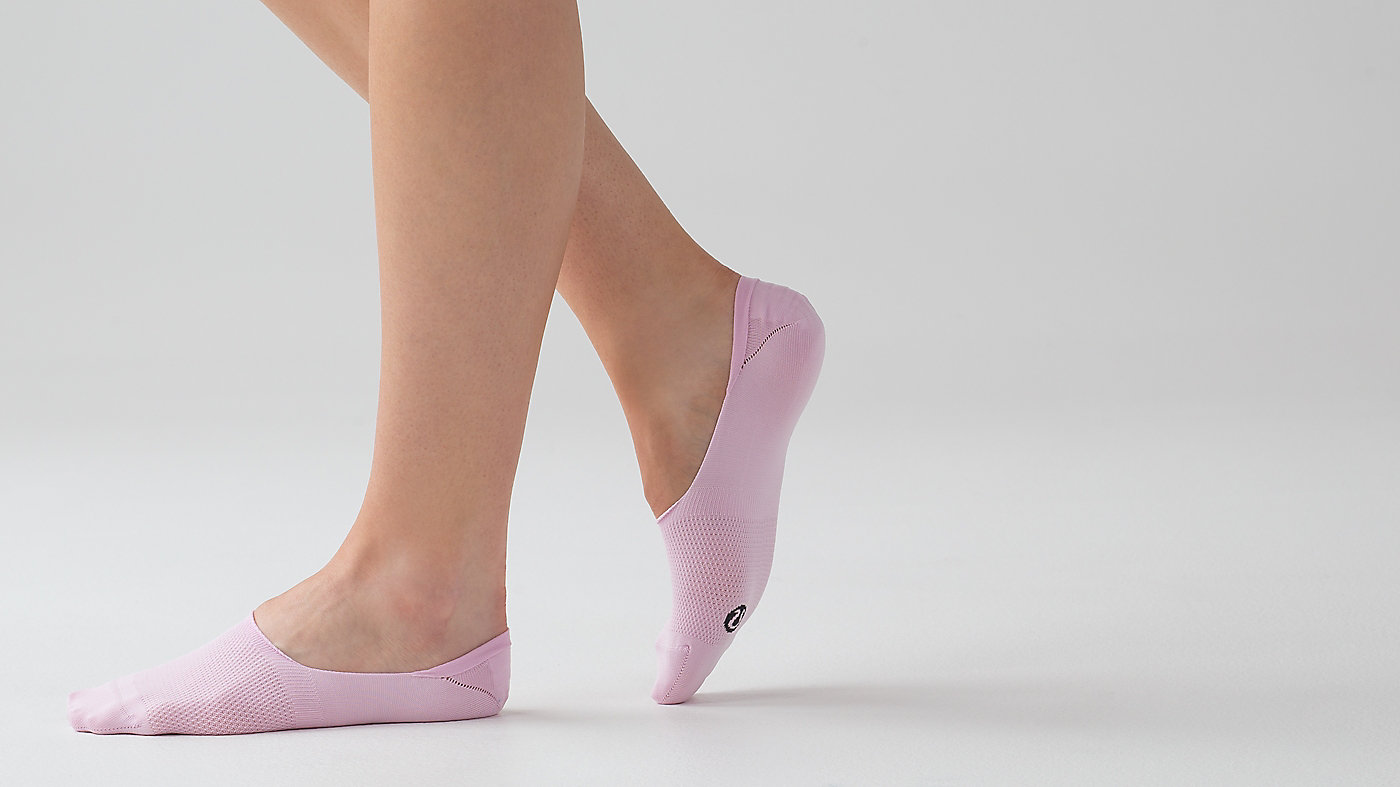 Article conçu pour
L'aller-retour
---
semelles adhérantes
Détails en silicone à l'intérieur pour empêcher la chaussette de glisser
---
restez au sec
La maille qui favorise la circulation de l'air et les fils qui évacuent la sueur aident à tenir vos pieds au frais et au sec
---
construction sans couture
Au niveau des orteils pour moins de volume

Secret Sock
is rated out of
5
by
42
.
Rated

2

out of

5
by
DRPO
from
Oh the smell...
I bought an older version of Lululemon's secret sock a couple of years ago and love them. The version available now is not the same. My feet cannot breathe in these socks which causes two problems: I get blisters due to moisture buildup and after a day of wear I literally have to peel them off and the smell is absolutely nasty. I will not recommend these socks to anyone.
Date published: 2017-05-24
Rated

1

out of

5
by
Pynes
from
Instant Holes
I was thrilled to find a pair of no-show socks that actually stayed on my heel. However, they run incredibly small and began to form holes within the first few hours of wearing them. I am very disappointed as I can usually count on the quality of Lululemon products.
Date published: 2017-05-23
Rated

3

out of

5
by
Sara84
from
One wear before they had holes
I was super excited to try these - they seemed very high quality for the price, only getting one wear before they had holes, really not the quality I was expecting... I'm glad I only bought one pair. The only good thing about them (compared to similar ones I have from Nike) is that these stayed it on my feet and didn't slide off- but one wear is not worth it sadly.
Date published: 2017-05-07
Rated

2

out of

5
by
ASMH
from
Dyed-Feet for days :(
Been needing secret socks for a while but didn't want to get thick cotton socks like 'converse' and 'vans' so I bit the bullet and bought these $14 black and greys to give them a try. They're cute and thin, and they work with dressier 'work' shoes too because they tuck under nicely. Problem is, I live in Rain-couver and my socks and shoes got wet when walking and when I took my socks off, my entire foot was black. I guess the dye had rubbed off…and even though I showered after and tried to scrub it off, the black stain stayed for a couple days. Boooo.  Not sure I'd be interested in buying these again…
Date published: 2017-04-25
Rated

3

out of

5
by
Ninjaqueen
from
2 tips if you decide to get these
These are the only no show socks I've tried that actually stay on my heel so I do my best to push past the price. If you go with these, I have 2 suggestions. First of all, you should buy more than one pair of each color. They are sooooo thin and the smallest hole becomes a run down the length of the sock- like pantyhose. Instantly useless. Most of mine have held up and I own 10 pairs + 2 singles (non-matching of course). One pair I'd had for several months, and another happened within weeks. Once that happens at least you can still match it with the other pair. My second note, is that if the back isn't sticking very well, your feet might be a dry. Try dabbing a little spit on your heel. And yes, you get black marks from dirt. So what. Feet get dirty.
Date published: 2017-04-13
Rated

1

out of

5
by
Marsheen
from
Garbage
I've only worn mine a couple days and they already have holes. I have older pairs what are still in perfect condition
Date published: 2017-04-12
Rated

1

out of

5
by
Denverprofessional
from
Disposable socks
Loved these at first, but after a couple of washings, they are useless -- too expensive for a disposable sock.
Date published: 2017-04-11
Rated

1

out of

5
by
MaurMar
from
Good start but not a good end
I liked these socks the first time I wore them but soon had black marks from the sticky part on my ankle until the sticky part came off all together. I don't know if this was just a defective pair or the style but I was definitely disappointed.
Date published: 2017-02-28
Rated

2

out of

5
by
jlokeefe
from
Perfect the first time
The first time I wore these socks I loved them and was ready to order more. They stayed in place all day, were comfortable and exactly what I'd been looking for. I followed the washing/drying instructions and the grips haven't been sticky since. This is a huge disappointment as these socks are not inexpensive. Was really hoping to love these socks for a long time!
Date published: 2017-02-27
Rated

5

out of

5
by
stylefunky
from
These are the most perfect socks!
I love these socks, they have lasted several months of good usage and they're still grippy!
Date published: 2017-02-15