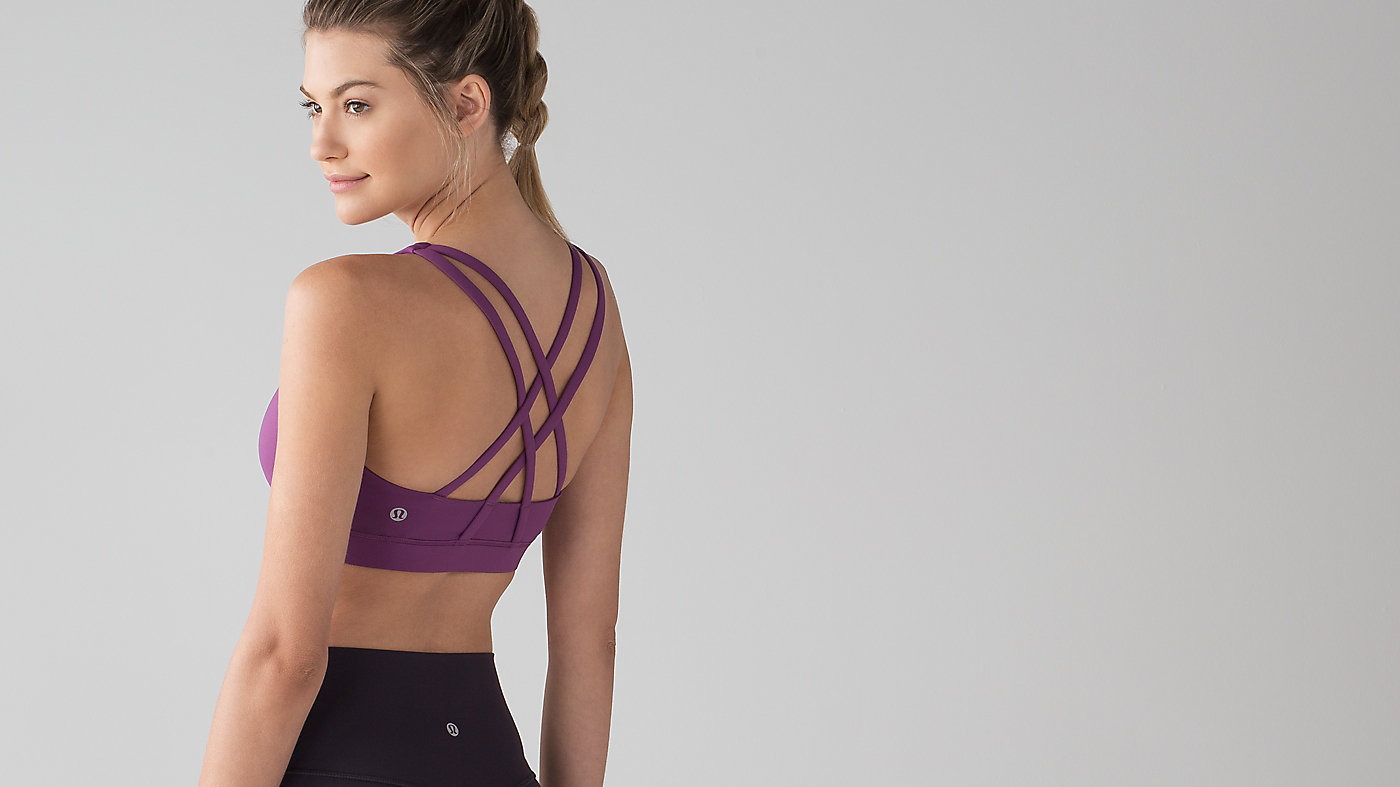 Article conçu pour
La course, l'entraînement
---
lycra®
Le tissu extensible conserve sa forme grâce à l'ajout de fibres Lycra®
---
couverture
Pochettes pour bonnets amovibles optionnels
---
maintien moyen
Conçu pour procurer un maintien modéré aux bonnets B et C

Energy Bra
is rated out of
5
by
1307
.
Rated

4

out of

5
by
hayleejroberts
from
Bigger Boobs Beware
I have a bunch of these sports bras. I like them, but the only problem is that overtime they don't hold as well. I have problems with the straps cutting into my shoulders. Looking for another bra through lulu that is still cute, but supportive.
Date published: 2017-05-24
Rated

5

out of

5
by
000000WB
from
Favorite Sports Bra Ever
I LOVE the Energy bra. It's perfect for all types of work outs, cardio, yoga, etc. It fits a bit more snug than Free to Be in my opinion, but I'm the same size in both (32C/34B, size 6). I have a very small chest but in FTB I'm super uncomfortable in yoga because I feel like I'll pop out at any second. Energy has more coverage so I don't even think about my clothes while practicing, which is how it should be!
Date published: 2017-05-23
Rated

2

out of

5
by
Nikki234
from
Disappointing
When I tried this on I loved it, it had great support and a cool back. But, after about wearing it about five times the straps have become very loose and stretched out even when I followed the washing instructions. I am very disappointed since I haven't been able to wear it and spent a lot on this bra.
Date published: 2017-05-21
Rated

5

out of

5
by
mcrunner262
from
Energize my run
I have a Love/Hate relationship with most sports bras. They all generally feel great for 4-8 miles but what about a long training run or a marathon? I ran almost 20 miles in this bra without any chaffing...I didn't even have red lines where the bottom of the bra met my skin. AMAZING! I did buy this bra a size larger than my other LuLu bras. I didn't like the back fat... Yikes...with my usual size...I am a small person and it just didn't look right.
Date published: 2017-05-16
Rated

5

out of

5
by
azumbagrl
from
Pretty and functional
Love this bra! True to size, just the right amount of support (granted I am not blessed in the chest department so don't really need much support!) Love the strappy back!
Date published: 2017-05-10
Rated

2

out of

5
by
Mymelody91
from
Disapointed :(
I love the Energy bra. I own FOUR in a size 10 that have NOT lost their shape whatsoever. I was so excited to try the new Naked color in my regular size, but after ONE wear It stretched out SO MUCH. The waist band and straps stretched out so much that I had to stop my workout to pull it up constantly. I'm so so sad because I am loyal fan of the Energy bra.
Date published: 2017-05-06
Rated

2

out of

5
by
drylandluluwarrior
from
Great Support, But Doesn't Hold Up
I loved this bra the second I put it on but after only a handful of wears (washed on delicate, hung to dry) the straps became so stretched and deformed that the bra is left useless in my drawer. Totally disappointed with the quality, especially at the lulu price point.
Date published: 2017-05-05
Rated

1

out of

5
by
smilemore
from
Super scratchy
I was so excited to get this bra, and when I tried it on it was amazing, then when I started wearing it to gymnastics, soccer, dance, basketball, riding, It was irritating and scratching my back. I wore it a few times, but then couldn't anymore. I was so disappointed about this, and expected more from you lulu. Well anyway I would not recommend. Mine just sits in the back of my drawer.
Date published: 2017-05-03
Rated

4

out of

5
by
juliet1593
from
1 of only 2 LLL bras that work for my 32DD bust
Sadly, LLL doesn't make bras for women over a C cup. (That I've ever seen) This and the Flow Y bra are the only LLL bras that I can make work with my 32DD bust. I have this one in a 6 and a 8....but, ultimately I reach for my size 8 over the 6 most days. The 6 has me popping out the sides a bit. The support works fine for me, I wear them to my CrossFit classes. Please LL make some bras for women with curves up top!
Date published: 2017-04-26
Rated

5

out of

5
by
RunningYEG
from
Great for lifting or yoga
I love this bra! It's great for lifting or yoga or just wearing around, but I wouldn't recommend it for running or any high cardio activities as it has limited support. Overall extremely comfortable!
Date published: 2017-04-26