Soutien-gorge Enlite
Maintien maximal, bonnets A à E
98,00 $ CAN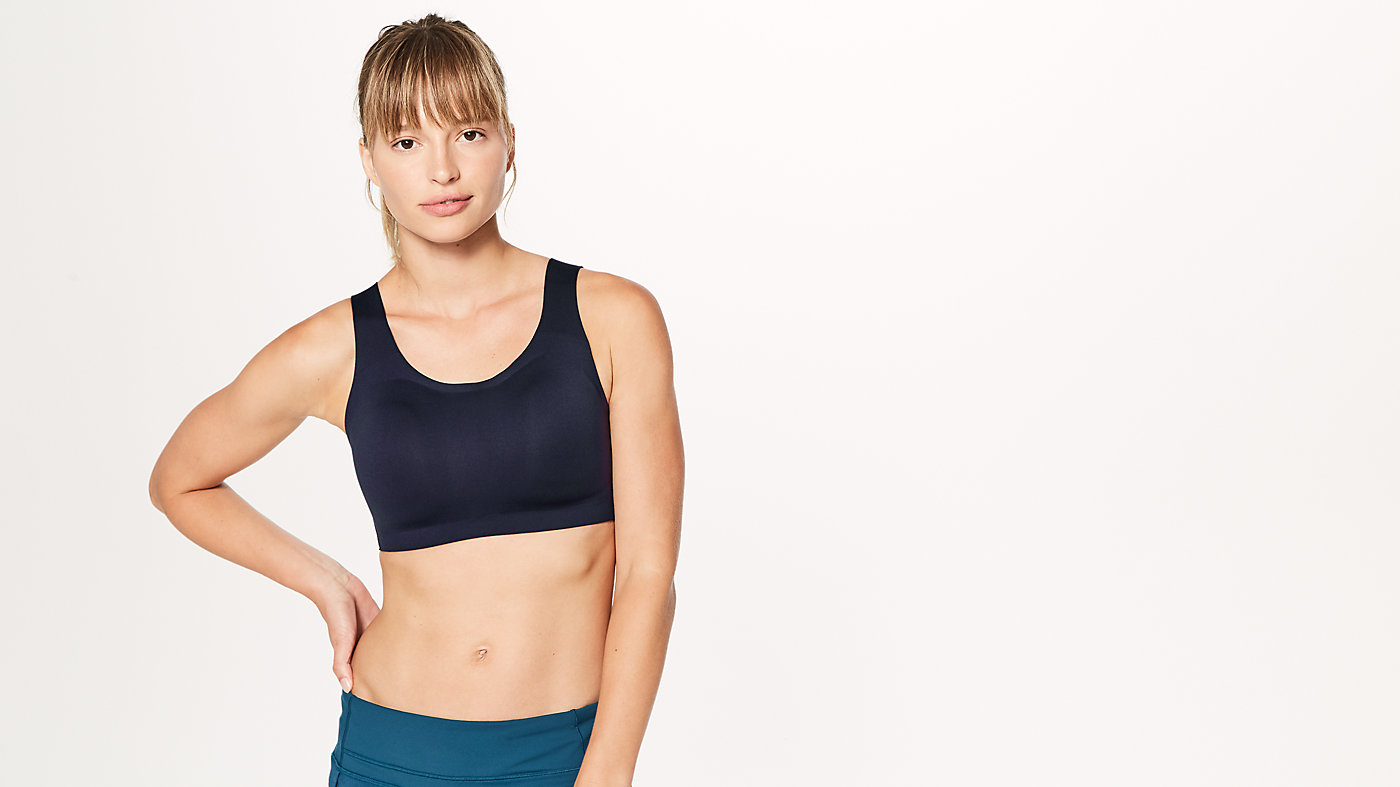 Article conçu pour
La course
---
bonnets intégrés
Les bonnets intégrés légers laissent circuler l'air et minimisent les rebonds
---
lycra®
Le tissu extensible retrouve sa forme grâce à l'ajout de fibres Lycra®
---
bande inférieure sans distractions
La bande inférieure reste en place sans s'incruster
---
fermeture à l'arrière
Facile à enlever
---
FERMETURE PLATE
Les fermetures à agrafes sans coutures restent à plat pour un ajustement sans distractions

Enlite Bra*High Support, A–E Cups (Online Only)
is rated out of
5
by
1406
.
Rated

5

out of

5
by
OpalAndRunning
from
Only Sports Bra I Can Wear!
Another runner recommended this to me mid-Marathon, and I'm never going back to my old sports bra! I wear a 34DD, so I bought a 34E in this and it fits perfectly snug for high impact activities such as running. I always watch for the enlite to go on sale so I'm not out $98 for a bra. I love the green color, too!
Date published: 2019-01-08
Rated

5

out of

5
by
Anonymous
from
Everyday Bra
I have prior experience working in a high boutique women's lingerie boutique and know how a bra is supposed to fit...THIS BRA IS ON POINT! I wear a 38D and I do not pull or adjust anything at all throughout the day, everything stays in place, and the shape is perfect! I now wear this bra with everyday clothing because there is a nice lift, not too much cleavage, and looks smooth under clothing! Yes, it is tight in the beginning, as it should be, but it loosens up (not too much) as you begin to wear the bra. I have always had a problem with the unflattering saggy uniboob look with sports bras and this bra would never! Buy it! I now have three and plan to purchase more!! I have read several comments saying that the bra has unraveled or shredded. I have not had this issue and I have had this bra for 5 months now. Some tips for taking care of these bras: DO NOT USE FABRIC SOFTNER!! This will destroy the elastic in bras fast! Also, do not place bras in the dryer as this will also destroy the elastic. When storing them do not fold one cup into the other as it will destroy the lovely shape. I hope this helps!
Date published: 2020-02-23
Rated

5

out of

5
by
Sconnie
from
My Absolute Favorite
I like this bra because it works (does wonders for the ta-tas), but I LOVE this bra because it looks good too. And comfortable? How is this possible? 6 stars!
Date published: 2020-02-23
Rated

3

out of

5
by
Lexi19
from
It's ok
I got this bra in nov 2019. I love the fit and support. It's a little hard to get on at 1st, but it does loosen a bit and becomes easier to put on. I'm disappointed as the material where the clasp is has ripped already., which is weird because it's not tight at all. For $98 I hoped it would have lasted longer than 4 months
Date published: 2020-02-22
Rated

5

out of

5
by
Strawberriesandchocolate
from
Excellent
Date published: 2020-02-20
Rated

5

out of

5
by
NikiS
from
Life Changing Bra
This is the best bra in the world if you need a lot of support, hate any movement, and chafe from certain activities and materials. This is comfortable enough for marathon training and yoga. I wear it to yoga almost every day. I have several enlite bras. They are all amazing. I like mine really tight, but I wear it on the loosest setting and it feels great because the cups are still tight and provide good coverage. Comes in pretty colors and your basic neutrals. I got two of mine on sale and they were a steal at half off.
Date published: 2020-02-19
Rated

4

out of

5
by
akactivelady
from
Favorite bra by far!
I had 4 of these already and ordered 2 more online. The new ones fit a little snug, but hopefully they'll loosen up a touch. I have sensitive skin and am 36D, so lots of opportunity for friction/chafing. I have had the best luck with these bras out of any others I've ever had. I'm disappointed they are only available online now. I wonder if that means they are being discontinued? I sure hope not. I don't like the version with the front zipper because you can see the top of the zipper through your shirt.
Date published: 2020-02-18
Rated

2

out of

5
by
Nat4141
from
Bra so tight!
This bra would be wonderful if it fit accurately. I've worn a 34D my whole life and I needed my daughter to fasten the back. I'm 5 foot six and 130 pounds. I could barely get this bra fastened. The tag says 34 D but there's no way I could wear this bra. Im wondering if the wrong sizing tag was placed on it? I'd need a 36 at least. Upset about this purchase and sizing.
Date published: 2020-02-13
Rated

5

out of

5
by
Firsttimelulu14
from
LIFE CHANGING
I have tried so many "supportive" bras and nothing has ever compared to this one. I just started doing a hit workout BOOTCAMP and a really good sports bra was very necessary. If you have a larger chest or if your girls aren't as perky then get this bra! I promise you won't regret it. It's been awesome. It was slightly snug the first wear but after it was washed it wasn't as tight. It was true to size for me.
Date published: 2020-02-13
Rated

1

out of

5
by
Sixart
from
Upsetting Purchase
I bought my first bra and was SO happy with my purchase. I thought I had finally found the perfect secured bra for working out. I loved it so much that I purchased a second one, in another colour 2 months after. I then began to notice that my first bra was starting to come apart at the seams under the arm pits. I ensured I always left them out to dry and they were delicately washed. The bra completed split up to the shoulder straps on both sides, leaving no support resulting in having to throw it out. Shortly after that, my second bra began coming apart where the clips lock at the back. The first set of clips completely came out so I started using the middle ones. Eventually, the material that covers the clips completely split as well so it was unable to be done up anymore. I'm sad that this purchase was not able to stay the same material and hold its support. I'm afraid to order the new versions, unaware of whether the same thing will happen all over again. This bra was good for a few months but definitely isn't worth the price for the lifespan.
Date published: 2020-02-12