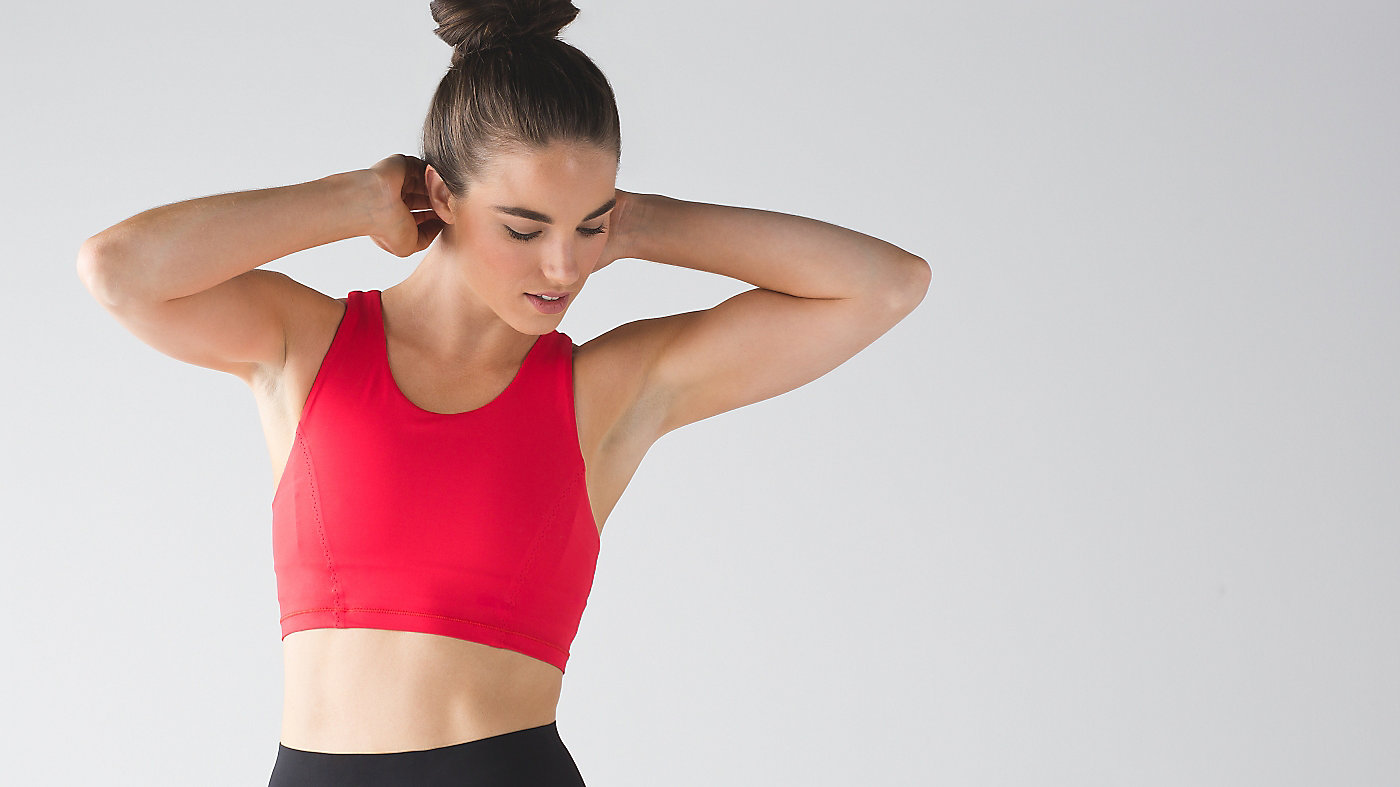 Article conçu pour
La course, l'entraînement
---
lycraMD
Extensible, il retrouve sa forme grâce à l'ajout de fibres LycraMD
---
mobilité
Coupe dos nageur pour une plus grande amplitude de mouvements
---
bonnets amovibles
Doté de bonnets amovibles pour plus de couverture
---
maintien moyen
Conçu pour procurer un maintien modéré aux bonnets B et C

Fast As Light Bra
is rated out of
5
by
10
.
Rated

5

out of

5
by
Physio
from
Great purchase
This is a great bra for low impact activities (yoga and walking for me) and it leaves something to the imagination for bustier women with a higher neckline than most of Lulu's bras. I had no issues with the material rolling up.
Date published: 2016-12-23
Rated

5

out of

5
by
BodybuilderAng
from
Cute crop bra
Love it. Super cute. A bit too short for me to wear as a crop but its amazing. Love the red!
Date published: 2016-11-05
Rated

4

out of

5
by
iheartOTIS
from
Finally, a Great Run Crop
I love this bra, and have been looking for something similar for quite some time. I have not been having the issue of the crop flipping up, as others have suggested. For the people that have been having this issue- my two cents, it's a sizing issue. Took away one star because I wish it came in more colors.
Date published: 2016-10-05
Rated

1

out of

5
by
verva
from
Definite design flaw
I'm really disappointed in this bra. It looked like the perfect blend between a bra and tank. When it arrived, I loved the red colors and the seaming detail. Unfortunately the top layer of fabric is disconnected from the "bra" part, so it just rolls and bunches up if you're moving it. This makes it unwearable as a crop top because it doesn't look right and unusable as a sports bra because of the uncomfortable bunching under clothes. Really bummed because I loved the style and wanted it to fit perfectly!
Date published: 2016-09-17
Rated

1

out of

5
by
fensmom
from
Awwwe. Pretty bummed out.
I really really liked this bra! When I tried it on it had good coverage, good support and I was quite a fan of the crop top design. Super unfortch the bottom band is not a part of the bra itself so it doesn't stay down at all. Rolls up in 5 seconds or less. Also. It really rubbed on the right side of my neck. Left a mark even. Doesn't look bad in the pic, but it kinda was just an irritated hurt you know? I wore it to work at a desk job. Pretty thankful I didn't try it out at the gym. My neck would have been raw!
Date published: 2016-09-14
Rated

2

out of

5
by
kellywastaken
from
Crop Coverage Flips Up!
I wanted to love this for my workouts, especially paired with some high waisted pants! Unfortunately the tank material that goes over the bra doesn't stay put. It rides up and just looks like bunchy fabric over a sports bra. It's definitely not a sizing issue since it fits my chest perfectly but as soon as I move, the tank material is moving as well! Would have liked to see a fit similar to the Beat the Heat bra! Disappointed!
Date published: 2016-09-04
Rated

5

out of

5
by
katefray8
from
Good coverage and support
This bra has really nice coverage and support, and I've found it to be really comfortable/breatheable. Would definitely recommend it. I also sized up one, I am 5'6", 135 lbs, 34b and got a size 8 (it's a little short in the torso).
Date published: 2016-08-26
Rated

3

out of

5
by
LadyJane
from
Nothing special, especially not at this price.
This is basically just Energy bra type support with a crop top layer over it. The top layer rides up on me so it's sitting right below the bra part, so it doesn't really help with more coverage. And it's definitely not worth the extra cost you pay for that layer. I won't be buying any more of this style.
Date published: 2016-08-24
Rated

5

out of

5
by
ashlick
from
This bra needs to be in EVERYONE'S closet
I am a C cup and this bra has great coverage and the material is one of a kind. It allows you to both workout and run your everyday errands! Very versatile! The Luxtreme fabric is stretchy but also supportive just the right amount! I got a size 10 in this bra. I am 5'2 and weigh 135. Recommend this bra to everyone, you won't regret it!
Date published: 2016-08-22
Rated

5

out of

5
by
jappelle
from
Life Changer!
Hey Guys! This bra is an absolute life changer. I am a 5 foot nothing, C-cup with a super broad back and this bra is perrrrfffectttt. Not only is it comfy-as-f, the finer details are so nice. The built in bra portion is perfect and the extra fabric that turns it into a crop-top is amazing for those crazy high-energy spin classes! Honestly, the price was a little scary a first, but after I put it on and fell in-love, I knew why. Worth every dollar - my new go to!
Date published: 2016-08-20