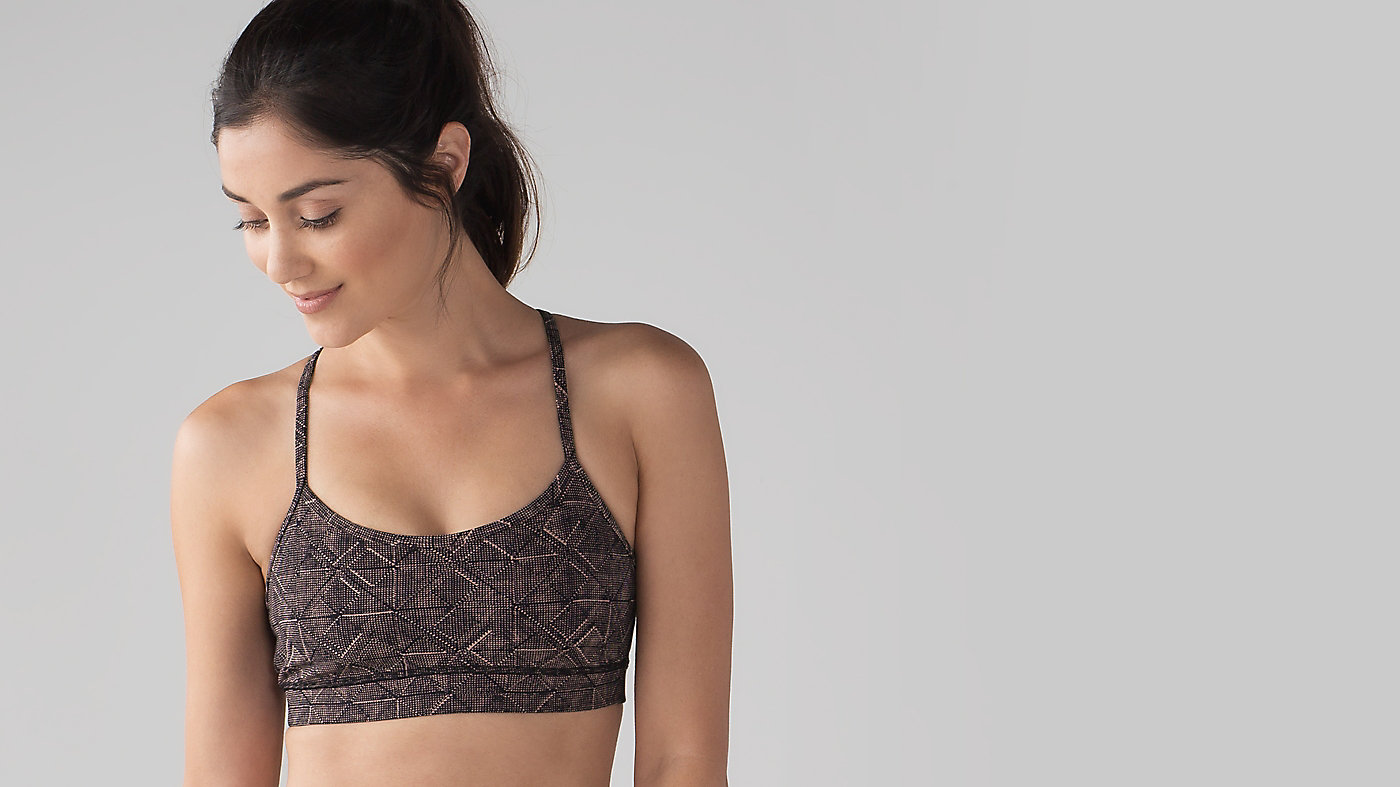 Article conçu pour
Le yoga
---
lycra®
Le tissu extensible conserve sa forme grâce à l'ajout de fibres Lycra®
---
couverture
Pochettes pour bonnets amovibles optionnels
---
maintien léger
Conçu pour procurer un maintien léger aux bonnets B et C
---
maille et circulation de l'air
Favorise la circulation de l'air pour vous garder au frais

Flow Y Bra IV
is rated out of
5
by
887
.
Rated

4

out of

5
by
SmoTokyo
from
Optional Removable Cups
First of all I love this bra. I have about 15 of them and have always used them for running and for yoga and really all sports actually. My only complaint is the removable cup. To clarify, I need the removable cup on this bra. I always need a little extra thickness at the front of the cup to prevent hard nips peekin out. BUT every time I wash the bra I have to take the cups out and then insert them again before use (which isn't just a quick 2 second process). It would be amazing to just have this exact same bra but with the cups sewn in, or just simply thicker fabric on the cup area to have the same effect as the removable cup. Any chance this product is in the works? or already exists and I am missing it?
Date published: 2017-06-10
Rated

3

out of

5
by
Sadielib
from
Looses Elasticity
I loved this bra! it was so comfortable for everyday wear! or yoga! but in only a few wears its lost elasticity! and barely holds the girls anymore. also some pilling on the material. and i take such good care of my lululemon. I also find the mesh part on the back gets super itchy when working out (hot yoga)
Date published: 2017-05-20
Rated

1

out of

5
by
Rhae
from
Not impressed
Not my favourite sports bra. Not comfortable while working out or running. Works alright for yoga. Not my go-to sports bra and wouldn't recommend.
Date published: 2017-05-16
Rated

1

out of

5
by
Jsizzle
from
Elasticity wears out quickly
This was my favorite bra to wear for powerlifting and general activity. However, it does lose its elasticity quickly. Though I always follow the care instructions, the strap elastics are stretched out and feels too big to wear. The cost makes it hard to justify the purchase and I wouldn't recommend it to anyone based on my experience.
Date published: 2017-05-05
Rated

1

out of

5
by
yogifit6677
from
Do not recommend
At first I enjoyed this bra and its simplicity. However for the price I would not recommend this bra and I am extremely dissatisfied with the quality. I found that even though I did not wear it a ton, and followed washing directions exactly, that the elasticity has worn down significantly to the point wear I can no longer wear it at all. The stitching on the straps have also come apart after only a few wears. I do love most products from this company, however I am not happy with this product.
Date published: 2017-04-19
Rated

5

out of

5
by
anthruium
from
Amazing!
I love this bra and I am so glad I tried it. I love the Y tanks, but this bra definitely takes the cake. It provides a great amount of support with my 34B cups while doing intense workouts or running long distances. Also, I like that the bra is simple yet versatile with my other racerbacks. Definitely coming back for one again in the near future!
Date published: 2017-04-02
Rated

2

out of

5
by
HeidiHart
from
Good bra, wears out quickly
My aunt bought me this bra as a present as she knew I was a huge Lululemon fan. I loved it because of its simplistic design, different from all my bras with lots of straps. It quickly became my favorite to wear during sweatier activities like hot yoga. However, after a few wears and washes (following the care instructions), the bra started to lose its elasticity. It now feels almost a size up than what it was when I first got it. Now I can only wear it for lighter yoga or weight machines.
Date published: 2017-03-28
Rated

3

out of

5
by
moonwolf
from
not bad, not the best
My first flow Y bra I bought about 4 years ago, size 4. It fit very snug but absolutely was perfect for any high impact activity and yoga. I decided to buy another in size 6. My weight had increased and I have more muscle so going up in size made sense. At the store it fit perfect but then I found while practicing yoga there wasn't enough coverage and the straps seemed to be just enough longer that they no longer held everything in place. So I can't wear this bra for when I'm going upside down in yoga but it's still perfect for crossfit and everything else.
Date published: 2017-03-12
Rated

5

out of

5
by
eatsushiandrun
from
PLEASE DO NOT DISCONTINUE, EVER!!
This is my ideal run, gym or yoga bra for my 32a chest, Snug but so comfortable. I prefer bras with thin but sturdy racerback straps like this one, as i don't like the look of thick straps but i don't want little flimsy straps either. I don't have to worry about the bra sliding around like the free to be wild/zen bras do, This bra may not have fancy straps, but they are functional and this look will never go out of style, so it is a good long term investment. They also last for years!! Some of my Y-bras are from over six years ago and they are still going strong! What makes me sad is my store doesn't carry these anymore. Luckily months ago they had a bunch of size 2 on sale, so i stocked up. But eventually the really old ones i own are going to have passed their prime (nothing lasts forever) and need to be replaced, and i'm worried lulu will have discontinued them, as they making fewer and fewer colours of these and weaning them out of stores. LULU you're making me cry every time you replace a functional, great fitting, flattering, longlasting item, with something cheap, poorly fitting and impractical, PLEASE DONT DISCONTINUE!!!
Date published: 2017-03-02
Rated

5

out of

5
by
Cellomir
from
I wear these bras every day
I have at least 4 of these bras, and I wear them every day. I wear them under my work uniform (in law enforcement I don't like to have a bouncy chest!), to the gym, and just lounging around the house because they are so comfortable but snug. The vast array of colours and ever-changing patterns is also fun to stock up on. For the price that I pay for these bras, they are about the same price or cheaper than uncomfortable, lacy push-up bras from lingerie stores (although everyone has their personal preferences for undergarments). I weigh 130 lbs with a 34 B chest, and I would not recommend this bra for anyone with a large bust, purely because it offers fairly light support and low-ish coverage.
Date published: 2017-02-27