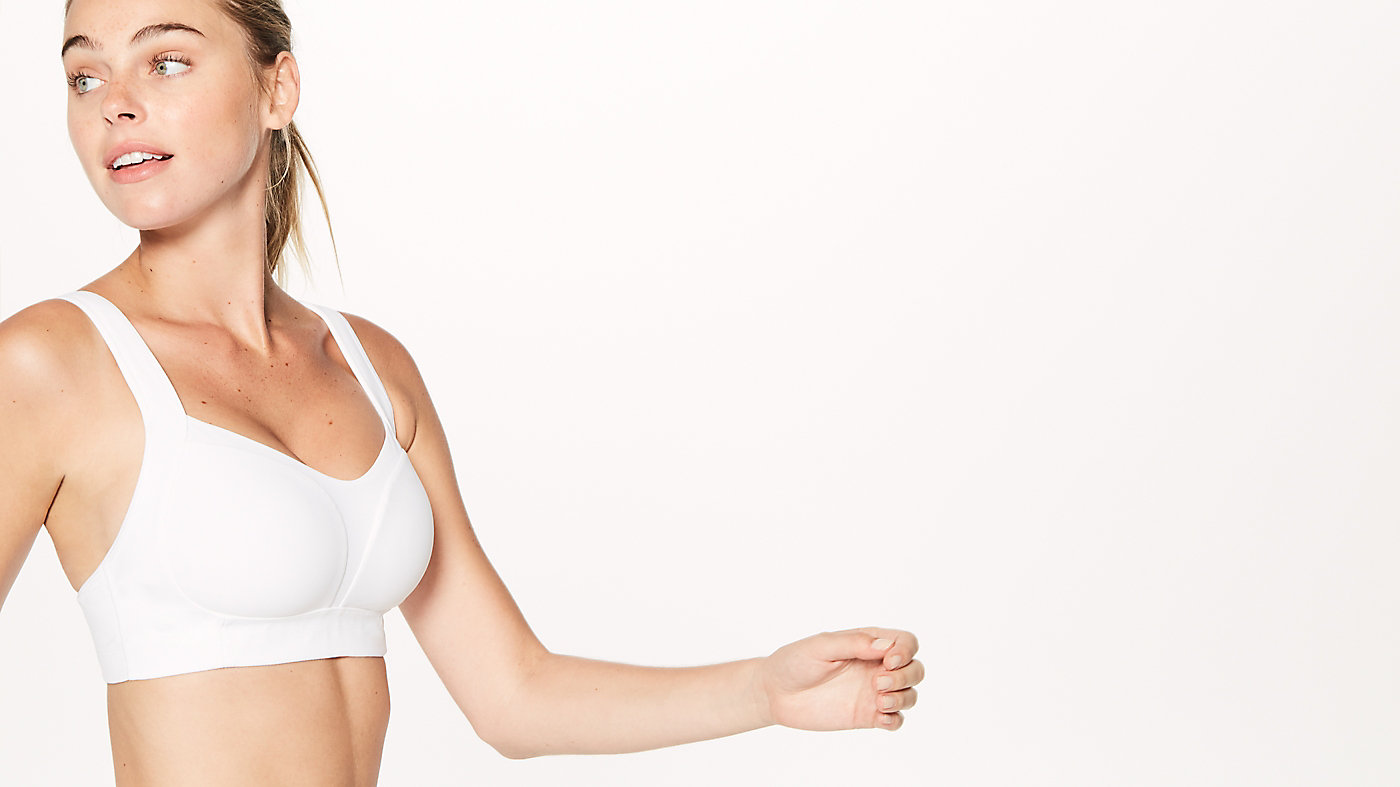 Article conçu pour
La course, l'entraînement
---
lycra®
Le tissu extensible conserve sa forme grâce à l'ajout de fibres Lycra®
---
couverture
Pochettes pour bonnets amovibles optionnels
---
maintien maximal
Conçu pour procurer un maintien maximal aux bonnets C à E
---
PERSONNALISEZ L'AJUSTEMENT
Ajustez la fermeture à agrafes et croisez les bretelles pour personnaliser l'ajustement
---
PANNEAU EN MAILLE
Le panneau en maille tient le tout en place pour empêcher les rebonds

Ta Ta Tamer III
is rated out of
5
by
165
.
Rated

2

out of

5
by
EmJohn
from
Disappointed
I loved this sports bra at first, it had great support for running and my Crossfit workouts. However, after only 3 weeks of owning the bra one of the clasps in the back broke. I am very disappointed with how quickly this bra wore out. I am super bummed out, because it is so hard to find a great sports bra that supports while still being cute... I expected more from Lululemon due to my love for all of my other items from here!
Date published: 2017-06-20
Rated

4

out of

5
by
JaneFit
from
Generally, great bra!
I own many tamers, my favourites are the newer ones. Easier to cross straps in the back. The only concern that are the hooks. One has come out completely on one bra and one is loose on another. However, there are enough remaining hooks and clasps to still make the bra secure. This bra is supportive, and versatile, please make more colours/patterns!!! I'm able to easily transition from a yoga class to a Zumba class wearing the same bra.
Date published: 2017-06-19
Rated

5

out of

5
by
rokstah
from
Best Support I've Found - Running, Yoga
My size is 30F/G, so think small ribcage and very heavy chest. I wear a 32E here, so expect to move up at least one band size, and take down a cup size to compensate. The two types of exercise I do are running and Ashtanga/power yoga (a lot of jumping/floating/handstands), which are basically my boobs' archenemy. But no matter, I've got this miracle of a sports bra and can now magically do whatever I please! Cleavage does show, so if you're modest and large chested you'll still want a tank or some sort. When I run in a regular tee with this bra, bounce is very minimal. There is the slightest amount of bend in my skin (some women call it back fat) with this very supportive bra. Let me reassure all ladies who are concerned: I have 15% body fat (low - this is essential fat/athletic), and not only is this bend in your skin completely natural, it's also practically impossible to have a locked-and-loaded level of support for a heavy set of "the girls" without some kind of give. It's skin, not metal. If it still bothers you, I don't see any give anymore if I wear a tank or shirt over this bra. I've owned Tata Tamers for years and love the III the best because its support is by far superior to its predecessors. Thanks Lululemon for this miracle!!
Date published: 2017-06-17
Rated

1

out of

5
by
dancer6400
from
Very uncomfortable
Bought this bra in the hopes of finding a very supportive sports bra with adjustable straps. The support is alright, although it is EXTREMELY uncomfortable. The shoulder straps dig in, and the fabric around the armpits chafes very badly, which makes it even more uncomfortable. For the high price, I am very disappointed with this bra.
Date published: 2017-06-05
Rated

2

out of

5
by
Sadielib
from
seems are coming undone!
I bought my first Ta Ta tamer as i was looking for a super supportive sports bra for running. This bra is mediocre for its price, its tight around rib cage but my boobs are still not held in like i would want them to be. also I've worn twice! and the seems are coming undone and the clips are breaking! i hand wash my sports bras, and this shouldn't have happened! especially for the price! id rather buy a nike bra for 30, holds up better and holds the girls in when I'm running! please lulu come out with a better style of bra to old em in, thats still affordable :(.
Date published: 2017-05-20
Rated

3

out of

5
by
Kitty775
from
Great bra for tiny waist and big chest!
I have tiny waist but a large bust so I have an unusual size (32DDD/32E) and sports bras are so hard to find, and they never fit!! I was so excited to find this came in my size and fit just right! However, I tried to wear this racer back and it was so uncomfortable, the straps dug into my skin (particularly in the front) and my back hurt after just minutes of wearing it. I was so disappointed because I have several lulu racerbacks and I can't wear them because none of my bras will go with them. I really wish lulu would make more options for those of us that have been "blessed" in the chest. The Tata Tamer is is the only bra that I know of that comes in this size, a racerback would be so nice so I could wear my lulu shirts that I love.
Date published: 2017-05-18
Rated

1

out of

5
by
VioletT
from
Not the greatest for large chested girls
I own all versions of the Ta Ta Tamer. The Tamer I and II both fit according to size (32ddd/e). Although these did stretch over time hence why I purchased the Tamer III. The sizing is way off, I had to remove the pads to get my boobs to fit and I'm on the last hook-eye closure. I went to get professionally measured and still at 32e so Lululemon's sizing for the TaTaTamer III is definitely too small. I thought I could stretch it out by wearing it but it's too uncomfortable and the shape/profile just looks awful. The material is also not as breathable as previous versions so expect sweat in the clevage area. Sadly, I need to find a new high support bra, this is not it if you're a 32ddd/e.
Date published: 2017-05-09
Rated

1

out of

5
by
Anonymous
from
Wish this bra had never changed
I have several TaTa Tamers but they are all older versions and I have been wearing them for years. I thought it was time to purchase a new one and read the reviews of the Ta Ta Tamer III they didn't seem favourable but I ordered one anyway. I tried mine on and immediately could tell it would have chaffing issues. The material on the band is different than my other versions it was uncomfortable and just didn't feel right. This has been my go to running bra and now I must search elsewhere. I'm pretty sad as I love my older versions.
Date published: 2017-05-02
Rated

2

out of

5
by
roseamanda
from
Great support, but super uncomfortable
I was soooooo excited when I first got this bra as I am a 32DD and it is extremely hard to find sports bras with any support. This bra has the support, which is awesome, but the bra itself is so uncomfortable. It digs in my shoulders/back so hard it is pretty much unwearable. Hopefully you can come up with a supportive bra that is comfortable.
Date published: 2017-05-01
Rated

4

out of

5
by
Liftandrun
from
Woah, made really small!
I'm 5'5, 120 pound and a 32DD or 32DDD/32E in all my bras (can fit in 30' bands, but they're so difficult to find I just stick to 32'). I was excited to try this bra. Upon receiving it I looked at the band and thought there was no way it would fit me. Well, the band is indeed super snug, but I could wear it on the 3rd or 4th set of hooks. It was snug but wearable. The cups are also made small. I tried it one with the foam cups because I'm all good with some cleavage and uplift but I was spilling out. Took out the foam cups and it was a little bit better but still too small. It's a shame because the bra looks good, seems to have enough support for me to run in but it's just too small in the cups for me :( I may try the 34E but my guess is the band would be too big. Please consider making it in 32F!
Date published: 2017-04-19