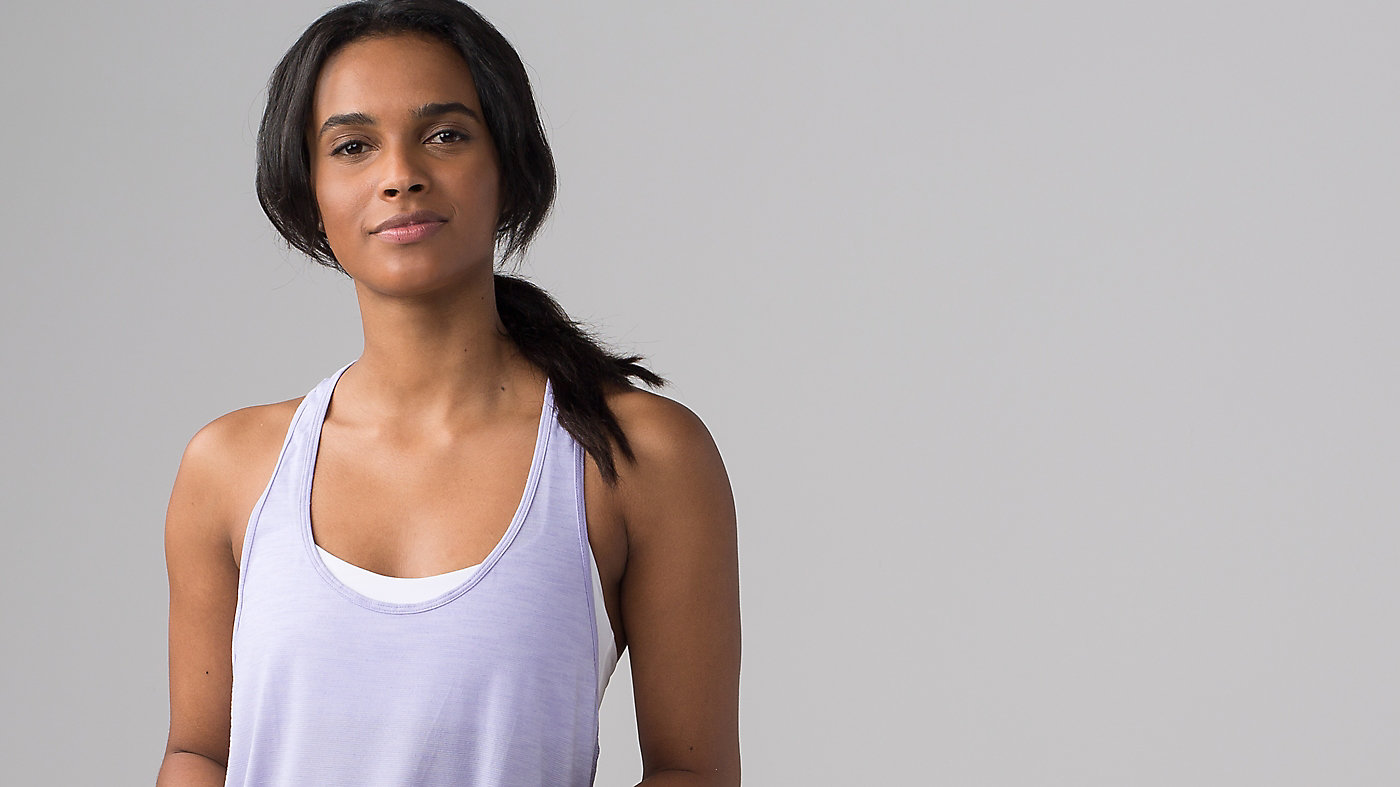 Article conçu pour
Le yoga
---
lycra®
Le tissu extensible conserve sa forme grâce à l'ajout de fibres Lycra®
---
LIBERTÉ DE MOUVEMENT
La coupe dos nageur vous offre une grande liberté de mouvement
---
coupe décontractée
Parfait pour une superposition aisée

105 F Singlet
is rated out of
5
by
316
.
Rated

1

out of

5
by
DJSnuggles
from
What happened to this tank?
I have a million of these. Love them. Wouldn't change a thing. And then you did!?!!? I bought one off the WMTM section a couple of weeks ago and it is so bad it almost seems like counterfeit merch! It's awkward, ill fitting and cheaper fabric. I am now sure what happened between when you stopped selling the 105F and when you made this one but I am wildly disappointed. It does NOT look like the picture. That is from the old singlet. Guess I'll take it back. Oh wait...I can't :S
Date published: 2016-01-13
Rated

5

out of

5
by
Traysea
from
Love this tank but....
where has it gone? There are other altered versions of this tank, but none are as good - none hang as well as this tank. The others have weird slits in the back and side, others the material is too thin. This particular tank no longer exists in any of the stores or online (except for a few sizes here in gray) - BRING IT BACK LULU!
Date published: 2015-12-18
Rated

5

out of

5
by
clairecate
from
BRING BACK!
All I want for Christmas is for Lululemon to bring back the 105 F Singlet in every color under the sun so that I can buy all of them. This is seriously the best tank top I've ever owned and I found them late in the game - this grey one and a white striped one that was on sale are the only ones I have and I NEED MORE. They are perfect for hot yoga, loose enough to feel comfortable but not so loose that it's coming over your head during down dog or dolphin, the little ruched t-strap gives it a little extra something and the length is perfect (I'm 5'6.5", 145 lbs, 34B). The little rise it has on the sides is perfect too - just the right amount of height. PLEASE PLEASE bring back this tank.
Date published: 2015-12-17
Rated

5

out of

5
by
AccroYogi
from
BRING THIS SHIRT BACK PLEASE
This is BY FAR my favourite lululemon top. It's so versatile. I wear it to the gym and to hot yoga and it looks great with all of my lulu bras. I even wear it under sweaters during the fall and winter because it's such a cozy layer and I love the way it's cut a bit longer in the back. I don't like working out at the gym in super short and tight tank tops and this shirt's length is PERFECT! I wear it for days in a row sometimes and it does not even smell! Really good anti-stink technology (and I usually sweat a lot during workouts). But why are there no more? I have a grey and beige one of these with the scalloped edges and I would buy more in a heartbeat. I have the what the sport singlet and really don' t like it; it clings to my body in a really unflattering way... Please make more colours like burgundy, dark green, pastels... I'm sure I'm not the only one who misses these shirts.
Date published: 2015-12-14
Rated

5

out of

5
by
kbbbb
from
LOVE the 105F and you need to bring it back
This is probably the only thing I would recommend to someone to buy at lulu at this point... But its seriously so great! looks cute and can withstand the gym (which a ton of lulu stuff is proving unable to do). They made the what the sport singlet and its seriously the most awkward fitting thing they have ever made, shows boob fat and I'm 5'4" 115 pounds and in very good shape but it puts it all on display. Please please PLEASE bring this tank back in new colors. No one likes the what the sport.
Date published: 2015-12-13
Rated

5

out of

5
by
MNblonde
from
Love this tank
Honestly the most flattering and comfortable tank to workout in. Loose enough to hide those troubled areas but does not make you look frumpy. Please bring back this tank in more colors. I have 2 and would love more!!!
Date published: 2015-12-12
Rated

2

out of

5
by
Anniebananie320
from
Not for petites
If you are petite, this will not fit well on you, even if you try to knot it up on the side, back or front. The straps just seem so long, and the neckline hits at the wrong part of your chest. Good idea in theory!
Date published: 2015-11-28
Rated

1

out of

5
by
KKcooper
from
Too long! Go back to old design please!
Loved the old 105f singlet! I have 4 of them and they are perfect for most exercise. The new style is way too long and just doesn't fit the same at all. I want a little bit of bum coverage but it just looks strange to cover all the way down to the upper thigh. Please bring back the old design!
Date published: 2015-11-27
Rated

5

out of

5
by
bahbahblacksheep
from
best top ever
my fave tank ever. i could've gone down to a size 2, but opted for my usual size 4 (i'm 5'2" & 34-26-34).
Date published: 2015-11-27
Rated

5

out of

5
by
taystray
from
please bring back more colors and sizes!!
i own four of these tanks and absolutely love them for any and every activity. they are perfect for crossfit, hiking, hot yoga and the list goes on and on. i dont like wearing a fitted tank top while working out so these are perfect. i also love that they are longer so they go over your bottom. no other tank every compares to this top. please bring back more colors and sizes!!!
Date published: 2015-11-18