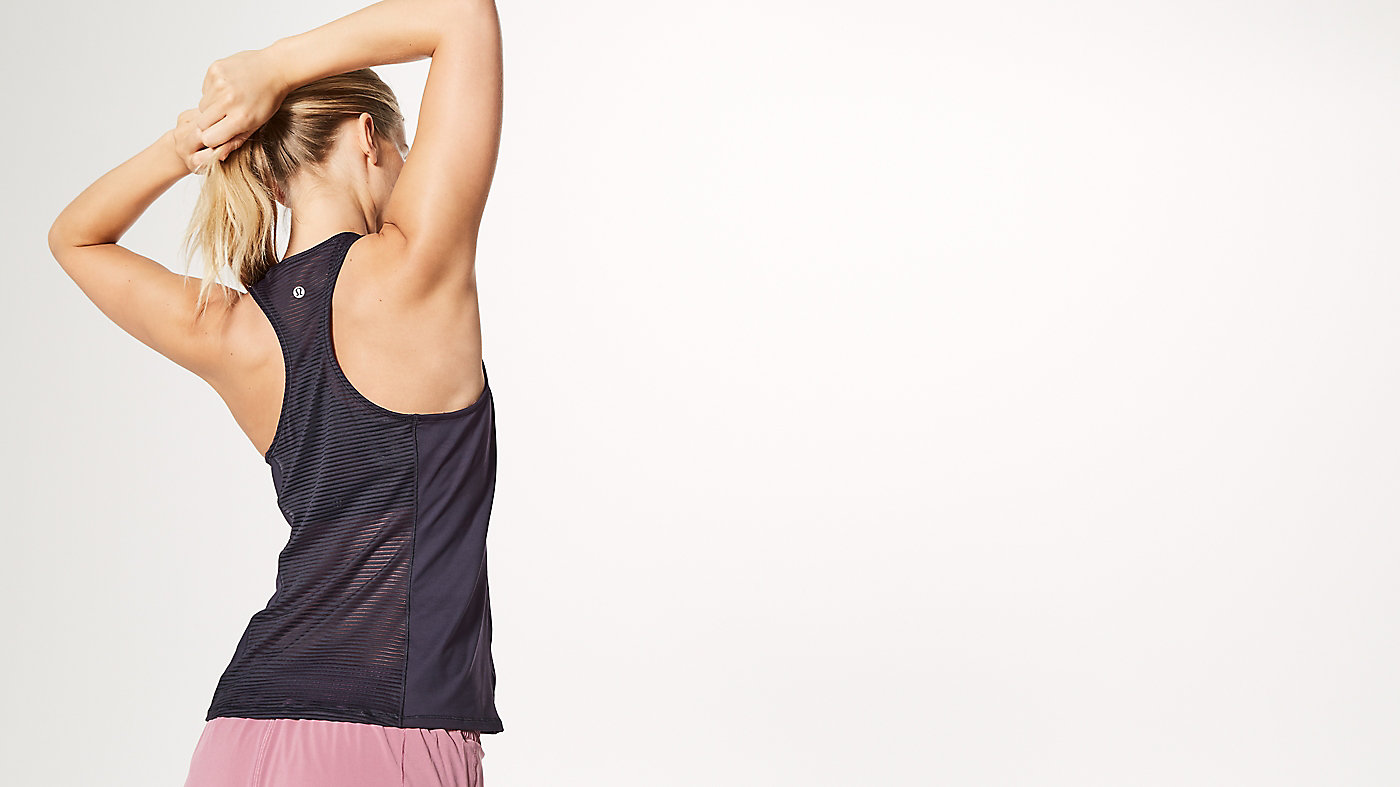 Article conçu pour
La course
---
lycra®
Le tissu extensible conserve sa forme grâce à l'ajout de fibres Lycra®
---
CIRCULATION DE L'AIR
Le dos en maille laisse circuler lair
---
coupe ajustée, longueur hanche
La coupe ajustée épouse votre corps et évacue la sueur pendant l'effort

Goal Crusher Tank
is rated out of
5
by
11
.
Rated

5

out of

5
by
Kinslaya
from
Super cute & super lightweight!
I bought this tank on a whim and was incredibly impressed! The material moves with you during even the most intense work outs. I was very pleased with the quality of the tank top, it is very light and great for keeping sweat off your body. I did a HIIT work out in this top and not once did it feel constricting. As an added bonus, the top is VERY cute on the back with the lace detailing and I haven't had any issues with the lace detail getting ruined on the multiple times I have washed the tank. The fit is not too snug, but very nicely fitted to your body. Great product!
Date published: 2016-10-30
Rated

5

out of

5
by
KCK218
from
One of my Favorite tops!
I just started really getting into Lulu gear, and I was nervous about this top because of the lace design on the back. Nothing to worry about though because it fits perfect and I have had this top for about 3 months-- no pulls, no holes and I try to treat the top with extreme delicacy. I love the fit, I could have gone a bit bigger though. I am about 5'2'' and 135 with an Athletic Build. I wear this to teach my BODYPUMP and BODYSTEP classes, and I wear it to my lifting sessions. So worth it! I get tons of compliments on it!
Date published: 2016-10-22
Rated

5

out of

5
by
ematulis01
from
Great Tank and Cute design? Yes please!
Another great tank that I love from Lulu! This is another item that I was able to purchase on WMTM at a great price and it was worth every penny. I purchased this in a Size 8, normally between a 6 and an 8 and this 8 fits tighter than most of my other 8's, I felt it fit more like a 6. The mesh has held up extremely well, I use this tank for running and spin classes. No signs of wear at all. I do wash all my lulu on gentle, cold water and lay flat to dry so that helps. Also, I saw some of the reviews that mentioned it doesn't wick sweat. I haven't had that issue, it's been great for long runs. Overall very happy with this and would love to have it in the blue!
Date published: 2016-10-13
Rated

2

out of

5
by
MrsMaddi
from
DISAPPOINTED
This is the cheapest fabric I have ever felt from Lululemon. So disappointed. Got it in white, may have been better in another color. COMPLETELY see through and not in a cute way. Not happy. Wish it would have been made with cool racerback fabric or something. DO NOT BUY
Date published: 2016-09-28
Rated

5

out of

5
by
JLin
from
Amazing Tank!!!
Love love love this tank! Extremely comfy and lightweight, perfect for hot weather workouts - this tank is fitted but still TTS in my opinion.
Date published: 2016-09-09
Rated

5

out of

5
by
MaineCookie
from
Excellent for running!
I was a bit hesitant to purchase this tank as it almost seemed "too cute" to wear running. I wore it yesterday for a 16 mile run (in 80 degree heat) and it was perfect! Perfect fit, didn't sag, didn't shift, didn't chafe. It was excellent! Sometimes my older Swiftly tanks will sag and shift during long runs, but this one seemed to hold sweat and shape a bit better. I'm 5'5", 140lbs and usually wear either 6 or 8 in tanks. I was very happy I purchased the 8 as it more snug than other Lulu 8 tanks such as swiftly or cool raceback.
Date published: 2016-08-22
Rated

4

out of

5
by
lululover1999
from
Super cute tank
Love love love this tank and the back of it. The colour is so pretty and the tank is flattering. The only thing that could be improved is the fabric as it seems to stick to your skin easily when getting sweaty. I am a little worried at how the mesh in the back will end up after a few months.
Date published: 2016-08-18
Rated

3

out of

5
by
RunningAndWeights
from
Cute but the fabric doesn't deal well with sweat
This tank fits well and the back looks great but I was disappointed with the fabric which sticks to you when you start sweating. Wearing it for my runs makes me feel like I'm overheating a lot faster than with my regular cool racerback. Not worth the money.
Date published: 2016-08-08
Rated

4

out of

5
by
JFKYogini
from
Awesome Goal Tank
This tank is so lightweight and really fun to wear. Washes great, looks wonderful with any LuLu bra. It however is super fitted. I sized up to get a body skimming instead of body HUGGING sensation. It has a very slip cut. Like the back length a lot
Date published: 2016-07-27
Rated

5

out of

5
by
Ciccone
from
light, comfortable, super fitted
i've been looking for a tank that's fitted (fitter than the salute the sun II), but not tight. This one is just perfect!!! super sexy as well
Date published: 2016-07-27