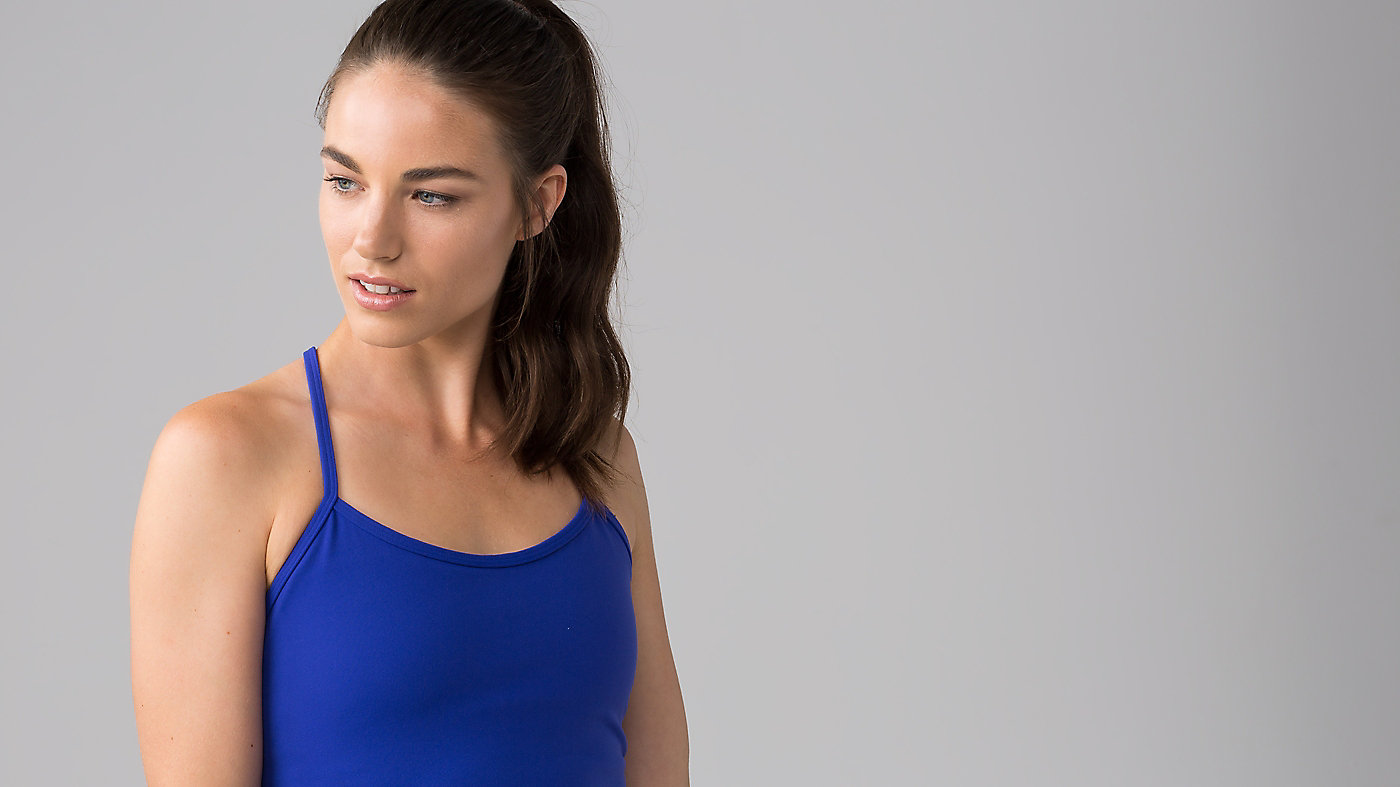 Article conçu pour
Le yoga
---
lycra®
Le tissu extensible conserve sa forme grâce à l'ajout de fibres Lycra®
---
couverture
Pochettes pour bonnets amovibles optionnels
---
coupe moulante
Vous permet de bouger en toute liberté

Power Y Tank *Luon
is rated out of
5
by
52
.
Rated

5

out of

5
by
monkeymonkey
from
Just like how they used to be!
I just received the Power Y Tank in the color Burgundy from the WMTM Insider Sale. I was hesitant to buy online because I've found that in the past year or so, the Power Y Tanks have become thinner, looser, and have less shape retention with use and time. I am happy to report that the Burgundy Power Y I bought is quite similar to what made me fall in love with these tanks in the first place - it's thick, full coverage, supportive (for an A and B cup; wear a sports bra under for bigger cup sizes), and doesn't stretch out in the hips. If anyone has purchased any of the other colors, I'd like to know if they are the thicker material!
Date published: 2017-07-18
Rated

3

out of

5
by
Yayee
from
More color Please!
I am 5'2, 108lbs 34b. I ordered size4. It feels a bit tight at the chest and so long almost like a mini dress for me. So, I went to the store and had it hem 3inch out. Now it fits really good , so I just ordered another color. And, I will have the store hem as well. I love the support and the material is nice and thick. I haven't wash it yet. Lulu make more colors! I'll still buying. Not recommend for someone who has a big boobs. Its tight at the top and looser bottom and it's always ride up bcos of the the loose around waist area. I have to keep pulling it down. But for me, I don't mind that tho.
Date published: 2017-07-14
Rated

1

out of

5
by
Dieseldog
from
DO NOT BUY THIS TANK IF YOU DONT WANT YOUR CLOTHES RUINED!
I purchased this in a few other colors and I'm so angry I can't return them. I wore this to hot yoga, after I was sweaty (duh, that's what these clothes are supposedly made for!!!!) and I threw a Lulu long sleeve white tee over it. Got home 8 minutes later and this bled all over my $58 white long sleeve and it's completely ruined! So ridiculous. For the cost of these clothes this should not be something that should happen.
Date published: 2017-07-09
Rated

5

out of

5
by
myotis
from
Great tank!
I really love the Power Y tanks. I am sad to see Lululemon seems to be phasing them out in favor of the Power Pose tank which is, in my opinion, far less supportive. The Power Y really nicely clings to my shape and offers the perfect amount of support for low-impact sports (I row crew and have an A/B cup bust). The length is great as well - I'm tall, and I love how long it is. I do recommend sizing down for this tank to get the perfect tight, supportive fit. I am normally an 8 or 10 in Lululemon's Swiftly or Cool Racerback tanks, but I go for a 6 in the Power Y as I find the bra is more supportive and the straps don't stretch out as much.
Date published: 2017-07-07
Rated

5

out of

5
by
bbyoga
from
Perfect Top
I haven't been wearing lululemon for very long (about a year now) but these are always my go to tanks. The colors are very vibrant and fun and I absolutely love the fit. It has more of an hourglass cut so it frames my figure perfectly. It is a little snug on the top but it feels supportive and not uncomfortable. (I'm 5'9", 145 lbs, and i bought a size 8 for reference)
Date published: 2017-04-21
Rated

5

out of

5
by
jcros830
from
Such a beautiful coral color!
I typically stay away from skinny strap tops because I have very broad shoulders, but I had to give this one a try because of the price and the color. Unlike many of the other reviews, I was pleasantly surprised and love the fit of this top. I am a consistent size 6 in lulu (5'2", 34B, 135lbs) and it fit perfectly! Very pleased with this purchase and would recommend to others.
Date published: 2016-12-16
Rated

2

out of

5
by
zeta416
from
Bad New Design
I have 2 of these tanks from over a year ago in size 6 that fit great (I'm 5'6, 120lbs). I was so excited to get one more on sale in a great color, but the new fit is HORRIBLE. I bought the same size 6 and although it fits the same in the chest area, the top bellbottoms out at the waist. You can even see this without putting the top on. It's such a weird cut so the top part is fitted around my chest and extremely loose around my hips (I actually have wide hips and this top doesn't hug them). It's a very awkward looking top now, that I guess I'll wear when I have nothing else, bc I cant take it back, but I would not buy another one. Lulu, I'm not sure why you changed the design, but you need to go back to the old one!
Date published: 2016-11-04
Rated

1

out of

5
by
Cath09
from
Unwearable
For reference about sizing; I'm 5'4, 34C, 130lbs, athletic but still curvy. So I am a consistant size 6 in all tops. At least that is if the companies don't decide to make us feel as if we were a hundred pound heavier. I own so many Lululemon tops I stopped counting. Always loved pretty much everything they made. But the prices, drop in quality and inconsistant sizing is getting ridiculous. And I am not one to complain easily. But just couldn't let you guys buy this one. NO. DON'T DO IT. I know, it's cute and it is not that expensive especially if you buy it on the WMTM section, but believe me this top is not worth 5$. First, sizing. As I was saying, I am a consistant size 6, so I bought this one online in the moonlit magenta size 6. But oh, surprise surprise, it fits like a 2. And no I'm not exaggerating. Kept it on for a second and a half because I couldn't breathe, but even just for that brief moment I felt the itchiness in the fabric and saw that the straps were waaaayyyyy too long. So to have one of these I should get what, a size 12, and shorten the straps? And I am 5'4 and 130, so what.. every woman who is a bit larger than I am are considered what, too large too wear it? This is seriously frustrating. Figure your stuff out with your sizing and prices that keep going up for cheaper products Lulu, cose I know I'm far from being the only one who is about to stop buying from you guys.
Date published: 2016-10-31
Rated

3

out of

5
by
Jwilmington
from
Inconsistent Power Y but love it when it's right!
I'm a new Lululemon follower. For the longest time I couldn't justify the price but now that I WFH, I can wear this gear to Barre class and throughout the rest of my work day. Over the last 4 months I've purchased 4 Power Y tanks. I bought the heathered grey and pink which I love and can wear every day. The material is soft, the support allows me to take yoga or go for a run with no extra sports bra (for reference I'm an A cup, 5'3 and 130pds. I"m typically a size 6). Now, I can't say the same for the other two power y's i bought. One is a bright coral color and the other one is the black/white print. The coral colored tank is a different material from the ones I like. It's thicker, heavier and longer so it gets bulky and bunches up at the bottom. This didn't bother me as much as the fading down the side that appeared about 4x washings. I washed with like colors and always hung it to dry. I owned it for less than 6 weeks and this fading appeared on one side. If this was a shirt I bought for $20 it wouldn't be such a big deal. But these shirts aren't $20 and for over $50 I would expect higher quality. The other top i just purchased the dusk dye black white from WMTM is a different material from the three mentioned above and is not comfortable at all. I looked at the label and it has more polyester than the other shirts and no nylon, making it feel very spandexy. It is not a shirt I would want to wear all day and I can't return it. There is no fabric breakdown on the website and even when you try to get the information from chat, they don't always have what you're looking for. Overall, I love the power y but I have to think twice about buying more of them when the material is inconsistent and there's not an easy way to find out what it's really made of. Also, when the quality is in question, I don't want to shell out $50 for a tank- especially since I don't have a local store in my area where I can try it on.
Date published: 2016-10-26
Rated

3

out of

5
by
TRR0102
from
More inconsistent sizing
I own an older size 8 Power Y and it's true love; I can even run in it. I decided to purchase the heathered neon pink on WMTM with the hopes that it would fit the same. It did not. It's much longer, looser in the waist and incredibly tight in the chest; it's a CHORE to just get it on and off! The built-in bra cuts into my skin and leaves marks after 30 minutes of wear – the longest amount of time I can wear it before it hurts too much. I've read that it stretches out after working out, but it's just too uncomfortable to even try to run in.
Date published: 2016-10-19