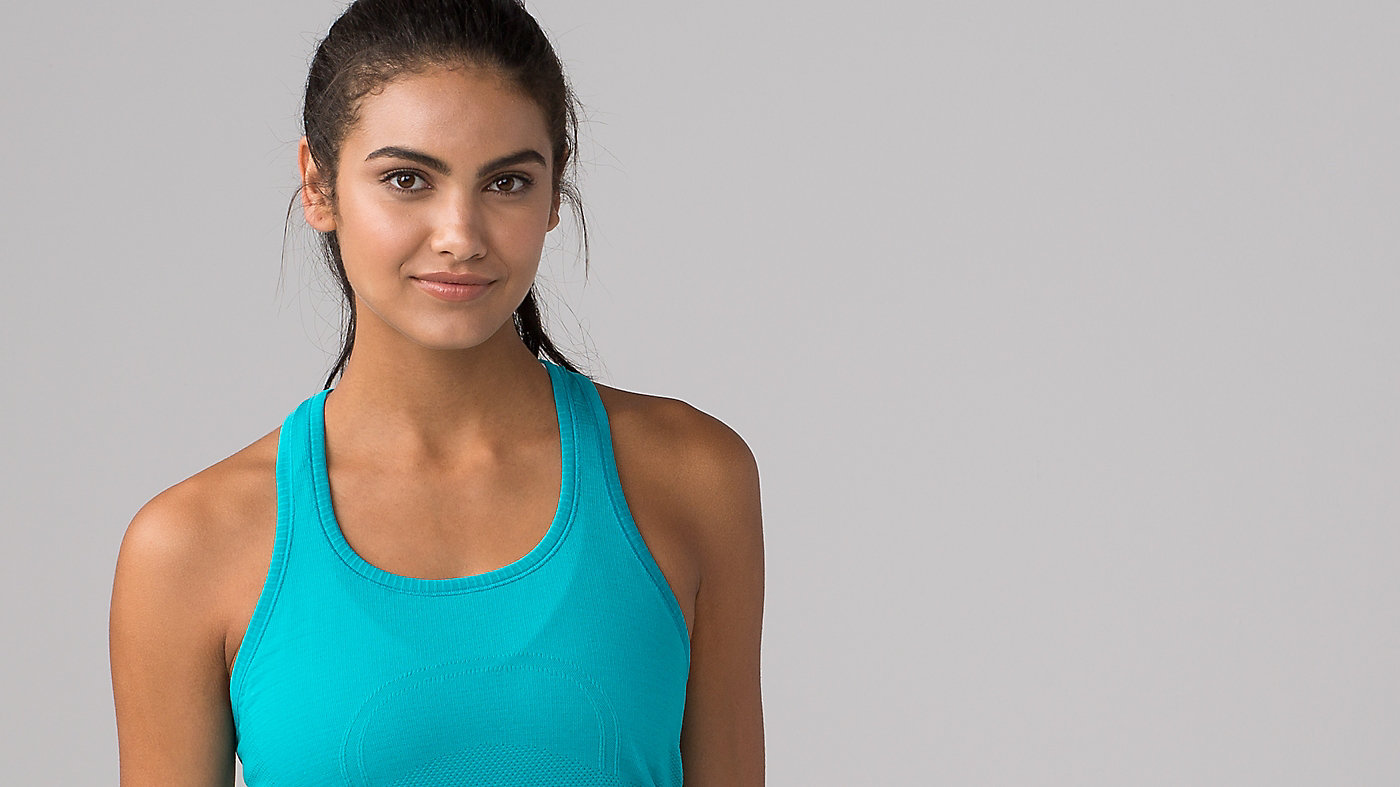 Article conçu pour
La course, l'entraînement
---
anti-irritation
Construction sans coutures pour aider à prévenir l'irritation
---
mobilité
Coupe dos nageur pour une plus grande amplitude de mouvements
---
technologie SilverescentMD
Conçu avec la fibre X-STATICMD, pour entraver la croissance des bactéries qui causent les odeurs sur le vêtement
---
coupe ajustée, longueur hanche
La coupe ajustée épouse votre corps et évacue la sueur pendant l'effort

Swiftly Tech Racerback
is rated out of
5
by
847
.
Rated

3

out of

5
by
pilates6247
from
Good Shirt/Poor Customer Service
This was my first lulu top and I went into the store to purchase. I tried on a 6 (and being a newbie to the brand), I asked an employee if the fit was right. He said yes and that I could not go any smaller. I bought the shirt and wore it to a few pilates classes and it was bunching up so bad and just felt huge. I went back to the store and tried on the 4 and it fit perfectly. Of course, they wouldn't let me exchange it since i had worn it and they said they could only alter it by taking in the bottom. So, they took in the bottom on the size 6 and now it is just short and lose. How hard is it just to exchange a new size when your own employee told me i couldn't fit into a 4??? Super disappointed with their customer service. I usually rarely stray from Nordstroms because of how great they are and with lulu being so expensive, i thought they would be just as good. Now, i am stuck with a too large shirt that i will never wear. Though hugely disappointed in customer service, which tends to push me away and not want to shop here, the shirt seems to be good quality and comes in a lot of colors. I did end up buying a 4 (so i could actually wear it without it bunching up) and have liked it so far. Keeps cool in hot classes. Just upset i have a $60 top that i cant wear.
Date published: 2017-05-27
Rated

5

out of

5
by
meganca
from
Rode up my hips
Love the fabric. Love the colors (dark forrest & lime green). Love the sayings on the hip hem. The fabric feels great. I usually wear looser tanks, but was comfortable with the fabric on my skin. Only downfall is the hem rode above my hips (36" hips / 26.5" waits). Is my hip/waist difference extreme? Anyways, I just expected the tank to STAY PUT! But, it was nothing a little fanny pack couldn't fix for me. ;D Sweat-wicking tech is awesome sauce too. I mean...what sweat?!? No sweat!
Date published: 2017-05-25
Rated

2

out of

5
by
kmh221
from
So Disappointed
I fell in this with this tank so much at first that I immediately bought it in four colors - black, grey, aurora (purple) and the Indian Ocean blue one. I love how lightweight they are and the anti-stink silver is awesome. I have three littles and I live in my "active wear," especially during the hot Florida summers. I go to great lengths to care for my Lulu gear, and these tanks are no exception. I turn them inside out, place them in individual lingerie bags, and wash them on the (cold) delicate cycle with only other Lulu gear. Then I hang them to dry. So, I was upset when the black tank first started bagging out. I took it to the closest store, which is a hike and they swapped it out for a new one. The new one did the same thing so I swapped it for a black CRB because I didn't want to drive 45 minutes with all three kids again. Plus I felt like the store was getting annoyed with me. My blue one is still great and I'm happy with that (the knit/weave on that color is different than the others and that's probably why it's holding up much better), but now the purple one has pilling on the top logo part and is started to stretch out, and the grey is stretching and bagging out as well. Instead of looking cute by the end of the day I look frumpy and disheveled in a bagged out tank. I'm so frustrated. I don't mind paying more for high quality gear, but I expect it to last and to perform well.
Date published: 2017-05-24
Rated

2

out of

5
by
Sadielib
from
I wanted to love this top
Love this top! the material is so light and airy! but not worth the 58$! its started to unravel, and its so easily pilled !, my tank i bought a month ago is already looking horrible. And i am so careful with the care of my lululemon. unfortunate, hope they can make a better quality material that still feels the same way!
Date published: 2017-05-24
Rated

5

out of

5
by
philippinesxo
from
So breathable
My favorite summer tank! Especially for those hot runs or workouts in the summer.
Date published: 2017-05-23
Rated

5

out of

5
by
paigerina
from
Favourite Tank to Run In
I have purchased a handful of these tank tops now because it is my favourite fit to run in. It isn't restricting because it is a loose fit, however it isn't too lose that it lifts up and shows your mid-section while running. Love the variety of colours and handles being washed time after time well.
Date published: 2017-05-16
Rated

5

out of

5
by
amynicolaox
from
All Time Favorite Lulu Tank
I'm so surprised by the bad or mediocre reviews on the Swiftly as it is hands down my favorite tank Lulu does, I own it in multiple colors (none have pilled & I've had some for 3+ years) and am always hoping new/fun colours are launched on drop day. I take my usual Lululemon size 4 and I love the fitted look & that I can roll them up to a crop top if I wish. The silverescent technology is great and I really notice that when I sweat I don't feel uncomfortable in this tank, the moisture wicking definitely comes through & they never smell sweaty even after a hard workout! I wear mine for lifting, cardio and everything in between, I just WISH Lulu would come out with some new fun colours for the Spring/Summer!
Date published: 2017-05-05
Rated

5

out of

5
by
Tess223
from
Perfect, Simple Tank
This is a great tank top for sweaty workouts, yoga, or even just everyday. I love the simple design and the slim fit that is very flattering. I currently own 2 (one in navy and one in the bright pink) and I love both. I would recommend this top for nearly any type of exercise as it does not get in the way and the material is very light-weight but still good quality. I have not noticed riding up or any quality issues with either of my tops thus far.
Date published: 2017-05-05
Rated

3

out of

5
by
Borntorun23
from
Avid LLL but
This is a very cute running top but I think the material used is not very good. Wore this top once and as I am about to put it in the washer I noticed the damaged of unraveling thread on the back. Maybe it's a factory defect and I didn't notice before I put it on but for a $58 shirt, I I am disappointed. I can understand if I have worn this shirt many times but one time use shouldn't do that ☹️
Date published: 2017-05-02
Rated

4

out of

5
by
em1cf
from
Happy with purchase
This shirt does have the tendency to ride up with running and other activities while working out - but it is flattering and comfortable. It's a solid choice for active activities (hiking, biking, etc). I often wear it to CrossFit as well.
Date published: 2017-04-30