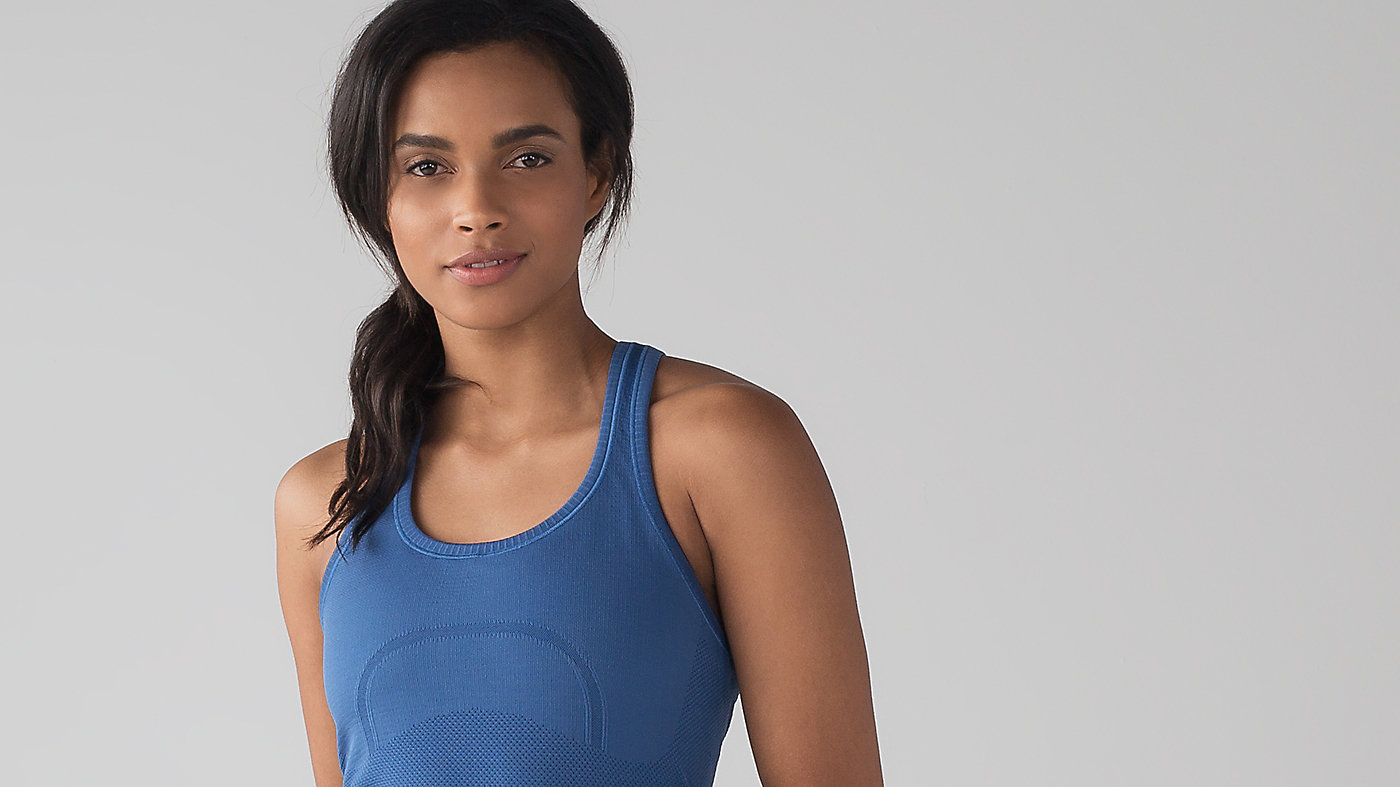 Article conçu pour
La course, l'entraînement
---
anti-irritation
Construction sans coutures pour aider à prévenir l'irritation
---
mobilité
Coupe dos nageur pour une plus grande amplitude de mouvements
---
technologie SilverescentMD
Conçu avec la fibre X-STATICMD, pour entraver la croissance des bactéries qui causent les odeurs sur le vêtement
---
coupe ajustée, longueur hanche
La coupe ajustée épouse votre corps et évacue la sueur pendant l'effort

Swiftly Tech Racerback
is rated out of
5
by
844
.
Rated

2

out of

5
by
Sadielib
from
I wanted to love this top
Love this top! the material is so light and airy! but not worth the 58$! its started to unravel, and its so easily pilled !, my tank i bought a month ago is already looking horrible. And i am so careful with the care of my lululemon. unfortunate, hope they can make a better quality material that still feels the same way!
Date published: 2017-05-24
Rated

5

out of

5
by
philippinesxo
from
So breathable
My favorite summer tank! Especially for those hot runs or workouts in the summer.
Date published: 2017-05-23
Rated

5

out of

5
by
paigerina
from
Favourite Tank to Run In
I have purchased a handful of these tank tops now because it is my favourite fit to run in. It isn't restricting because it is a loose fit, however it isn't too lose that it lifts up and shows your mid-section while running. Love the variety of colours and handles being washed time after time well.
Date published: 2017-05-16
Rated

5

out of

5
by
amynicolaox
from
All Time Favorite Lulu Tank
I'm so surprised by the bad or mediocre reviews on the Swiftly as it is hands down my favorite tank Lulu does, I own it in multiple colors (none have pilled & I've had some for 3+ years) and am always hoping new/fun colours are launched on drop day. I take my usual Lululemon size 4 and I love the fitted look & that I can roll them up to a crop top if I wish. The silverescent technology is great and I really notice that when I sweat I don't feel uncomfortable in this tank, the moisture wicking definitely comes through & they never smell sweaty even after a hard workout! I wear mine for lifting, cardio and everything in between, I just WISH Lulu would come out with some new fun colours for the Spring/Summer!
Date published: 2017-05-05
Rated

5

out of

5
by
Tess223
from
Perfect, Simple Tank
This is a great tank top for sweaty workouts, yoga, or even just everyday. I love the simple design and the slim fit that is very flattering. I currently own 2 (one in navy and one in the bright pink) and I love both. I would recommend this top for nearly any type of exercise as it does not get in the way and the material is very light-weight but still good quality. I have not noticed riding up or any quality issues with either of my tops thus far.
Date published: 2017-05-05
Rated

3

out of

5
by
Borntorun23
from
Avid LLL but
This is a very cute running top but I think the material used is not very good. Wore this top once and as I am about to put it in the washer I noticed the damaged of unraveling thread on the back. Maybe it's a factory defect and I didn't notice before I put it on but for a $58 shirt, I I am disappointed. I can understand if I have worn this shirt many times but one time use shouldn't do that ☹️
Date published: 2017-05-02
Rated

4

out of

5
by
em1cf
from
Happy with purchase
This shirt does have the tendency to ride up with running and other activities while working out - but it is flattering and comfortable. It's a solid choice for active activities (hiking, biking, etc). I often wear it to CrossFit as well.
Date published: 2017-04-30
Rated

3

out of

5
by
Maedward
from
Rides up but not a bad tank
After reading the other reviews I was nervous to try this tank but I have had such good luck with other Lululemon products that I decided to give it a go. Honestly, I think the pilling may just be a defect on some of the shirts because I didn't have any issue with this, even after several uses. BUT I did have a huge problem with the tank riding up. It wasn't up under my chest like some reviewers mentioned but it did constantly ride up above my shorts. Annoying but not annoying enough for me to return it, it's just more of a hiking/walk the dog tank vs. a running tank for me.
Date published: 2017-04-27
Rated

3

out of

5
by
goblue598
from
Loved It But...
I really loved this tank top, however, after only wearing it twice, I noticed a hole beginning to form in the back. For a $50 tank top, this should not happen. I really wanted to enjoy this product but I'm just so disappointed.
Date published: 2017-04-21
Rated

5

out of

5
by
ATLmom
from
Finally more bright colors!
Thanks for the antidote color LLL! I've been patiently waiting for some bright colors and/or prints to come out. Everything has been so depressing looking--all grey, navy, burgundy. Looks like the middle of fall collection, not spring/summer. Hopefully you can move back to the colors and prints that made me love LLL 5 years ago!
Date published: 2017-04-20