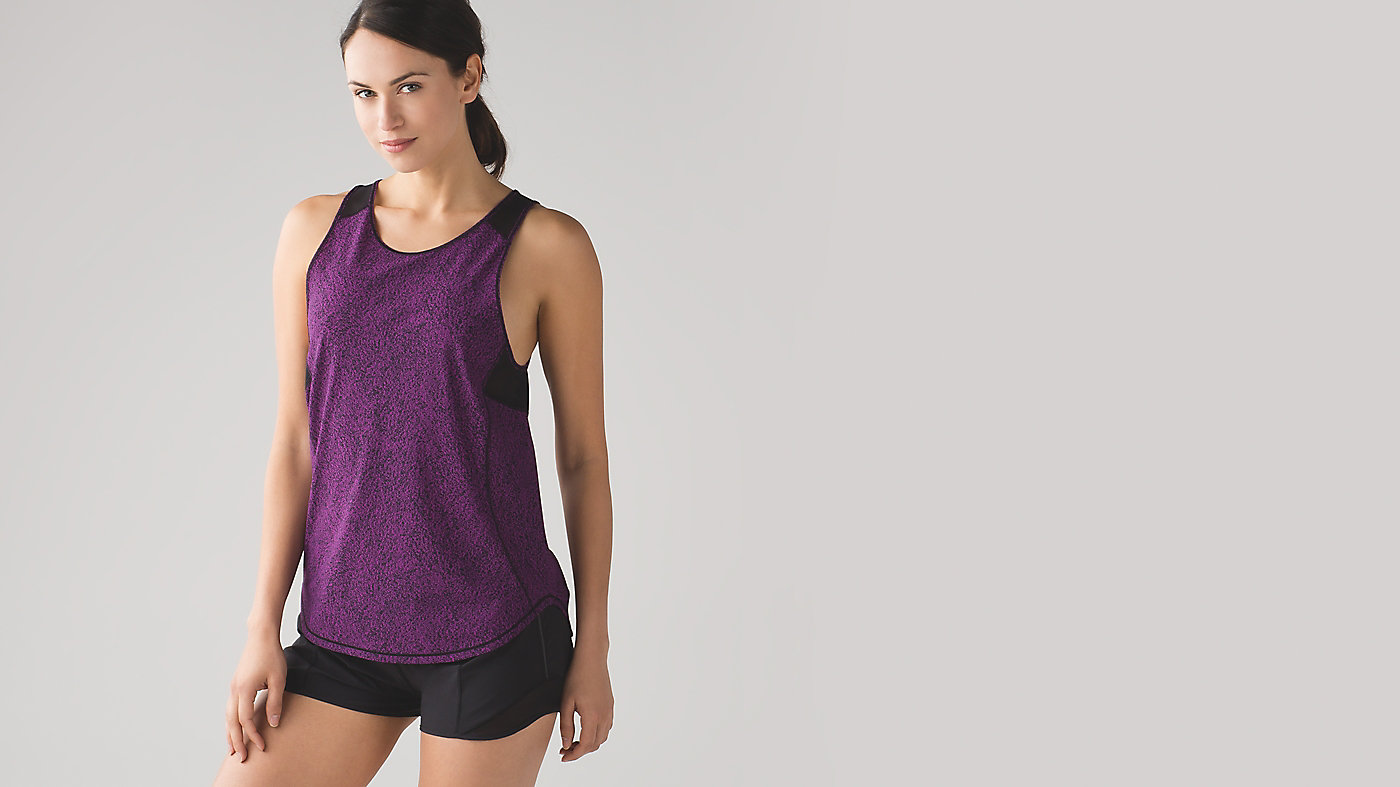 Article conçu pour
La course
---
lycra®
Le tissu extensible conserve sa forme grâce à l'ajout de fibres Lycra®
---
coupe décontractée
Vous permet de bouger sans restriction
---
Longueur hanche
S'enfile facilement

Sculpt Tank II
is rated out of
5
by
41
.
Rated

4

out of

5
by
Anonymous
from
Amazing breathability
This is now my go-to tank for HIIT class. I got this in white, and it goes with every pair of leggings I own. The fabric is super soft, almost like Nulux. That and the back mesh help this tank stay dry and keeps me cool when I'm sweat soaked in the gym. I hate it when my tanks and tees stick to me when I'm sweaty, and this definitely does not do that. I have wider hips so the curved hem on this is a plus. My only tiny gripe is that it gaps a lot at the armpit holes, however I have a fairly large chest, so I don't know that there's much getting around that. Overall, I love this tank!!
Date published: 2017-05-31
Rated

2

out of

5
by
erinm2002
from
It just wasn't my style.
I like some of the looser tanks I have from Lululemon. I tried this one one the store today in two colors. I think the mesh in the back is really flattering, but I felt like it was boxier for my personal taste. I couldn't think what to put it with for working out. A great tank, just not for me.
Date published: 2017-05-30
Rated

1

out of

5
by
LIFTgirl
from
Doesn't wick or dry
I love my lulu clothes, and I thought I would love this tank because it is so airy, light-weight, and loose-fitting. I thought it would be perfect for my bike classes, where I just drip with sweat each time. But it seems to me that the more sweaty and heated I get, the colder and clammier this top gets. It feels like wearing plastic or something because it get soaked and then just stays cold and wet on my skin-- a feeling I just can't stand. I called the store to see if I could return or exchange it, but they said no, since I had already worn it twice. It's weird to so completely disagree with the other reviews here, but I just can't bear to wear this top in a serious workout because of the way the fabric feels when it is sweaty. (Gross!) Wish I could exchange, for something else.
Date published: 2017-05-29
Rated

3

out of

5
by
RunRideThrive
from
Love it -- but beware of white
I have three of these tanks. Great fit, loose, but not baggy and over sized. I wear this mostly for indoor cycling and running. Just have to caution about the white tank. First wear of my white tank was with a new pair of pace perfect crops I ordered in Navy. The navy bleed onto the tank at the waist line, and I can't get it out. Stick to dark colors.
Date published: 2017-05-26
Rated

5

out of

5
by
jgleason
from
By Far My FAVORITE
I own about 6 or 7 different style lulu tanks and this one is by far my favorite!! Perfect tank for running or training at the gym. I'm training for a marathon and have now purchased 3 because its the only top I want to run in! For reference, I am 5'1/121lbs and I wear a size 2.
Date published: 2017-05-18
Rated

5

out of

5
by
LuLuTinkle
from
Light and airy
Very flowy and light tank. I use this for running outside or the gym and am super careful with my lulu gear to prevent any "issues" such as pilling and running. I wash everything in warm water and hang dry and have had zero issues with this tank. I love the roomier fit that doesn't get in the way of any of the workouts and doesn't stretch across my butt but hangs nicely.
Date published: 2017-05-15
Rated

2

out of

5
by
AEH14
from
fabric damage on second wear
Purchased this top a couple days ago and wore it twice to work out. I can already start to see damage on the fabric around the underarm (i.e. fabric is wearing down/pilling). Wouldn't recommend this top for training.
Date published: 2017-05-10
Rated

5

out of

5
by
Lynnmerc
from
perfect tank
I bought this tank to wear to Core Power Yoga Sculpt class (hot) and it is perfect because it has a loose fit but is still flattering, covers the booty in the back, doesn't cling when it's soaked with sweat, and gives a cute peek of a strappy sports bra in the back mesh. I bought it in black, and just bought it in the grey/blue color too. Might also buy the coral/melon color for summer, I like it that much. I'm 5'1" 111 lbs and I wear the 4.
Date published: 2017-05-03
Rated

5

out of

5
by
cmk200
from
Love!
Love this tank! It's very flown so keeps you cool. The fit is good (but I would recommend trying on a smaller size as it is a little bigger than expected). I have it in two colors and love both of them!
Date published: 2017-04-28
Rated

1

out of

5
by
HaPilates
from
Bad experience
I`ve bought this tank just a month ago in NYC. The colour is perfect, the tank is light and I thought it`ll be perfect for me. But after putting it on only once I saw that there are holes in the middle of the tank. It`s so dissapointing.
Date published: 2017-04-26