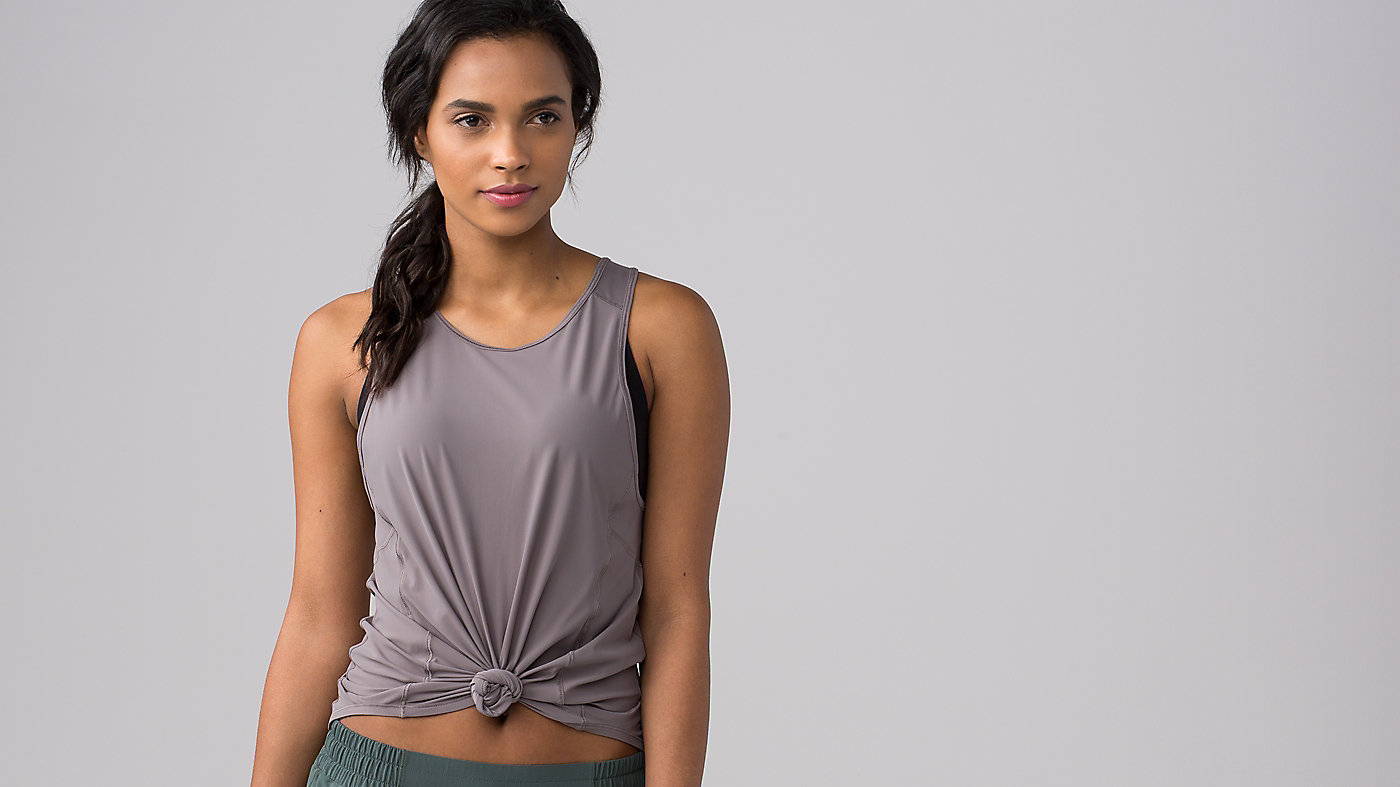 Article conçu pour
La course
---
lycra®
Le tissu extensible conserve sa forme grâce à l'ajout de fibres Lycra®
---
COUPE DÉCONTRACTÉE, LONGUEUR HANCHE
Se superpose facilement et vous donne de la place pour bouger

Sculpt Tank II
is rated out of
5
by
43
.
Rated

2

out of

5
by
runner65454
from
Soaking wet
This shirt did not wick away any moisture. When I went to the gym it absorbed all of my sweat and then it got heavy and started sticking very uncomfortably to my skin. I broke out all over my chest the next day where the tank top just stuck to my skin with sweat. This is also advertised as "quick drying" and it stayed wet for hours- even after I took it off. I do not recommend this tank if you are planning on sweating while you exercise at all. Maybe if you glisten instead of sweat it will work better for you :) That being said, it fit as expected and was very flattering. I will likely use it for pretending I went to the gym before brunch.
Date published: 2017-06-19
Rated

3

out of

5
by
Quart
from
Love it, but pilled on first wear :(
I love this top, I find it very flattering. I'm pretty disappointed that after one wear to the gym it's completely pilled across the chest though. After paying almost $70 for a top, I expect better/longer lasting quality.
Date published: 2017-06-14
Rated

4

out of

5
by
girlontherun
from
Amazing breathability
This is now my go-to tank for HIIT class. I got this in white, and it goes with every pair of leggings I own. The fabric is super soft, almost like Nulux. That and the back mesh help this tank stay dry and keeps me cool when I'm sweat soaked in the gym. I hate it when my tanks and tees stick to me when I'm sweaty, and this definitely does not do that. I have wider hips so the curved hem on this is a plus. My only tiny gripe is that it gaps a lot at the armpit holes, however I have a fairly large chest, so I don't know that there's much getting around that. Overall, I love this tank!!
Date published: 2017-05-31
Rated

2

out of

5
by
erinm2002
from
It just wasn't my style.
I like some of the looser tanks I have from Lululemon. I tried this one one the store today in two colors. I think the mesh in the back is really flattering, but I felt like it was boxier for my personal taste. I couldn't think what to put it with for working out. A great tank, just not for me.
Date published: 2017-05-30
Rated

1

out of

5
by
LIFTgirl
from
Doesn't wick or dry
I love my lulu clothes, and I thought I would love this tank because it is so airy, light-weight, and loose-fitting. I thought it would be perfect for my bike classes, where I just drip with sweat each time. But it seems to me that the more sweaty and heated I get, the colder and clammier this top gets. It feels like wearing plastic or something because it get soaked and then just stays cold and wet on my skin-- a feeling I just can't stand. I called the store to see if I could return or exchange it, but they said no, since I had already worn it twice. It's weird to so completely disagree with the other reviews here, but I just can't bear to wear this top in a serious workout because of the way the fabric feels when it is sweaty. (Gross!) Wish I could exchange, for something else.
Date published: 2017-05-29
Rated

3

out of

5
by
RunRideThrive
from
Love it -- but beware of white
I have three of these tanks. Great fit, loose, but not baggy and over sized. I wear this mostly for indoor cycling and running. Just have to caution about the white tank. First wear of my white tank was with a new pair of pace perfect crops I ordered in Navy. The navy bleed onto the tank at the waist line, and I can't get it out. Stick to dark colors.
Date published: 2017-05-26
Rated

5

out of

5
by
jgleason
from
By Far My FAVORITE
I own about 6 or 7 different style lulu tanks and this one is by far my favorite!! Perfect tank for running or training at the gym. I'm training for a marathon and have now purchased 3 because its the only top I want to run in! For reference, I am 5'1/121lbs and I wear a size 2.
Date published: 2017-05-18
Rated

5

out of

5
by
LuLuTinkle
from
Light and airy
Very flowy and light tank. I use this for running outside or the gym and am super careful with my lulu gear to prevent any "issues" such as pilling and running. I wash everything in warm water and hang dry and have had zero issues with this tank. I love the roomier fit that doesn't get in the way of any of the workouts and doesn't stretch across my butt but hangs nicely.
Date published: 2017-05-15
Rated

2

out of

5
by
AEH14
from
fabric damage on second wear
Purchased this top a couple days ago and wore it twice to work out. I can already start to see damage on the fabric around the underarm (i.e. fabric is wearing down/pilling). Wouldn't recommend this top for training.
Date published: 2017-05-10
Rated

5

out of

5
by
Lynnmerc
from
perfect tank
I bought this tank to wear to Core Power Yoga Sculpt class (hot) and it is perfect because it has a loose fit but is still flattering, covers the booty in the back, doesn't cling when it's soaked with sweat, and gives a cute peek of a strappy sports bra in the back mesh. I bought it in black, and just bought it in the grey/blue color too. Might also buy the coral/melon color for summer, I like it that much. I'm 5'1" 111 lbs and I wear the 4.
Date published: 2017-05-03