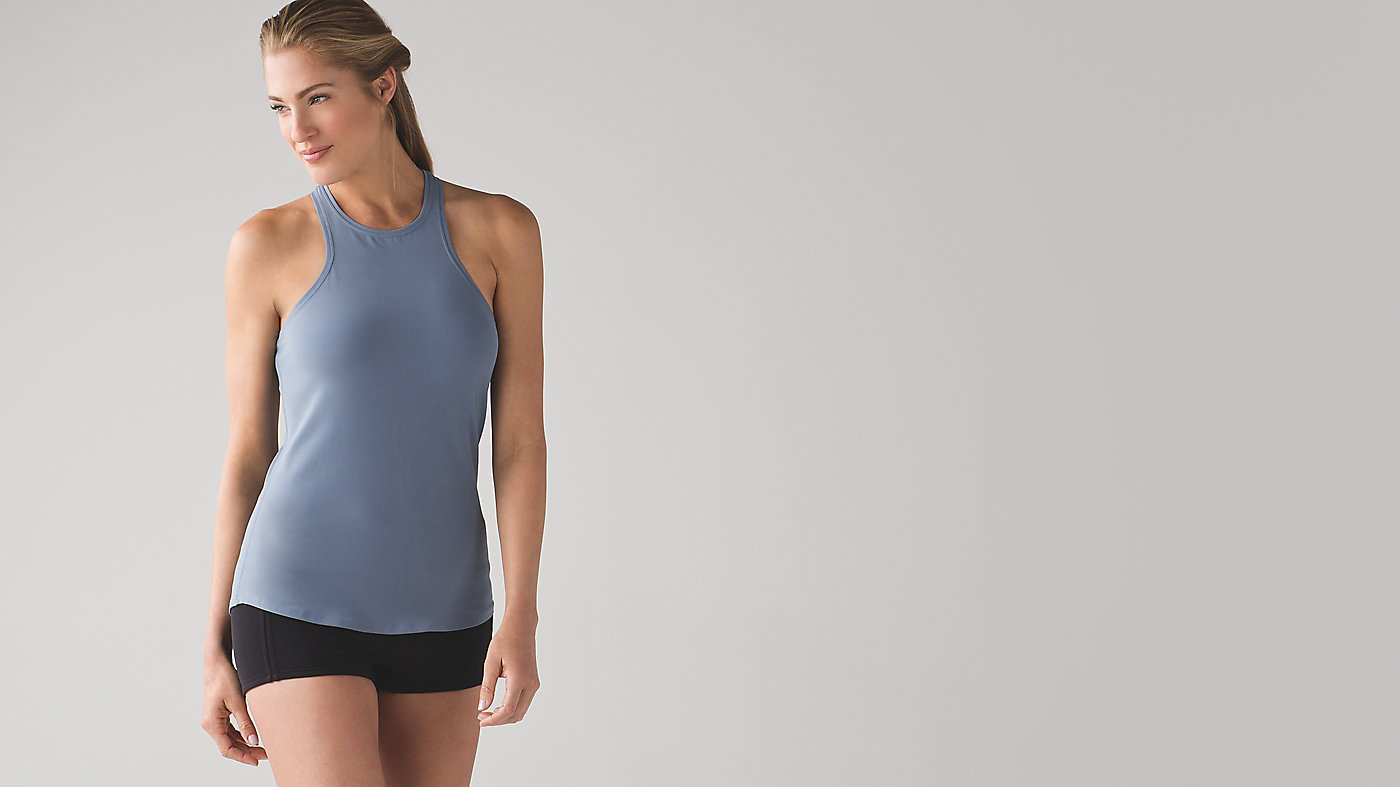 Article conçu pour
Le yoga
---
lycra®
Le tissu extensible conserve sa forme grâce à l'ajout de fibres Lycra®
---
bonne couverture
Couvre bien vos attributs
---
mobilité
Coupe dos nageur pour une plus grande amplitude de mouvements
---
coupe ajustée
Facilite la superposition et garde la chaleur près du corps

Simply Bare Tank
is rated out of
5
by
13
.
Rated

4

out of

5
by
jgyoga
from
beautiful fabric, beautiful cut
Absolutely love this tank. The material is divine, and after many wears and washes thus far is holding up great. Adore the grey-blue colour, the black is very practical, and I continue to get compliments every time I wear them.. As others have mentioned, finding a flattering bra to wear underneath has been a challenge. I did find that the energy bra fits the best of all my lulu bra tops. The outer edge of the straps definitely do peek out but at least the inner side of the straps remain under the tank, keeping some element of the flattering cut of the tank. The free to be bra, for example, is much too wide and the entire strap is visible on the sides. I am making it work, but I would give 5 stars, and buy more if there were a bra available that flattered this tank, and if there were more colours! I also think more tanks in this silhouette in other materials (perhaps something drapey) would be amazing. This is a great shaped tank, please make more along these lines!
Date published: 2017-04-19
Rated

2

out of

5
by
hudsy4
from
first returned Lulu top ;'(
I wish they showed the "side view" on the model, it would've saved me from a bad purchase. The material is soo soft but it shows discolored lines where it was folded so it doesn't seem like a top that will hold up well to washes. The top of this tank is so flattering and gorgeous, but the bottom flips out literally! So weird, I wish it was fitted throughout. Now I have to go through the big hassle of finding my printer, printing return label and mailing back within two weeks, so frustrated. For reference I'm 5'5 122lbs I wear an 8 bra, a 6 in bratops and a 4 in bottoms and tanks. I bought a 4 in this.
Date published: 2017-03-22
Rated

5

out of

5
by
JasmineRice
from
Great!
I really love this tank. The high neck and the detail on the back is flattering. The material held up well for an intense cross fit class. No chaffing, pulling, or tugging as that can be a problem. I am 5'7", 130 lbs and my bra size is 32C. I vary between size 4 and 6 in lulu tops. I purchased in a size 6 and it skims my figure nicely. The hem hits right at my hip bones as it dips towards the middle. That's nice for a little rear coverage.
Date published: 2017-03-17
Rated

4

out of

5
by
Sophiella
from
I sized up for length
I usually wear a size 4 in tanks but ordered a 6 because it looked awfully short on the model. I find myself having to do this a lot lately because Lulu keeps shortening their tanks. Very disappointing because then the top often doesn't fit as well everywhere else. Anyway, it's a nice tank. I'm 5'6" and the size 6 fits fine - gives me plenty of length and it doesn't feel too big. The 4 would have worked but for my body type it's more flattering and elongating to have a longer length. So, size up if you're like me, go TTS if you are short or don't mind shorter length tops.
Date published: 2017-02-09
Rated

3

out of

5
by
rbn1217
from
Lovely tank but runs short
I absolutely love high-neck tanks, as they're super flattering for those of us with broad shoulders :) I saw this tank and ordered it in black in my usual size 6, and was really excited about its arrival. Unfortunately, this tank runs VERY short and was a bit more fitted than I was anticipating, to the point where just trying it on had me pulling at it to try to make it not stick to my stomach. I personally do not mind if a bit of my bra is peaking out, but can understand why this is frustrating for some - the fabric is lovely and soft, and honestly you could wear this as a normal, casual everyday shirt - it looks that nice. Unfortunately I had to return it due to the length. I wish Lululemon would offer an exchange option when you make an online return, because I would love this in a size 8 without having to wait a couple weeks to get my money back.
Date published: 2017-02-02
Rated

2

out of

5
by
LBHBIC
from
REALLY wanted to love this...
I bought this tank from a Lululemon store in blue. I love the color of the tank and the feel of the fabric. Some of the pictures of this tank top are very deceiving because they show the tank on the model without a sports bra. Unfortunately, I cannot find ANY sports bra that will go under this tank without it showing. I bought this tank because of the cut on the front (high, front racerback style) and any sports bra will show in the front, and that just ruins the aesthetic of the tank top. Seeing the straps under the tank just makes it look sloppy. Even the Simply Bare bra that Lululemon released with this tank does not work under it - you can still see the straps in the front. I am super bummed because I have been wanting a tank top with this cut for a long time! I wish that they would re-make it with a built-in shelf bra.
Date published: 2017-01-31
Rated

3

out of

5
by
klily55
from
super flattering & really want to keep!
this top is SUPER flattering & the cut is amazing. i really want to keep it, but it does not look great with a sports bra because it takes away from the cut. does anyone have a suggestion or recommendation on how to make it work with a sports bra without compromising the design?
Date published: 2017-01-28
Rated

5

out of

5
by
okayifyousayso
from
LOVE
I adore everything about this tank from the neckline to the fit... I have it in the black and It's simply incredible. My only complaint is that there aren't more colors!!!
Date published: 2017-01-28
Rated

5

out of

5
by
jenns
from
Very flattering
I bought the black in my tts. This is a beautiful tank and I just love the way it fits and the material feels wonderful. I have worn it to spin class a couple of times and it performs very nicely. I can also see myself wearing it with shorts or a pair of white jeans in the summer. It really shows off the shoulders nicely.
Date published: 2017-01-21
Rated

5

out of

5
by
nululululove
from
love this!
I usually shy away from this type of neckline given my broad shoulders but this NULU tank is amazing! I'm hopeful that the lulu designers will create a bra I can hide underneath it --- bra straps take away from the great cut of the shirt. I'm buying one in every color.
Date published: 2017-01-19