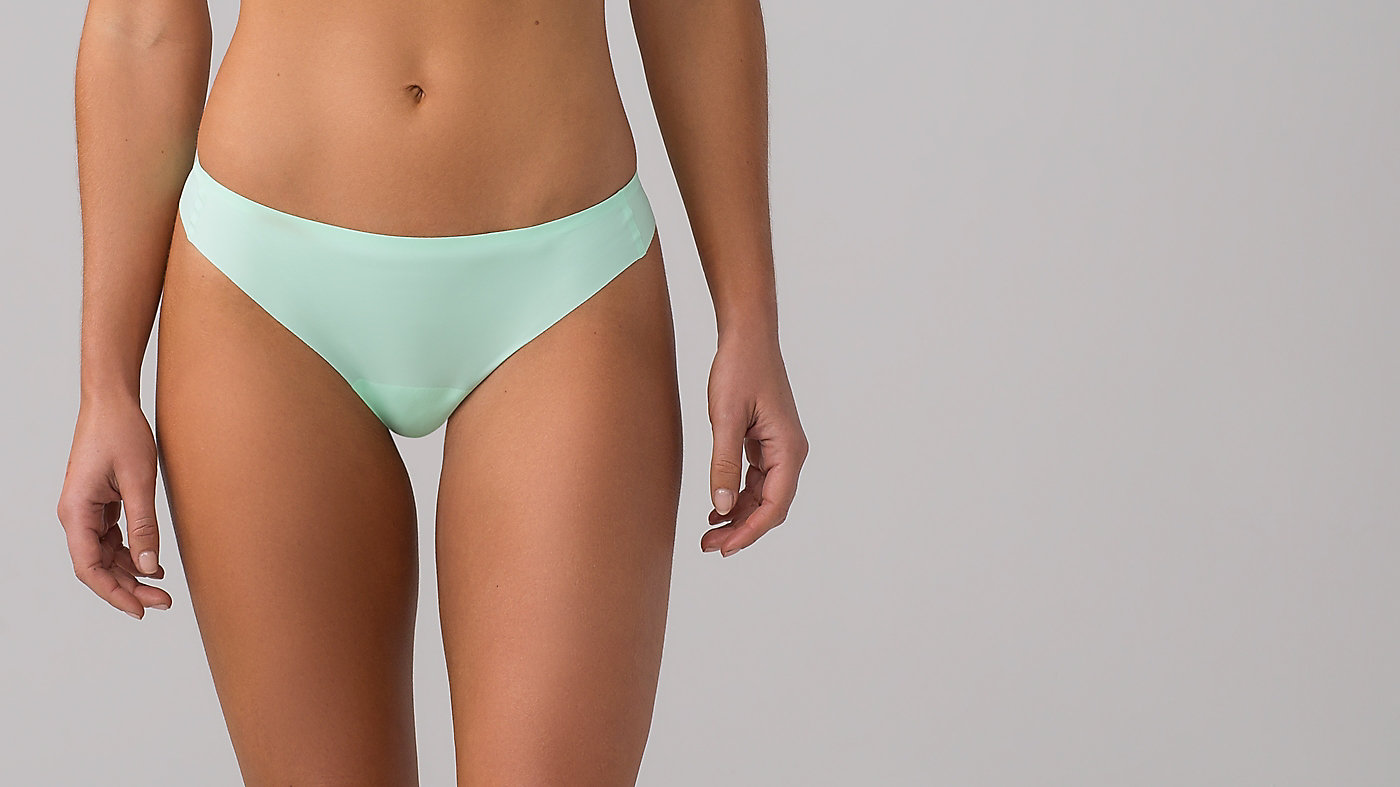 Article conçu pour
L'entraînement
---
coutures collées
Les coutures lisses aident à prévenir l'irritation
---
Gousset collé
Permet (à vous et à vos parties intimes) de respirer aisément
---
découpe libre
Aident à réduire les lignes visibles de vos sous-vêtements

Namastay Put Thong II
is rated out of
5
by
40
.
Rated

1

out of

5
by
SashaCat
from
Painful...
Okay, this is embarrassing to write. But this pair of underwear actually chafed me so badly, I had to skulk out of the gym. That was the first time wearing, so I figured I should have washed them first. So I washed them. And they stretched out to the point that they became even more uncomfortable. The design is so narrow in the front, your lady bits cannot help but be mauled... Badly. And after washing, they stretched out to become veritable dental floss. I am so mad I bought two pairs of these before reading reviews. Live and learn. Lesson: Never buy Lulu thongs, OUCH.
Date published: 2017-06-23
Rated

1

out of

5
by
kmw7
from
Fabric stretched out after two wears
I loved how these felt while working out - breathable and dry after a sweaty yoga session. But, after I washed them a second time, I noticed they were gapping at the top and had become loose. They did not keep their elastic hold. Disappointed they didn't last longer even with hand washing.
Date published: 2017-06-14
Rated

1

out of

5
by
sweetpea91
from
Disappointing
I picked up this panty yesterday morning on a whim when purchasing some other things at Lululemon. I was looking for a nice fitting, seamless, nude thong for yoga, the gym, and everyday use. Brought them home, took them out of the package, washed them (cold water, hang dry). Today, I put them on, and initially they looked and felt great but within an hour of wear they stretched out and became very loose fitting - so uncomfortable! They moved around a lot (definitely didn't stay put), and on top of that, there are also already two small holes forming on one side :( Super disappointed in this purchase.
Date published: 2017-06-02
Rated

2

out of

5
by
SweetStef84
from
Loved but started falling apart
I loved these panties so much. I got them for yoga and they were perfect. My complaint is that they are coming apart. I have never put any of my lulu in the dryer and wash with care and love. It stared to come apart on the sides and I am very disappointed as I have several of these panties. They truly are the most comfortable panties I have owned but worry for the rest to fall apart at the seams.
Date published: 2017-06-01
Rated

1

out of

5
by
seeking
from
Chafed in Awkward Spots
Let me first say that I love the old thongs from Lululemon. Run in them, crossfit in them, no problems. Bought the Namastay Put Thong as a replacement and let's just say I am chafed after a single workout and run. Agree with other reviewers front is too narrow - wedgie and chafing!!!
Date published: 2017-06-01
Rated

1

out of

5
by
FitnessLover55
from
Very Disappointed in Quality
I bought this thong as a recommendation from my sister. I was hesitant as $16 is quite a bit for a strip of fabric. I found it very comfortable and loved the thong, but was very disappointed that after one wash there is now a hole in the seam so with one more wash the underwear will no longer be connected on the side. Very disappointed in the quality of these underwear. I was excited to find a comfortable pair and was hoping to buy a bunch but will not be buying any further as a hole after the first wash is very low quality!
Date published: 2017-05-31
Rated

1

out of

5
by
Stacey35
from
NO GOOD!
I bought these on the recommendation of my local store and I have worn them only a couple of times before realizing they are way too narrow in the front!!! They are so uncomfortable that I just want to throw them away. Nobody wants a wedgie in both the front and the back....
Date published: 2017-05-17
Rated

1

out of

5
by
NurseBetty78
from
Poor Quality
I bought 3 pairs of these at a recent trip to the store. 2 out of 3 of them fell apart after one wear. I have several other pairs of lulu thongs that have lasted years, but these are a waste of money. The fit is also off and they move around too much during wear. Terribly disappointed.
Date published: 2017-05-14
Rated

2

out of

5
by
NikoJean
from
The Best Thong Ever... Until This Happened.
I recently purchased a couple Namastay Put Thongs after hearing about how great this thong was from a girlfriend. I ended up loving this thong so much that I went and purchased 10 more, vowing that I would never wear anything else again. However, I'm incredibly disappointed b/c after 2 wears, one of the thongs has completely unraveled, with the whole top seam becoming detached from the thong itself. While this has only happened with one of the many I purchased, I'm nervous it will happen to all of them. As a result, there's no way I'm purchasing any more for $16 each if it's possible they will completely unravel. So disappointed.
Date published: 2017-05-04
Rated

1

out of

5
by
kayceedee
from
Unimpressed
These should be titled the "Nama-not-stay Put" as they ride up and shift around if you are doing any type of physical activity whatsoever. I wore them for the first time on my day off while running errands and they felt awesome. They are smooth and silky and feel like a barely there underwear. I was excited to try them out for a workout. I have bought 3 pairs at the store and so a few days later I wore them to volleyball. What a mistake. All the jumping, squatting and hitting made them feel like the devils underwear. They rode up and gave me both a wedgie (both ways, I know TMI) and because I was wearing spandex shorts there was nothing I could do but smile through the discomfort. Second thing: They're seamless, which is awesome aside from the fact that they're already fraying. After one use. And its for all 3 pairs (One pair is just the hipster), 2 of which were never even worn for anything considered athletic. Lululemon, how can you label these as an undie meant for running when they're doing nothing for me?! I just spent $50 before tax on 3 pairs of undies that I'm not even going to be using for training. I was curious to try out the other style that you guys have but I'm not willing to deal with the poor quality (fraying) and them riding up like no business and I haven't even tried to wash them after wearing them yet.
Date published: 2017-04-30