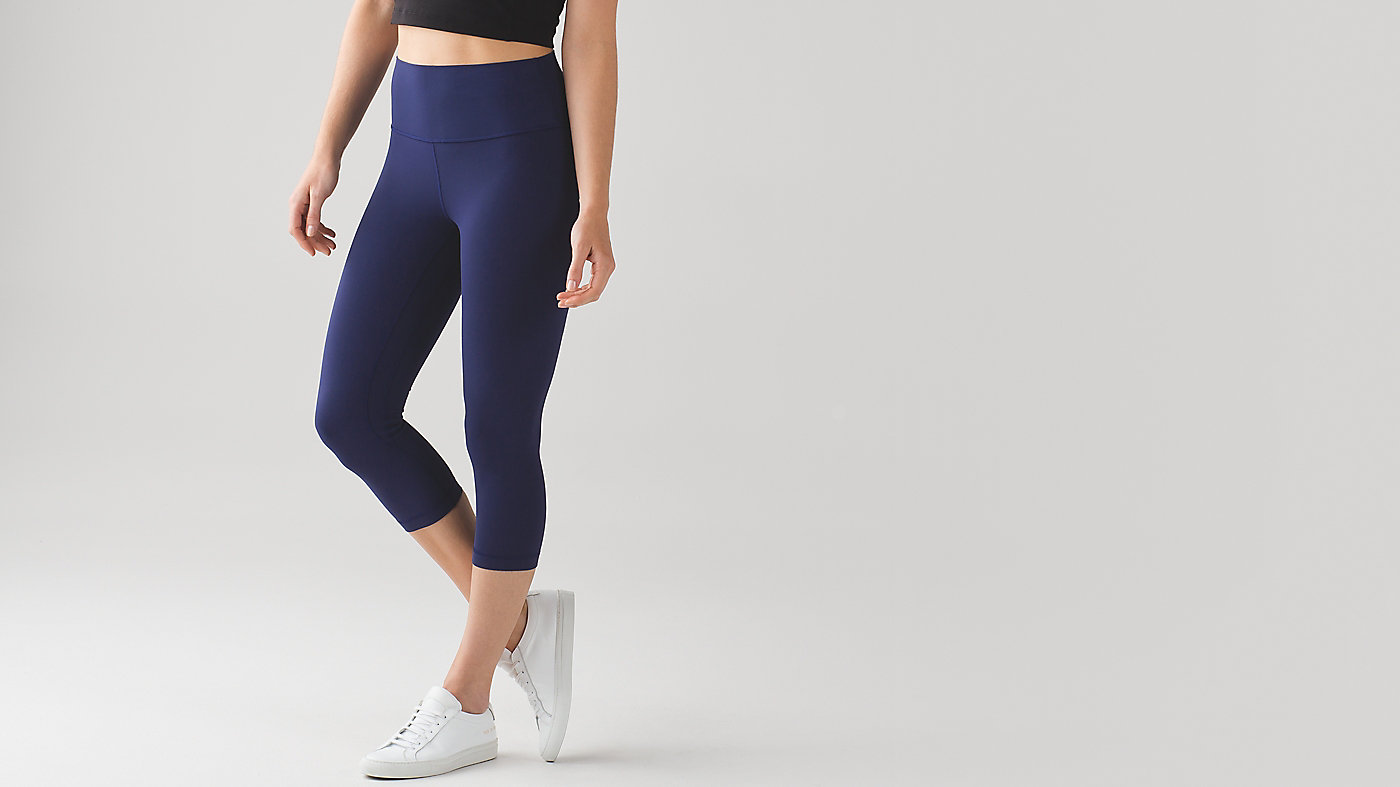 Article conçu pour
Le yoga
---
ceinture confortable
La ceinture plate ne s'incrustera pas dans la peau
---
poche à la ceinture
Rangez vos clés ou votre carte dans la poche à la ceinture
---
taille haute
Aide à vous couvrir en toute sécurité
---
sensation nue
Comme une seconde peau, il deviendra votre petit préféré – tout léger, vous oublierez que vous le portez
---

Align Crop
is rated out of
5
by
630
.
Rated

3

out of

5
by
Anonymous
from
comfortable, but not worth the price
I bought these in store and was excited to use them because they were so comfortable and fit well when I tried them on. After just one use I noticed that the seam at the top was beginning to unravel. I was disappointed because I expected better quality for how much they cost. It's too bad I can't return them now that I've already worn them.
Date published: 2017-06-19
Rated

3

out of

5
by
Anonymous
from
Amazingly Soft
Love these crops, the material is wonderful feeling, literally so soft almost feels like your wearning nothing, I find they run a bit big in sizing, wish i would of ordered an 8! However ive worn them twice and there already pilling in more than one place, for the price the material should NOT pill this quick. I would love to order more just because of how the feel but i cant justify it because of the pilling.
Date published: 2017-06-19
Rated

3

out of

5
by
erind1
from
Not sweat proof
My husband bought these for me as a gift, they are very comfortable and soft. However, the minute you start to sweat it shows, I have the grey, so it could be the color, but unfortunately I won't wear them to workout in again.
Date published: 2017-06-18
Rated

2

out of

5
by
Fitnesshockeymom
from
Perfect fit but poor quality.
These fit like a glove! Absolutely love my mine. However, the quality is so bad. Seams coming out all along the top and pilling. I am so torn on ordering a second pair as there is a new color I love. I have worn mine about 8 times now and every time I wear them something else shows up. Quality control needed.
Date published: 2017-06-18
Rated

2

out of

5
by
sbkim93
from
not worth it
At first these pants were great! So soft and comfortable to wear to the gym. Also it made your butt look great! After a few months of wear, the piling started. Mind you, I knew many people complained about the pilling so I made sure to handwash and air dry. Despite this careful method of washing, the pilling occurred and got worse with each wash. I am really disappointed that this happened for such an EXPENSIVE pair of pants. You would think spending $100 on a pair of leggins, it would last more than a couple years.
Date published: 2017-06-18
Rated

2

out of

5
by
mlolove
from
Flimsy
First, these crops are sooo extremely comfortable. I have 2 pairs and I wear them sparingly bc I knew they were prone to pilling. Well, today I look down and there is a hole in the knee! It never caught or snagged on anything. I most likely won't spend the $ on these if they are so fragile. I should be able to get more than a handful of wear out of these for the cost.
Date published: 2017-06-16
Rated

3

out of

5
by
summertime06
from
Pilling Problem
I love the way these look on my legs, and the material feels amazing but the piling has started to move from the butt of the pants all the way to the front of the thighs. I never put them in the dryer, and haven't done any extreme workouts in them to warrant this breakdown. I really love the way they look and feel so if I could find a pair without this problem I'd likely buy.
Date published: 2017-06-16
Rated

3

out of

5
by
moresweat
from
Disappointed
These used to be my favorite crops. After I bought them, I went back and purchased several more. I lived in them, they are so comfortable. However, after only wearing them a few months they pill like crazy. I'm so upset that I wasted so much money buying what I thought would be my forever crops. These are literally only good if you wear them to bed, don't expect to do any physical activities in them or they will be ruined. So sad.
Date published: 2017-06-16
Rated

5

out of

5
by
SweatyToddlerMom
from
Favorite Pants
These are my favorite pants ever! They're very lightweight so they're breathable. The waist band stays in place and doesn't dig into my skin. They're super soft and great for cycling, running, and yoga.
Date published: 2017-06-14
Rated

1

out of

5
by
Rooney
from
Great fit but disappointing quality
These pants are the most soft, flattering and comfortable pants I have ever worn. They are only about two months old and they are starting to pill and look very worn. I have never worked out in them, only worn them as day to day leggings. I was just about to order the 7/8 Align pants but now I am hesitant to do so because I am disappointed with the quality. I have no problem paying the price, but I would expect them to last a long time!
Date published: 2017-06-14