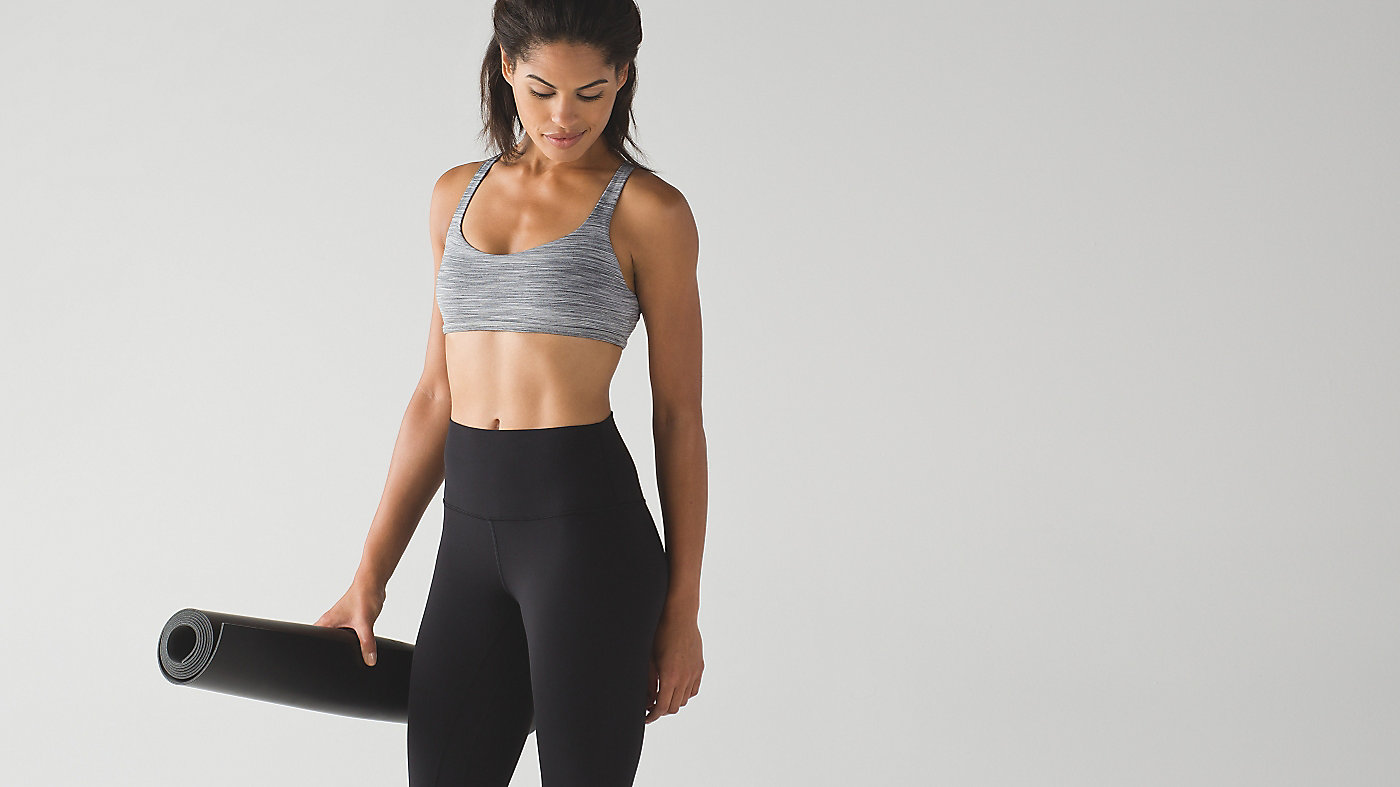 Article conçu pour
Le yoga
---
maintien léger
Conçu pour procurer un maintien léger aux bonnets A et B
---
bonnets amovibles
Doté de bonnets amovibles pour plus de couverture

Free To Be Bra (Wild)
is rated out of
5
by
608
.
Rated

4

out of

5
by
bmagr
from
I live in these
I am ashamed to admit how many I own. I live in them. Every day. They are super comfortable and easy. Also wear for gym sessions. But - not for running (I am a B cup and there is not enough support).
Date published: 2017-05-10
Rated

5

out of

5
by
victoriapck
from
fave sports bra
I own 5 of these and they never fail me! A lil pricy but the colors and fit are great. Very disappointed that they are out of stock! will they be returning?
Date published: 2017-04-25
Rated

5

out of

5
by
deadliftsandpeanutbutter
from
fave bra ... ever!
love the fit and design of this bra. as someone who enjoys yoga, weight training, and being well prepared, I found this bra to be perfect. for my 32B chest this bra had just enough support and held me down well enough that I'm just as likely to wear it out under a tee shopping as I am for a gym sesh... well done lulu!
Date published: 2017-04-16
Rated

5

out of

5
by
skilife
from
Awesome Bra!
I love this sports bra! Fits well, comfortable, might not be great for bigger busted ladies but for me it works out really well for everything. Lasts a long time and looks really cool under tanks or open back shirts. ALWAYS get questions and compliments about it. PLEASE do not phase this bra out! It's a classic lulu product and the best one of its kind on the market.
Date published: 2017-04-04
Rated

4

out of

5
by
asdf1234
from
Awesome bra but fits a little awkwardly
I love the back of this bra, but I feel like the front is too short - which is unfortunate because this bra is very comfortable. They weren't kidding when they said it was light weight and low coverage.
Date published: 2017-03-30
Rated

2

out of

5
by
GraMay
from
Straps dont stand up to wash.
I have 3 of these bras and fell in love with the style after my very first purchase. However, just recently I put one of them through the wash and it came out and the straps were completely mangled and ripped in half. I have never experienced this before and I have owned this bra for less than a year and have been putting all my bras in the wash since i bought them. I understand lululemon stands behind they're quality so i decided to reach out to the team for any solution they may have only to be told it was damaged by my washer (an external source) so nothing can be done. Hopefully they make these bras better now than when I bought mine.
Date published: 2017-03-16
Rated

4

out of

5
by
eatsushiandrun
from
Colour is losing its vibrancy
This is a really cute bra and great for my 32a boobs. But as a runner i don't always care about cute, as much as I do functionality, so this would classify as more of a gym/yoga bra for me. I love that it has a barely there feeling, especially since my only reason for wearing a sports bra is too keep me nipple free, Its definitely not a secure feeling bra and sometimes during certain yoga poses it can move around, but thankfully it hasn't moved enough to cause any embarrassing situations. My main complaint, and a reason i will not repurchase, is the colour loses it vibrancy and fades within a month or so of washing (i use cold water, delicate cycle and hang to dry).. It also has started pilling a little. It's sad because my $52 sports bra now looks like it came from target. I may as well have bought the knock-off from victoria's secret for less. I am a loyal lulu customer but this bra disappointed me in terms of the wear.
Date published: 2017-03-02
Rated

5

out of

5
by
bp123
from
THE ONLY LULU SPORTS BRA THAT FITS ME RIGHT
I can't begin to explain how amazing this sports bra is... I've tried to find one that's right for me and none available in-stores were even close. I took a risk and ordered this one online and I am so glad I did! Perfect amount of support (I wear a 34C bra size and got a size 8 in this), comfortable, wears well for running, yoga, everyday activities, etc. ,PLEASE OFFER MORE COLOURS :)
Date published: 2017-02-28
Rated

4

out of

5
by
Katcat
from
Stylish and Practical
I love the back of this sports bra. I also really appreciate that the bra isn't long, which is an issue I have with others being like a crop top... I am s/m chested and I do hiit workouts in this however if you are C+ or more modest it might not be enough support/coverage. PLEASE make in more colors/patterns!
Date published: 2017-02-27
Rated

3

out of

5
by
RunningQueen3000
from
Amazing Sports Bra
I love this sports bra for all my athletic activities and lounging. I like wearing them with tank tops so everyone can see the straps! I own a couple of these bras because they rock, but a strap on one recently broke. I don't know how this is possible because the straps are actually really strong. I am so disappointed!! Or else I would give my review 5 stars because I never had a problem with them until this incident!
Date published: 2017-02-26