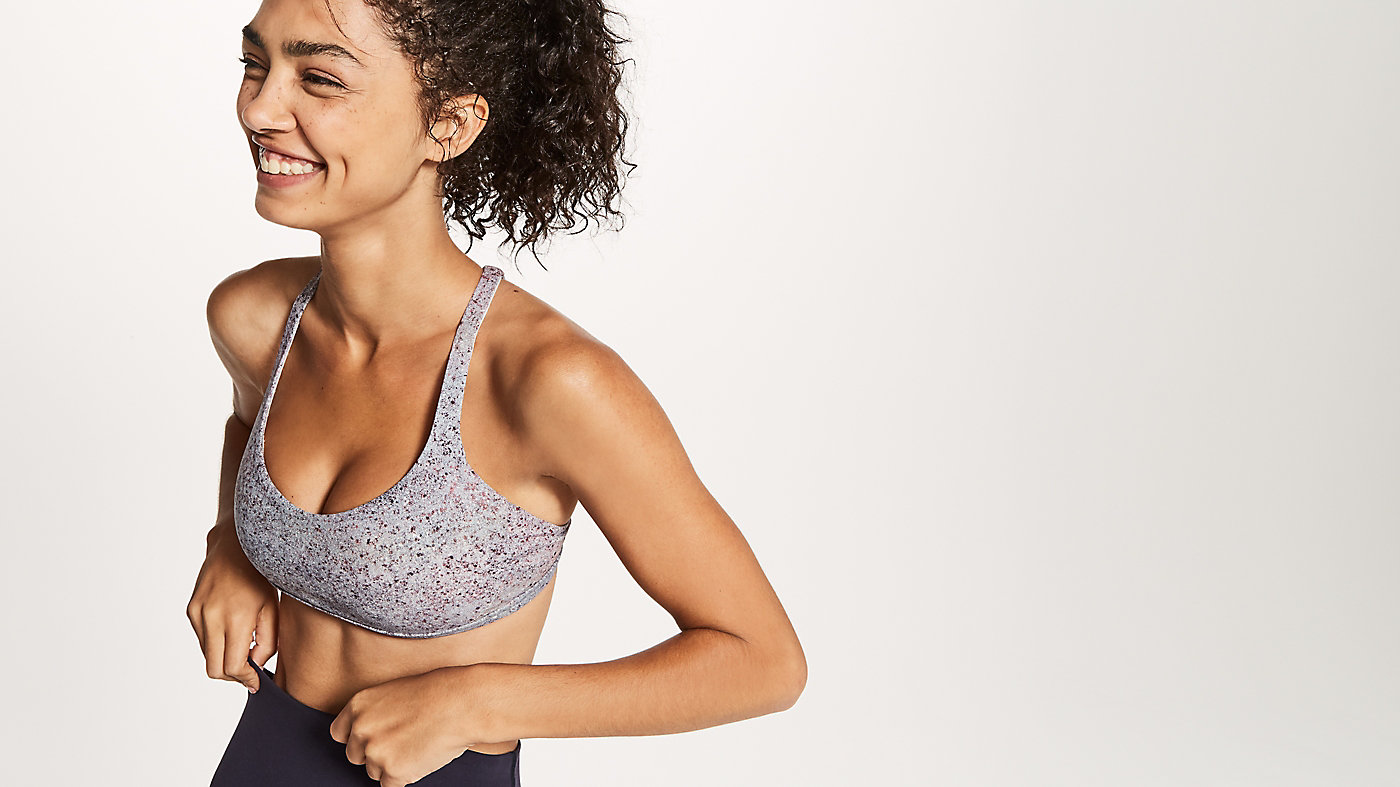 Article conçu pour
Le yoga
---
lycra®
Le tissu extensible conserve sa forme grâce à l'ajout de fibres Lycra®
---
couverture
Pochettes pour bonnets amovibles optionnels
---
maintien léger
Conçu pour procurer un maintien léger aux bonnets A et B
---
LIBERTÉ DE MOUVEMENT
Le dos à bretelles ouvert vous donne une grande liberté de mouvement
Free To Be Zen Bra
is rated out of
5
by
78
.
Rated

1

out of

5
by
KittyCat93
from
NO coverage
When I first tried this on, I absolutely loved it. But after wearing it for an hour, I realized this was poor design. The straps are so tight around my back, and it constantly rides up because the shoulder straps are far too short. The padding in the front are significantly looser too, leaving an unflattering peek at my boobs. There also isn't much fabric in the front so I spend my entire workout pulling it up. I really wanted to like this style but it just doesn't compare to my other lulu products.
Date published: 2017-06-16
Rated

5

out of

5
by
evadeniz
from
THE ONLY SPORTS BRA I CAN WEAR
I have a smaller chest and have searched and searched and searched for a bra that would fit right, keep me tucked in and allow fun range of motion and allow me to forget what was happening with my gear and focus on my workouts. Please don't ever get rid of this bra!! LITERALLY THE BEST!!!!!!!!
Date published: 2017-06-15
Rated

5

out of

5
by
BeachYogaRunRepeat
from
Beautiful!
In the right color...this bra is gorgeous! I noticed the fit in my usual 8 bra was awkward! It clearly is my size but the sides looked weird and it had 0 support. I had some side boob underarm fat spilling out but some fabric was also rippling. Strange. I decided to try the 6 because maybe this bra isn't constructed to fully cover and support 32dd/ddd boobs but it could look super cute for low impact activity. I really liked the 6! Because it is a size small...it almost creates a push up and compression effect. So I guess if you find your size is cut weird or doesn't work for your body but you fall in love with a color...try a size down it might minimize some of the more awkward design flaws.
Date published: 2017-06-11
Rated

1

out of

5
by
Skategirl86
from
Looks pretty but the fit is way off
I'm generally an 8 across the board when it comes to sports bras and tanks but the cut of this bra ended up being terrible. The back band comes up a little higher than I woul like it too and the front of the band seems to be really loose. If they had figured out how to keep the fit like the free 2 be wild bra this would've been a winner. Instead I'm left with an awkward fitting bra that I spend half my workout adjusting. Too bad I bought off of we made too much and detached tags right away otherwise this would be going back for sure.
Date published: 2017-06-05
Rated

3

out of

5
by
SmileyFace
from
Pretty, but shrank in the wash
When I first got this, I absolutely loved it. It is so pretty and comfy, and I wore it everywhere, both casually and for workouts and tennis. However, after a while, I noticed that it had gotten smaller. I am a size 2, and it had become very tight around my chest and the straps dug in a little. I machine washed this bra and hung it to dry, without using the dryer, but for some reason this still made it shrink a little. A little disappointing, but still wearable.
Date published: 2017-06-01
Rated

2

out of

5
by
wakeupandsweat
from
From white to grey..
I loved the fit so much that I bought this bra in both a black and a white with black speckles (sorry I can't find the pattern for sale on the site currently so I don't remember the name). Both have held up really well in the fit and provide similar support to the other bras I have bought from lulu (free to be (wild) and free to be tranquil). I have not had a problem with comfort like others have mentioned but did have to up my size from a 6 to an 8. I have also experienced some lifting around the chest band, but not to the extent of a potential boob slip. The concerns that I had were with the coloring of the white speckled bra. I washed it in cold water with whites assuming it would maintain its color best in this environment. The black speckles have clearly bled and the white of the bra is now a very off white (almost grey), dingy color. This change was noticeable after only a few washes. I would not recommend buying white or potentially any pattern with a light / dark color combo.
Date published: 2017-05-29
Rated

5

out of

5
by
leigh22
from
LOVE!
Love the style of this bra! I'm a C cup so it doesn't provide enough support for running but it's perfect for strength training!
Date published: 2017-05-24
Rated

2

out of

5
by
10yearsofYoga
from
Avoid it in white color
I bought this one as a medium support to go Yoga and rock climbing with a mesh top. The white color looks old after a couple times washing. i put it in cold water and with like colors let it air dry. Not recommanded in white.
Date published: 2017-05-24
Rated

1

out of

5
by
lash11
from
bring back free to be wild!
I wanted to like this bra because it looks cute, but the straps are very uncomfortable and the bra doesn't seem to stretch as much as my beloved free to be wilds. i tried sizing up and the bra still cut into my back! i have half a million free to be wilds because they were so comfortable. i am very sad that they were discontinued and would be over the moon if they were brought back!
Date published: 2017-05-18
Rated

2

out of

5
by
CNSfit123
from
uncomfortable
The bra is super cute and I was really excited to get it thinking it was going to be similar to their free to be wild bras, which i love. Unfortunately, the fit is so different. It feels like it's really tight only around the band area just right under your shoulder blades, where the bra wraps around.
Date published: 2017-05-17