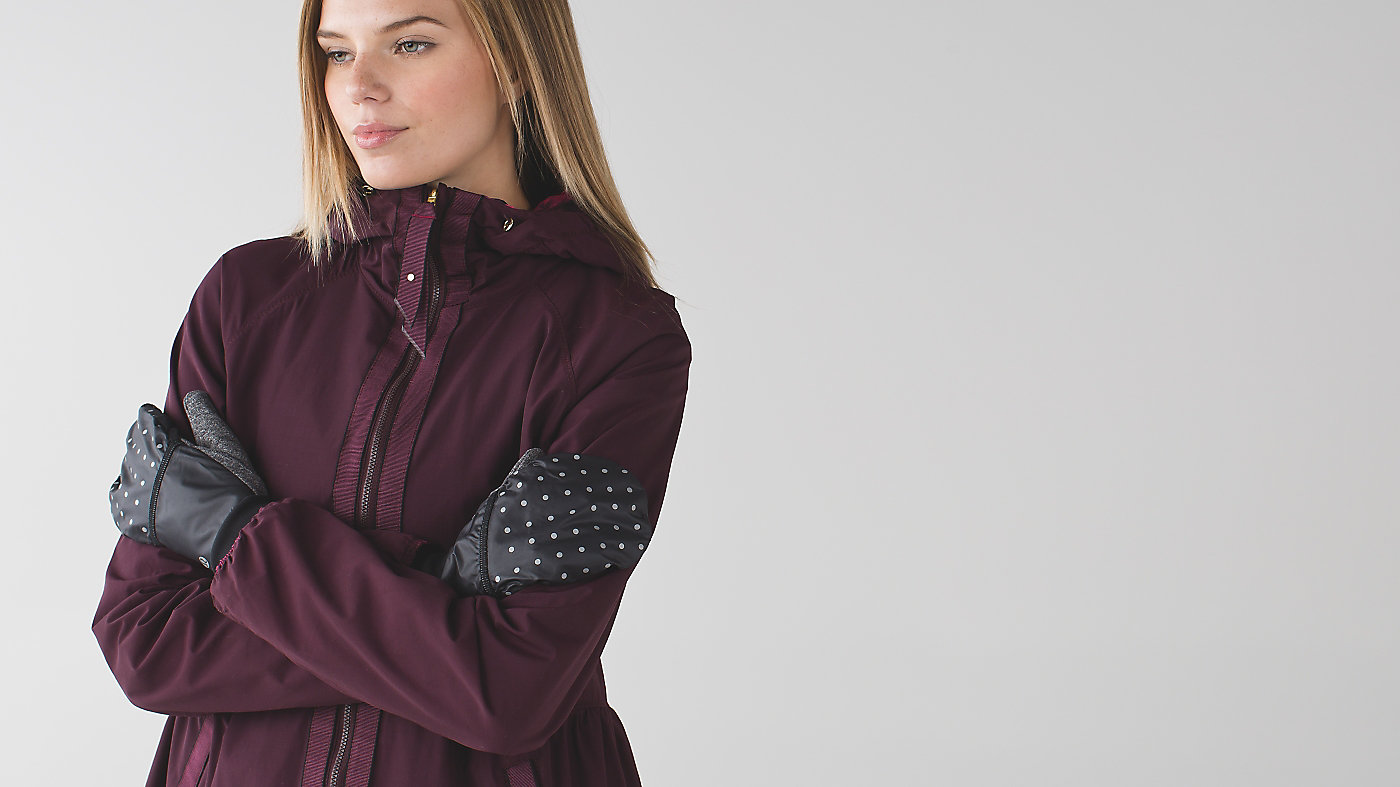 Article conçu pour
La course
---
Tissu chaud
Le doux tissu Tech en molleton sur les paumes garde les mains au chaud
---
Protection contre l'eau
Le capuchon rétractable résiste au vent et à l'eau

Run Fast Gloves
is rated out of
5
by
12
.
Rated

3

out of

5
by
Sleepygirlz
from
Ripped within 2 weeks
I loved these gloves, until they ripped. So badly that they need to be tossed. I was doing up the zipper on my boots while wearing them, was careful, but they still snagged and heard an awful ripping sound. The nylon cover ripped clear across the front rendering them now useless. Unfortunate, as I loved these gloves. They sang easily, even the stitching with normal wear. Sadly disappointed.
Date published: 2020-02-20
Rated

5

out of

5
by
Kabones
from
Great for cold runs
These have been great for cold runs. The mitten flap is a great idea as I can flip that part off if they get too hot (and there is a spot to tuck the flap so it isn't flopping around). I have used them on -20 degree Celsius runs and they are perfect once my hands warm up. Any other glove I have used has been too warm and made my hands too sweaty, but these keep a good temperature and are very breathable.
Date published: 2020-01-29
Rated

5

out of

5
by
AnneDo
from
Long run with those gloves!
These are my second pair of Lulu gloves, and I can say the upper part that goes on fingers are a huge difference for the cold days! The fabric literally block the wind. Love them! The upper part can also be hidden in an inner pocket.
Date published: 2019-11-10
Rated

5

out of

5
by
JLRSL
from
The perfect pair
Small and convenient, but still warm enough, the shell is the game changer because it blocks and wind and rain, and these are the third version I've owned and are my fave. I need to stop losing my mitts haha. The clip to keep them together is such a good idea!
Date published: 2019-11-08
Rated

5

out of

5
by
Justrunjuju
from
Super
Super gants, j'avais déjà un des premiers modèle et celui-ci est vraiment amélioré. Je cours jusqu'à -5... J'ai jamais très froid, mais parfois c'est les pouces qui gèles en premier comme ils n'ont pas la doublure ni le coupe vent, ça pourrais être cool d'avoir une petite doublure à ce niveau. Je reccommande ce produit!
Date published: 2019-01-29
Rated

4

out of

5
by
mssweetmarie
from
Keepers!
I picked up these gloves on a whim before leaving to spend a week in Iceland at the end of November. I wore them on long walks in 50-80km/h wind while chasing waterfalls and plane crash wrecks. I wore them on a glacier tour. And, now that I'm back from Iceland, I wear them outside every day to get to/from my car and while driving if the steering wheel is cold. These gloves are great! They are lightweight, they keep my hands warm, and fit amazingly well. The only downside is that the mitten hood part doesn't attach if you have it off - it would be nice if it somehow clipped the to wrist area so it's not flopping around when I want my fingers to be able to move around in the gloves. Some reviewers say they're disappointed because it says they're tech friendly and they aren't - all I'm going to say here is read carefully. No where in the item description does it say they are tech friendly. The Cross Chill Run Gloves specifically state "...feature both tech-friendly fingers...". Safe to assume those are for use with your phone. However, for the Run Fast Gloves, if you read the Features section (the only place you see the word "tech"), it says "Soft Tech Fleece Fabric On The Palm Keeps Hands Warm". If the word tech throws you off, read the whole sentence - "on the palm". That's not what you use your phone with, so don't be surprised if the fingertips don't work on your device.
Date published: 2019-01-21
Rated

2

out of

5
by
fitmama1985
from
Not warm at all :(
I purchased these gloves as a Christmas gift to myself with the hope of being able to use them for my runs and walks with the dog. We aren't even in the worst of winter but had a really windy day today, and these did not hold up during a walk or a run. Very disappointed for the price point.
Date published: 2019-01-08
Rated

5

out of

5
by
Courseparfaite
from
Gant parfait
Parfait pour la course, avec les mitaines intégrées c'est génial !
Date published: 2018-12-18
Rated

5

out of

5
by
destinedtobefit
from
Good fall running gloves!
I love these gloves!!! I had a pair of these quite a few years ago and loved them. Glad to see they have them again. These are good for fall lower temperatures, not winter by any means, depending on how cold your hands get. I have ran in -5 with no issues, the hood keeps the wind out which helps a lot, when my hands get warm I just tuck the hoods into the hood pocket. I have been able to use my phone with them no problem.
Date published: 2018-11-29
Rated

1

out of

5
by
Marg2626
from
Not Tech Friendly or Warm
Hi, I bought these gloves, as they were tech friendly. They are not - they do not work. They are also not warm at all. Something I would like my money back for. What a disappointment.
Date published: 2016-11-22