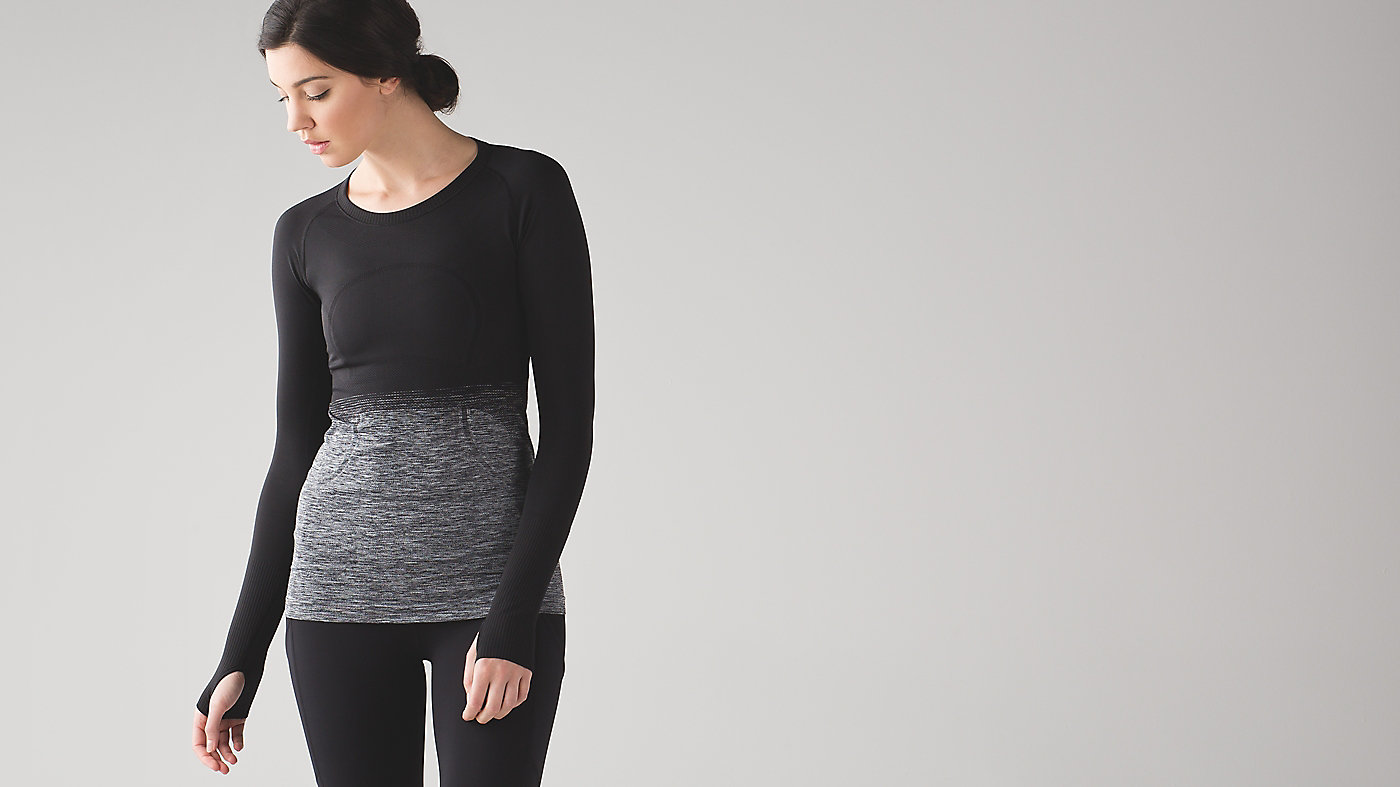 Article conçu pour
La course, l'entraînement
---
anti-irritation
Construction sans coutures pour aider à prévenir l'irritation
---
trous pour les pouces
Vous aident à tenir vos manches en place et vos mains au chaud
---
Technologie SilverescentMD
Propulsé par la fibre X-STATICMD, pour entraver la croissance des bactéries qui causent les odeurs dans le haut
---
coupe ajustée, longueur hanche
La coupe ajustée épouse votre corps et évacue la sueur pendant l'effort

Swiftly Tech Long Sleeve Crew
is rated out of
5
by
257
.
Rated

1

out of

5
by
Flynn
from
Poor Quality Fabric
I purchased this top and absolutely loved the way it looks on. The second time I wore it I was pulling up the sleeve and my nail went right through the fabric. I don't have sharp nails by the way. I took it into the store to see if they would repair it but they said they aren't responsible to repair snag. It's an expensive top to only wear twice.
Date published: 2017-05-29
Rated

1

out of

5
by
fuzzysocks
from
I see things haven't changed
I was thinking about purchasing another swiftly long sleeve, however after reading the comments , I am thinking otherwise. I have a swiftly long sleeve that I got a couple of years ago, however it has developed so many holes it's unwearable.( I always hang to dry). I was hoping that the quality of the material would have improved.
Date published: 2017-05-24
Rated

2

out of

5
by
upset123
from
My almost favourite shirt
I was so in love with this shirt. It was comfy and fit perfectly. I wore it three times and noticed a flaw in the fabric and now theres a giant hole. I followed the washing/drying instructions. I'm very disappointed as it's not a cheap shirt.
Date published: 2017-05-21
Rated

2

out of

5
by
sobski
from
Was super into it for a bit but then...
I loved this top at first. It fits well, feels really nice and you can dress it however you want but I wore it yesterday and it had a loose string which pulled out a lot of cloth. The material is too thin, nice for breathability but only lasts a few wears before you can feel it start to wear out.
Date published: 2017-05-14
Rated

2

out of

5
by
CassBC
from
Save your money!
When I first got this top it was love at first sight. Normally I don't mind spending the money on quality workout gear but this was definitely a regretful purchase. It took about five wears until it developed a hole on the side! I always made sure to be careful since it's such delicate fabric but apparently that was pointless. I wish I would have listened to the reviews!
Date published: 2017-05-11
Rated

5

out of

5
by
Moonlitnight
from
Lovely quality but what about those colours?
My Swiftly Tech is performing very well. No snags despite the fact I have two dogs that like to jump up. Great quality IMO. But what is happening to your colours (or lack of) this year? I went into the local LLL store and it was so dark that I thought I'd left my shades on... either this or I'd inadvertently walked into the nearby funeral home. Horrible, drab winter colours when we are all longing for some sunshine and/or the pick-me-up that spring/summer colours bring. Are they actually coming in any time soon?
Date published: 2017-05-06
Rated

5

out of

5
by
Guru15
from
Favourite lulu long sleeve
This top is my go to long sleeve for everyday use. It is so comfortable and a nice fit overall. I mostly wear this shirt as an everyday top but on cooler days I will wear it running and I have no problems. It rides up every once in a while but it doesn't seem to bother me. I love that there is always a good selection of different colours as well. If I could point out one bad thing is that the material is easily caught on things so be careful!
Date published: 2017-04-28
Rated

1

out of

5
by
HaileyM
from
Terrible Quality
After reading the reviews on how delicate and easily snagged and pulled these tops are, I've taken extreme measures in an attempt to prolong the lives of my STLSCs, such as not hanging them in my closet in fear that they'll catch on the hanger or other shirts. The fit and style of this top are beautiful, I only wish that the quality matched it up. Less than a month ago I bought one in black. I've worn it 2 times around town and haven't washed it yet. Unfortunately, after the last wear, I noticed that there was a huge pull reaching all the way around my back ending at both of my sides. I was also wearing Lulu's Going Places Hooded Jacket, which is so soft and should have acted as an extra layer of protection, especially considering there is nothing for it to snag on in the back of the jacket. For a $78 shirt, this is so disappointing. I still own a pair of Lulu yoga pants from 9 years ago, which speaks volumes to the decreased quality. For the amount I baby and care for these tops, this one should have at least lasted more than a couple of wears.
Date published: 2017-04-27
Rated

3

out of

5
by
ChyC
from
Very tight fit in arms
I have a few swiftly long sleeves all in size 6, but this one for some reason does not fit well in the arms/chest area. It is SUPER tight.
Date published: 2017-04-23
Rated

2

out of

5
by
Whitbygirls
from
Arms are VERY tight
This shirt is very fitted through the body and provides a flattering fit. If you like things a little looser, I would size up. While I appreciate the slim fit, I don't understand why the arms are excessively tight. It's to the point where it's difficult to even get your arm through to the end. I am 5'10 with a slim build and have to wrestle with these sleeves. Can't imagine what girls with muscular arms do! Forget about wearing a smart watch or fit bit with this shirt. You will never be able to access the device because the sleeves are so tight. Disappointing.
Date published: 2017-04-22